December 17, 2019
The Last Day of Sneak Peeks! Sneak Peek Day 5

Hello Heffy Doodlers! Today is the last day of Sneak Peeks, YAY! We really hope you enjoyed the glimpse we gave you at our new release so far! If you missed our previous Sneak Peeks, you can find them here
Sneak Peek Day 1
Sneak Peek Day 2
Sneak Peek Day 3
Sneak Peek Day 4
Don't forget to come back tomorrow for our first day of Full Reveals! Pre-orders will open on 20 December, which is also your chance to get a FREE, not-yet-released Sweet Stuff stamp set!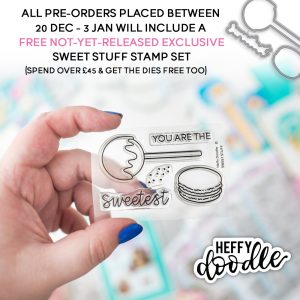 And now it's time to take a look at today's sneak peeks!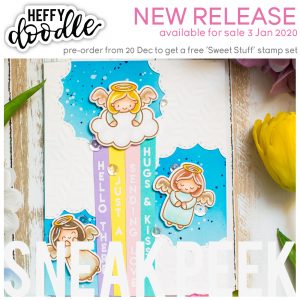 To start off, we would like to introduce My Little Angel stamp set. The set features some really sweet little angels and, thanks to some of the smaller images in the set, it will also be great to create cards for the classical music lovers!  The coordinating dies also include a die that cuts the image with the shine marks!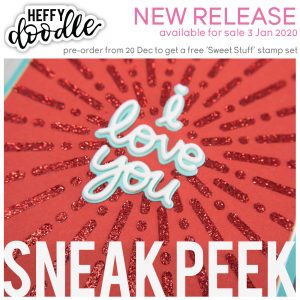 The Simply Radiant Stencil is perfect to create focal points on your cards! You can use it with glitter paste for some extra sparkle and shine!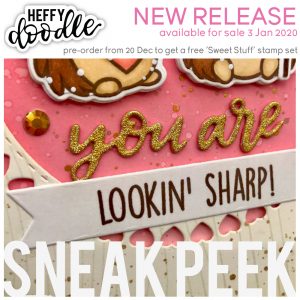 Next, we have some more word dies, all featuring the same hand lettered font. They can be used with sentiment stamps or combined with each other, leaving you with tons of possibilities for your greetings! We have the You Are Heffy Cuts…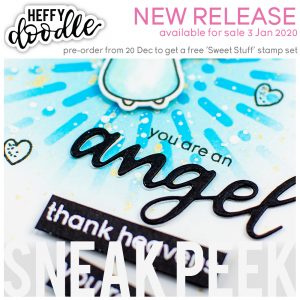 …and the Angel Heffy Cuts. These dies and our My Little Angel stamp set are a match made in Heaven!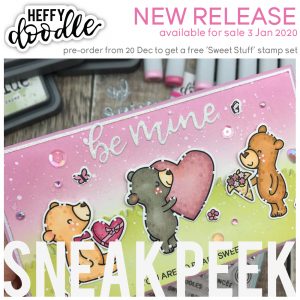 The third and last word die set for today is the Be Mine Die set. Pair it with cute stamps in our range for some really sweet cards!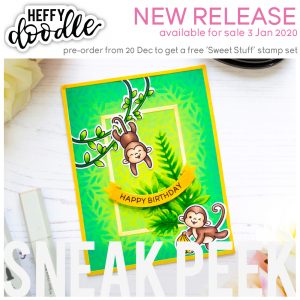 Next, we have some more essential die sets for you! We have the new Skinny Imperial Rectangle Frames for our imperial-system-loving Heffy Doodlers…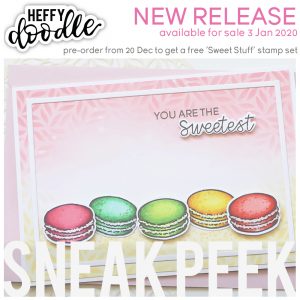 …and the Skinny Metric Rectangle Frames, for those who prefer the metric system instead!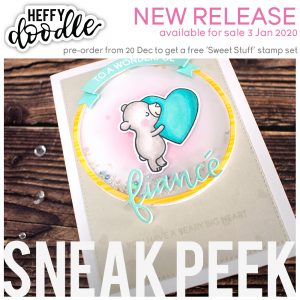 To complete this set of essential dies, we have the Skinny Circle Frames. These dies will all work great to create focal panels on your cards and for shakers, too!
If you love interactive cards, the Fancy Nancy Frames Dies are the right set for you! The larger dies can be used to add an extra touch to your cards and to create shaker cards, too! The lift the flap die in the set is perfect for Peek-A-Boo cards!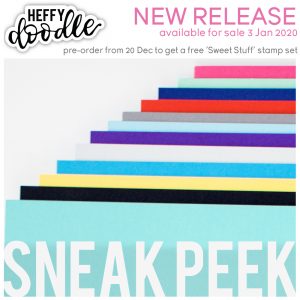 The last item for our sneak peek days is the much requested Cardstock Multipack! You can now sample our colored cardstock with this assortment of colors from our range!
And that concludes our Sneak Peek Days! If you missed any of the previous days, here are the links for you!
Sneak Peek Day 1
Sneak Peek Day 2
Sneak Peek Day 3
Sneak Peek Day 4
The party is not over, though! Don't forget to come back tomorrow for day one our Full Reveal Days!
We are also very close to the opening of pre-orders – these will start on December 20th and all pre-orders placed through January 3rd will receive a FREE Sweet Stuff stamp set!
Catch you tomorrow, Heffy Doodlers!