June 24, 2020
Time to Go Cray-Cray – Pre Orders Open TODAY! Full Product Reveal Day 4

Hellou, hellou, Heffy Doodlers! What an exciting day today – we are revealing the last set of products from our release and also…It's TIME FOR PRE-ORDERS! Yaaaay!
Remember that every pre-order placed through July 3rd will receive a free, not yet released Lil Lighthouse stamp set! And if you spend over £45 you will get the dies for free, too!
Pre-orders will ship by July 3rd,our official release date. From that day on, you will also find the release available from our retailers.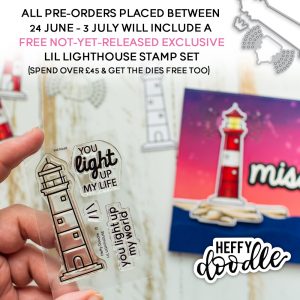 To help you navigate through your crafty wishlist, we put together two handy documents for you: a release checklist,with a list of all the new products, and a master checklist, with every single Heffy Doodle goodie ever released! A great way to keep track of what you'd like to add to your collection and to avoid getting duplicates!
In case you missed them,  here are links to the previous Full Reveal Days
Full Reveal Day 1
Full Reveal Day 2
Full Reveal Day 3
And now, let's get started with today's reveals!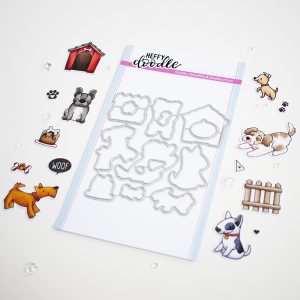 The first product we want to show you today is the  Who Let The Dogs Out stamp set! This is a fun set of 18 dog themed stamps for all our canine fans, and it features five adorable dogs drawn to represent different breeds.  The set also includes other scene building images and can be coordinated with our Hot Diggity Dog stamp set.
The ho Let The Dogs Out Dies is a collection of 14 dies that coordinate with the Who Let The Dogs Out Stamps.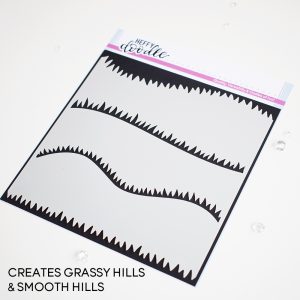 Create grassy hills, smooth slopes, sandy banks and more – all with the handy Green Fields stencil! A must-have for any crafter who loves to build scenes! Simply slide your card through the slots and add ink. For more versatility, cut apart each section to create three separate stencils.
Next up is the Close The Gate die. This die cuts a wooden fence panel attached to a garden gate, with an embossed wooden stitching design for added fun. A separate die creates a handle and hinges for even more customization options! Fold the gate along the embossed lines to create an interactive opening and closing gate, or cut multiple times to build a longer fence.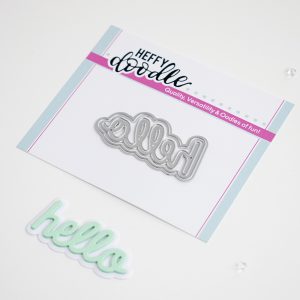 The three new Shadow Heffy Cuts wrap up our last day of Product Reveals! Each set comes with a metal word die in a script font style and a matching outline die to create a shadow matt layer. We have the Hello Shadow Heffy Cuts…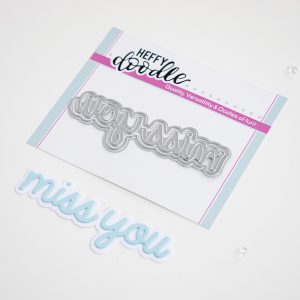 …the Miss You Shadow Heffy Cuts…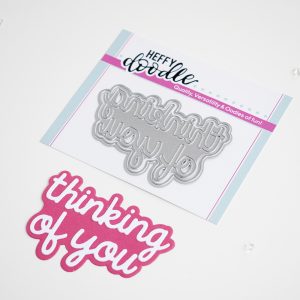 and the Thinking of You Shadow Heffy Cuts!

And that's it for our fourth and last day of Full Product Reveals!
So, what are the items in your wishlist?! Let us know!
Remember that you can now visit the Heffy Doodle store and place your pre-orders! Grab your favorite sets and get an exclusive Lil Lighthouse stamp set for free! We call that a win-win!
Pre-orders will ship by July 3rd, which is our official release date. From that day on, you will also find the release available from our retailers.
A big thanks for all the excitement you showed for our release, and stay tuned for more inspiration from our fantastic Design Team!