June 23, 2020
Sending (Chubby) Unicorns and Rainbows! Full Reveal Day 3!

Hello again Heffy Doodlers and welcome to Day 3 of our Full Product Reveals! Can you believe it? These days went by so fast! In case you missed them, you can also check out Day 1 here and Day 2 here.
Get your wishlists ready for the opening or pre-orders tomorrow and remember that any pre-order placed through July 3rd will receive a not yet released Lil Lighthouse stamp set for free!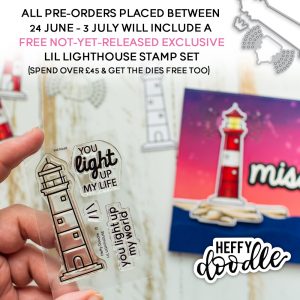 Speaking of wishlists, we've got you covered! Click on this link to download a free checklist with all the items in the new release!
We also have a document with all the products released so far, so that you can keep track of what Heffy Doodle goodies you have in your stash! You can download it here!
Ok you guys, time to start with today's reveals!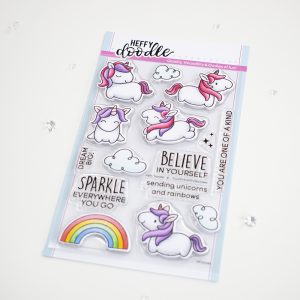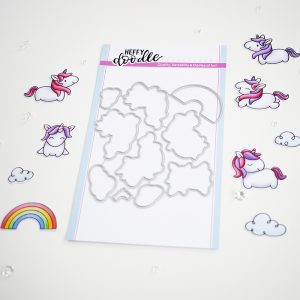 The first set for today is the new Fluffy Puffy Unicorns! These chubby unicorns really are one of a kind, with their sweet, chubby bellies and happy faces! This set of 15 stamps includes 5 podgy unicorns, 3 whimsical cloud images, a rainbow, a collection of sparkles and 5 sentiment stamps!
The stamps coordinate with the Fluffy Puffy Unicorns Dies, a set of 10 metal dies to cut out all the images in the stamp set!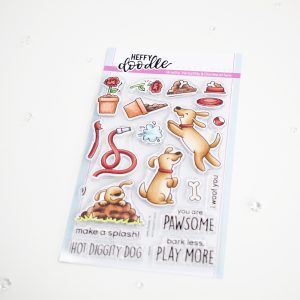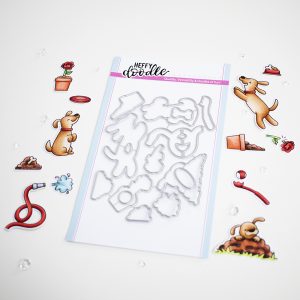 Hot Diggity Dog is a set of 20 pawesome stamps, perfect for all you dog lovers out there.  It features three playful pups who are causing havoc in the garden as well as accompanying images that make this set great for creating scenes or interactive cards! The set also has a stamp for movement lines that can be used to show a dog's tail wagging, or the ball, frisbee or hose moving. And of course it includes dog themed sentiments for your cards!
The Hot Diggity Dog Dies coordinate with the Hot Diggity Dog Stamps  and includes dies for all images, for a total of 15 dies!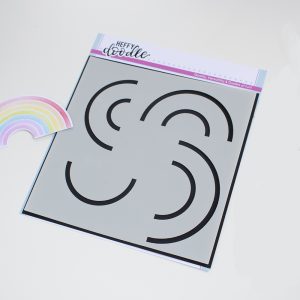 Create your own inky rainbows with the Rainbow Builder Stencil! Ink each section in the colour of your choice, then rotate the stencil to add the next colour. Repeat until you have completed your rainbow. The stencil measures approximately 6×6″.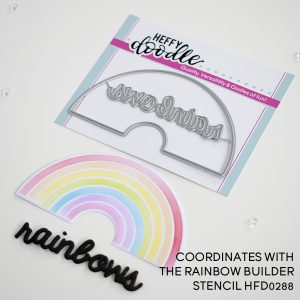 The Rainbow Builder Coordinating Die is a set of 2 metal dies: it includes an arc die, sized to to die cut the inky rainbow you created with the Rainbow Builder Stencil, and a die that cuts the words rainbows in a fun scripty font!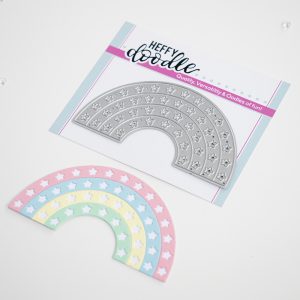 We have even more rainbows coming your way with our unique Starry Rainbow Die! The die cuts four arc shapes, each with stars die cut within the arched lines. Cut from different colours to assemble your own rainbow, or use coloured stars to create an inlaid design! The star die cuts create fun confetti which can be added inside envelopes or could be used for shaker cards!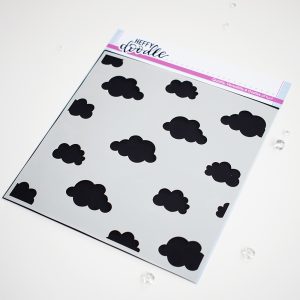 Create the perfect puffy clouds with the Head In The Clouds 6×6″ Stencil. Use it with embossing pastes and glitters to create a fun 3D look, or with inks for a more colourful cloudy sky! Perfect for creating whimsical backgrounds using inks, markers, sprays, mists, pastes and more!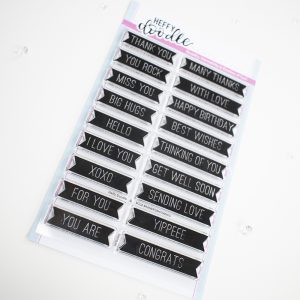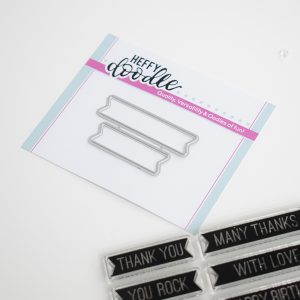 Last but not least for today is the Bold Banner Sentiment Stamp set!  A mega set of 18 banner stamps in a bold, dymo-style design, with fish tail edges! This is an essential stamp set for your collection, with many words and greetings that you will use time and time again! For best results use a stamping platform and a suitable dye ink.
The set Coordinates with the Bold Banner Coordinating Die. Designed to be used with the Bold Banner Sentiment stamps, these dies could also be used on their own to create fun, fish tail banners for your projects!

So, what do you guys think of today's reveals? Don't forget to come back tomorrow for our last day of Full Product Reveals and for the opening of Pre-orders! We are SO excited and hope you are, too!