March 24, 2020
Yummy Pasta!
Hello Friends Waleska or craftinglovew here with my second post as the March Guest Designer…I am super happy and excited to share two cards I had a great time creating among all the crazyness in the world.   I am so grateful for having this amazing community and passion to share and find joy creating.  My cards for today are super happy and full of funny elements I hope you like them as much as I do.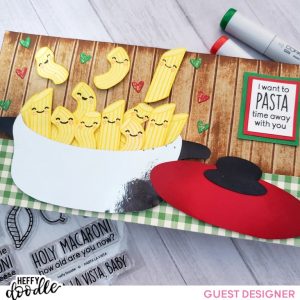 CARD DETAILS:
For both of my cards I wanted to give them a sense of a table setting… for my first card I stamped a bunch of the pasta from the Pasta La Vista stamp set on a light yellow cardstock and a yellow ink, I added some of the cute faces with a black ink too.  I drew and cut a big pot and lid to put all the pasta inside.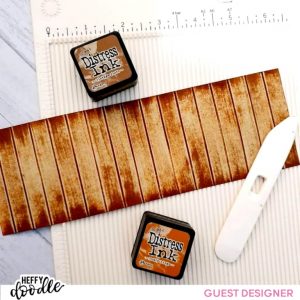 To create the background I did a technique I learn a long time ago to create a wood look, what you do is on kraft cardstock use your score board and score lines along your cardstock, they can be any measure but I like every 1/2 inch.  After that on the raised lines you swipe the small Distress ink cubes on the up and down edges of the panel, I used Rusty Hinge and Vintage photo distress inks and Voila!! You have a very realistic wood look on your card!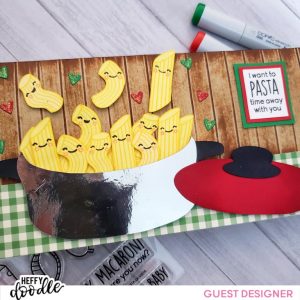 I used a green plaid paper to create the sense of a table cloth.  I arrange all the cute pasta inside of the pot and adhere the rest of the embellishments and sentiment.  Such a fun way to tell someone you miss you WANT TO PASTA TIME AWAY with them!
CARD DETAILS #2:
For my second card I wanted to create a table setting… a super cute table setting… I looove pasta so this card totally can be my favorite from all time!!! Plus I wanted to use a specific  sentiment from this set that seams to go perfect with this crazy times!!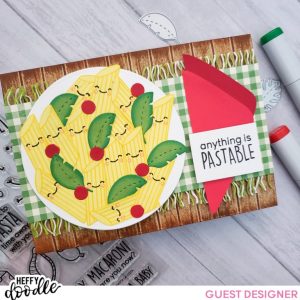 Just like the other card I started stamping and cutting the pasta for this card I wanted to also add to this delicious and carbtastic plate some basil leaves and tomatoes.  The leaves are from the Amazonian Leaves dies I wanted to use dies for a more dimentional look, the tomatoes are from a hole punch and red cardstock.   I arrange and adhere all the yummy pasta to a white circle die cut to look like a plate.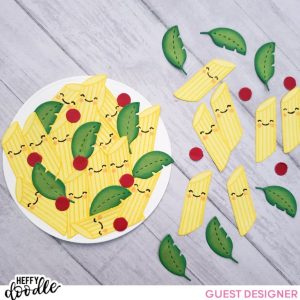 I also wanted to create a dimentional table runner to do that I cut a wide stripe of the plaid cardstock I used in the first card and added adhesive on the edges, I adhere two different colors of floss around the plaid stripe to recreate the fringes, it looks super realistic and fun!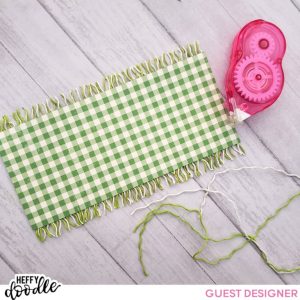 To finish this card I create a wood table background with the technique I showed you on the first card, I added the table runner and the plate full of fun pasta.  I hand cut the red napkins in two different colors of red cardstock and added the Awesome sentiment!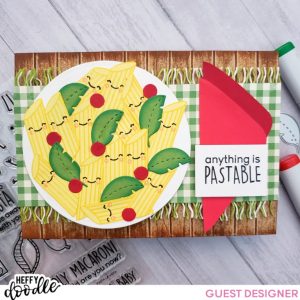 I am happy to say I had a blast being a Guest Designer for Heffy Doodle this month using their fun and amazing stamps and dies! Please friends Stay Safe, Stay Crafty and remember Anything is Pastable!!! stay busy inside your homes doing something you enjoy! Lots of Hugs,