December 18, 2018
You're A Rare Find!
Alcohol Ink Elements with Focal Images
Hey Heffy Doodlers!
It's Kelly here, and thanks for dashing over for a quick peek at the blog today!
Today I'm incorporating some colorful alcohol ink panels with the Geology Rocks stamp set, so lets get to it!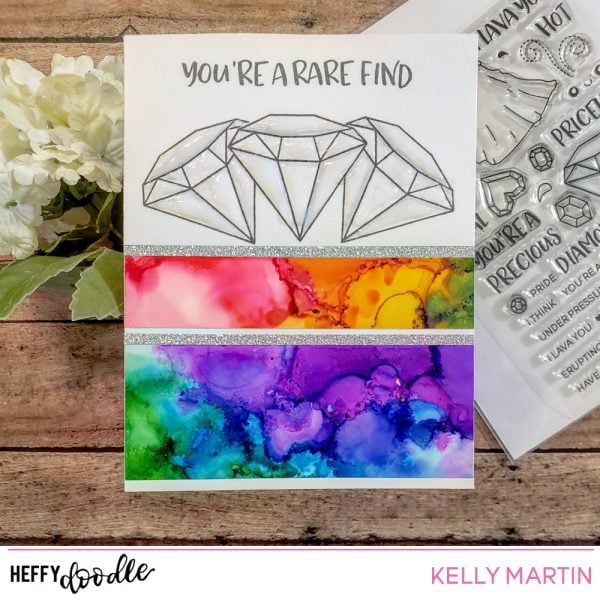 I applied some alcohol inks on to a piece of Yupo paper in a rainbow pattern and then trimmed down that larger piece into smaller strips. I glued them down to a cut and scored 4.25 x 5.5 inch card base.
Next, I stamped the diamond images from the stamp set. I actually stamped the center one and then masked it before stamping the other two on either side of the center one.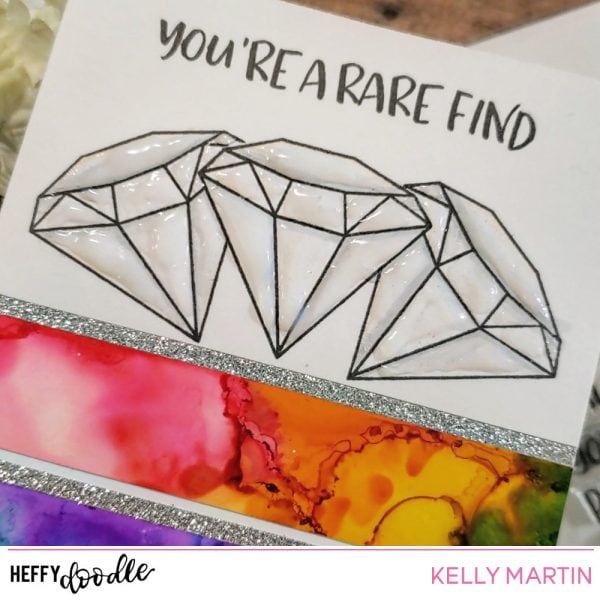 Using my Versamarker pen, I colored in the diamond images and then poured on some sparkle embossing powder.
After looking at the card, I was still wanting to kick it up a notch by adding more sparkle, so I colored the images with my Spectrum Noir shimmer pen, and then added glossy accents on top! I was very pleased with the result! Not only did I have the shimmer and sparkle, but I had the shine and the texture that definitely make it look more like a diamond!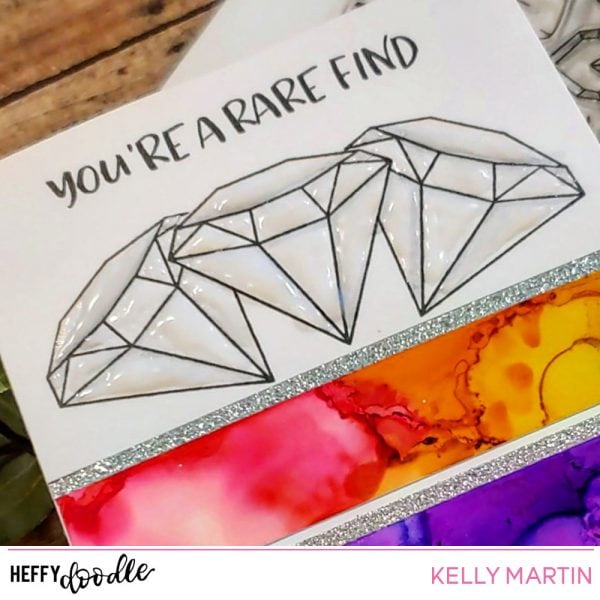 I stamped the sentiment and then ALMOST called it a day, but then I thought it still looked a little unfinished.
So I trimmed down some glitter cardstock strips that I had in my stash and glued those down to the card. VOILA! That was the finishing touch I needed!
Thanks again for stopping by, and have a crafty day!
Kelly
Supplies Used:
Alcohol Inks: Flamingo, Sunset Orange, Sunshine Yellow, Lime, Saiboat Blue, Fuschia
Stamps: Geology Rocks
Inks: Intense Black (Hero Arts), Versamark
Embossing Powder: Sparkle (Hero Arts)