May 8, 2022
VIDEO: Stenciling with Sprays
Welcome back to the Heffy Doodle blog, Carrie Rhoades here today to share a new video with you. In this video I am making a baby card with several of the newest products from the Heffy Doodle shop. I just love the new Two by Two stamp set. It has giraffes! Which happens to be my favorite animal and was my very first stuffed animal as a baby. With the new Happy New Baby Jumbo Sentiment die, this card was meant to be!
If you can not see the video up on this screen you can watch it on the Heffy Doodle YouTube channel, right HERE.
The highlight of this card, for me, was making the background with the Vertical Vines stencil. This stencil has a lot of detail. I thought it would be fun to use my sprays with it, instead of ink blending with a brush, which can easily move the stencil if you don't have adhesive fixative spray, which I do not.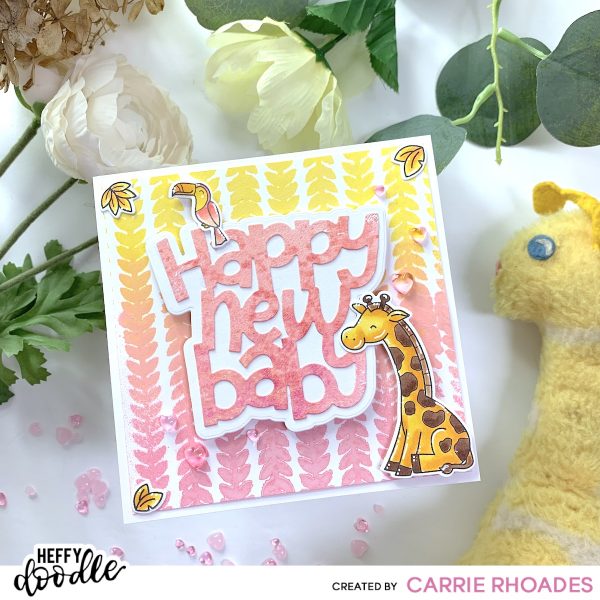 For my jumbo die cut, I pulled a background out of my stash that I made on my gel press. If you have extra backgrounds saved up from ink blending, ink smooshing, alcohol inks, etc, jumbo dies are a great way to use them. I love the varied look it gave the sentiment.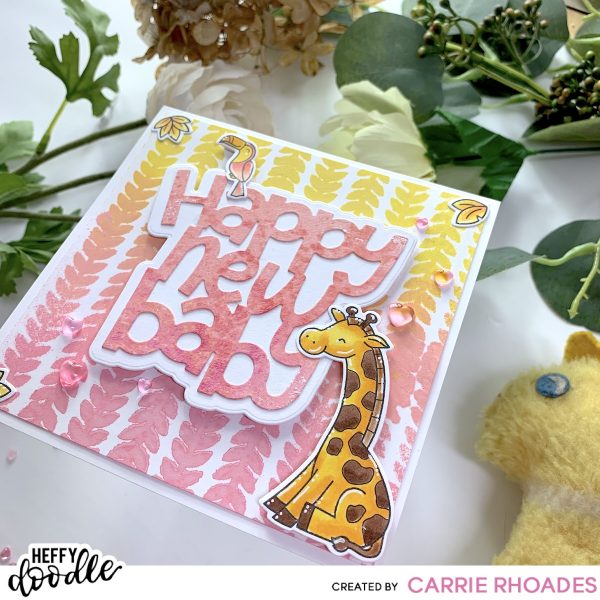 I pulled out the Two by Two stamp set to add to the card and chose this sitting giraffe, as it looks most baby like to me. These images are so sweet and playful looking. I finished off the card with a few heart embellishments I had on hand. The finished size of this card is 5″ x 5″, big enough for a note and a gift card too.
I love the look of the stenciled background done with sprays, it is not perfect, if you like inky splattery backgrounds you will love it too.
Thank you for stopping by and letting me share my new baby card with you.
Happy Stamping,
Carrie