March 30, 2019
Veggie Patch Tales
Using vellum for a focal point
Hello, Heffy Friends!
Today I've got a fun card for you that incorporates a really small detail, but one you can use in lots of different cards!
Sometimes you come up with these fantastic backgrounds and then don't know how to quite incorporate critter images into them, as anything that's really colorful can sometimes compete with a colorful background, too.
One crafty weapon I love having in my arsenal to pull out in times like this is vellum!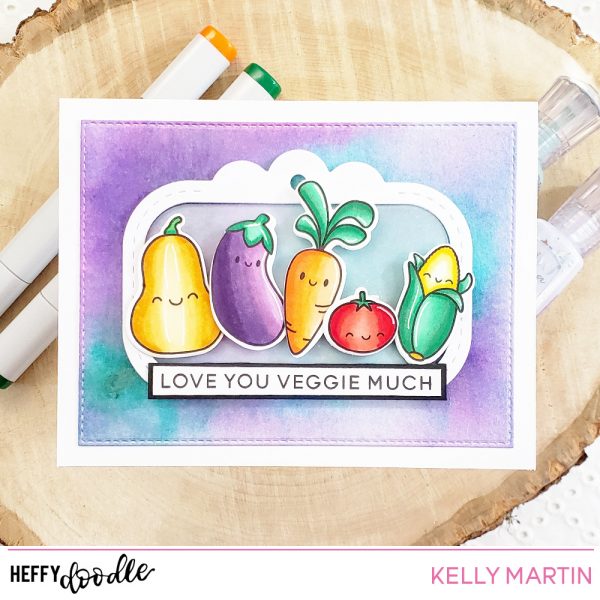 You can use a basic die to cut a vellum piece that will serve as the background for your focal images. For this card, I used the Tag Along die and ran it through my die cut machine once with white cardstock and also vellum. After having both the outside border piece (in white) and the inside piece (in vellum), I set them aside.
Using a piece of watercolor paper, I laid down a lot of clean water on to the watercolor paper with a paintbrush. While it was still wet, I shook out some Nuvo Shimmer Powder on to the panel and watched the water do the work!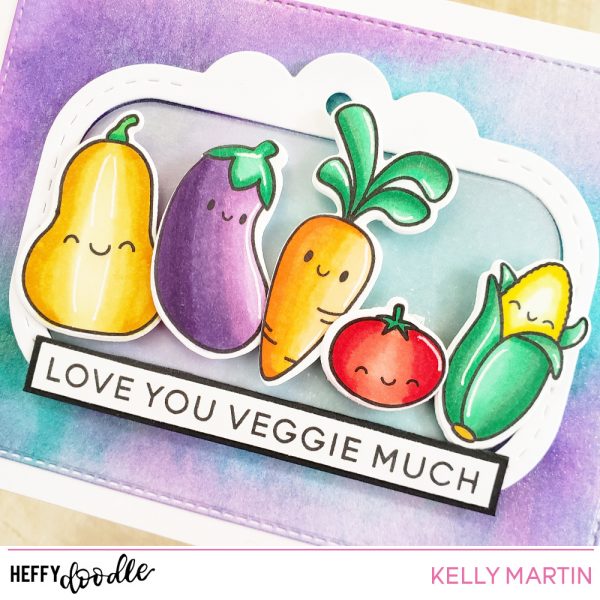 I used the stitched rectangle die to cut out the watercolor paper after it was dry, and then glued it down flat to a cut and scored 4.25 x 5.5 inch card base.
You can then stamp, color, and die cut any images you want, but I used some images from the Veggie Patch set for this card. I wanted to be sure I used some bright colors for the images so that they would pop against the watercolor panel!
I mounted the white Tag Along border piece with foam tape and then placed it down on to the card. Before adhering the vellum piece down inside the border, I actually mounted the veggie images with foam tape and then laid them down on the vellum piece. Because the images were all attached to the vellum at this point, I could hide my liquid adhesive for the vellum piece behind the smiling veggies before laying it down and nestling it inside the white border piece.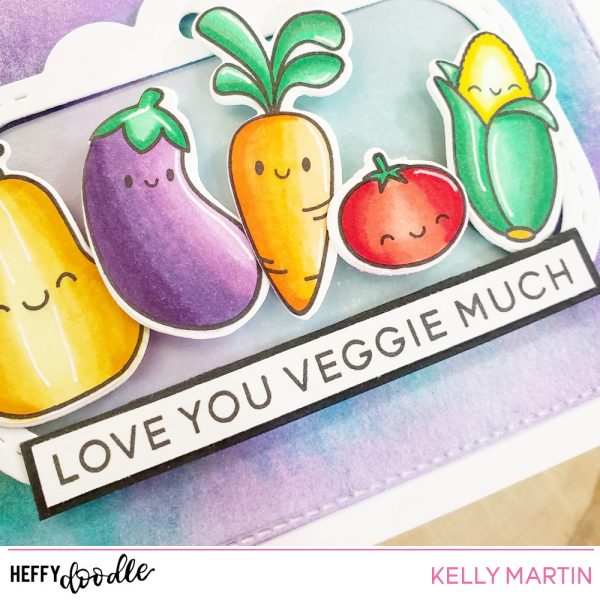 Now for the easy part! Just choose a sentiment, stamp it out on a strip of white cardstock, and then create a matte for it with a darker piece of cardstock glued behind it! Then you can glue your sentiment strip on to the bottom part of your white tag along border piece and call it a day!
So you see that using that vellum piece helps to create the focal point with the veggie images, while still showing off that beautiful watercolor panel! Next time you've got a dynamite background and some cute colored images, add your vellum cardstock to the equation and watch what happens!
Thanks so much for joining me on the blog today! Happy crafting!
Kelly