July 27, 2021
Unicorn Rainbow Splatter Wobble Card
Hey crafty friends, Ilda here from I Love Doing All things crafty.
I am back again today with my second post for Heffy Doodle, once again featuring the Fluffy Puffy Unicorns, plus my favorites, rainbows, and sparkle!
CARD RECIPE
Stamp out the Unicorn from the Fluffy Puffy Unicorns Stamp set.
Color with Copic markers.
Die-cut using the coordinating Fluffy Puffy Unicorns Dies.
Embellish with white and gold gel pen details.
Add a light layer of glue to the mane and tail of the unicorn, sprinkle on some sparkle glitter.
On black cardstock stamp and white heat emboss the sentiment. Use a circle die to cut it out. Set aside to work on the background.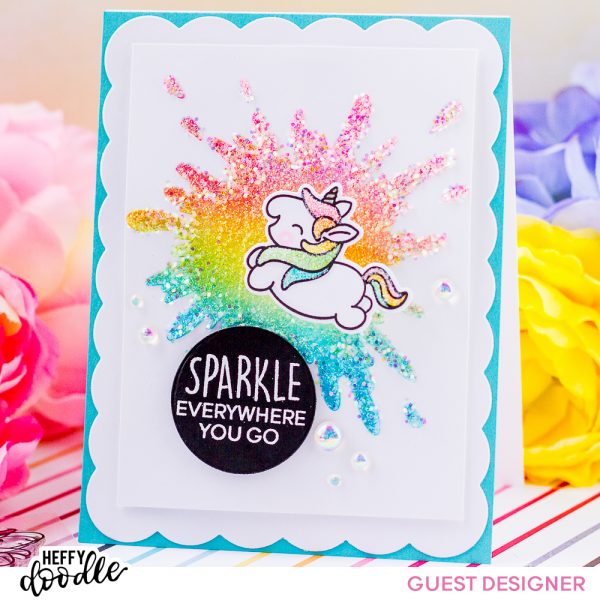 Blend out yellow ink in the middle of the Splash from the Messy Desk Stencil. Then blend out the other two colors, pink and blue to create a rainbow gradient by blending into the yellow ink.
Apply a layer of Glitz Glitter Gel to the rainbow splashed background.
Remove the stencil.
Before the Glitz Glitter Gel dries sprinkle chunky glitter to the edges of the splatter. Allow the background to dry.
Trim the panel and add it to the top of the largest Scalloped Imperial Frames Die, which has been glued onto the front of the card base.
Add the Action Wobbles Spring behind the unicorn and glue it onto the splattered area.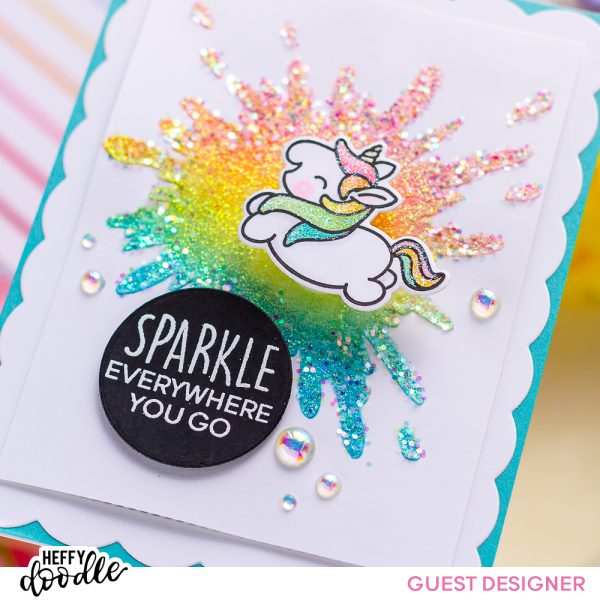 Pop up the sentiment in place with foam tape.
Embellish with iridescent bubbles.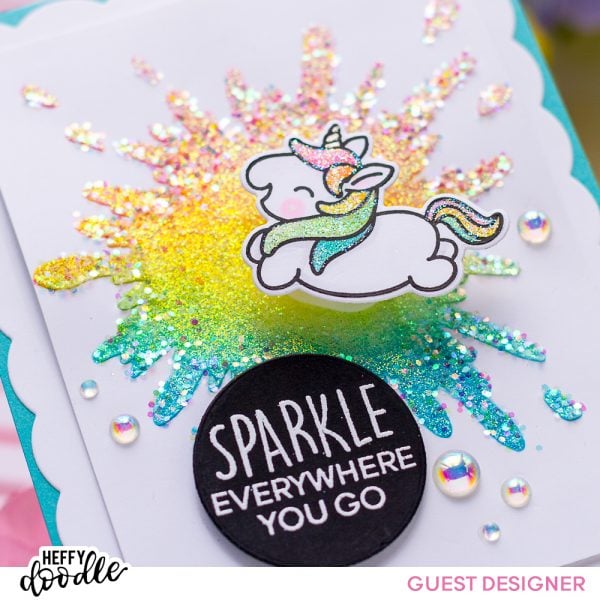 I hope this sparkly rainbow card inspired you today. For a complete list of supplies used stop by my blog.
Thank you for spending this time with me today and a special thanks to Heffy Doodle for having me as your Guest Designer this month. Until next time… Happy Crafting!
Ilda👋