October 22, 2017
Tips On How To Apply For A Design Team
Today we wanted to share something a little different, some tips on how to apply for a design team.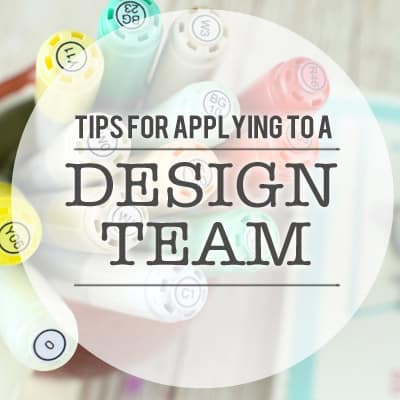 After our recent design team call, some people requested feedback but unfortunately, we just don't have the time to reply to everyone individually. Instead, we thought it would be helpful if we shared some hints and tips on how you can improve your applications in the future and help you understand what we (and I'm sure many other stamp companies) are looking for.
This was our first call, so are by no means the experts here, but we learnt a lot by going through this experience. Hopefully, our learnings will be useful to you.
Be positive
When you apply for a Design Team, you should think about it as applying for a job. You need to make a good first impression and the first thing I would advise is to be positive! The company you are applying to is looking for the best people they can find to help promote their products. If you try to be modest and say things like "I'm not sure if I'm good enough" it's not going to encourage the person reviewing you.
Don't highlight the negatives
Your application should be all about why you should be selected. Don't waste your opportunity highlighting the negatives. If you have never been on a design team before – don't specifically say that. Having design team experience is a nice bonus (but not a requirement for us) but specially mentioning that you don't have it is just drawing attention to something that you don't want your reviewer to think about. Focus on your positives!
Be professional
As a design team member, you are essentially going to be part of a company and representing them online. It's important that you come across as someone that can do this job properly. Make sure you check your spelling before hitting send and I also recommend getting Grammarly (my spelling is attrosius… attrosious… terrible). You also need to follow the instructions the company has provided to you on how to apply. You'll be expected to follow plenty of instructions as a Design Team member so it's not going to look good if you make a mistake on your application. Similarly, it's not going to reflect well on you if you ask a question that has already been answered in the Design Team Call information.
Keep it simple
Even as a new company, we received over 100 applications to our design team! That's a lot of work to review each and every one of them! You want to make sure that your application is clean and simple, and easy to review. Keep your introduction concise and provide a clear list of URLs that you want the company to review. You can add more information after these links but the most important thing is to get as much of your work seen as quickly as possible. If you are attaching photos, remember to resize these to a reasonable resolution so they can be easily viewed. We would recommend 800 px wide.
Add links
This is an important one. Always, ALWAYS add clickable links to any of your websites including social media when you apply for a Design Team. Don't just say "I have a blog at heffydoodle.com and my Instagram account is @heffydoodle". Change that to be "I have a blog at heffydoodle.com and my Instagram account is @heffydoodle". With so many applications to review, you need to make sure you make it as easy as possible for the company to review your work.
Keep your Instagram feed relevant
This applies to any social channels but especially for Instagram – keep your images relevant to what you are applying for. If the person reviewing your design team application clicks on your account, what are the first images they will see?  I'm not saying that you should only ever share pictures of your projects on your Instagram, it's your channel, you should do what makes you happy but you have to think about maximising the opportunity. Likewise, it might earn you a few bonus points if you are already sharing projects using products from that company. Timing a few targeted posts featuring the brand you are applying for might make you more memorable.
Update your blog
Now we are getting into some of the harder to do things but these next two could have the biggest impact. Blogs have been around for a long time now and the styles have changed over the years. As a company, we are looking for Design Team members that have good looking, high quality, well-maintained blogs. If you have not updated your site/design in several years, you might want to look at having a revamp. Sites such as WordPress and Blogger make it very easy to create something professional looking without a degree in web-design. Look at some of your favourite bloggers for inspiration or ask your crafty friends for ideas. If you want to increase your chances of success when you apply for a Design Team, this is important.
Take good quality photos
This is probably the most important piece of advice and the one thing holding you back from getting on a design team. You can make the best cards in the world but if your pictures are dark and grainy, it's all for nought. The good news is you don't need a super expensive camera and an elaborate lighting setup to take good photos. You should look online for tutorials on how to use your camera properly but my advice would be to focus on the lighting. Take pictures during the day if possible or pick up some LED lights to help your projects pop. There are some really useful video tutorials on YouTube on all of this, I would suggest you start by searching for "how to take better product pictures"
I hope you find some of this information useful. We are new and far from experts in this but thought it would be useful to share our thoughts. Hopefully, it will help some of you land that dream Design Team position!
Best of luck!
Craig