May 22, 2020
Slimline Birthday Aliens

Hey Heffy Doodle enthusiasts!  It's Amanda back again with a You're Weird slimline card.  Galaxy backgrounds are always so much fun to make!  Plus, these aliens are probably my favorite Heffy Doodle stamp set!  They are just so cute!  Keep scrollin' for the process!  Scroll all the way down for close-up images of the final card!
Quick Links:  My Instagram  |  You're Weird Stamps  |  You're Weird Dies  |  Fancy Nancy Frames Dies  |  Whatcha Sayin' Stamp Set  |  Whatcha Sayin' Dies  |  Sun, Moon, and Stars Dies  |  Hootiful Stamps  |  Hootiful Dies  |  Down the Line Stamps |  Starfall Stencil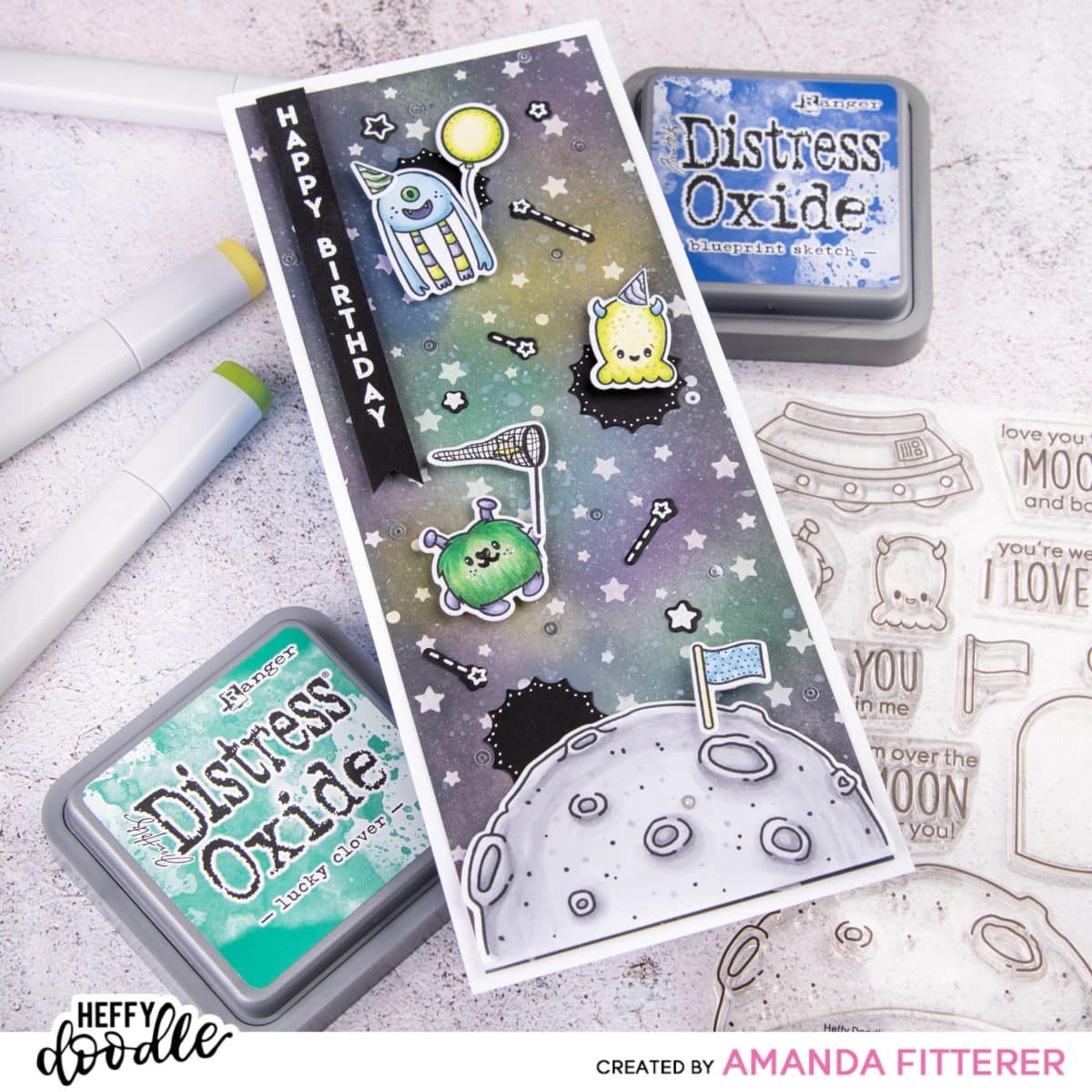 To start making this slimline card, I am starting with 2 pieces of cardstock.  One measures at 8.5″ x 7″ (scored at 3.5″), which will be my solid white card base.  The other is cut down to 8″ x 3″ and will be my card front.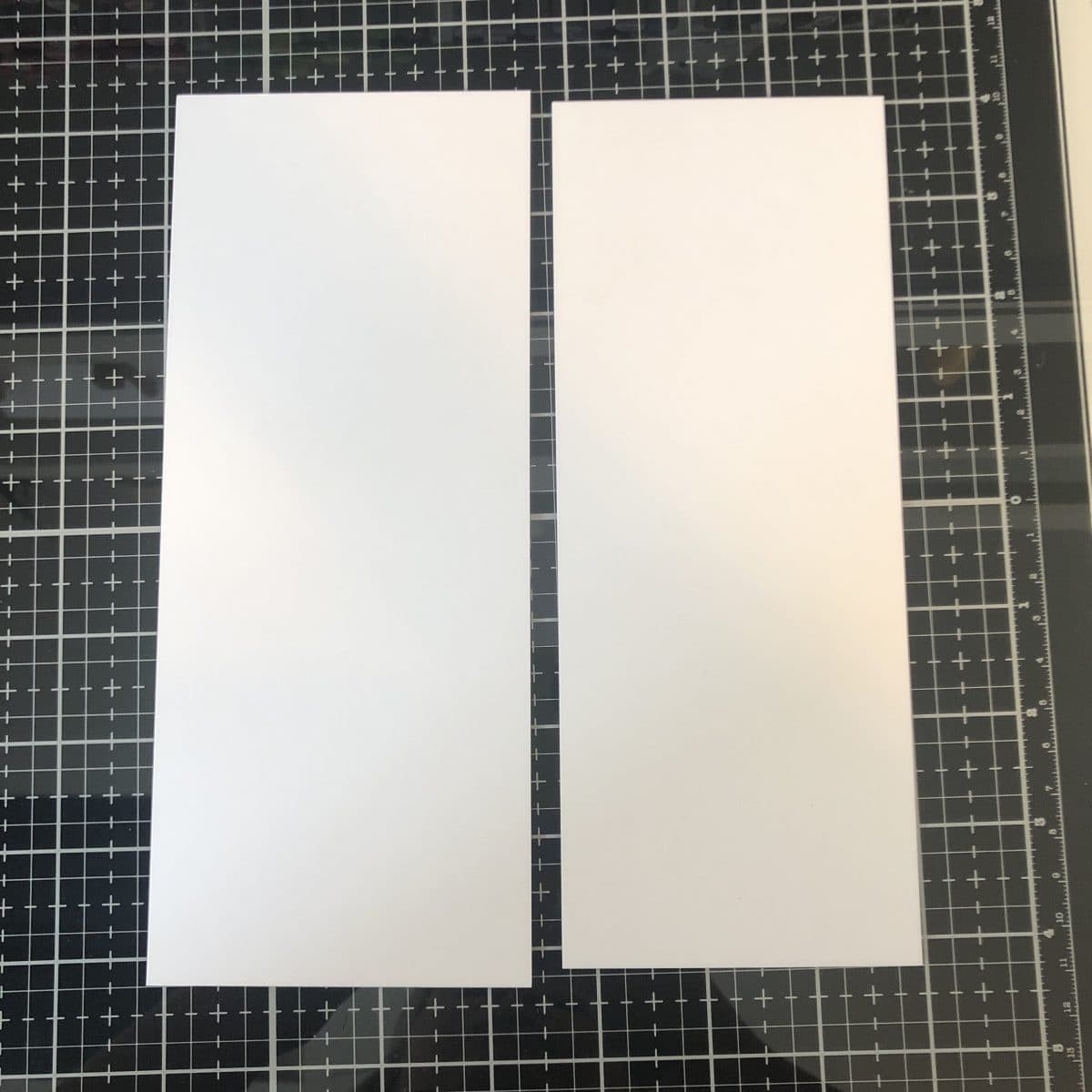 Time to make a galaxy background!  If you haven't tried before, you should definitely try it now!  It's not as hard as you think and you can't really go wrong!  (Click on any photo to enlarge).  First, I'm starting with my colored oxides (not gray and black).  I'm just doing little swirls of each color all around.  You don't have to use these colors, though.  You can try any combination of blues, greens, teals, and purples.  As you can see, it doesn't look like a galaxy background at all once this step is completed!  Don't fret!  Now, add gray (if you have it) and black.  Focus on the outer edges, but still do a lighter coverage in the center.
Next, mist some water on the entire background.  If you don't have a mister, you can flick water with your fingertips or a paint brush.  Grab a paintbrush and flick some white paint on it as well.  You can use acrylic paint, or white distress ink refill.  You may have to water it down a little!  To add some texture and bright stars, I'm using embossing paste and the Starfall Stencil.  Wait for that to dry and it's all done!
Now onto stamping!  I am using a plethora of Heffy Doodle stamps to get the elements I want!  I am using You're Weird, Shellabrate (hats), Elephant of Surprise (balloon), Hootiful (star), and Gnome Matter What (net).  I'm stamping them all with an alcohol ink-friendly ink pad (Memento Tuxedo Black) on my Misti stamping platform.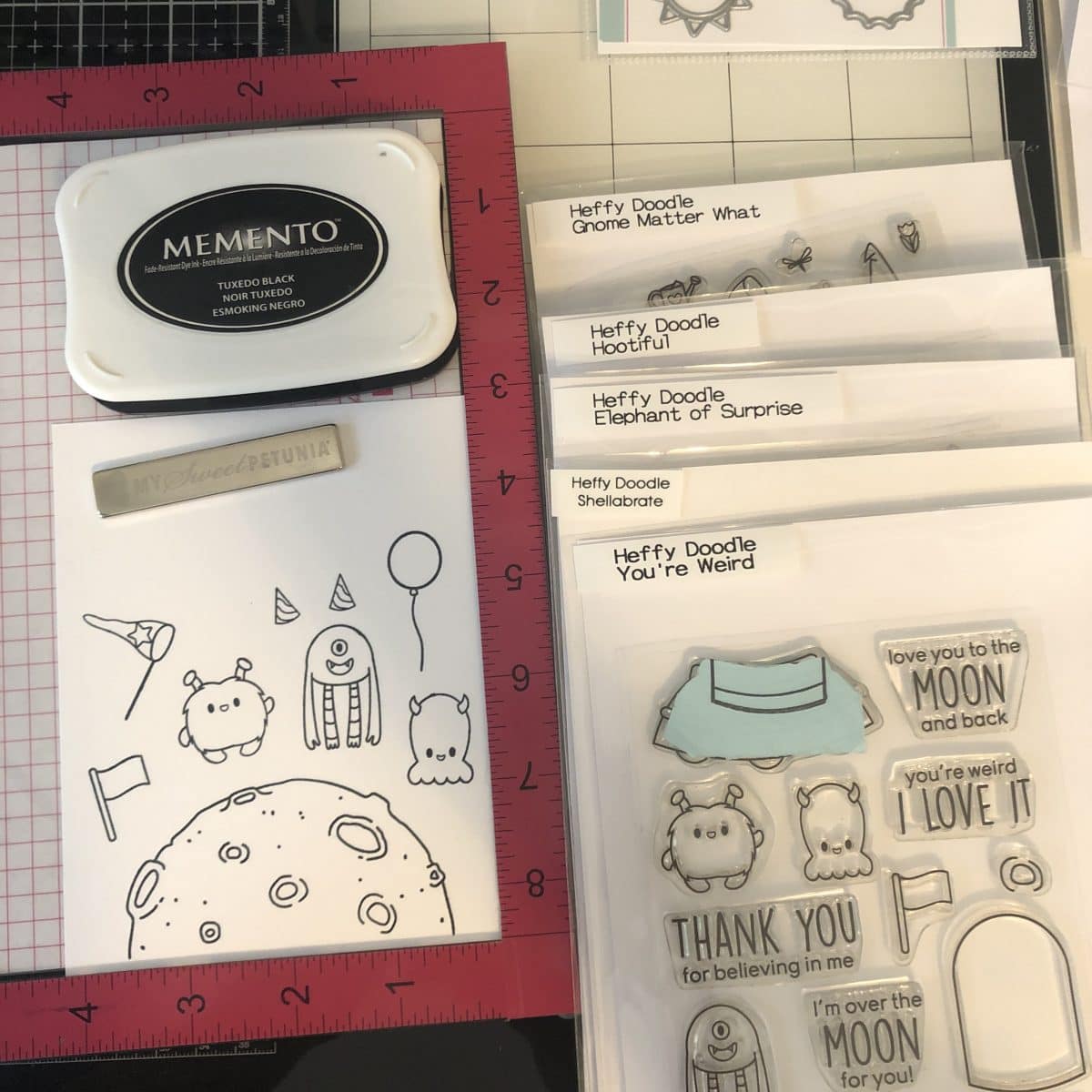 I'm going to color everything with my Copic alcohol markers.  (Click on any photo to enlarge.)
I use my cute Easy Cuts die cutting machine (affiliate link) to cut out my stamped images with their coordinating dies.  I am also using Purple tape to hold the dies in place so they don't move and ruin all of my hard work!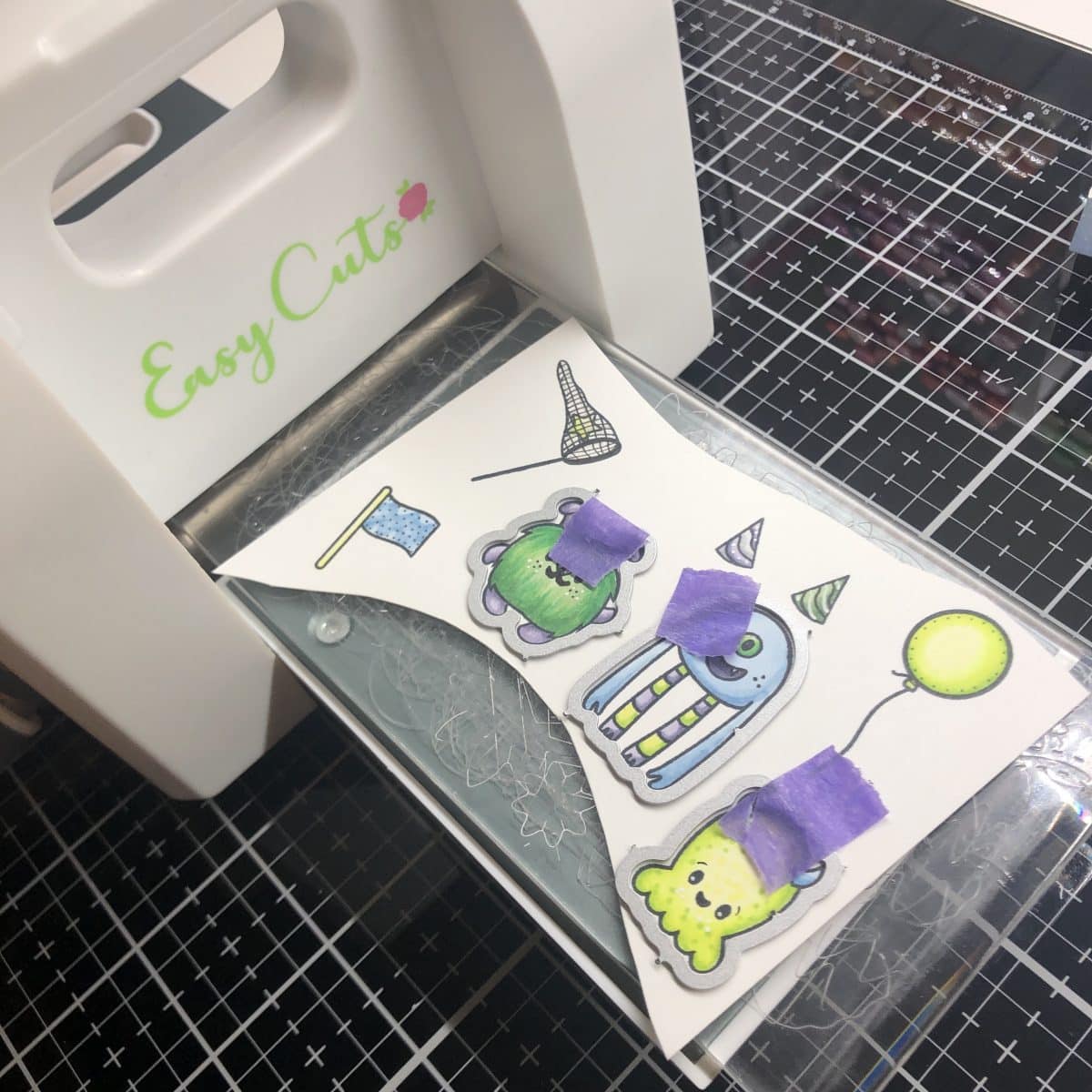 I am stamping my Down the Line Sentiments "Happy Birthday" sentiment with Versamark watermark ink and then heat embossing with white detail embossing powder.  To see more detail on this step, please visit my last blog post.  I am using scissors to cut a triangle at the bottom of the sentiment to make it look like a flag.  I could've also used the die from the More Strips of Ease dies, which does the same thing, but I forgot about it!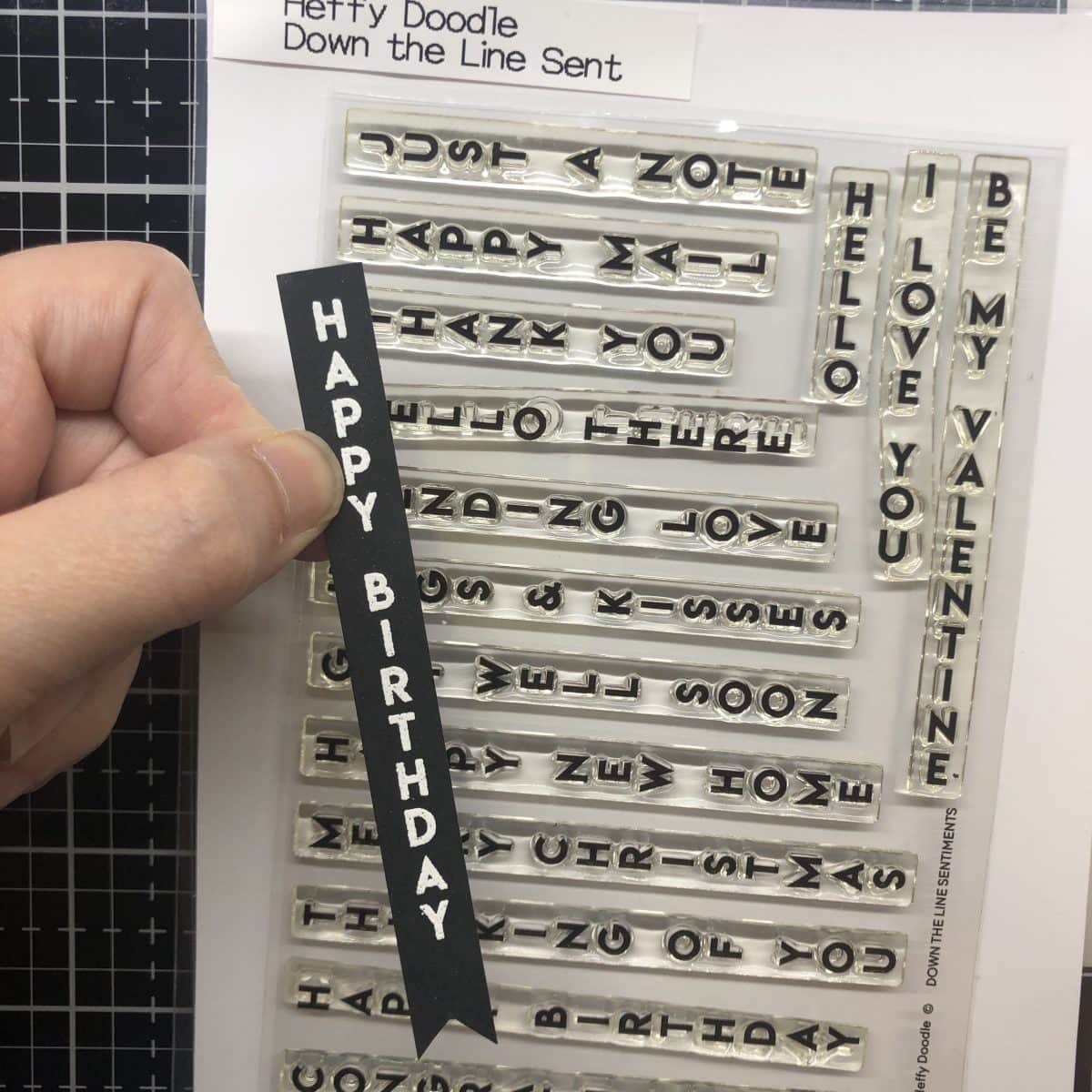 I used the Sun, Moon, and Stars dies to create a little "black hole".  I added some dots all around the edge with my Gelly Roll pen.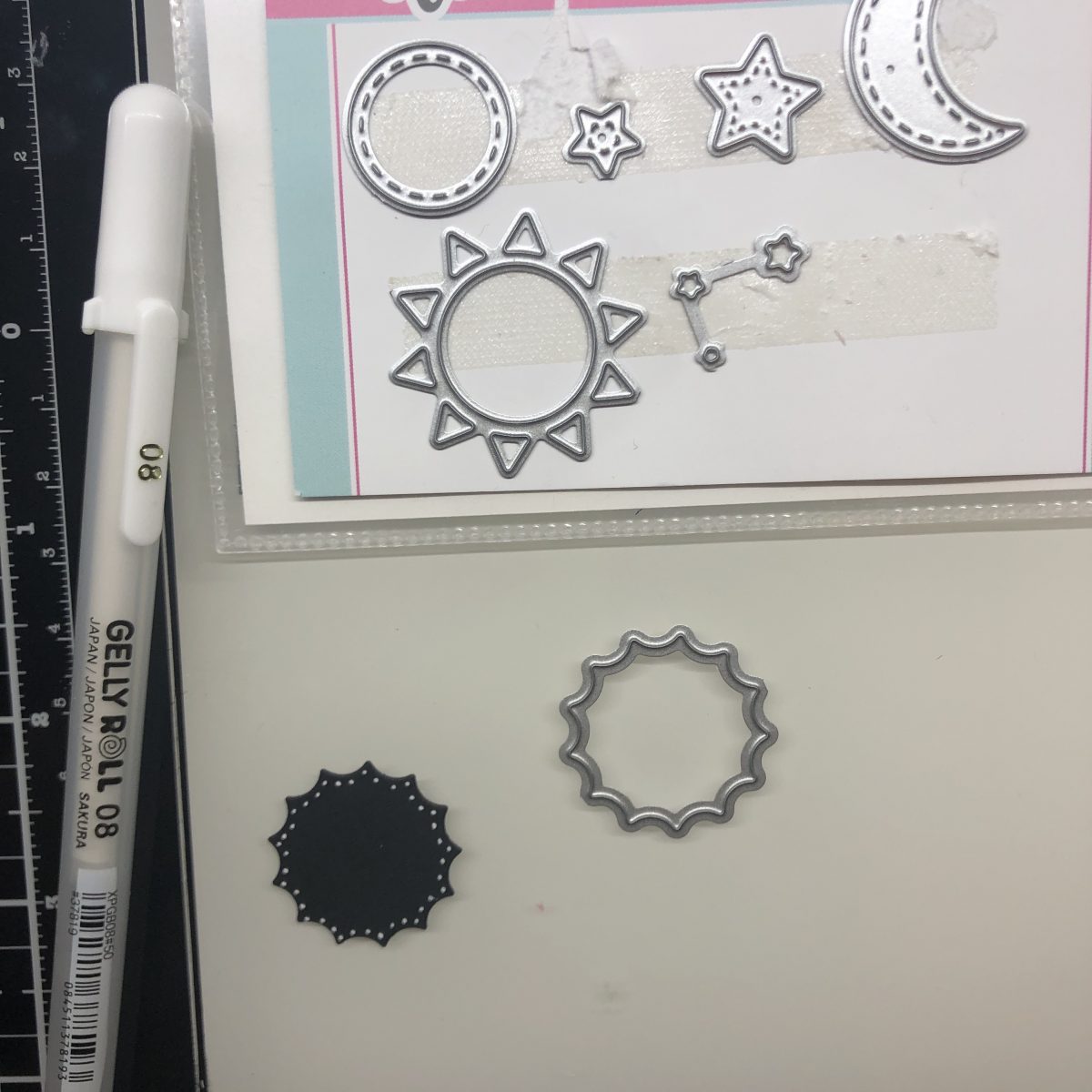 (Not shown – I stamped an embossed shooting stars from the Hootiful stamp set.)
I am ready to start putting my card together!  Anything that I want to stand out, I am using 3D foam strips or squares.  Anything I want to be in the background, I'm using Tombow Mono Liquid Glue.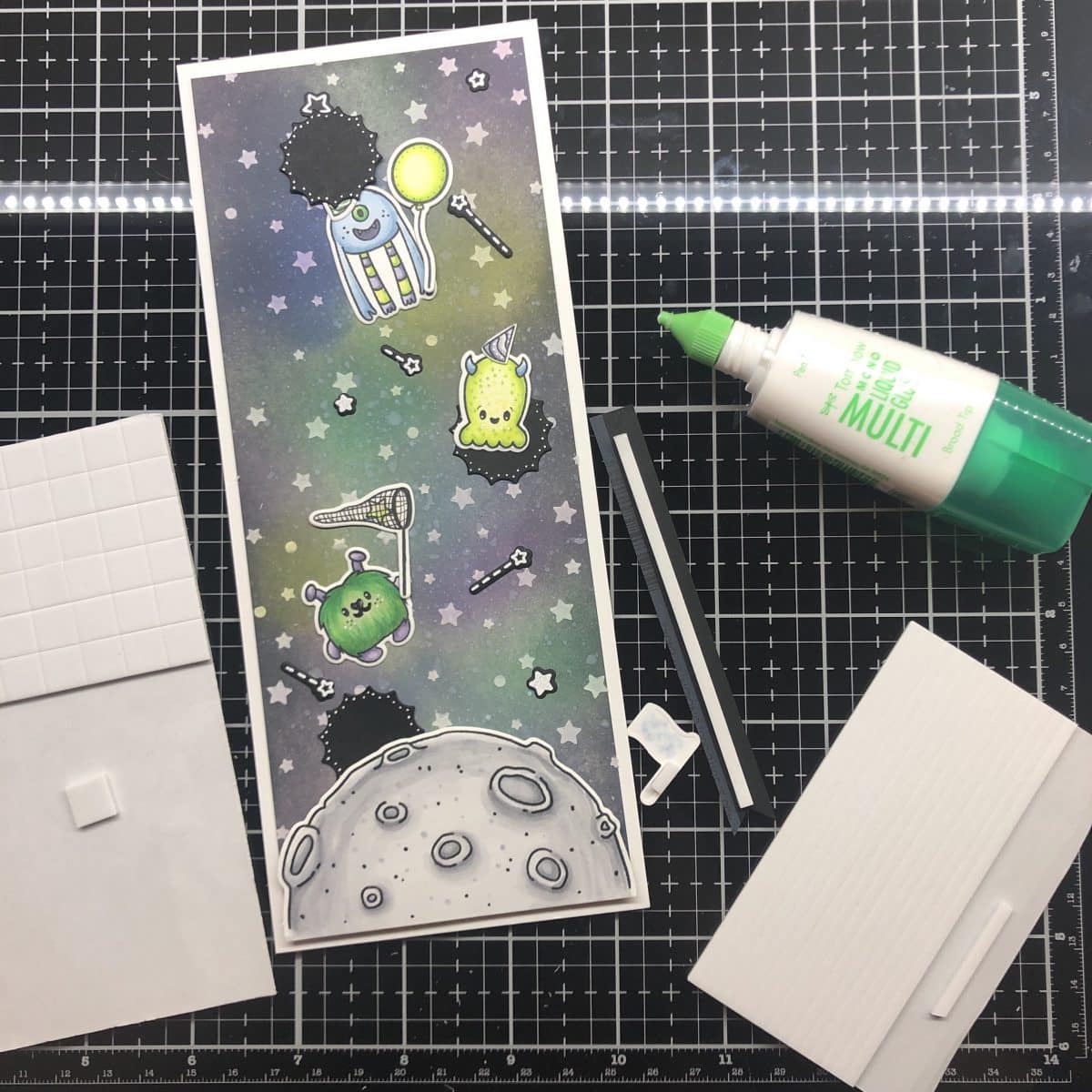 After I have everything adhered to my card front, I'm ready to add a little bling!  I have my White Sunshine Sequins from Dress My Craft and I'm just going to randomly place them around my card with a tiny glue pen.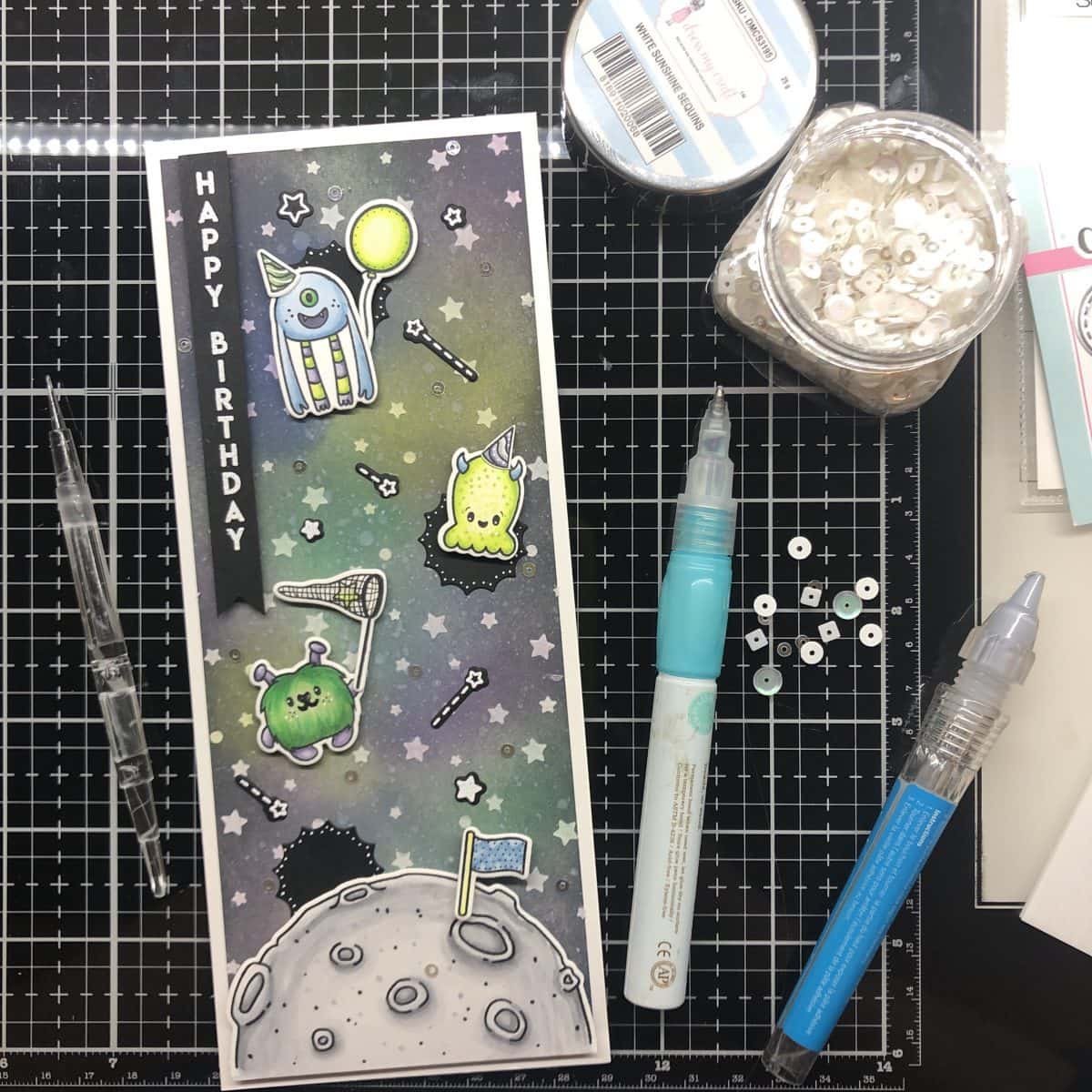 And we're all done!  Look how cute!
Thank you so much for scrolling along with me!  Xoxo, Amanda