June 29, 2019
Product Reveal – Day 2

Welcome!
It's Day 2 of product reveals for the newest Heffy Doodle release and we're excited to share some fantastic products with you!
Create the illusion of a brick wall with this fabulous stencil. Great for art journaling, scene building projects and more! Use with ink, sprays or embossing paste for added texture. Measures approximately 6″ x 6″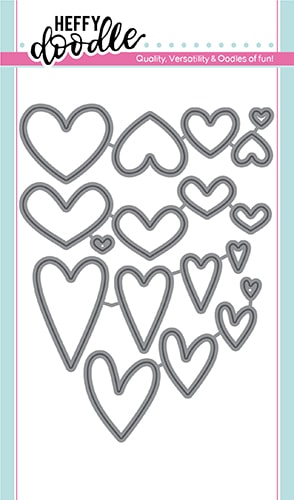 You will never need another heart die again with this mega selection of heart shapes. With four different styles (classic heart, primitive heart, chubby heart & whimiscal heart) in a variety of sizes, you will always have just the right one for all your crafting needs! A total of 18 heart shaped dies.
Treat Yo'Self Stamp and Die Set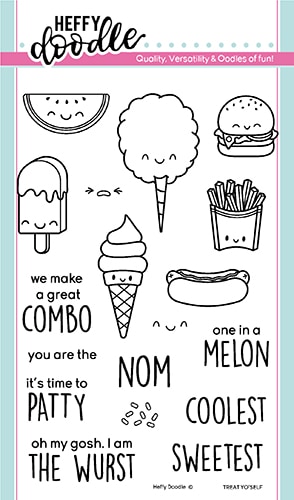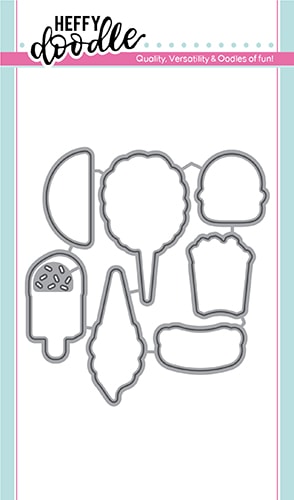 We all deserve a little treat sometimes! This set of 18 stamps includes a variety of mouth watering sweet and savory snacks such as an ice cream, candyfloss, ice lolly (with optional sprinkles), watermelon, burger, fries and hot dog. Their sweet faces add extra personality and coordinate perfectly with the whimiscal, puntastic sentiments included in this set! Contains two interchangeble faces for the hotdog so you can coordinate with the sentiment of your choice.
Sprinkled with Fun Stencil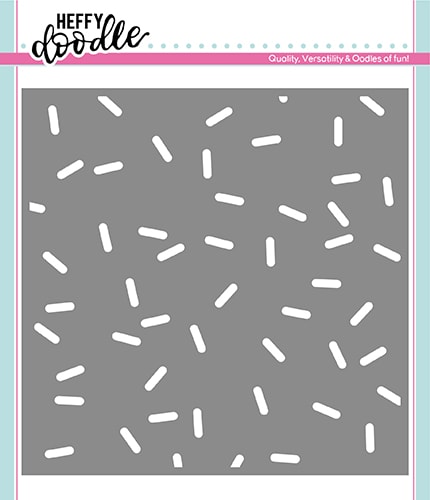 Sprinkle a little fun on your life with this sweet stencil. Create the illusion of sugar sprinkles all over your project. Use with inks, sprays, or embossing pastes for different looks. Measures approximately 6″ x 6″.
Yay! – Heffy Cuts Word Die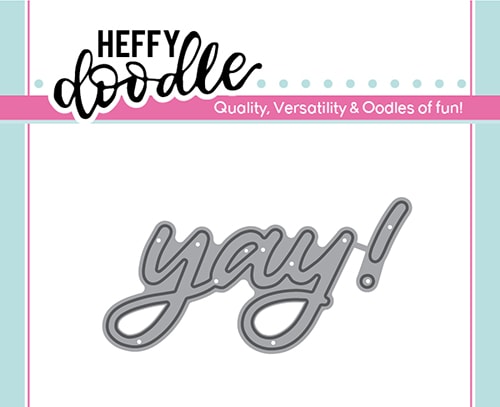 A stand alone metal cutting die of the word 'yay' and an exclaimation mark '!'. Use together or separately for extra versatility. Measures aproximately 2.5″ x 1.25″.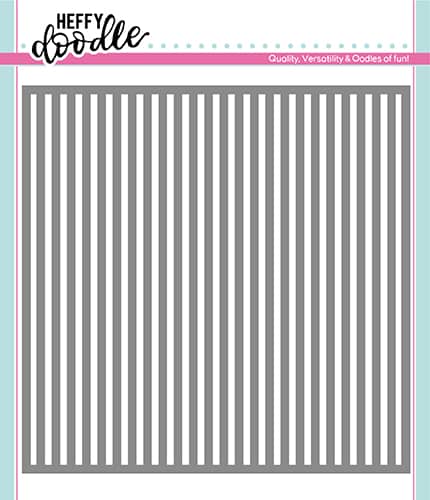 Create the perfect striped tone on tone look with this pinstripe stencil. Use vertically, horizontally or at an angle to create different looks, or layer for added fun! Measures appoximately 6″ x 6″.
Quack Me Up Stamp and Die Set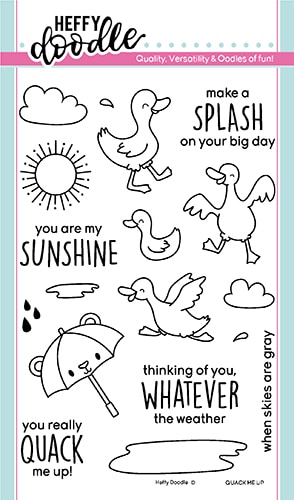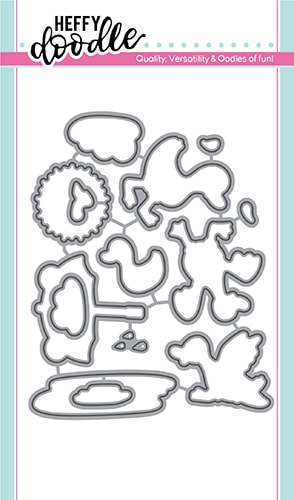 A set of 18 stamps that are sure to brighten even the dullest day! Contains four sweet duck images, an umbrella, sunshine, two clouds, two puddles, raindrop and water droplet splash images. Set also includes five sentiment stamps to coordinate with the rainy day images.
Sunshine – Heffy Cuts Word Die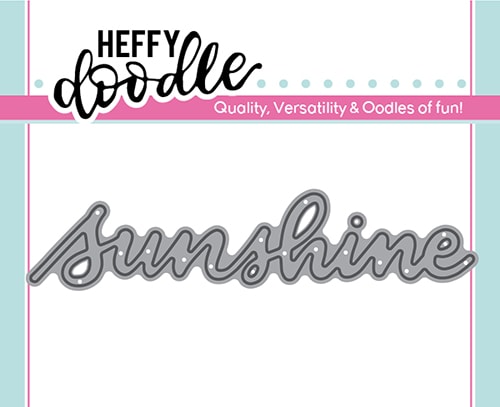 A standalone metal cutting die of the word 'sunshine' in a hand lettered style. Measuring approx 3.75" x 1". Coordinates perfectly with our Quack Me Up stamp set for more versatility!
Rain On My Parade Stencil
Create your own scattered showers with this raindrop stencil. Use with inks, sprays or embossing pastes to achieve various results. Measures approximately 6″ x 6″.
Rascal Alphabetters Stamp and Die Set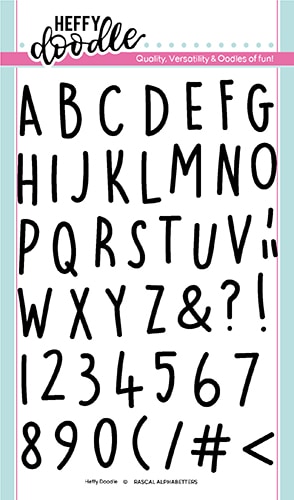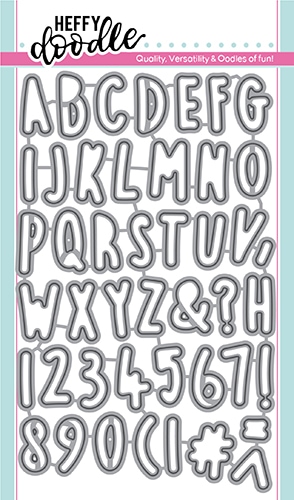 Create any word you wish with this whimical style alphabet stamp set. Each letter measures approximately 0.75″ in height, the perfect size for cardmaking and scrapbooking. As well as letters, this set also includes numbers, punctuation and some special characters such as an exclamation point, question mark, hashtag, brackets and the @ symbol.
Hello Everyone Stamp and Die Set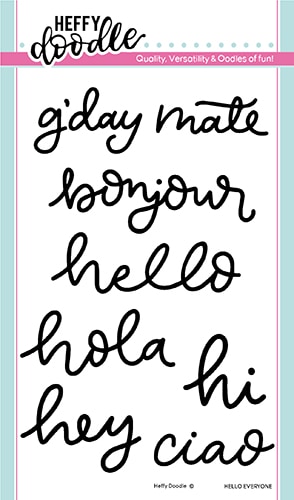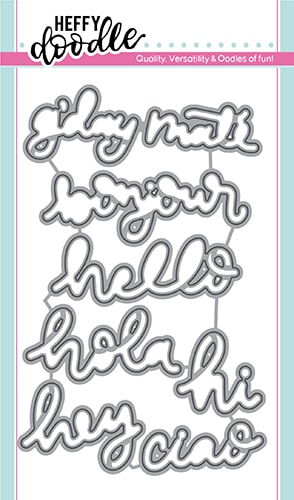 Sometimes it is nice just to say hello, and in this set of 7 stamps you will find a range of greetings including hello, hey, hi, bonjour, ciao, hola and g'day mate.

Don't forget to place your preorder and take advantage of our special offer! Thanks again for stopping by to check out our new products! Be sure to come visit tomorrow for our last day of full product reveals!