October 8, 2018
October 2018 Release – Reveal Day 3 – PRE-ORDERS ARE OPEN!

It's finally here – the last day of full reveals for our October 2018 release, and it is also the day where the store is open for pre-orders! Every pre-order will receive a free DINKY DINOS stamp, and if you spend £45 (before shipping) you also will get the coordinating dies!
Enough about that, you guys want to see the full reveal for today! So let's start things off with this amazing holiday set – SANTA'S VILLAGE.  The North Pole is always a busy place! Visit Mrs Claus' Bakery, the elf sweet shop or Santa's workshop. Now you can build your own scenes with this set of 17 stamps. Includes 3 images of buildings, two fir trees, and the iconic North Pole image. Additional stamps include a Santa image, a gift and a stack of presents, a Mrs Clause, a cupcake, a gingerbread man cookie and also an elf, a candy cane, sucker lolly and candy sweetie!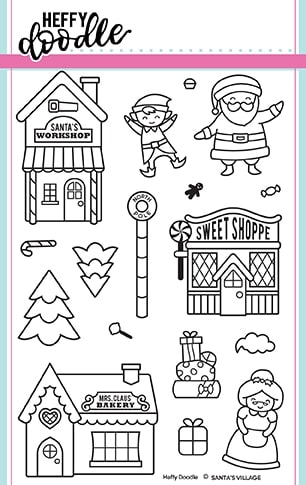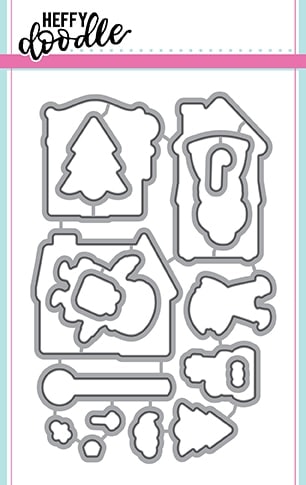 Next up is another holiday set, and I know you are going to go mad for this one! This set is called WANNA BUILD A SNOWMAN. This sweet set of 23 stamps includes 4 penguin images, a decorated Christmas tree, a star and a snowman stamp. It also includes a selection of images to help build your own snowy friends, such as snow mounds, twigs for arms, a carrot nose, a top hat, a pipe and some images to stamp coal buttons and eyes. The sentiments are perfect for winter cards and include the words 'winter', 'wonderland' and 'wishes' in a handwritten style.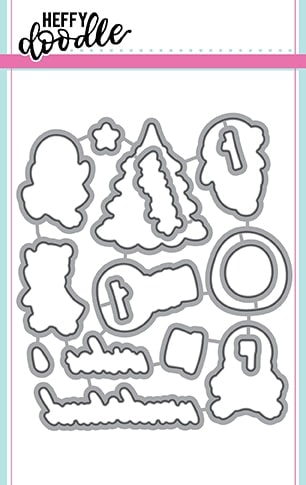 We couldn't have these snowmen without some snow. So take a look at this genius stencil called FIRST SNOW. Not only does this stencil allow you to add a snowfall effect to your projects, but the top and bottom edges of the stencil are curved. This means you can use your ink along the edge of the stencil to create some snowy mounds! So clever!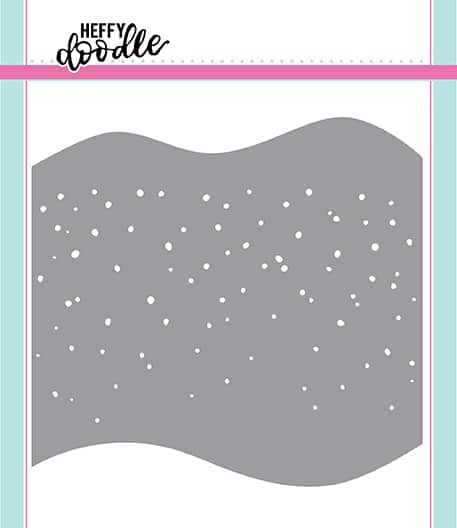 And before I go any further, I wanted to take a moment to mention that these last three products will also be featured in the new WANNA BUILD A SNOWMAN CARD KIT. This is our second ever kit, and this time we are offering you a choice to buy the kit with the coordinating dies, or without them. This means that you have a more affordable option, and this is going to be handy for those who have digital devices such as the Scan n Cut.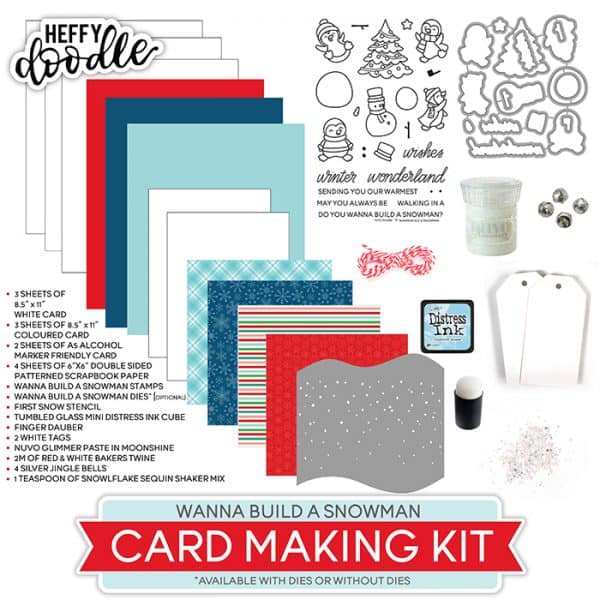 When you buy the cardmaking kit, you will receive a bundle of gorgeous, perfectly coordinated craft supplies which include the following: Wanna Build A Snowman stamp set, Wanna Build A Snowman dies (for the kit option which includes dies), the First Snow stencil, a tub of Tonic Moonshine Glimmer Paste, 3 sheets of white 8.5″x11″ cardstock, 3 sheets of 8.5″x11″ coloured cardstock (red, blue & navy), 2 A5 sheets of alcohol marker friendly cardstock, 4 sheets of 6″x6″ double sided patterned papers, a mini distress ink cube in Tumbled Glass, a finger dauber, 2 meters of red & white bakers twine, 2 white tags, 4 silver jingle bells and a spoonful of gorgeous sequins that coordinate with this set! On top of that, you will be able to see lots of inspiration using the kit and even join some LIVE crafty videos where you can craft along with Lesley whilst she uses the kit.
On to our next product reveal – and these are also going to be a great addition to your stash. These are the STITCHED SLOPEY JOES BORDER DIES, so you can add some slopes to your projects! (Honestly, Lesley has some serious fun coming up with the names for these products!).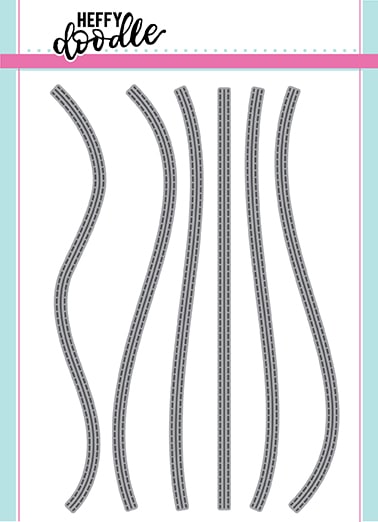 It is a set of 6 essential dies to help you create stitched borders and landscapes for your projects. Perfect for creating snowy hillsides, grassy fields or sandy beaches, these dies will always give you the perfect result. The stitched effect is created along both sides of the cut line and each die is long enough to accommodate even A6 cards (UK and EU standard size).
For those who have been loving the Everyday Sentiment Duo stamps, you are going to fall head over heels in love with this set – the HOLIDAY SENTIMENT DUOS. It is a set of 8 holiday themed stamp greetings, each with a larger sentiment on top and a smaller greeting underneath. This selection of sentiments is perfect for Halloween, Thanksgiving, Christmas, New Year and generic holiday cards. Stamps can be masked or cut apart for more versatility.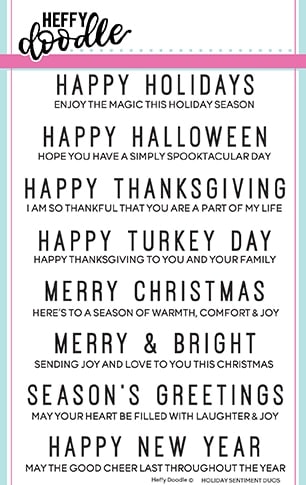 Our next set is also in a style that you may recognise – say hello to the WHATCHA SAYING NOW stamp set and dies. Earlier this year we brought you the Whatcha Saying Set, and we were asked to make some similar ones focusing around Christmas and the holidays. Do you know what the real magic is? All the word stamps from both sets will work interchangeably with the speech bubble stamps and both sets of dies! Lesley is a genius!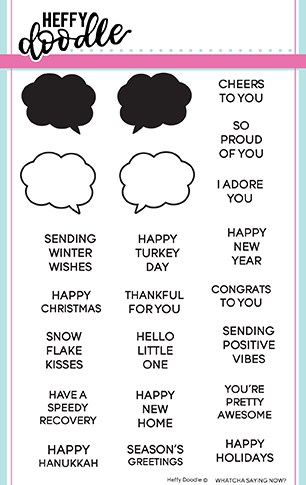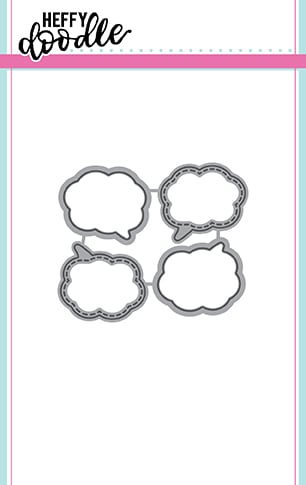 That's all our stamps for this release, but we still have some more products to reveal. This time, another essential stencil that you will reach for again and again, its the CROSSWALK STENCIL. Use to create vertical lines or turn the stencil to create horizontal stripes, or go crazy and layer your ink by first using one way, then the other! This one is also great as acting as a guide to help you stamp images in a straight line across your card.
This next one is my favourite – so unusual and I love the name. It's SLANTS Vs RHOMBIES! There are diagonal slants, there are rhombus images… of course, Slants Vs Rhombies! …. and if you say this product name out loud in front of any computer gamers, they may get the intended pun! 🙂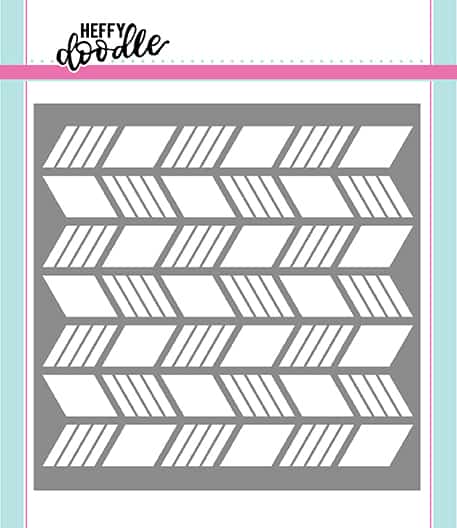 We are going to wrap up this reveal with some Heffy Cuts word dies… first of all, let's take a look at the 'MERRY' HEFFY CUTS DIE.
And when you have a Merry, you need this… the 'CHRISTMAS' HEFFY CUTS DIE. Isn't it simply beautiful!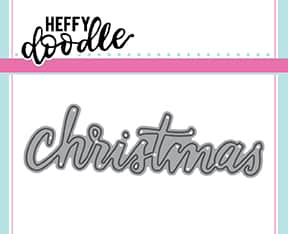 And as a special request from one of our Design Team members, we also wanted to add this one – the 'WINTER' HEFFY CUTS DIE.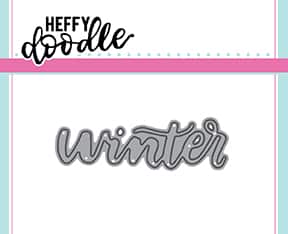 and let's finish this off with the beautiful 'WISHES' HEFFY CUTS DIE. Of course, this works so beautifully with other Heffy Cuts dies, as you can create Christmas wishes, winter wishes, birthday wishes and more.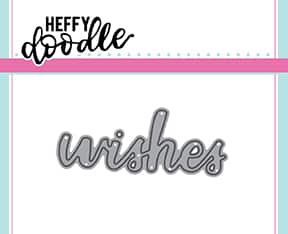 So there we go! That's the full release! If you missed the first two days, make sure to back and see the reveals from Day 1 and Day 2. Then head over and get your pre-order in on the Heffy Doodle Shop! Thank you so much for all the lovely comments we have received so far for this new release, you guys are amazing and you make all the long hours and late nights worth it! We can't wait to see what you all create!
Happy Crafting!