July 20, 2022
New additions to the Heffy Doodle Essentials line!

Hello Everyone! Oh boy, do we have some good news for you today! Not only do we have a warehouse restock on one of our most popular items, but we also have some brand new products making their way into the Heffy Doodle Essentials Line TODAY!! Keep reading to find out more!

GUESS WHO'S BACK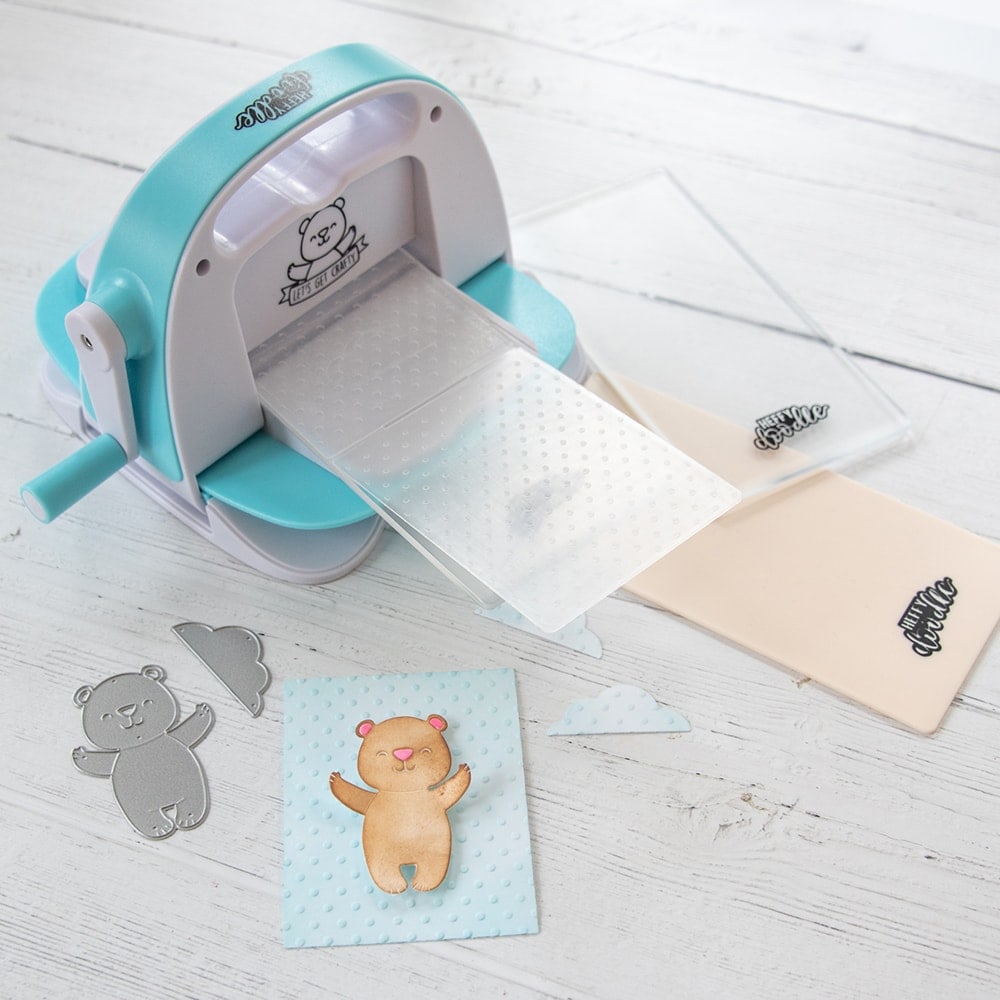 After a massive sell out on our last batch of Heffy Doodle Mini Die Cutting Machines, you guys have been asking us for months to get these little cuties back in stock! It's taken longer than we hoped, but we are so thrilled to say they are back! This little machine is the perfect size for sitting on your craft desk, storing on your craft trolley, or popping in a tote bag for crafting on the go! It has a removable base that helps the machine stay nice and sturdy, and fold up sides for easy storage! The machine comes with 2 x Cutting A plates, an Embossing B Plate, a mini embossing folder, a plastic shim, and two cute metal cutting dies – a bear and a cloud!
Just like last time, we are also offering you a special bundle deal where you can buy the machine with a die set for a fabulous price!
This also means that we also have the Replacement Cutting A plates back in stock – and we know you have been waiting for these! These handy 3×6″ plates are made to be used with the Heffy Doodle Mini Die Cutting Machine, however, they can also be used with other similarly sized desktop die cutters. We have also brought out an Embossing B plate – for use with mini embossing folders!
Because we are always wanting to bring you the best crafty items for your craft stash, we are also introducing two new items which will make you SHAKE with excitement! Our Extra Thick Acetate and 3mm Deep Double Sided Adhesive Foam Sheet. Perfect for those of us who like to make shaker cards!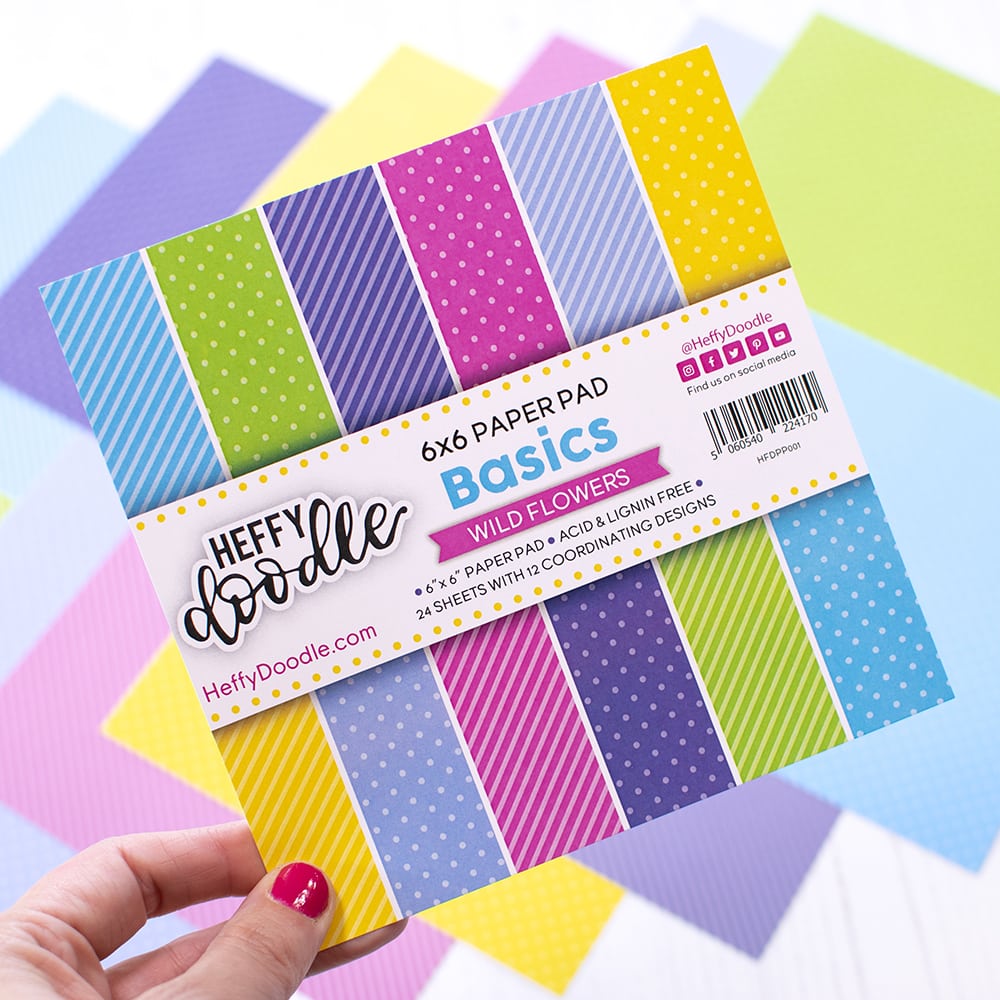 And looky here! We are adding another color collection to our range of pattern paper pads. WILD FLOWERS. A pack of 24 sheets of printed paper on high quality 170gsm paper, in a beautiful matt finish. There are 12 designs in each pack, and two single-sided printed sheets of each design. Acid and lignin free. These paper pads have been specifically designed to perfectly coordinate with the range of colours in the Heffy Doodle Cardstock collection.
And to coordinate with our Wild Flowers patterned paper, we have matching Enamel Dots – I just love the colours on these ones! They just get me in a summery mood!
And now, let me introduce you to my little friend…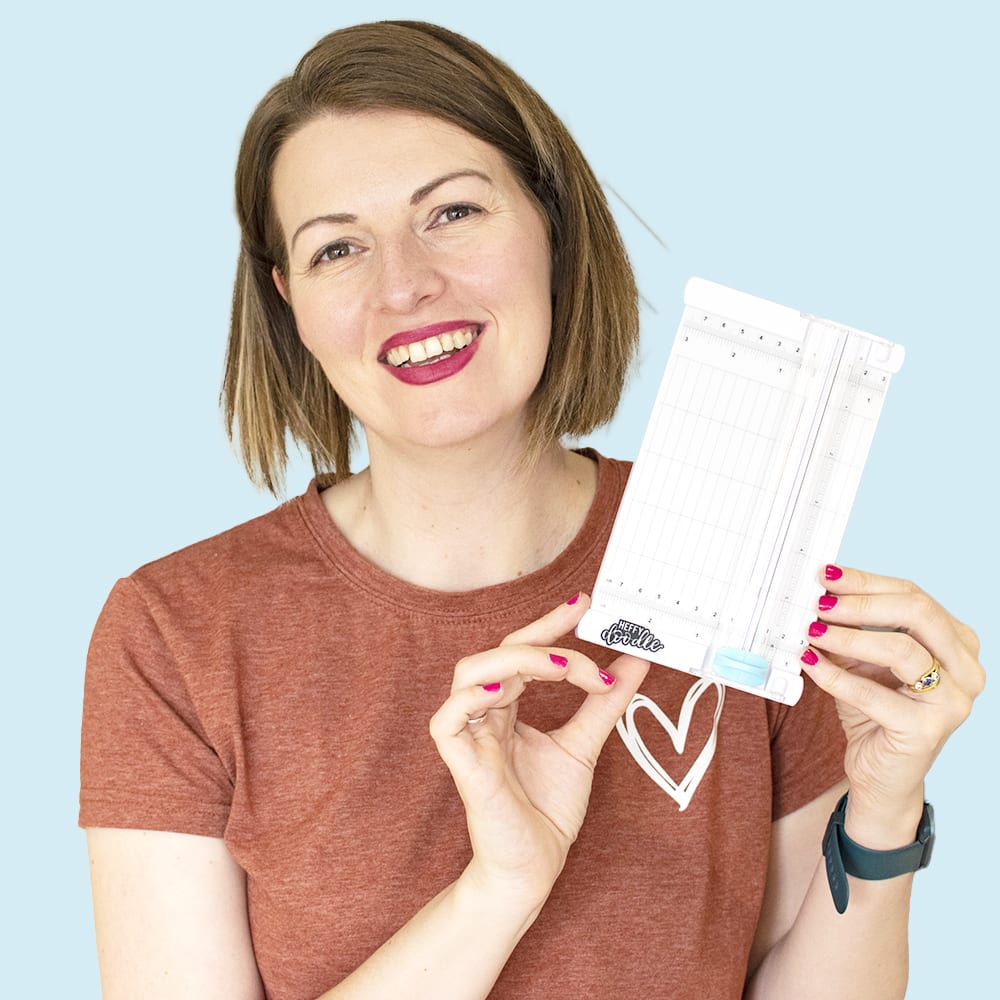 We have had this little guy under wraps for a while and finally we can share our excitement with all of you! Say hello to the Heffy Doodle Mini Paper Trimmer!

Our Heffy Doodle Mini Paper Trimmer is an easy-to-use, portable trimmer- perfect for your craft desk, or creating on the go. Slips easily into a handbag or tote, or keep it in a drawer within easy reach. With both metric and imperial measuring guides, and non-slip feet, this compact trimmer will be your new favourite tool in your craft stash. Trimmer is sold with one cutting blade. Replacement cutting and score blades available (HFD-MPTB) sold separately. For best results, gently hold down the transparent guide whilst sliding the blade along its channel. Trimmer measures approx. 3" x 6".
We also have some replacement blades available – because you know we wouldn't release a product unless you could get goooood use out of it! You can buy a packet which has two blades – one cutting blade and one scoring blade!
Because I am a victim of Full-Set Syndrome, we have gone ahead and added two options in the store – you can buy the trimmer on its own, or you can buy the trimmer together with a set of replacement blades – and you will even save some money by buying them together like this!
But that's not all… now it's time to MIX THINGS UP!

We are also expanding our Heffy Doodle Essentials Range into ALL THINGS SPARKLY – because today we are launching our brand new Heffy Doodle Sparkle Mix range!

The perfect way to add a touch of elegance to your crafty projects. Each packet contains a beautiful collection of sequins and flat back gems in a variety of colours, shapes and sizes, that have been hand mixed to create the perfect colour combinations for your crafty projects. Create shaker elements, or simply stick individually to your project for an extra bit of sparkle! Each packet contains approximately 1 tablespoon of Sparkle Mix.
We have six exciting Sparkle Mixes – let's take a look! at what we have here!
And if you love having a full set, why now buy all six sparkle mixes for a bargain price of £13.99 – which is basically a whole Sparkle Mix for FREE!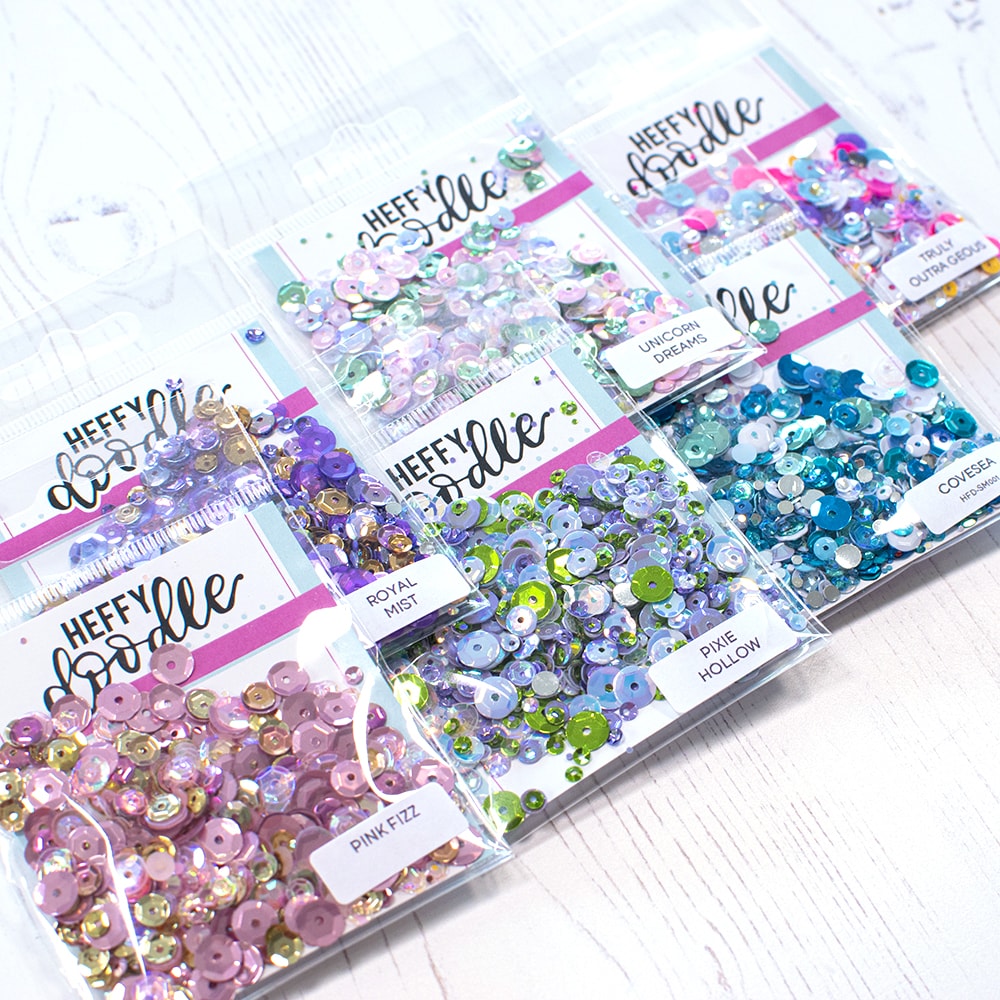 And that is our new Essentials Release for July 2022! I hope you love what you see, and will come on over to the Heffy Doodle store to stock up on some Crafty Essentials! Until next time, Happy Crafting!
Lesley, Morgan and the team at Heffy HQ
x