October 14, 2019
Meet our NEW Design Team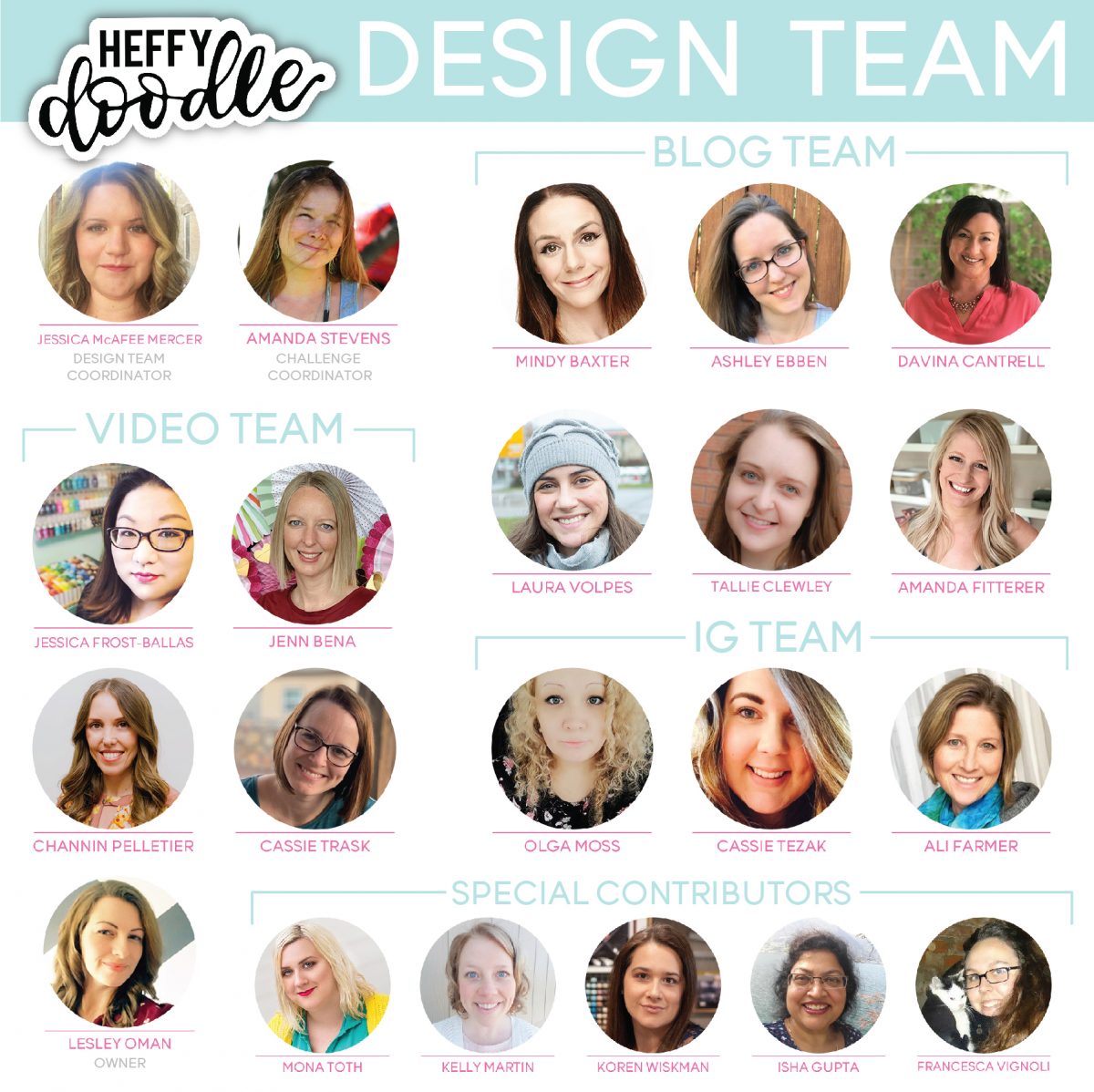 Today is the big day! We have been waiting (not to patiently) to share this wonderful news with you guys, and we are super excited the big day is finally here! Please join us in welcoming our brand new and shiny DESIGN TEAM!
Our team is split into a few different categories – first up our wonderful BLOG TEAM which consists of Mindy Baxter, Ashley Ebben, Davina Cantrell, Laura Volpes, Tallie Clewley and Amanda Fitterer. These lovely ladies will be bringing you top-notch educational blog content in the form of their own blog series. Perhaps you are new to cardmaking – then you will definitely want to check out the 'Cardmaking 101' series. If you don't get much time to craft, then perhaps our 'Clean And Simple (CAS)' series will interest you. Or maybe if you love the nitty-gritty of a more involved card, then you will definitely want to keep an eye on our 'Interactive Cards' series! Keep an eye on the blog to see what other wonderful series will catch your eye!
Over on the Heffy Doodle YouTube channel, our new video team will be sharing some fun video tutorials. Welcome to Jessica Frost-Ballas, Jenn Bena, Channin Pelletier and Cassie Trask.  Be sure to hop on over and subscribe to the channel, hit the bell if you wish to receive notifications when a video goes live.
Our Instagram team – Olga Moss, Cassie Tezak and Ali Farmer will be bringing you more insta-content to make your creative juices flowing! With more stories and posts to make sure you get a daily dose of Heffy Doodle inspiration!
We are delighted to have Design Team coordinator Jessica McAfee Mercer with us. Not only will Jessica be assisting the team but will also be organizing some fantastic collaborations and competitions. You guys love collabs and competitions, right?
Also part of the team we have Amanda Stevens, who is heading up our Facebook fan group 'Heffy Doodlers'. We are so excited to announce that we will be holding monthly challenges so you can share your Heffy Doodle creations with us. Amanda has already launched the first challenge, with the topic of 'Fall', open until early November. Check out the full challenge details here, and join our Heffy Doodlers Facebook Group here.
As well as this fantastic lineup, we also have a number of wonderful crafty people who are Special Contributors – Mona Toth, Kelly Martin, Koren Wiskman, Isha Gupta & Franci Vognoli. These lovely ladies help us during busy spells such as new release times and also will be up on the blog every now and again.
Please join me in giving the new team a huge welcome, a virtual hug and a big round of applause! I can't wait for them to show you their wonderful projects!
Biggest hugs, and happy crafting!
x
Lesley