January 19, 2019
It's Creativation Time! Let's take a peek at the new release!

Hey Heffy Doodlers!
We are so excited it's finally Creativation time! Woohoo! This is the biggest event of the year in the crafty calendar and we are thrilled to be exhibiting with our NEW RELEASE! That's right, we have a brand new release to share with you all this weekend and some awesome goodies to give away so scroll on down for all the details!

Throughout today, we will start sneaking the new release on the @HeffyDoodle Instagram and on Sunday we will have all the details to share with you, right here on the blog. Of course, if you are at Creativation, you can come and see the new release in action! Come and see us at Booth 529!
Not only do we have our new products to show off, but we also have some super cute freebies to give away at Creativation. If you are lucky enough to be at the show, please come and see us (don't forget, we are at booth 529) and pick up your very own Heffy Doodle Pin and this exclusive mini stamp set and die.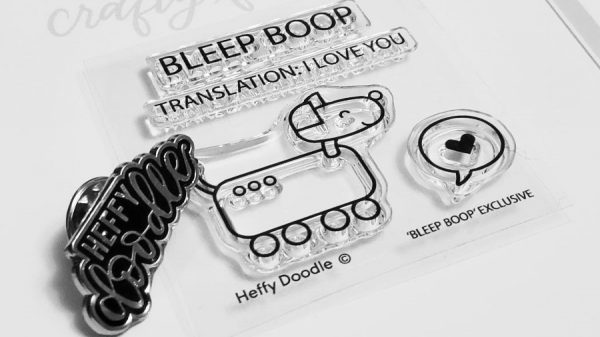 Can't make it to Creativation?
Don't worry, you can still grab some freebies with lots of chances to win!
If you see someone on Instagram showing off their Heffy Doodle pin, leave a comment with #heffydoodlepin and we will pick 5 people at random to send a pin to.
Do you know anyone attending Creativation? Ask them to head over to the Heffy Doodle booth and say "I'm a Super Heffy Doodler!". The first 10 people to do that each day will get an extra set of freebies so they can share with you.
If you leave a comment on any post from the @HeffyDoodle Instagram account this weekend, simply end them with #BleepBoop and we will pick 5 lucky people to receive a mini stamp & die set.
Show us your Heffy Doodle goodies in action! Post a card in the Heffy Doodlers Facebook page this weekend and one person will win a mini stamp & die set and a Heffy Doodle pin!
We can't wait to show you the new release and find out what you think! Don't miss the full reveal tomorrow!