January 4, 2019
Interactive Rabbit Card – With Guest Designer Maria Rudolph
Pop Up Carrot Interactive Card Using Honey Bunny Boo Stamps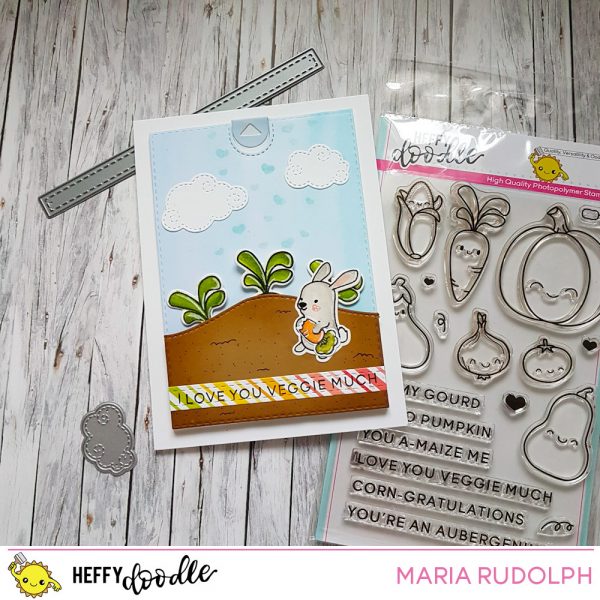 Hello everyone,
My name is Maria, I'm from My Craftway To Happiness and I'm guest designing for Heffy Doodle today. Some of you might remember me as I was previously on the Heffy Doodle Design team – it's good to be back to see you all today.
For my card, I picked the lovely Veggie Patch and Honey Bunny Boo stamp sets and created this little card with it. It is cute, and interactive!
I started with a white card base  and layered a light blue die cut rectangle on top that I made with the Metric Stitched Rectangles Dies.  I then stamped a few blue hearts in the middle of the panel using the heart stamps from the Veggie Patch stamp set. I also added some die cut clouds from the Swirly Cloud dies to finish off the sky of the card. After that I used a Lawn Fawn die to die cut the peek-a-boo mechanism into my card.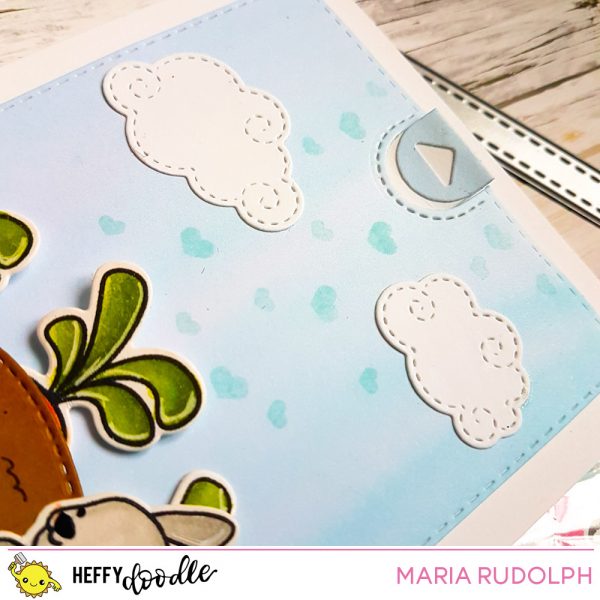 For the soil part, I took a piece of white cardstock and die cut it into shape using the Metric Stitched Rectangles Dies and the Stitched Slopey Joes border dies. These dies are so versatile and so much fun to work with. You should try them!
After die cutting, I used my blending tool and some brown distress ink to give my soil the right look. I also added some small scribbly details using a brown marker.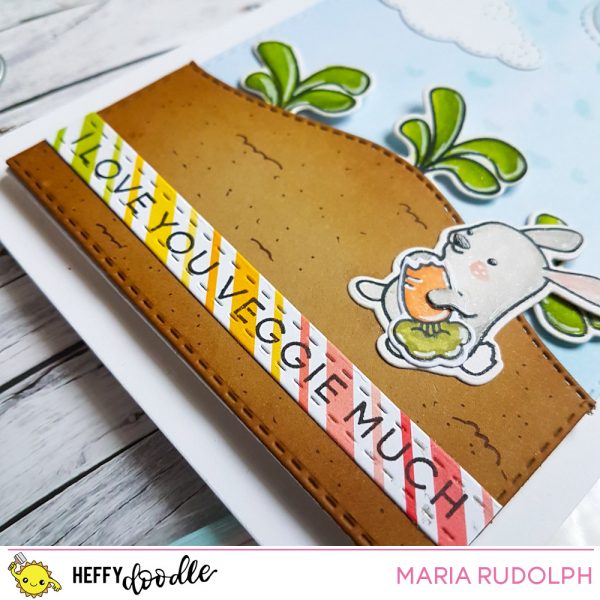 On top of the soil, I placed a little cute bunny from the Honey Bunny Boo stamp set, and he is holding his snack carrot. coloured him using alcohol markers and added some white details with a gel pen before diecutting him with the coordinating dies. I also cut a strip using the Stitched Strips Of Ease dies out of rainbow designer paper and stamped the sentiment "love you veggie much" on top of it and added an "I" infront of it with a black marker.
Now on to the star of the card – drumrooooooooooooolllllllll … the 3 little carrots!!!!!!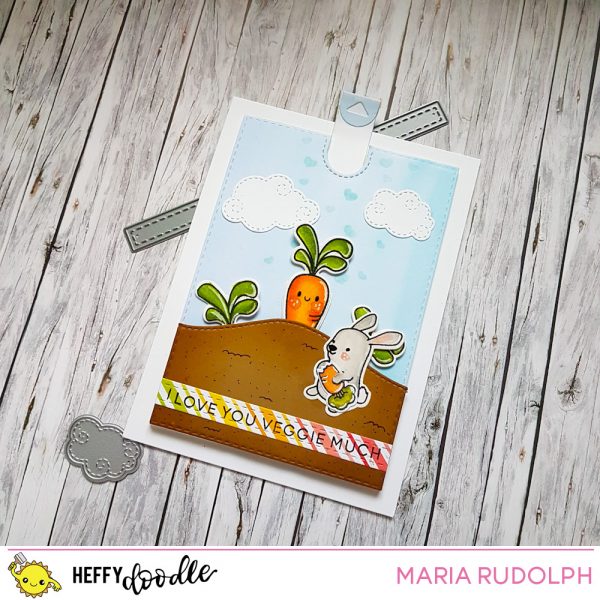 I stamped, colored and die cut 3 of the carrots from the Veggie Patch stamp set and then tucked 2 of them left and right behind the soil hill and added the third on top of the interactive mechanism. Every time someone pulls the tap upwards, it pulls the happy little carrot up out of the soil too!! Isn´t that so cool?
Thanks for stopping by and I hope I was able to inspire you a bit with this card! Have a wonderful and creative day!!!
Happy crafting everyone!!!
Maria 🙂