September 4, 2020
Hey Gull Friend slider card by Davina


Hello crafty friends! Davina here, with a simple interactive card. I've been in a creative rut these past few weeks, and getting back into the roll of things is testing my mental limits. But I was super excited with this mermaid inspired slider card.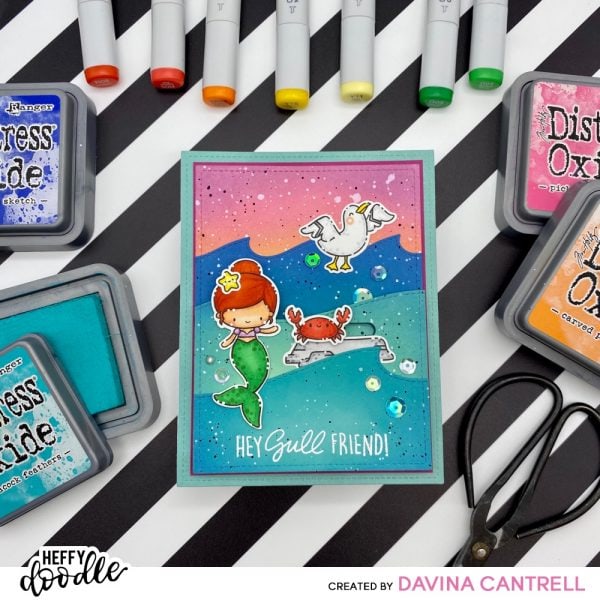 I used all Heffy Doodle products to create this ocean packed card and I hope that you enjoy it. The stamps sets I used are A Little Shellfish, You Go Gull, Happily Ever Crafter, and the rock is from The Otter Side. I also used the new Breaking Waves Border dies and a partial edge of one of the slider channels.
I wanted to create a Little Mermaid inspired card using the bride from Happily Ever Crafter. I love making custom images by partially masking stamps and drawing in the needed pieces. Which is exactly what I did here. Before I get too excited I stamp and image on a piece of scrap paper, and draw my idea out. Then I mask the stamp with washi tape before inking. Once I remove the tape and stamp my image, I'm left with a partial image. I use a pencil to very lightly draw in the rest, and when satisfied I use a multi liner to outline. I only erase the pencil after at least 10 minutes have passed, so that there is no chance of smudging the ink. then I color up my custom image and carefully fussy cut.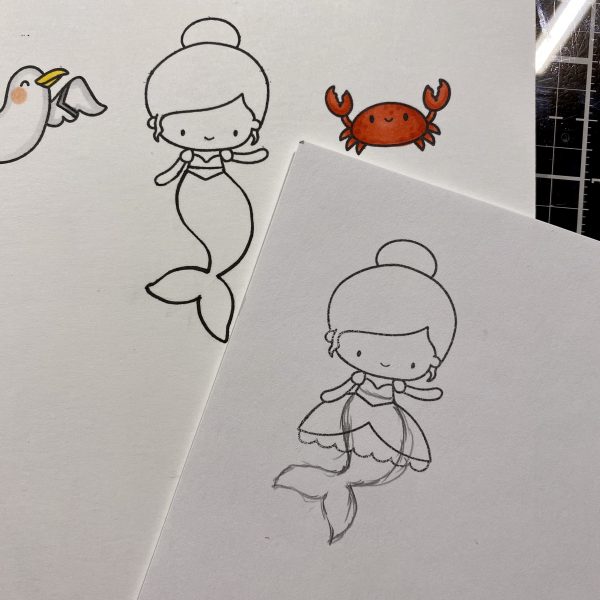 With so few images on this card I wanted bold bright colors, and nice crisp separation lines. I cut the waves from 3 shades of aqua paper scraps, and inked each piece with a different color. I inked the sky with orange and raspberry so it would provide nice contrast. I gave everything a splash of white and black ink then got to work with my assembly.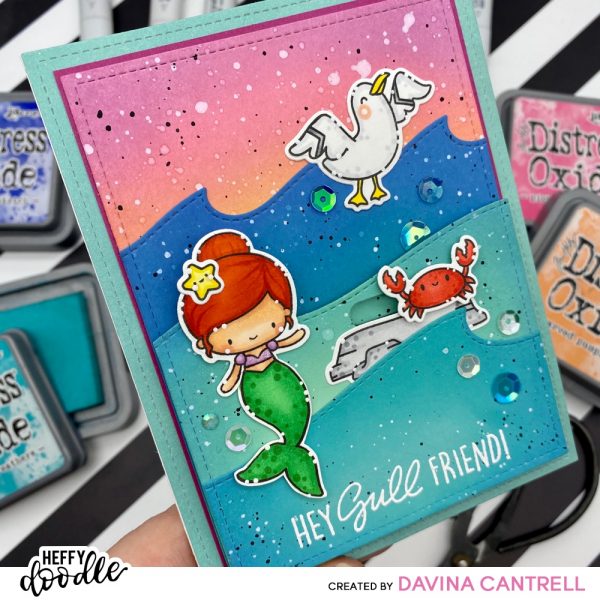 I glued the tallest wave onto the sky panel, then I partially cut a short little sliding channel using the
slider dies. My channel is only as long as the rock (about 1 1/4 inch long) I lined up the die where I wanted the left edge and only put my die cutting plate over the edge. Then I flipped the die around and did it again where the channel would end. It worked out quite nice. I saved the cut out piece to adhere behind the channel. I temporarily used washi tape on the front to hold it in its place, I added a line of liquid glue to the back of the cut out piece, then I put the wave in place and removed the tape. Leaving it perfectly positioned. Then I attached the rock and shorter wave to that middle height wave With the sliding channel.  I heat embossed my sentiment from the "you go gull" set to the lower potion, and used a small metal washer and plastic sliding disc to attach the crab into sliding channel. Finally, I mounted the waves on top of the large panel, using thick Tombow foam tape. I added my mermaid and sea gull to the card and finished it off with some sequins and a raspberry cardstock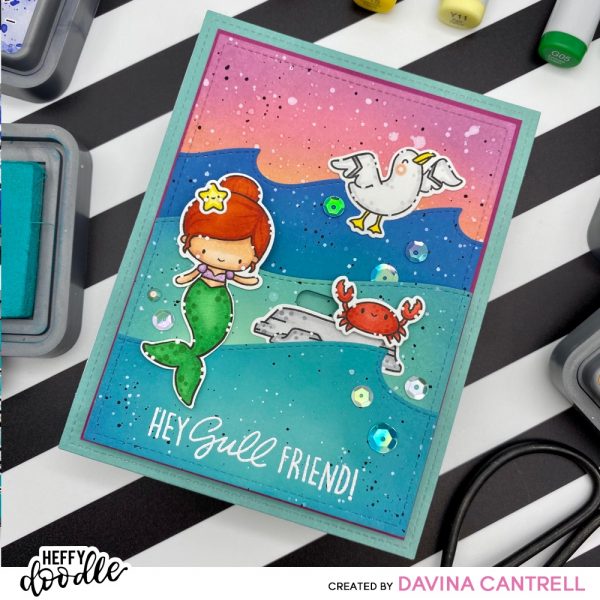 This slides fantastically and turned out way cuter than I could have hoped for. I hope you enjoy this and try making one for yourself!
Thank you, Davina