November 22, 2017
Heffy Thanksgiving everyone!!!
Hello everyone,
I´m Maria from  My Craftway to Happiness and I´m one of the lucky ladies that made it into Lesley´s amazing Design Team. I´m beyond honored that I´m in it with all the super talented ladies.
Tomorrow is my favorite holiday in the USA: Thanksgiving. I believe that it is very important to be grateful for what you have in life, no matter how big or small it is. It is also important to let the people in your life know that they are special to you and that you are grateful to have them in their life.
Two of these special ladies in my life are the amazing Lesley, owner of Heffy Doodle Stamps and Snow, my amazing friend and co-design team member. Those two amazing ladies have made me smile so many times in the last couple of months and I´m very blessed to have them in my life. As both of them don´t live in the USA I decided to make them a very special Heffy Doodle Thanksgiving card.
Both cards are having the same design but I gave both a different Heffy Doodle critter to sit on the Thanksgiving table.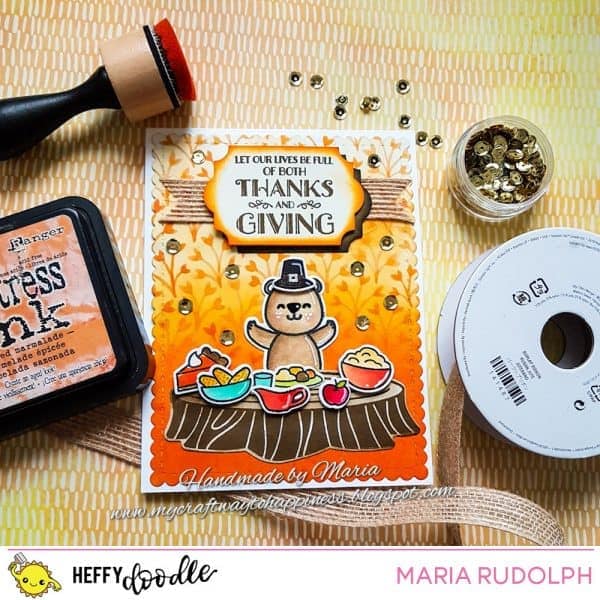 The Bear one is for Lesley, but shhhhhhhhhhhhhhhhh don´t tell her if she hasn´t received it yet!!!!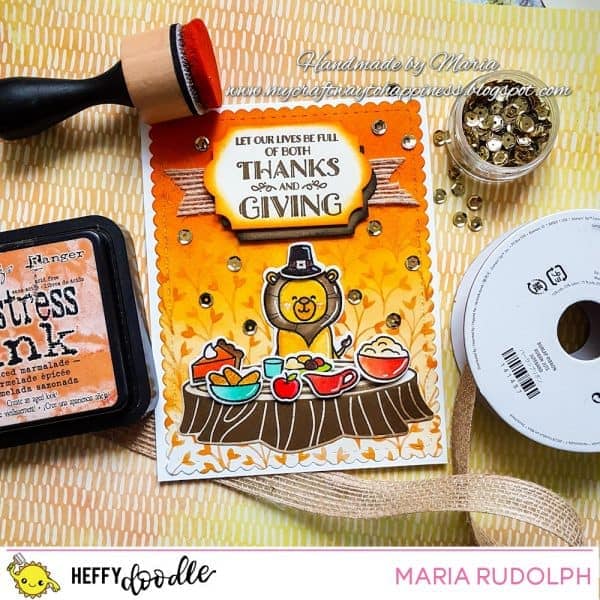 The Lion one is for my friend Snow ( she is super talented, please look her up here)
I started the cards by using a white card base and then diecut a scalloped panel from some retired DSP I had in my stah. To make the DSP more interesting I grabbed my blending tool and my Spiced Marmelade Distress Ink and added some ink in an ombre effect-kinda way, which means the color is graduating up or down with intensity. I feel like that gave the card a more fall-ish feeling to it.
I then put together my little scene using the current Lawn Fawn set Forest feast and it´s dies , plus the  Lion from the Ad-roar-able Lions Stamp and die set and the bear from the Un-bear-able without you stamp and die set. I watercolored all the images with my inks and a water tank brush. It was fun to create an entire thanksgiving feast this way. After everything was dry I added some extra deatil to the corn with a yellow marker and also to everything else using a white gel pen, that my sweet Snow sent me so kindly.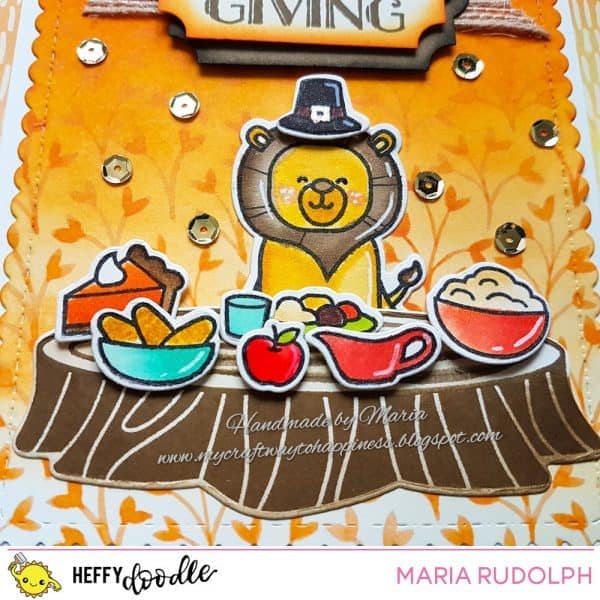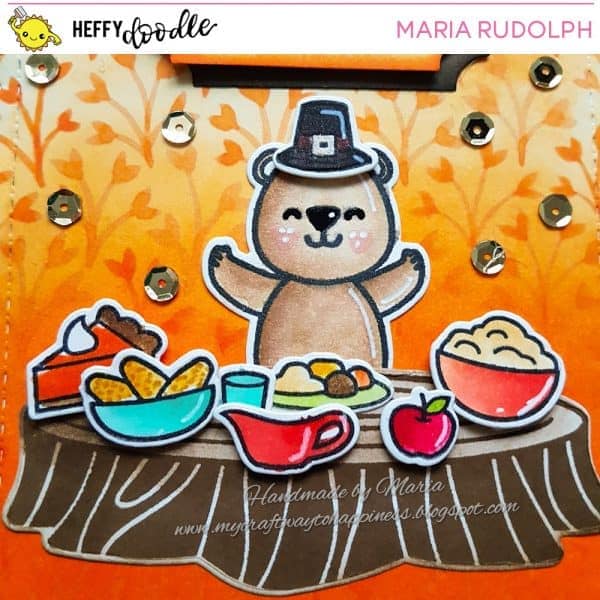 The two characters got some white gel pen deatils too and each of them also got a little pilgrim hat.The bear and lion also got some shiny eyes using a black glaze pen. Aren´t they just look so happy. I adhered all of the thanksgiving feast onto the dsp panel and popped some of the food and the hats up with foam dots so give them a bit more dimention.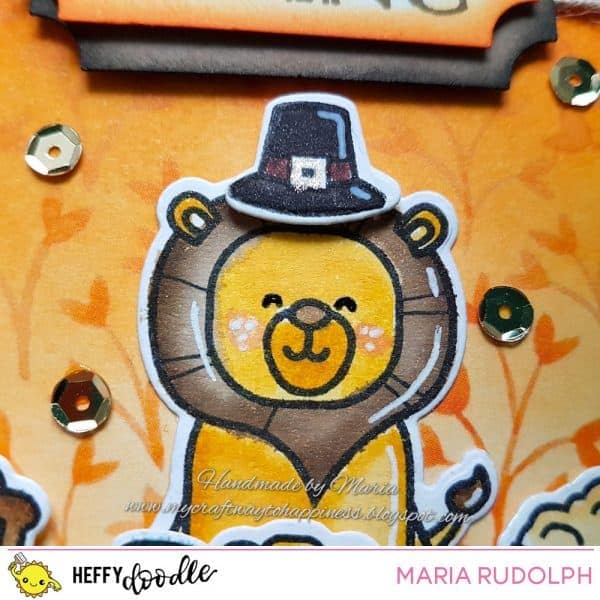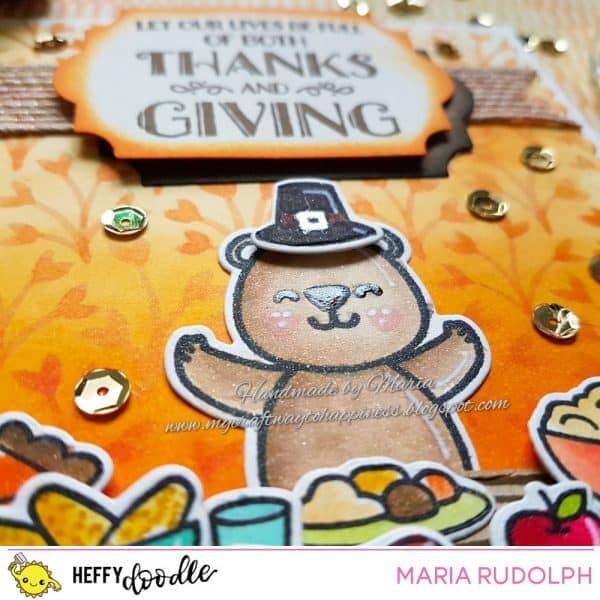 Every card deserves a nice sentiment, right? I picked a nice Thanksgiving sentiment from an old and retired Stampin Up stampset and stamped it in soft suede on very vanilla cardstock and then punched it with a label punch. I added some of the same orange distress ink arround the edges of the label.  I punched a second label out of soft suede cardstock and layered it with foam dots behind the first panel with the second panel peeking through on the edge. Under the labels I adhered some burlap ribbon and cut the edges in banners.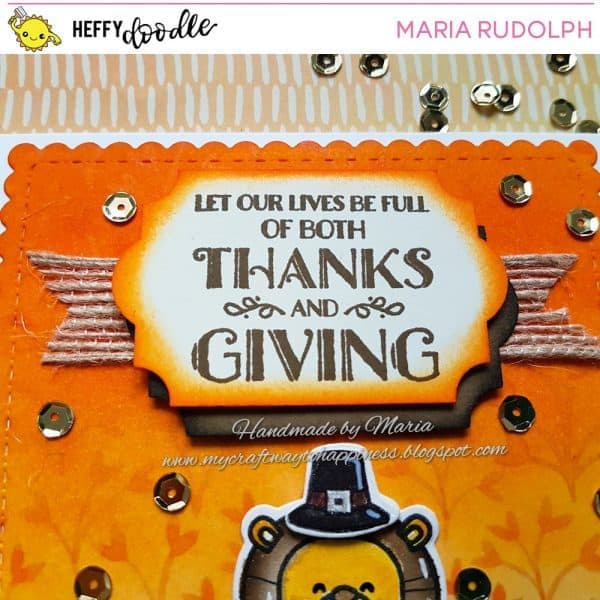 To finish the project off I had to add some bling, of course. I added some golden sequins all over the card. I think sequins are an awesome alternative to rhinestones and a flatter one too .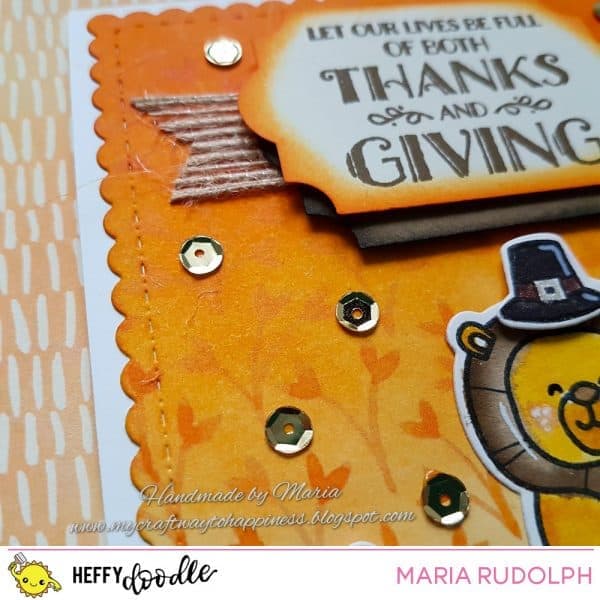 I hope Snow and Lesley will receive their cards in time and that they will enjoy them 🙂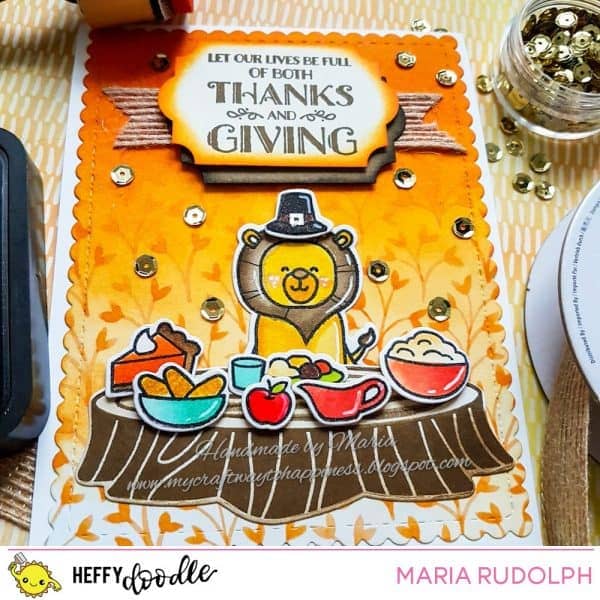 Have a Heffyy Thanksgiving everyone , no matter where you are located. What is your favorite holiday? Please comment down below!!!
Happy crafting everyone!!
Maria 🙂