July 21, 2021
Dream Big Unicorns Card

Hello everyone, new addition to the Heffy Doodle Blog Design Team here!
I'm Claudia (Clo for my loved ones) from mrsclocards.com, I'm 38 and I live in Italy with my husband, our little girl and 2 cats. I'm so happy and proud to join the Blog Team and I'll do my best for cheering you up with bright and colorful cards: you'll see a lot rainbows when I'm around! Thanks Heffy Doodle for this great opportunity!!
For today's card I decided to use one of the cutest stamps set ever, Fluffy Puffy Unicorn. I don't know about you, but I personally can't resist to unicorns and rainbows!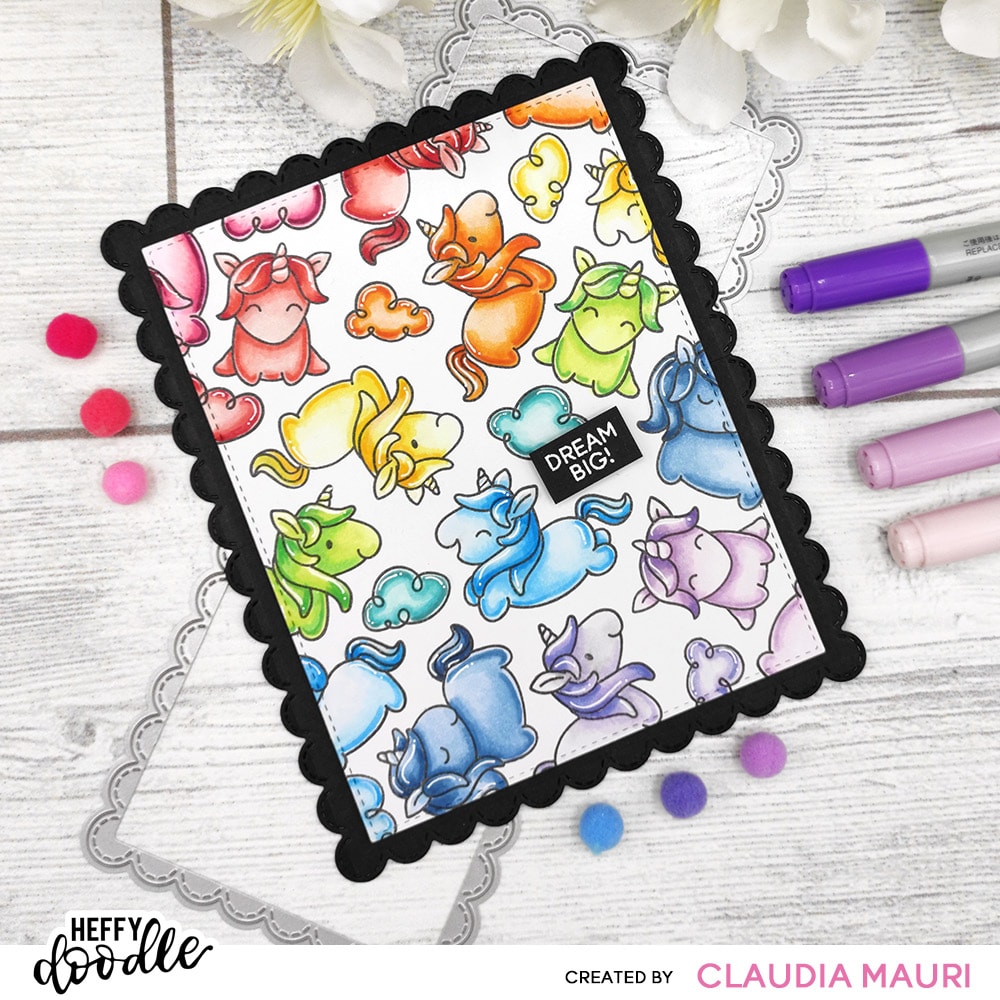 First, I took a sheet of Heffy Doodle Alcohol Marker Friendly Cardstock and placed it into my Original Misti; you could use acrylic blocks if you prefer, but there's a lot of stamping here and a stamping platform will help you save a lot of time! I placed all the unicorns and clouds from the Fluffy Puffy Unicorn set in the middle of the sheet and I turned some of them to fill the space as much as I could. I stamped them twice using alcohol friendly black ink, then I cleaned the stamps and repeated the whole process until the sheet was almost full.
Useful tips: If you plan to use a die later (like I did), you can use it as a guide to help you see where you need to add something and where you can leave the sheet blank. Also, if you struggle to fill a small space around the borders 'cause the stamps overlap each other, leave it blank and fill it later after you die cut/trim the panel; in fact, I usually do this for the corners since they are very difficult to fill before die cutting.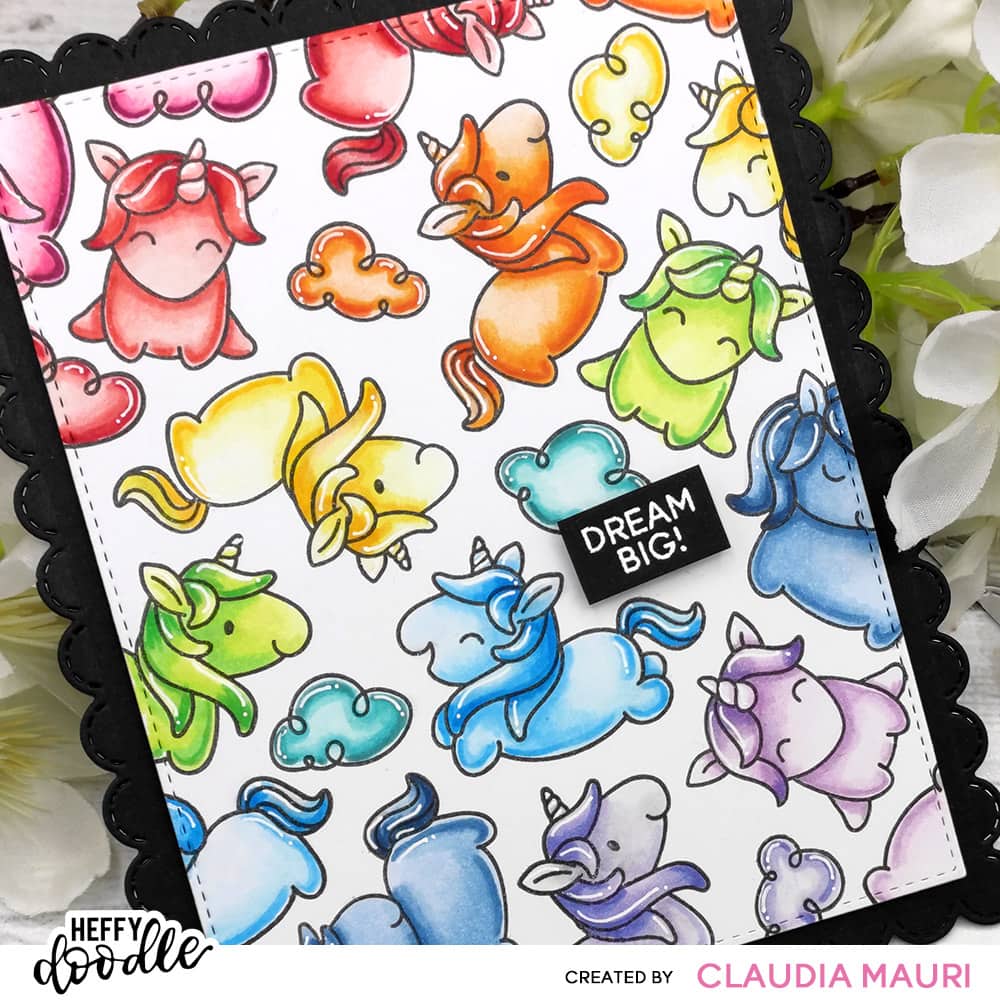 Once I was happy with the result, I used the biggest Imperial Stitched Rectangles die and started the fun part: coloring with Copic Markers! I started with pink in the upper left corner and then added other colors in rainbow order, it took quite a lot to finish but it's really worthy. I wanted the unicorns to be a sort of rainbow so I used pretty much every shade of color in my stash except brown and grey.  Here's a list on the colors I used.
COPIC COLORS LIST
– PINK: RV000, RV21, RV23, RV25
– RED: R00, R20, R22, R24, R29
– ORANGE: YR00, YR04, YR07, YR09
– YELLOW: Y000, Y11, Y15, Y17
– GREEN: YG00, YG03, YG06, YG09
– TEAL: BG10, BG11, BG15, BG18
– LIGHT BLUE: B0000, B00, B02, B05
– BLUE: B91, B93, B95, B97, B99
– LILAC: BV0000, BV00, BV02, BV04
– VIOLET: V000, V12, V15, V17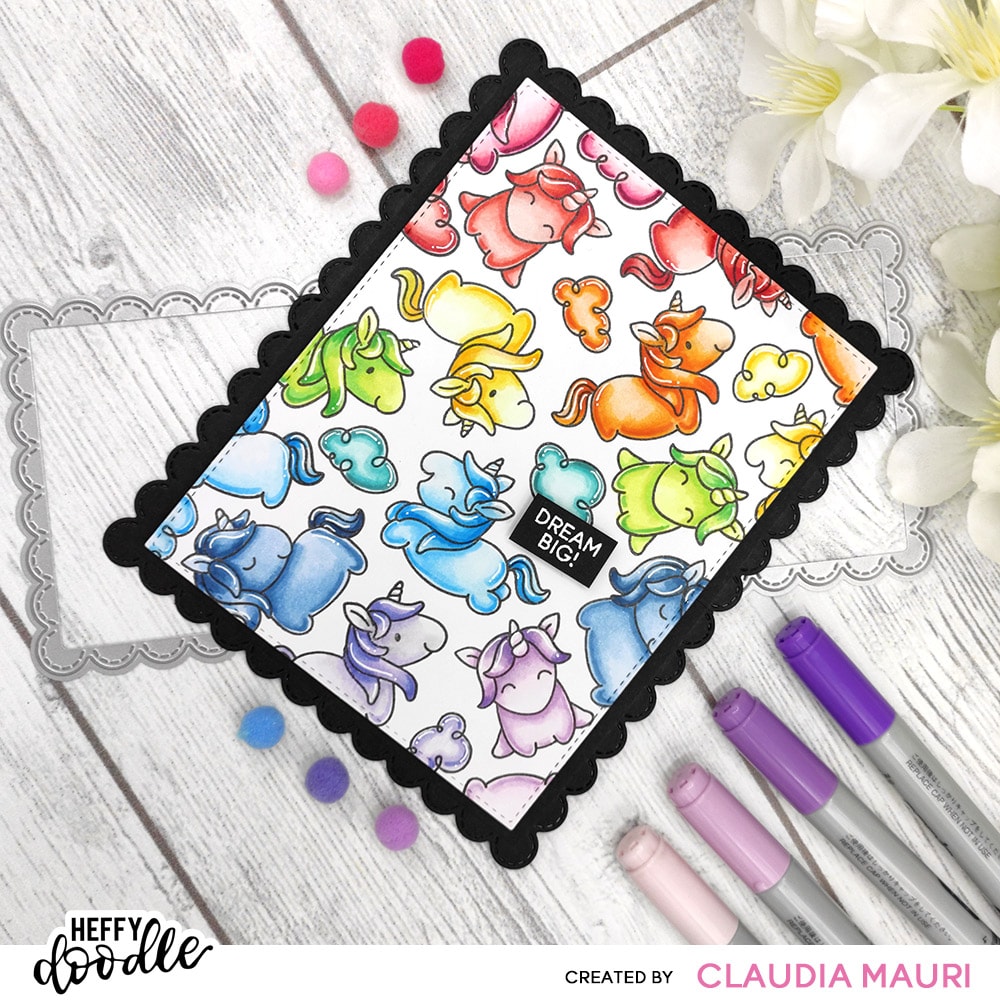 When I make this kind of cards I like to use black cardstock for both the base and the sentiment, to help highlight my colored background. However, I couldn't cover my happy unicorns with a big sentiment, could I?! So I decided to use the little "Dream Big!" sentiment that comes in the Fluffy Puffy Unicorn set and heat embossed it using white embossing powder, then trimmed it down.
For the card base, I wanted to use a scallop die but the only one I had was the Slimline Pull Tab die, which clearly didn't fit my card size… Well, no problem! I die cut two pieces, did a bit of trim/glue and here it is! You can't notice it in the pictures and I can assure you it's very hard to see it in person too.
When the black piece was finished, I used foam tape to attach everything together.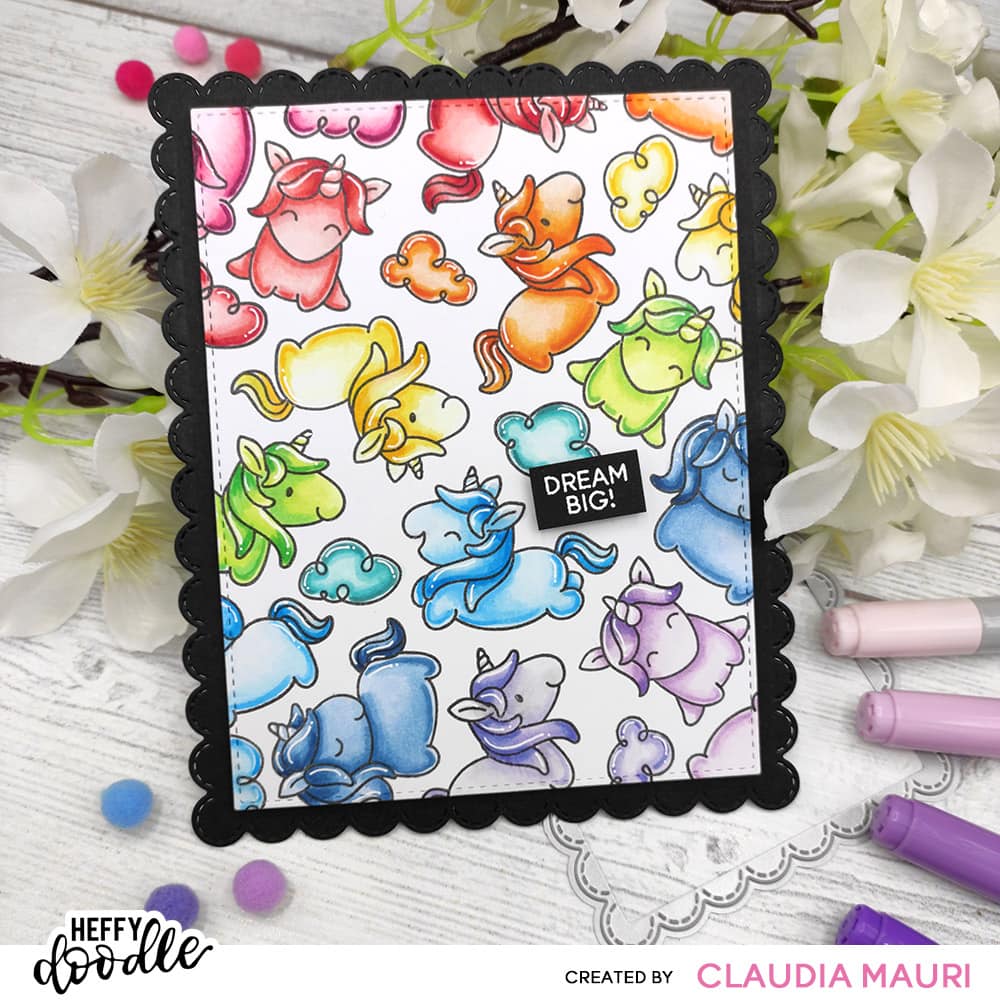 I hope you enjoyed my first blog post and see you soon with another Color Me Happy project!
Happy crafting.
Clo