September 25, 2022
Die Cut and Stenciled Halloween Card
Hi crafty friends it's Joy here. I have a spooky fun Halloween card to share with you, using products from the new release. I hope you enjoy!
I love making Halloween scene cards and I was able to do that with stenciling and die cutting.
I started by die cutting the Elm Street Dies frame from white and black cardstock. I used the center piece of white cardstock to create the background scene. I placed a moon mask in the center and ink blended with Shaded Lilac, Wilted Violet, Villainous Potion and Black Soot. Then I removed the mask and added the second moon mask and stenciled the details of the moon with Shaded Lilac. I gently went over the whole moon with the blender brush that had Shaded Lilac on it. Spooky clouds are a great addition to the background, so I added that with the Cloudy Skies Stencil and Hickory Smoke and Black Soot.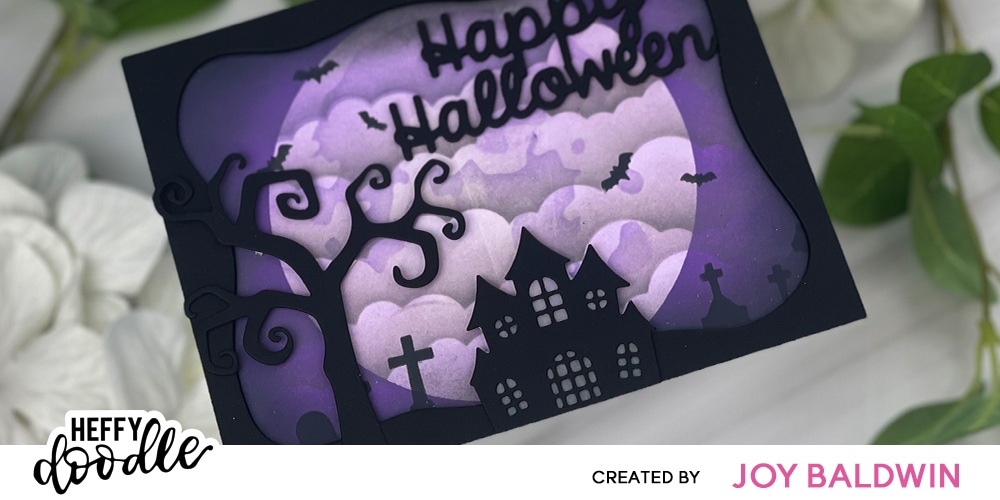 I used the Sleepy Hallow Stencil to add bats and headstones to the background with Black Soot ink. I die cut the tree and house from the Elm Street Dies in black cardstock, along with the Happy Halloween Shadow die three times. I glued those together for dimension.
I added the frame and center panel to an A2 card base, then glued the tree to the frame with foam tape. I added some vellum behind the house to block out the background but, not add an additional color to the card design. I added foam tape to that as well. I finished by adding the sentiment to the top of the card panel.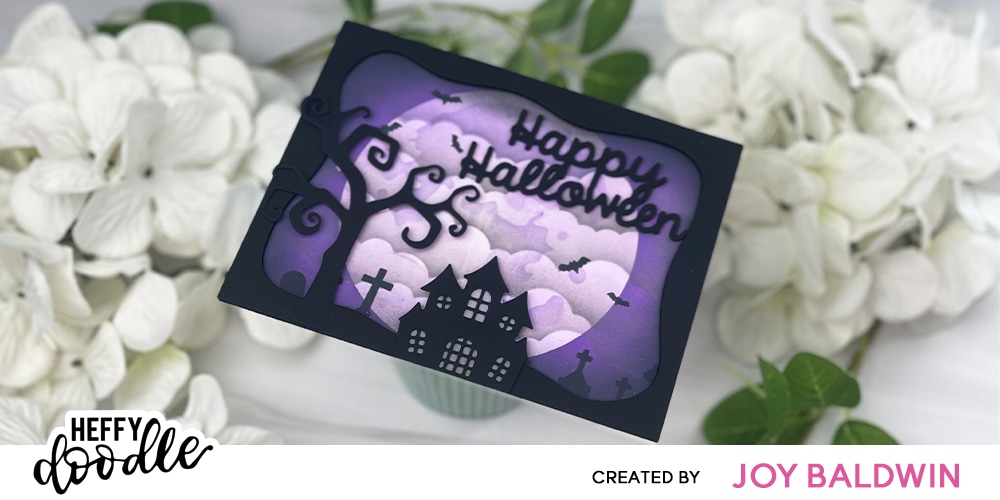 I hope you enjoyed this project and feel inspired, have a wonderful day! I have some affiliate links below, they cost you nothing to use.
Hugs,
Joy Baldwin
Supplies
——— S U P P L I E S ———
• Heffy Doodle
——— https://ldli.co/e/6l3dnz6 [ heffydoodle.com ]
• Heffy Doodle
——— https://ldli.co/e/gqoln34 [ heffydoodle.com ]
• Heffy Doodle
——— https://ldli.co/e/07ry06z [ heffydoodle.com ]
• Cloudy Skies Stencil – Heffy Doodle
——— https://ldli.co/e/43rxo6k [ heffydoodle.com ]
• Heffy Doodle
——— https://ldli.co/e/26ryg76 [ heffydoodle.com ]
• Heffy Doodle
——— https://ldli.co/e/5y71pgm [ heffydoodle.com ]
• Neenah 110lb Classic Crest Cardstock 8.5″X11″ | 10 Sheets – Honey Bee…
——— https://ldli.co/e/3o9l4n3 [ honeybeestamps.com ]
• Tim Holtz Stampers Anonymous Layering Moon Mask
——— https://ldli.co/e/m5ekgre [ rangerink.com ]
• Tim Holtz Distress® Oxide® Ink Pad Shaded Lilac
——— https://ldli.co/e/e210nrl [ rangerink.com ]
——— https://ldli.co/e/qymgdqd [ honeybeestamps.com ]
• Tim Holtz Distress® Oxide® Ink Pad Wilted Violet
——— https://ldli.co/e/jqrd721 [ rangerink.com ]
——— https://ldli.co/e/ye19gkq [ honeybeestamps.com ]
——— https://ldli.co/e/p3o6129 [ lawnfawn.com ]
• Tim Holtz Distress® Oxide® Ink Pad Villainous Potion
——— https://ldli.co/e/rn30z2e [ rangerink.com ]
• Tim Holtz Distress® Oxide® Ink Pad Hickory Smoke
——— https://ldli.co/e/om4nx5j [ rangerink.com ]
——— https://ldli.co/e/lmo9722 [ honeybeestamps.com ]
• Tim Holtz Distress® Oxide® Ink Pad Black Soot
——— https://ldli.co/e/xlxz69z [ rangerink.com ]
——— https://ldli.co/e/1pry6oq [ honeybeestamps.com ]
• Ebony
——— https://ldli.co/e/d7xgprk [ cardstock-warehouse.com ]
• Mini Stencil Mat
——— https://ldli.co/e/lmo972p [ waffleflower.com ]
——— https://ldli.co/e/xlxz69d [ honeybeestamps.com ]
Product list made with LinkDeli – https://linkdeli.com/e/m9ey7d