March 8, 2023
Confetti Blast – Heffy Doodlers Challenge March 2023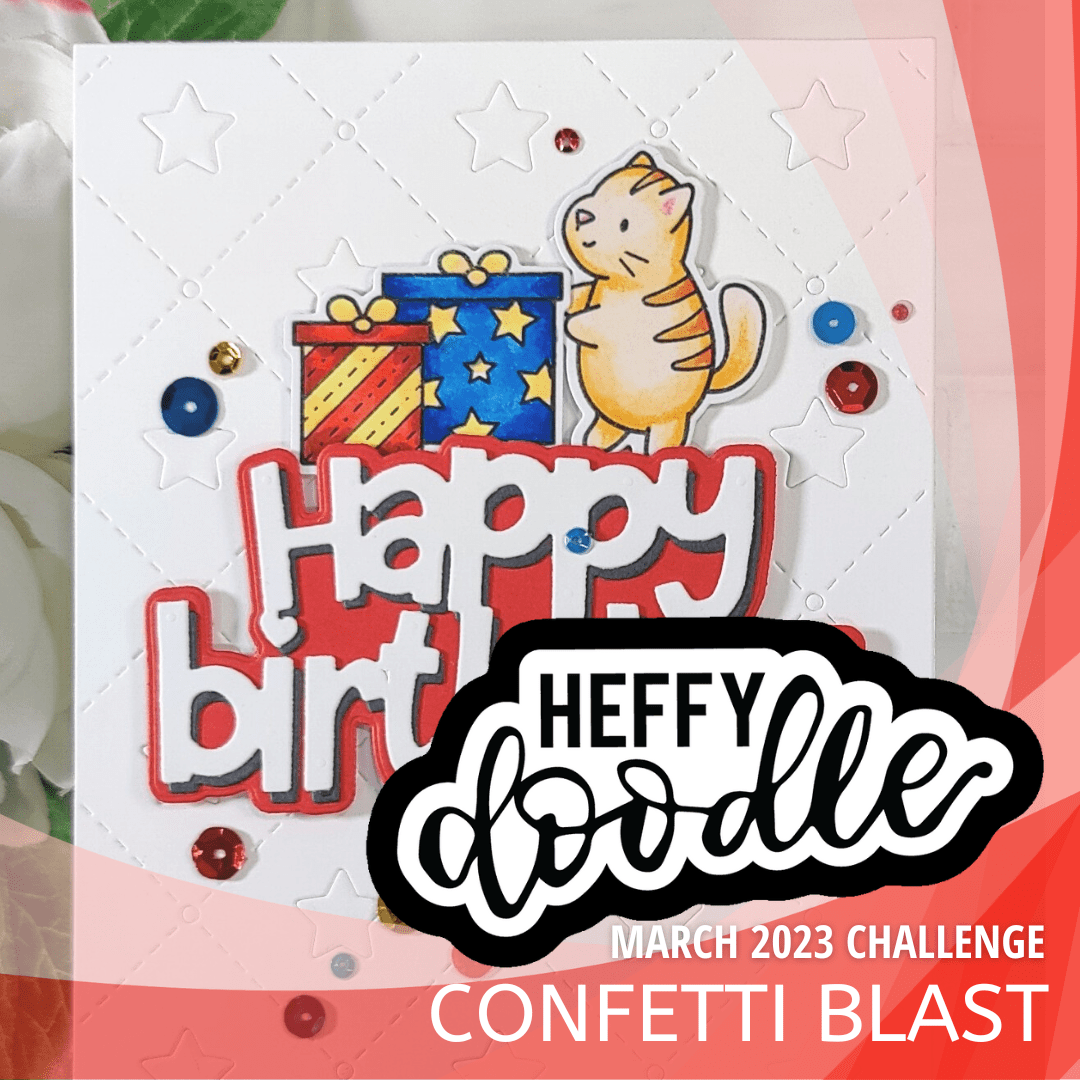 Hello crafty friends, Amanda Stevens here again, to announce the winner of the February challenge and issue a new one for March! We'd like to thank everyone who entered the Sending Love Challenge last month. There were so many lovely projects! You can see all of the entries over in the Heffy Doodlers group on Facebook. While you're there, you can share your projects and meet new crafty friends. I try to share Lesley's weekly videos there too as soon as she goes live.
I know you're excited to see who won last month's challenge, so please help me congratulate Emma Wilson! I love the way she masked an oval to create the lavender sky and the Fluffy Puffy Unicorns are just so sweet. The glittery touches make the card magical. Isn't it adorable?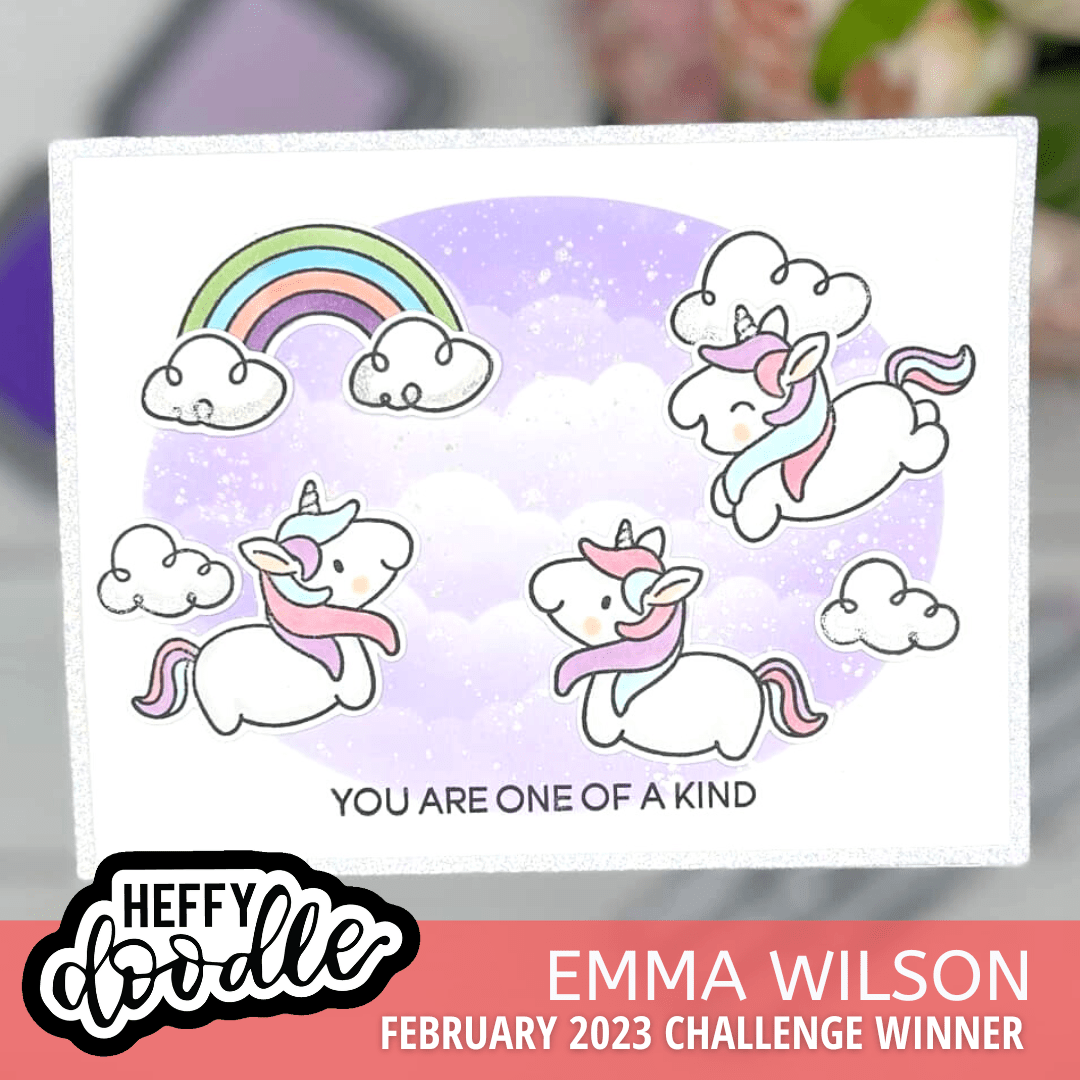 To choose the winner, all entries (except those by Lesley and the current design team) were assigned a number, in order of posting. We used random.org to choose the winning number.
With all of the new Sparkle Mixes that just came out in the new release, I thought it would be fun to incorporate some into our cards. This month, the theme is CONFETTI BLAST! Add gems, sequins, or even small die cuts to your card to help them shine. Maybe even create a shaker card! For my inspirational card, I glued lots of pieces from the Ringmaster Sparkle Mix around my sentiment and critter. The colors matched perfectly! (I recommend picking up a pack of each mix so you'll have the whole rainbow at your disposal.)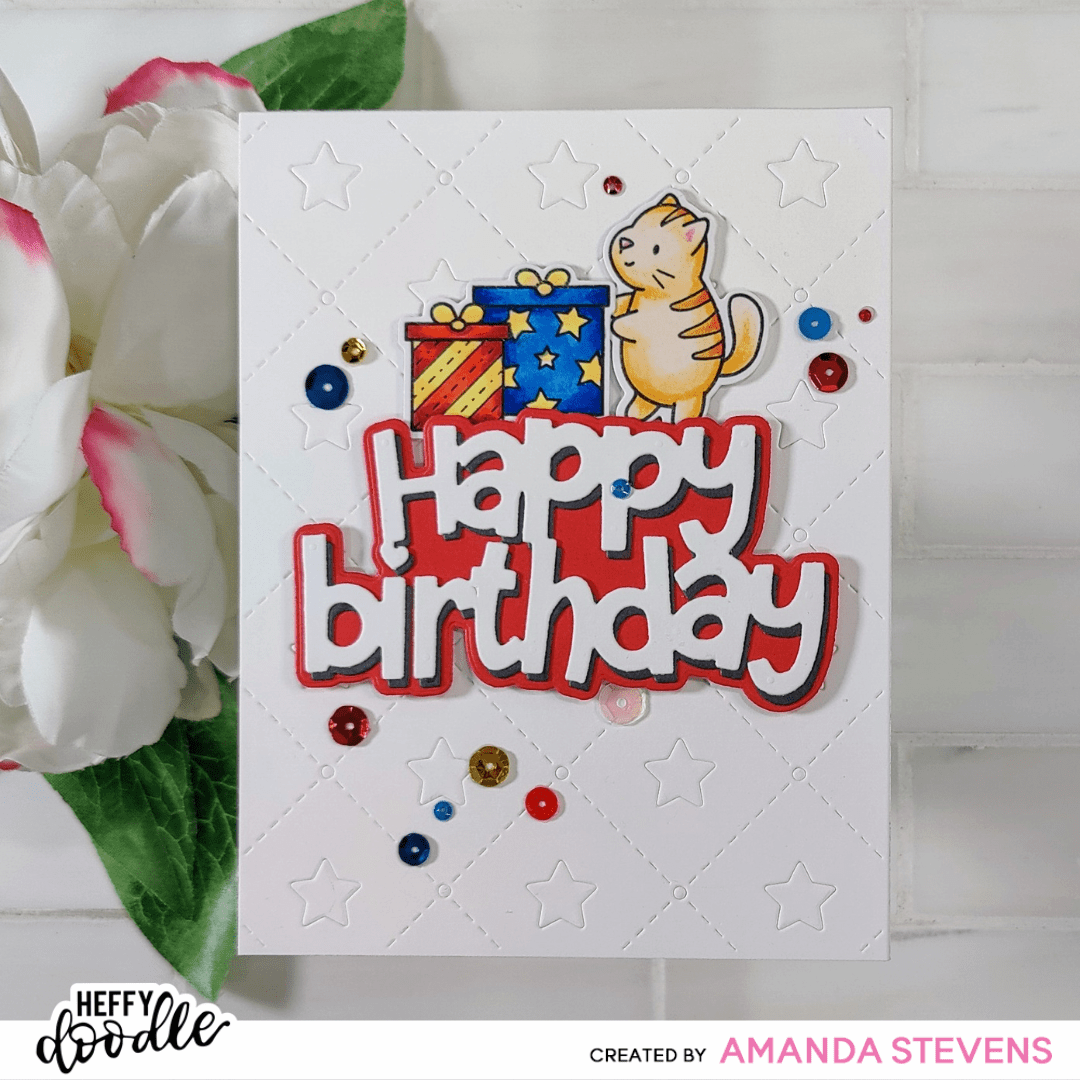 I love the way the sparkle mix pieces add color and shimmer to my card. They also help the simple scene feel like a party! If you'd like to recreate this card, here are the supplies you'll need…
Inspired to play along? Pull out your Heffy Doodle goodies and create a card of your own. Don't forget the confetti! (It doesn't not need to be from a Heffy Doodle Sparkle Mix.) To enter, go to the Heffy Doodlers Facebook Group and post a picture of your project in the March 2023 Challenge album (it will be pinned to the top). Enter as many cards as you like. The winner will be randomly chosen from all entries posted prior to Midnight (UT) on April 2, 2023. You are not limited to cards, feel free to post tags, scrapbook pages, home decor projects, etc. Just be sure the bulk of the stamps and dies used are from Heffy Doodle, and you incorporate the CONFETTI BLAST theme. Good luck my friend!
Remember, when you enter this month's challenge, you'll have a chance to win a £35 gift voucher!
Questions, just ask. Need some new stamps and sparkle mixes to shake things up? Visit the Heffy Doodle shop and check out the NEW RELEASE! There are so many fantastic new sets! And if you act quickly, you can get free stamps!!!

Remember, you enter the challenge in the Facebook group, not here. Oh, and let's keep it PG please 😉
I'll be back on April 4th to announce the winner and the next challenge. Until then, I'll see you on Facebook…
The Heffy Doodlers Challenge is not sponsored by, nor affiliated with Facebook. To be eligible to win, you must be at least 18 years old, and agree to allow Heffy Doodle permission to use your submitted photos for promotional purposes.
*Offer available for a limited time only.