August 1, 2017
A successful Kickstarter campaign & RETAILER ANNOUNCEMENT!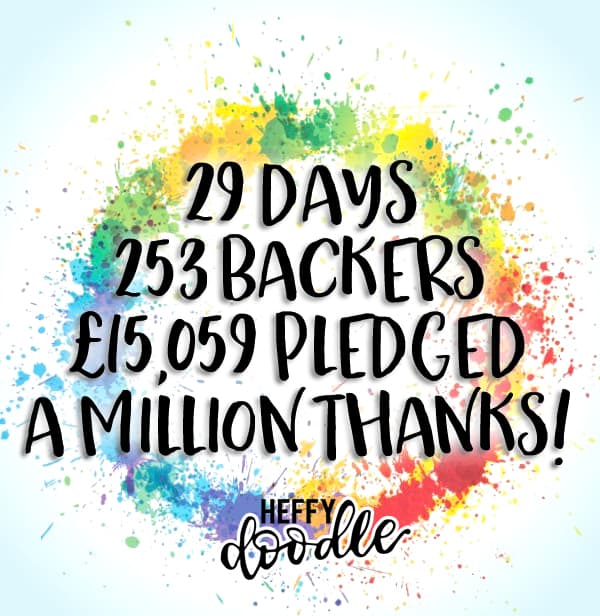 Hello Heffy Doodlers!
What an awesome result! Can you even believe it?!  That's right – our Kickstarter campaign has come to a close, and we have had an astounding 253 backers and over fifteen thousand pounds worth of preorders! THANK YOU A MILLION TIMES OVER!
Furthermore, we have sent all of our Kickstarter backers a questionnaire to confirm their shipping instructions, and thankfully we have already received over half of the responses. If you have not yet sent back your details – please do so as soon as possible as this is required before we can continue to the next step of production. We are still expecting your Kickstarter rewards to be fulfilled by September, but are pushing as hard as we can to get these to you sooner. Keep an eye on the Heffy Doodle blog for more updates on their delivery.
We also wanted to extend a special thanks to our team of supporters who helped spread the word about Heffy Doodle, shared projects, made video tutorials, joined in with our blog hop, and offered their encouragement. Like any new venture, it takes hard work, but the support of these Heffy Doodlers has always brought a smile to my face. I love this community so very much. <3
The Heffy Doodle Online Store – coming soon!
We have fabulous news to share!
A few weeks ago, someone asked us 'how can we get our hands on Heffy Doodle products after the Kickstarter campaign finishes?'. Back then, I answered with a very honest ' `Errr…I don't know yet!' 🙂 Well… a few weeks have passed, and with the amazing support of our Heffy Doodlers, we are now absolutely thrilled to announce that Heffy Doodle are here to stay!
Over the next few weeks, we are working on the development of the Heffy Doodle online store, so you can buy your Heffy Doodle products direct from us. YAY!! Please remember to sign up to our newsletter (over there on the right) so you can be notified when we launch the store!
Heffy Doodle – soon in your favourite stores
And…another HUGE announcement!
We are absolutely thrilled to be announcing that Heffy Doodle will ALSO shortly be available for purchase via some of your favourite stores! WOOHOO! We have been contacted by some crafty retailers who would like to carry the Heffy Doodle range, and we have both online & bricks 'n' mortar stores. Let's take a look at the awesome locations that will be stocking our products:

Simon Says Stamp (USA online)
Love from Lizi (UK online)
Butterfly Reflections Ink (USA online)
Scrapping for Less (USA online)
The Foiled Fox (USA online)
Craft Inn Kentucky (USA bricks & mortar)
Bumbleberrys (UK online)
and of course HeffyDoodle.com – coming soon!
We wanted to make sure that our Kickstarter supporters would be the first to get their supplies, so these retailers will be stocking Heffy Doodle from September 2017. Some may open up for preorders – so if you missed the Kickstarter preorders, but still want to be amongst the first to get the Heffy Doodle release, check out each the various stores using the links above!
We would love to see Heffy Doodle appear in more and more retailers. Please remember to ask your favourite stores to carry Heffy Doodle products, and you can also contact us with the name of your go-to stores so we can also reach out to them.
Happy Crafting!