May 28, 2019
Yappy Happy Mail with Erica!
Hi guys!
It's Erica, popping in with another guest design post today! Double the excitement for me, and hopefully for you too, lol!
Today's card is on the opposite end of the spectrum from the first card I did. This one is *gasps* a one-layer-card!! I don't do too many of these, usually being a 'more is better' kind of gal.
The Yappy Happy mail set is totally pawsome! Full of fun images and adorable punny sentiments, what's not to love?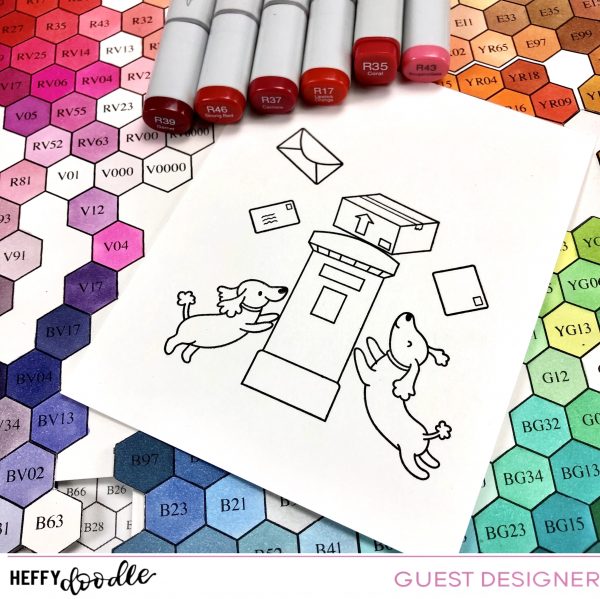 I started out by stamping up the mailbox, smack dab in the middle on a card panel, then I stamped it again on masking paper and fussy cut that out. With the mask in place, I added the other images I wanted to use, with the help of my Mini MISTI of course, because I'm useless without that tool these days.
With all the images stamped up, it was time to color! The mailbox was done in bright red like they are in the UK, and the little doggies were done in similar colors to my own two dogs. To create lots of texture on the dogs, I have done the coloring in a dotting manner, as in no blending, simply just dotting the markers in a bit of a random-ish pattern. Sounds super scientific and specific, doesn't it?
On the letters, I have just added a little bit of shading and a bright stamp. With a fine tipped marker, I have also added addresses and perhaps a logo that looks somewhat familiar *wink, wink*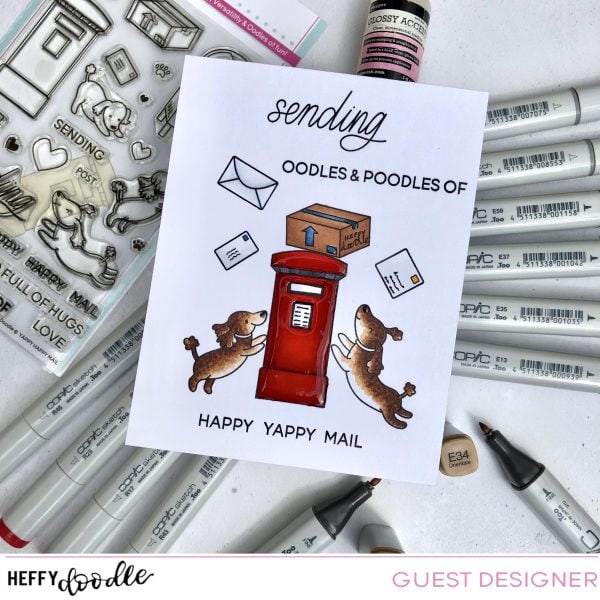 I used the same fine tipped marker on the notice on the mailbox too, where usually the collection times and days are noted.
With all the coloring done, it was time to add a sentiment and I simply couldn't resist adding TWO puns in there. But how can anyone blame me?? How cute is 'Sending Oodles & Poodles Of Happy Yappy Mail'? I think it's just fur-tastic! (In case you haven't noticed, I'm a legit Crazy Dog Lady)
Now, I could have left it as it was but then, that would just be too easy, right? So, grabbing my Glossy Accents I went to town. The entire mailbox is covered, I also dabbed a bit on the noses as well as the packaging tape. With all those Glossy Accents on the card, I had no choice but to step away, even though I heard my sequins whine 'use us! Come on, you know you love a bit of bling, we can give it to you'. However, I managed to resist the temptation and left it as it is.
If you love a pawsome punny stamp set, this is one for you, for sure. The coordinating dies to this set is at the top of my wishlist now, because ain't Gnomebody got time for fussy cutting!
Thanks again to Leslie and the Heffy Doodle team for having me!
Lots of love and happy crafting from Erica