June 11, 2019
You did it! Foils and Glitz Glitter Gel with Thermoweb and Lesley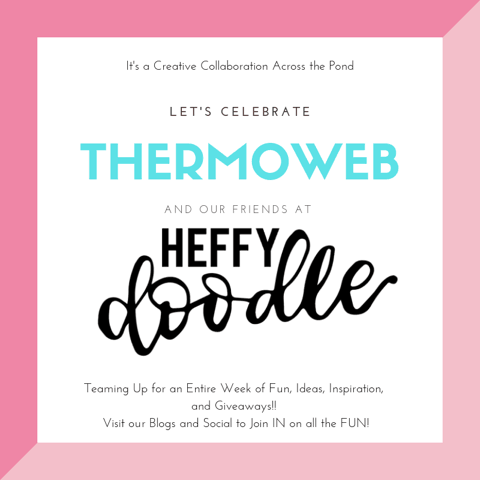 Hi everyone,
What a wonderful week we are having, with so many wonderful projects as part of our Heffy Doodle and Thermoweb collaboration.
Be sure to come back all week to see oodles of inspiration!
I couldn't wait to play with foils and the Gina K glitter gel, but unfortunately, my laminator died at the last minute so I had to improvise a little. I figured I would share that with you so you know that we too can have bad luck, and the great news is that it turned out great! So if you don't have all the latest and greatest tools, you can still create fabulous results with a laminator.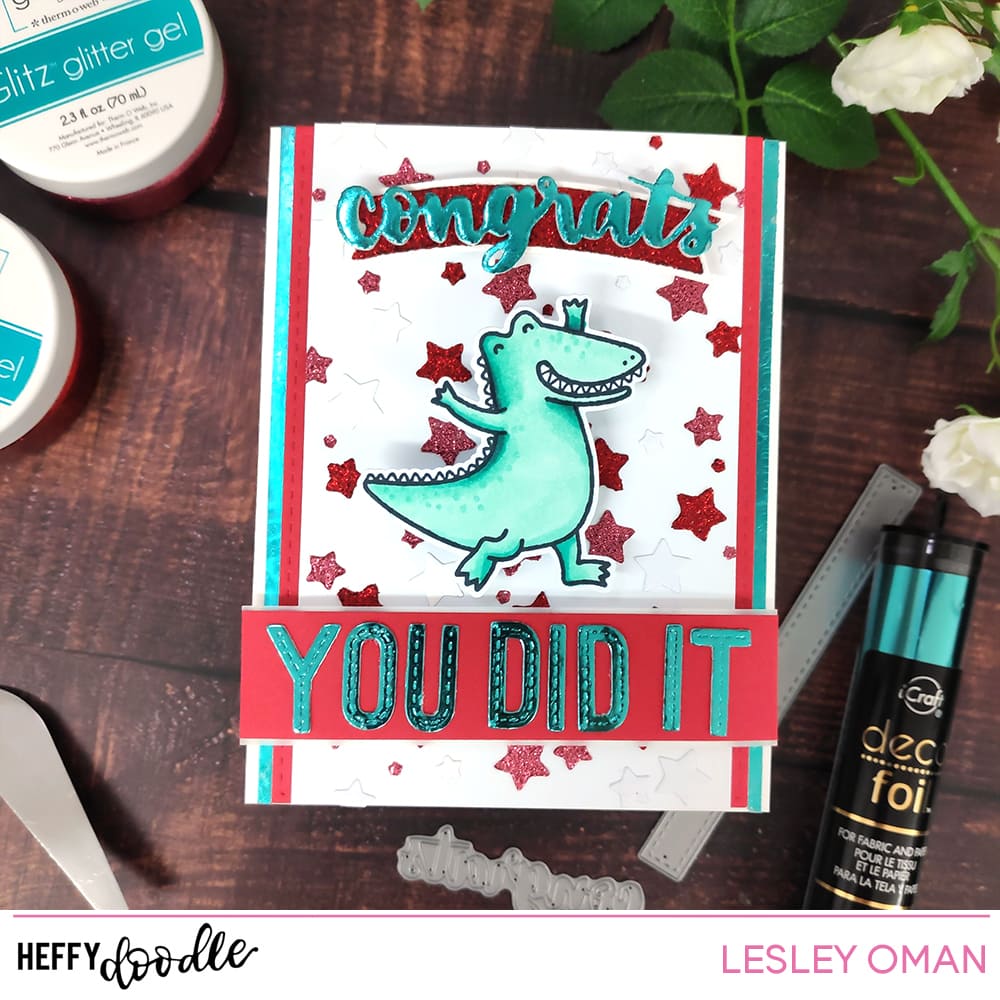 For my card, I started by die cutting the Heffy Doodle Stargazer die from scratch cardstock to use as a stencil for the glitter gel. I used a little Purple Tape to hold it in place and used a palette knife to spread the gel over the top. When I removed the stencil I set it aside to dry for an hour. This took the most time because I wanted to have lots of stars so I did this three times using both the Red Velvet and Bubblegum colours.
When I had my panel sufficiently glitterized (I made up this new word!) then I trimmed it down to be 9cm wide. I die cut two strips of red cardstock using the Heffy Doodle Stitched Strips of Ease dies and adhered these onto the edge of my glitzy panel. I wanted to add some aqua blue foil next to this, so I lay down a strip of double-sided tape onto my card panel on both the left and right edge, and then added some Blue Foil on top. I burnished this liberally with a bone folder before peeling away the top sheet.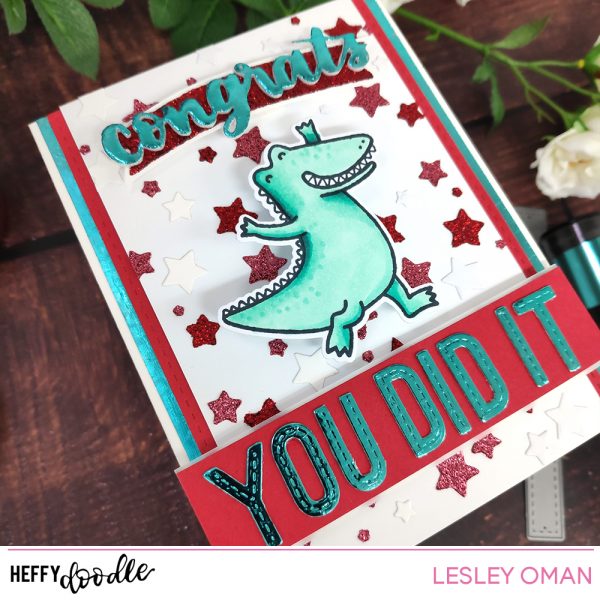 For my sentiments, I wanted to have a banner in that same glitzy red. So using the banner die from the Tag Along die set, I cut three pieces of card then adhered these together to create a nice deep stencil. Then I used the Red Velvet Glitter Gel to create a glittery banner shape. When it was dry I trimmed this out and adhered it onto my card.
Next I reached for some adhesive foam sheets, which I used to die cut the Congrats Heffy Cuts die. Once die cut, I pulled away the release paper and lay the foil on top. I then ran this through my die cut machine (without any dies) about three times. I did add a few layers of cardstock shims to get a nice even pressure across the die cut. This helps burnish the foil down onto the adhesive foam.
For the rest of my greeting I used some Stick It adhesive on some cardstock and then lay the foil on top. After I had created my own little square of foiled card, I die cut letters using the Stitched Alphabetters Dies. I glued this on top of a strip of red card with a little vellum underneath.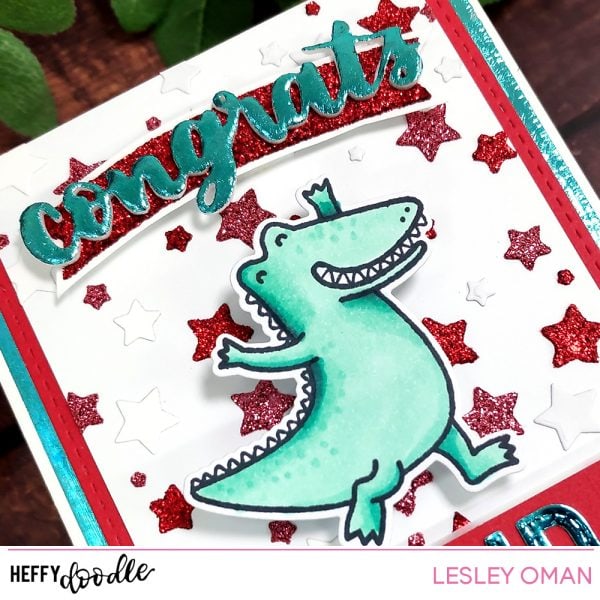 All that was left was to add an excited little Croc from the Happy Snappy Crocs stamp set and die cut him out. I thought an Action Wobble would be the perfect addition to make this little guy shake with excitement!
YAY! I did it! And such fun! Don't forget to come back later and see what Isha has made using the Thermoweb products!
Happy Crafting everyone!