January 6, 2018
Wishing you a Crafty New Year!
Happy New Year Heffydoodlers!  I had so many lovely people wish me a "Crafty New Year" that it inspired me to make a card to wish you all the same! I have pulled out quite a few of my Heffydoodle sets to make this card – getting good use of my stamps! One thing I adore about Heffydoodle stamps is that the sets coordinate so well together – the images are proportioned just right to enable you to do this – giving you more value from your sets! Gotta love that!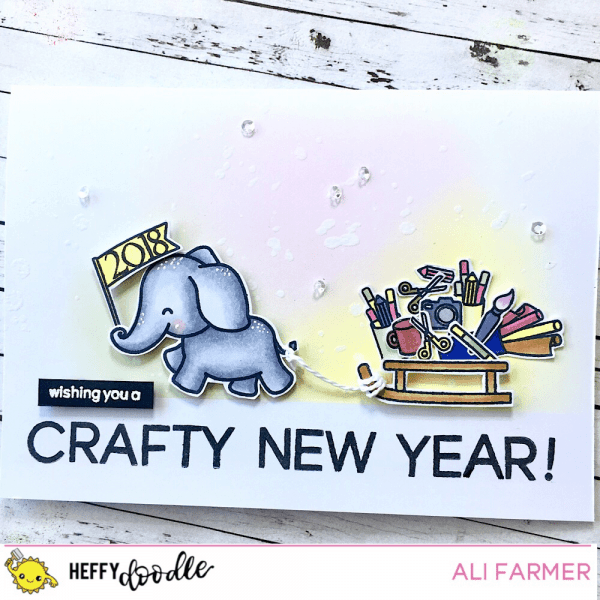 I began the card by lightly sponging some distress ink for a very light background (Spun Sugar, Old Paper and Squeezed Lemonade) and splattered with some water. Hint: I find that first sponging a layer of white pigment ink on the card helps to get a better, softer application with your distress inks. I then stamped the 'crafty new year' words along the bottom of the card using the Jet Alphabetters (HDS, SSS, ATC) and an Altenew mini cube in black  (I used a light pencil line drawn with a ruler to guide my letter stamping).  I stamped the 'wishing you a' from the Happy Snappy Crocs set (HDS, SSS, ATC) on a small strip of black card in versamark ink and white embossed. Next came the stamping and colouring of all those crafty goodies!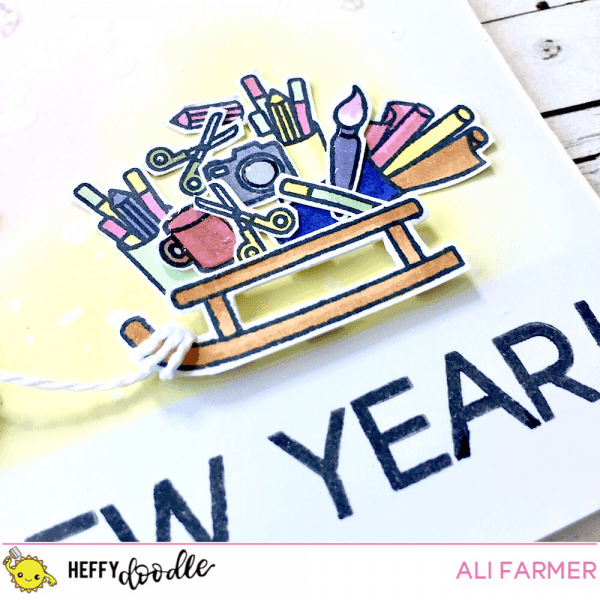 I stamped the following in black Momento ink, coloured them with copics and fussy-cut:
– paper and mug from Elfish Antics (HDS, SSS, ATC),
– camera from Happy Snappy Crocs(HDS, SSS, ATC)
– scissors x 2, paintbrush, container of pens x 2, copic and pencil from the Unbearable Without You Set (HDS, SSS, ATC)
– elephant  and banner from Elephant of Surprise (HDS, SSS, ATC) – I stamped 2018 on the banner with an old unnamed set.
– sleigh from Warm Hugs (HDS, SSS, ATC)
(Luckily I was in the mood for fussy cutting!!). I popped up the elephant and sleigh with some 3-d foam, and attached all to the front of the card – piling the crafting goodies onto the sleigh! I then tied some embroidery thread from the elephant tail to the sleigh so that he could tow his goodies!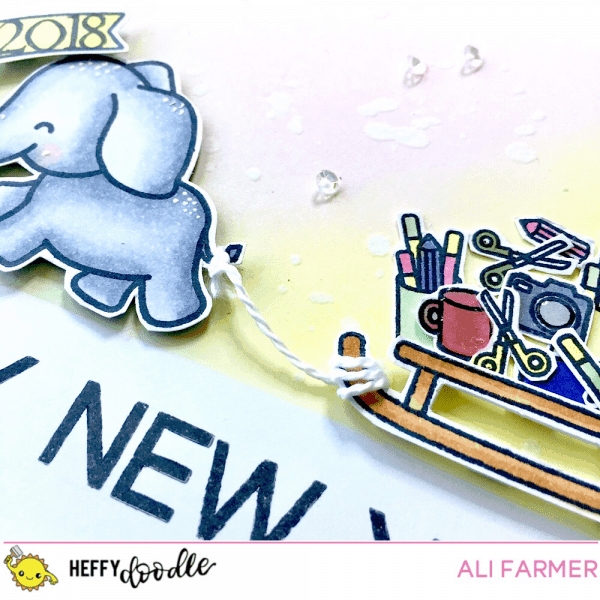 Lastly, I added some detail to the elephant with a white gel pen, adhered the small sentiment strip with some 3-d foam and added some sequins.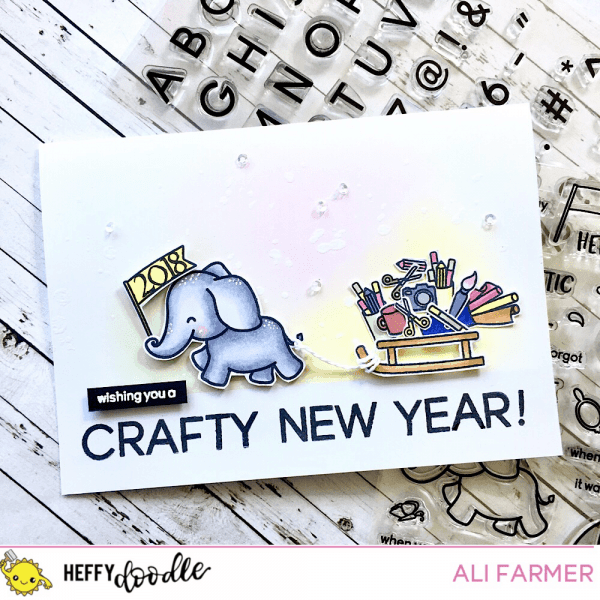 Hope you enjoyed this card and that you have a great 2018 filled with lots of crafty goodies of course!!
Ali xx