December 21, 2019
Using Cardstock to Create Easy Backgrounds with Jenn Bena (Video)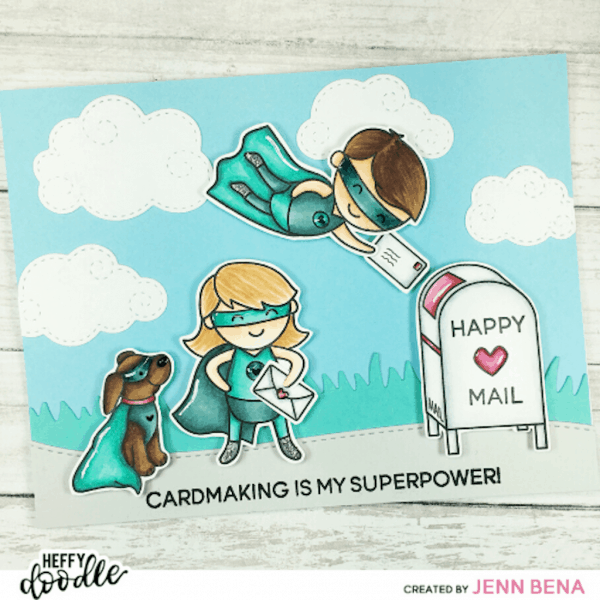 Hello crafty friends! It is Jenn Bena and I created this card as a nod to all the amazing female and male cardmaking superheroes out there spreading joy through happy mail! You can watch how I created this card in the video below or over on the Heffy Doodle YouTube channel!
For this card, I am featuring the Superdudes stamp set, as well as Yappy Happy Mail and Rescue Dogs to help create my scene. I stamped out all of my images and coloured them with copic markers.
While I love making elaborate scene cards, I also appreciate being about to create easy backgrounds using only cardstock. I cut a piece of the Ice Blast cardstock to the full size of my card panel for the sky to set the scene for our cardmaking superheroes. To create the sidewalk, I used the Slopey Joes border dies with some Oyster Shell cardstock. Then I cut some of the Simply Teal-icious cardstock with the Grassy Lass border dies and placed it behind the sidewalk. For the final element of the background, I used the Swirly Cloud dies cut out with white cardstock to add some interest to the sky.
Before adding my coloured images, I stamped out the sentiment "Cardmaking is my Superpower" onto the sidewalk. I popped up my images using foam tape, adding an envelope into the hands of each of the two superheroes. I placed one superhero flying in the sky swooping in to mail a letter and the other in front of the mail box ready to send her happy mail with the help of her canine friend.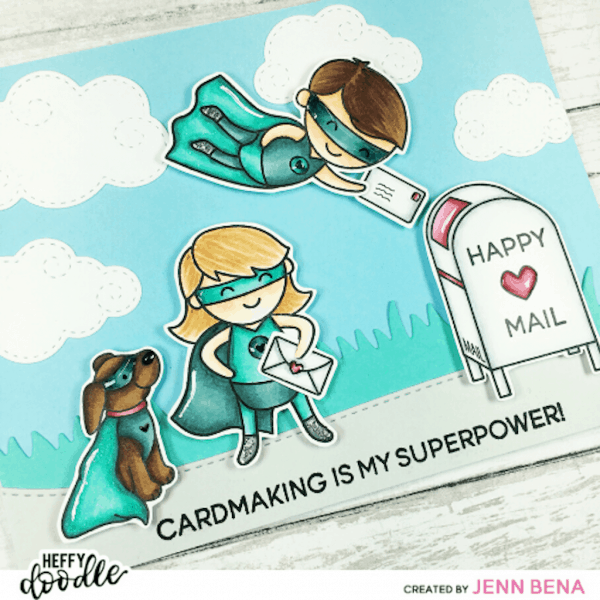 To finish off the card, I added some glitter to the costumes and some silver stickles over their shoes. I also used Nuvo glaze on their masks to give a raised and glossy effect.
Thank you so much for stopping by today! I hope you have fun creating some simple backgrounds using only cardstock! Don't forget to subscribe to the Heffy Doodle YouTube channel so you don't miss all the wonderful inspiration from the video design team!
Jenn
*Affiliate links below at no cost to you.
Heffy Doodle Superdudes Stamp
https://heffydoodle.com/shop/superdudes-clear-stamps.html (Heffy Doodle)
http://shrsl.com/20wtm (Scrapbook.com)
Heffy Doodle Superdudes Dies
https://heffydoodle.com/shop/superdudes-dies.html (Heffy Doodle)
http://shrsl.com/20wtl (Scrapbook.com)
Heffy Doodle Yappy Happy Mail Stamp
https://heffydoodle.com/shop/yappy-happy-mail-stamp-set.html (Heffy Doodle)
http://shrsl.com/20wtp (Scrapbook.com)
Heffy Doodle Yappy Happy Mail Dies
https://heffydoodle.com/shop/yappy-happy-mail-dies.html (Heffy Doodle)
http://shrsl.com/20wtr (Scrapbook.com)
Heffy Doodle Rescue Dogs Stamp
https://heffydoodle.com/shop/rescue-dogs-clear-stamps.html (Heffy Doodle)
http://shrsl.com/20wtg (Scrapbook.com)
Heffy Doodle Rescue Dogs Dies
https://heffydoodle.com/shop/rescue-dogs-dies.html (Heffy Doodle)
http://shrsl.com/20wti (Scrapbook.com)
Heffy Doodle Swirly Cloud Dies
https://heffydoodle.com/shop/swirly-clouds-dies.html (Heffy Doodle)
Heffy Doodle Grassy Lass Border Dies
http://shrsl.com/1wtj9 (Scrapbook.com)
https://heffydoodle.com/shop/grassy-lass-border-dies.html (Heffy Doodle)
Heffy Doodle Slopey Joes Borders Dies
https://heffydoodle.com/shop/stitched-slopey-joes-border-dies.html (Heffy Doodle)
http://shrsl.com/1xubu (Scrapbook.com)
Ice Blast Cardstock (10 Pack)
https://heffydoodle.com/shop/8-5-x-11-coloured-cardstock.html (Heffy Doodle)
http://shrsl.com/20wt5 (Scrapbook.com)
Simply Teal-icious Cardstock (10 Pack)
https://heffydoodle.com/shop/8-5-x-11-coloured-cardstock.html (Heffy Doodle)
http://shrsl.com/20wt6 (Scrapbook.com)
Oyster Shell Cardstock (10 Pack)
https://heffydoodle.com/shop/8-5-x-11-coloured-cardstock.html (Heffy Doodle)
http://shrsl.com/20wta (Scrapbook.com)
Other Supplies Used
Lawn Fawn Jet Black Premium Dye Ink
http://shrsl.com/122eu (Scrapbook.com)
https://amzn.to/2vDfdh5 (Amazon.com)
Versafine Clair Nocturne Ink
http://shrsl.com/1i8c8 (Scrapbook.com)
https://amzn.to/2WdfBOl (Amazon.com)
Art Glitter Glue 4oz with Ultra Fine Metal Tip
https://amzn.to/2Gq25Ar (Amazon.com)
Bertech Double Sided White Foam Tape
https://amzn.to/2HpVMOV (Amazon.com
Self-Healing Black Craft Mat (12×18)
https://amzn.to/2le8w2C (Amazon.com)
Misti Stamping Tool (Original Size)
http://shrsl.com/1uf88 (Scrapbook.com)
https://amzn.to/2na31mU (Amazon.com)
http://shrsl.com/1uf8c (My Sweet Petunia)
EK Success Cutter Bee Scissors
http://shrsl.com/135no (Scrapbook.com)
https://amzn.to/2KQ6aOQ (Amazon.com)
Staedtler White Eraser
https://amzn.to/2U5sTvT (Amazon.com)
Signo Uniball White Pen
http://shrsl.com/135zz (Scrapbook.com)
https://amzn.to/2MkrErH (Amazon.com)
Sakura Black Glaze Gelly Roll Pen
https://amzn.to/2P0bkL6 (Amazon.com)
Lawn Fawn Glitter Pen
http://shrsl.com/1yxqn (Scrapbook.com)
https://amzn.to/2XLPiRo (Amazon.com)
Tonic Studios Nuvo Crystal Glaze
http://shrsl.com/1qzct (Scrapbook.com)
https://amzn.to/2Z1Zd3X (Amazon.com)