May 9, 2021
Video: Slimline Slide Up House Card
Hello my Heffy Doodle friends, it is Carrie Rhoades here. I love getting to share my creations using my Heffy Doodle faves with you. Today I am playing with two new stamp sets, Popping Up and Home Sweet Home, combining them to make this fun card that is inspired by an animated movie.  I am sure you can guess which one. This interactive card is a great card and gift in one for a new home owner. Take a look at the video to see this Slimline Slider Pop Up card come together.
If you can not see the video on this screen, you can also view it on the Heffy Doodle YouTube channel. I love the fun bright colors of this house and that you can color it to look like any home you'd like.
I attached the house to the bottom half of the Slider, so when the Pop Up tab is pulled the balloons and the congratulations sentiment appear to be floating in the air. To attach the sentiment so it appears to float I used a couple skinny strips of a window sheet. I attached them to the back of the house and balloons and to the back of the die cut word.  To hide the back of the window sheet strips I added a second die cut to the back of the images, which also gave extra stability.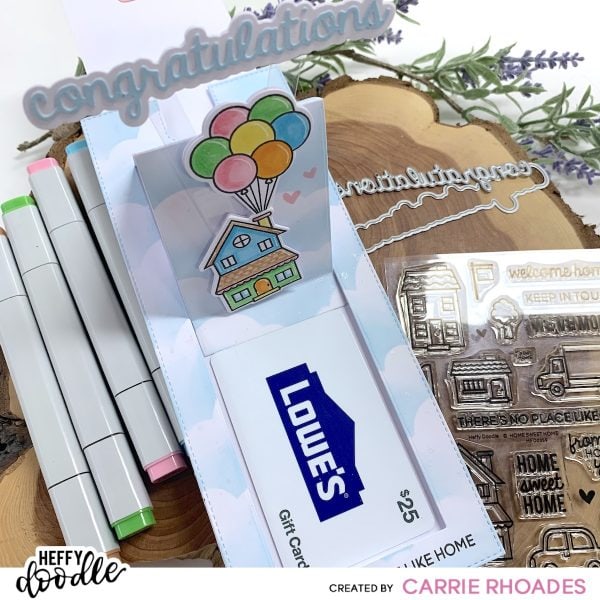 When you slide this card open there is a nice spot to add something cute, or a gift card!  I added a gift card to a home improvement store. The gift card also serves to hold up the  slider. One thing I learned while making this card is that the 5mm foam tape is the best adhesive for the Slide Pop Up mechanism. It needs a little lift to work smoothly and so the recipient can easily grab on to the tab and pull it.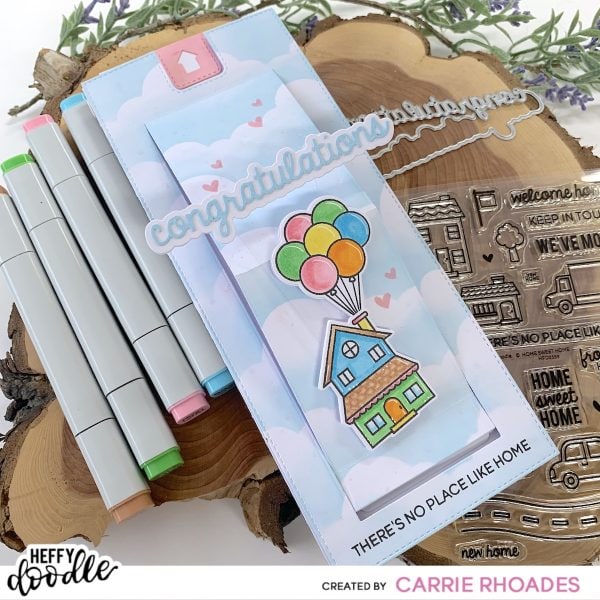 There are so many fun things you can do with this new Home Sweet Home die set, as well as the Popping By stamp set. I am excited to use these cute house images with the new Little Town Border Dies and the Loads of Roads stencils too. I hope you enjoyed today's video. I will see you again soon with another Heffy Doodle creation!
Happy Stamping,