January 26, 2020
How to Color Cats Using Purrfect Day with Jenn Bena (Video)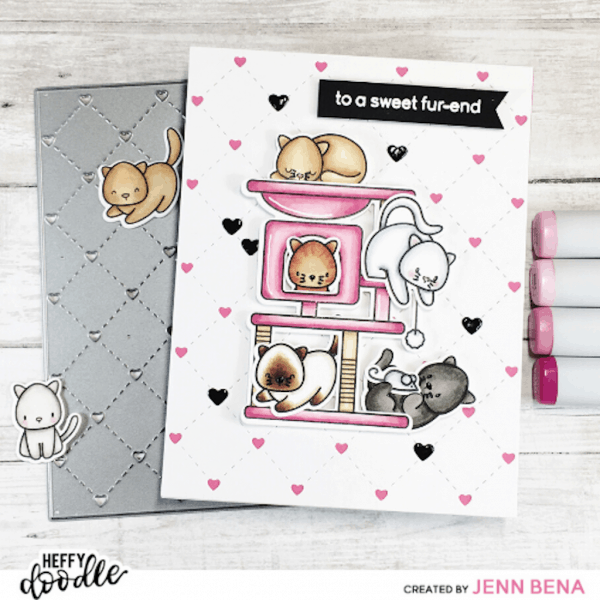 Learn various copic color combinations for cats to color all those cute kitties on your handmade cards today with Jenn Bena, including Persian, Seal Point Siamese, orange cats and more!
Below is a Copic Color Map showing you all of the colors I used today for the cats featuring the Purrfect Day stamp set by Heffy Doodle. The background was done using the new Quilted Heart Background die, which makes a pretty but easy background for your cards!
You can get a firsthand look at the cat color combinations in action by watching the corresponding YouTube video.
Hope you have fun coloring and making cards for all the cat lovers in your life!
Jenn
You Can Find Me On:
YouTube: https://www.youtube.com/user/ScrapbenaCreations
Instagram: https://www.instagram.com/scrapbena/
Facebook: https://www.facebook.com/scrapbena/
Pinterest: https://www.pinterest.ca/Scrapbena/
*Affiliate links below at no cost to you.
Heffy Doodle Products Featured
Heffy Doodle Purrfect Day Stamp
https://heffydoodle.com/shop/purrfect-day-stamps.html (Heffy Doodle)
http://shrsl.com/224ly (Scrapbook.com)
Heffy Doodle Purrfect Day Dies
https://heffydoodle.com/shop/purrfect-day-dies.html (Heffy Doodle)
http://shrsl.com/224lz (Scrapbook.com)
Heffy Doodle Lovely Little Borders Dies
https://heffydoodle.com/shop/lovely-little-borders-dies.html (Heffy Doodle)
http://shrsl.com/224m3 (Scrapbook.com)
Heffy Doodle Quilted Heart Background Die
https://heffydoodle.com/shop/quilted-heart-background-die.html (Heffy Doodle)
http://shrsl.com/224m1 (Scrapbook.com)
Heffy Doodle Razzleberry Cardstock (10 Pack)
https://heffydoodle.com/shop/8-5-x-11-coloured-cardstock.html (Heffy Doodle)
http://shrsl.com/224m7 (Scrapbook.com)
Heffy Doodle Oreo Crunch (Black) Cardstock
https://heffydoodle.com/shop/8-5-x-11-coloured-cardstock.html (Heffy Doodle)
https://www.scrapbook.com/store/hf-hfd0214.html (Scrapbook.com)
Inks
Lawn Fawn Jet Black Premium Dye Ink
http://shrsl.com/122eu (Scrapbook.com)
https://amzn.to/2vDfdh5 (Amazon.com)
Versamark Ink
https://amzn.to/2B2xPfC (Amazon.com)
Adhesives
Art Glitter Glue 4oz with Ultra Fine Metal Tip
https://amzn.to/2Gq25Ar (Amazon.com)
Bertech Double Sided White Foam Tape
https://amzn.to/2HpVMOV (Amazon.com
Tools
Tim Holtz Glass Media Mat
http://shrsl.com/1qb6d (Scrapbook.com)
https://amzn.to/2STMgIe (Amazon.com)
Mini Misti Stamping Tool
http://shrsl.com/1ki0f (Scrapbook.com)
https://amzn.to/2DqLVWR (Amazon.com)
http://shrsl.com/1njcs (My Sweet Petunia)
EK Success Cutter Bee Scissors
http://shrsl.com/135no (Scrapbook.com)
https://amzn.to/2KQ6aOQ (Amazon.com)
Stamp Block (Large)
http://shrsl.com/21no4 (Scrapbook.com)
Stamp Block (Set of 3)
http://shrsl.com/21nob (Scrapbook.com)
Tonic Studios Tim Holtz 8.5 inch Comfort Trimmer
http://shrsl.com/13kjq (Scrapbook.com)
https://amzn.to/2LoC6h0 (Amazon.com)
Sizzix Big Shot Die Cutting Machine
http://shrsl.com/158mu (Scrapbook.com)
https://amzn.to/2PsUT9x (Amazon.com)
Wagner Heat Tool – Model HT400
https://amzn.to/2YqCw9M (Amazon.com)
EK Success Embossing Buddy
https://amzn.to/2N6ggQC (Amazon.com)
Ranger Super Fine Detail Embossing Powder White
http://shrsl.com/16597 (Scrapbook.com)
Sakura Black Glaze Gelly Roll Pen
https://amzn.to/2P0bkL6 (Amazon.com)
Sakura White Gelly Roll Pen (Bold 10)
https://amzn.to/2SUvYB4 (Amazon.com)
Tonic Studios Nuvo Crystal Glaze
http://shrsl.com/1qzct (Scrapbook.com)
https://amzn.to/2Z1Zd3X (Amazon.com)
Paper
Spectrum Noir Ultra Smooth Premium White Cardstock 100lb (Colouring)
https://amzn.to/2B3DOkm (Amazon.com)
Recollections White Heavy Weight Cardstock 110lb (Card Base)
https://amzn.to/2KMdgUa (Amazon.com)