July 11, 2021
VIDEO: Building up my Birthday Card stash
Hello my stamping friends. It is Carrie Rhoades here today sharing a card I made with some new Heffy Doodle products.  Lately I have been building up my stash of birthday cards. I have been working hard at sending out more cards and recently my sisters came to visit and of course they needed to replenish their stash of handmade cards while they were here! So there are a lot of birthday cards being made in my craft studio. Another reason to make a birthday card today is that we here at Heffy Doodle are celebrating our 3rd Birthday!!! And giving gifts to YOU!  Be sure to check out the detail in the shop by June 12th, so you can celebrate with us!
I have a video for you, so you can see the process of today's card being made. Also, I will share about making quick and easy cards that have a bit of a WOW factor.
Now let's take a look at the finished card.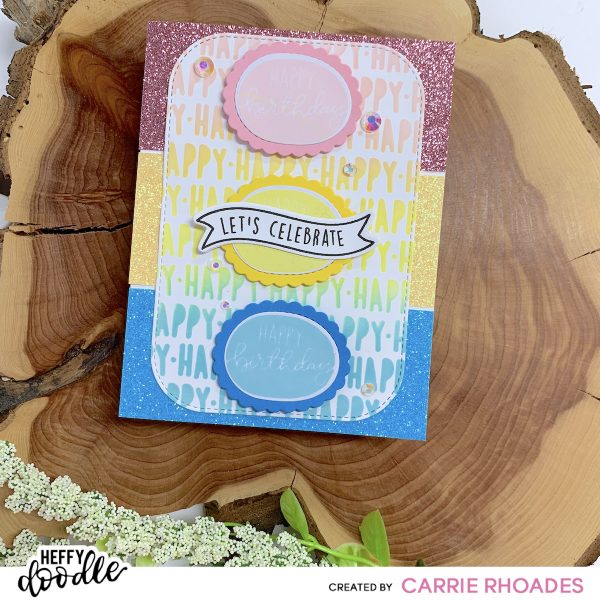 Here are a few ways I found that help me to make a quick and easy card that still has a bit of wow factor.
Use one thing that has a lot of visual interest. On this card that is the stenciled background. It not only has a fun playful font but I stenciled it so the colors blended into a rainbow.
Use images that you do not have to color. I love to color images for my cards, but it can take up a lot of time. I chose to use the Pebble Sentiments for this card and stamp them in the same inks I used for the stenciled background.
Add a bit of flare. The littlest things can easily dress up a card, like die cutting my stenciled background with a rounded and stitched die instead of just using a paper cutter. And adding the scalloped layer behind the Pebble Sentiments really draws your eye to them.
Add BLING. Nothing dressed up a simple card better than a touch of glitter and rhinestones. I used both and am in love with the touch of glam it gives the card.
This card need one final touch, as the Pebble sentiments were a bit subtle with the light colors of ink I chose. I brought in the new Wavy Banner Sentiments and added the Let's Celebrate for a real focal image on the center of this card. The yellow pebble was too light to read so it was the perfect fix for that as well.
I hope these few tips will help you in turning a quick and easy card in to a card with a bit of WOW factor! Or maybe you have a few tips of your own to share on adding a touch of WOW to your simple cards, if so drop us a comment below. We'd love to hear from you!
Below are I have linked the fun new Heffy Doodle supplies I used on todays card.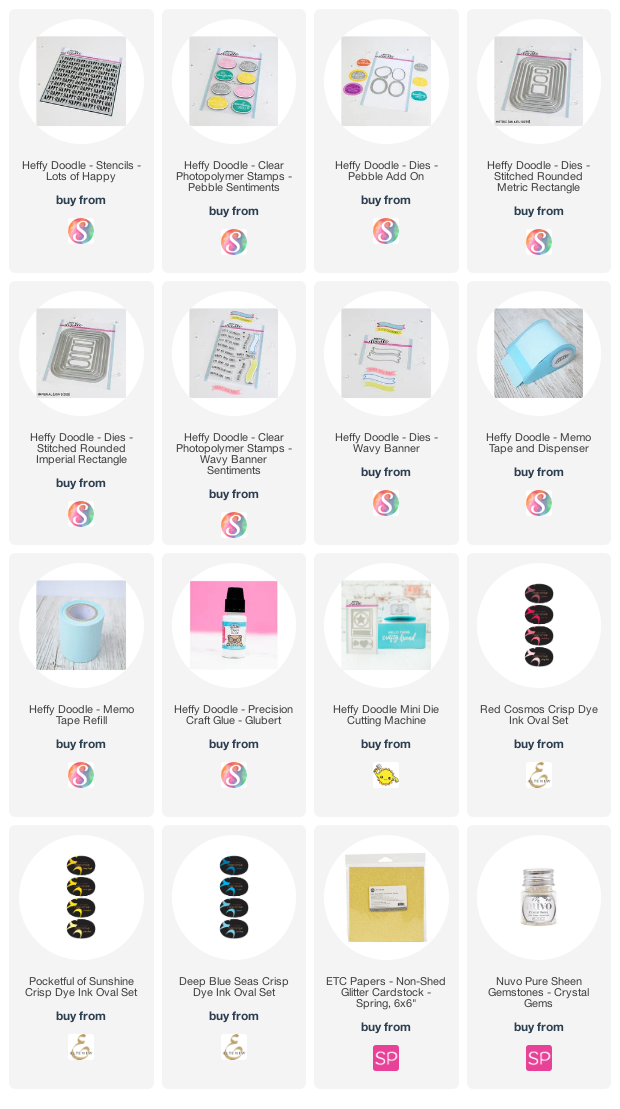 Thank you so much for stopping by and letting me share my creation with you.
Happy Stamping,
Carrie Rhoades