November 14, 2017
Unlikely Friendship
Hey Crafters!
I'm back today with this card that I couldn't stop smiling about!
I am a huge animal lover. So needless to say, I am a huge fan of adorable critter stamps, and this crocodile does not disappoint.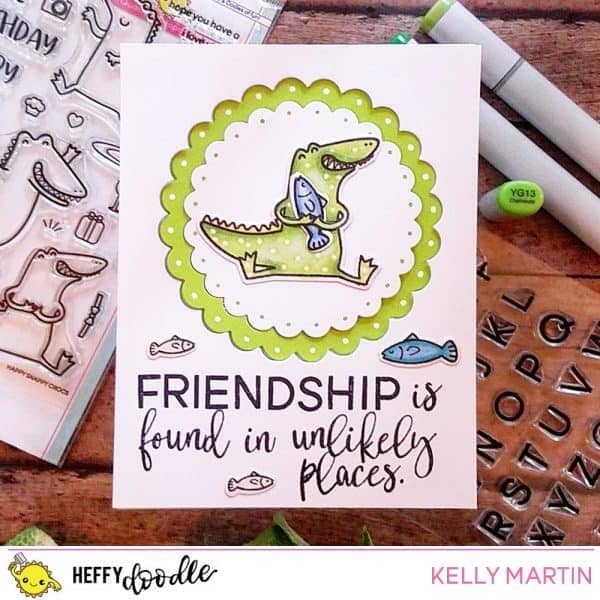 I started off by stamping the crocodile image from the Happy Snappy Crocs set (HFD|SSS) and coloring him with my copics. I used my favorite green combination (YG03, YG13, YG17) for his body and then a Y18 yellow for his teeth. I then used my colorless blender to give him some texture, followed by using a white gel pen to emphasize some of the dots. 
I stamped the fish images from the Warm Hugs set (HFD|SSS) and used various blues, teals and lavender shades of copic markers to color the adorable fishes. I used the matching die sets for the Happy Snappy Crocs set (HFD|SSS) and the Warm Hugs set (HFD|SSS) to cut out the images. The crocodile die cuts out a space in his arms so you can put stuff in them, and I LOVE LOVE that. I put one of the fishes in his arms, thereby stealing all of your affections from any other card you've seen today, because a CROCODILE IS HUGGING A FISH, PEOPLE! 
I used a Lawn Fawn scallop circle die from a stackable set to cut out a white scallop opening from my card panel, and then I used the same die to cut a lime green piece. Finally, I used a size smaller scallop die and cut an additional scallop piece from white cardstock. I then used a stair step technique and adhered the panel to the base with foam tape to make the card panel pop up off the card base. Then I glued the lime green piece flush to the card base before adhering the last white scallop piece with foam tape to pop it off the card panel/base as well. This is just a simple way to give visual interest to a simple card. I used my white gel pen to add dots around the lime green scallop, and I also used a green marker to add dots to my white scallop piece.
I glued my crocodile and fishy bffs on to the white scallop piece before starting on the sentiment.
I used the Jet Alphabetters stamp set (HFD|SSS) combined with the Perfectly Penned stamp set from Concord and 9th to stamp out the sentiment. 
I finished off the card by gluing my additional fishy images around the sentiment.
Thanks for stopping by today, and don't forget that friends can be found in surprising places!
Kelly