May 24, 2019
There's Gnome One Like You With Guest Designer Erica
Hi everyone!
I'm Erica and I'm very, very excited about being a guest designer on the Heffy Doodle blog today! I'd like to thank Leslie and the HD team for having me.
For this card I have used loads of different Heffy Doodle goodies; stamps, coordinating and stand-alone dies and a stencil. It's quite busy, colorful and punny. I love a good pun myself so I couldn't resist using the sentiment 'But Ain't Gnomebody Got Time For That' on it.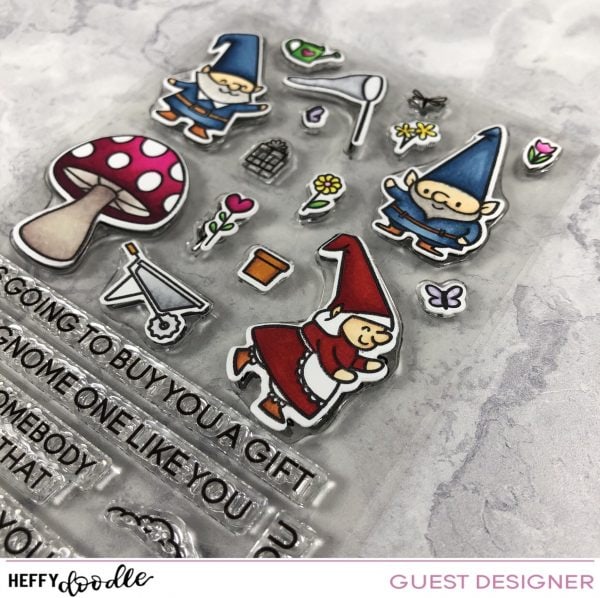 The Gnomes and all the images are colored in using Copics and then I used the coordinating die cuts to cut them all out. I also cut out four of the Swirly Clouds and ink blended a little bit of blue on them, even though clouds are usually white. I used some artistic license here.
On the background I have first ink blended four different shades of yellow Distress Oxide inks, then splattered this quite generously with water and dabbed it off with some kitchen roll. I love this effect!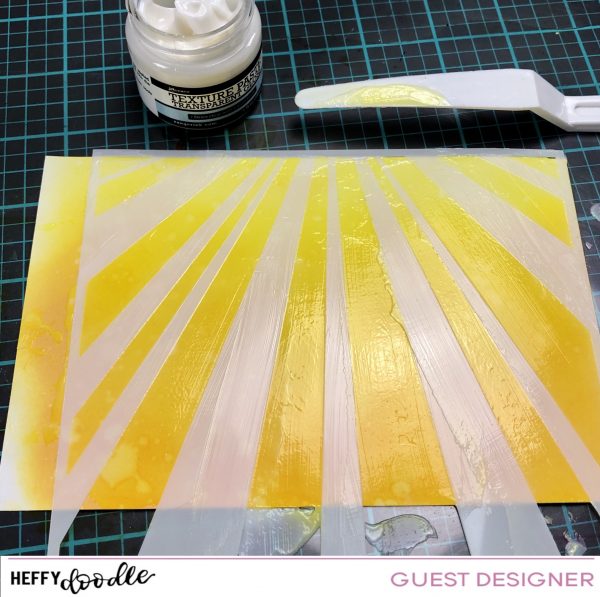 When the background piece was dry, I laid the Rays The Roof stencil over it, with the help of some Pixie Spray. This stuff is so helpful when it comes to all stencil work! Definitely worth investing in. With a spatula, I spread Transparent Gloss Texture Paste on the background and set it aside to dry a little bit before removing the stencil. By 'a little bit' I mean a few minutes, not more than that as the texture paste will need to be washed off relatively quickly.
I nearly added all my gnomes and other images directly to the background but thought it needed some grass to really bring to life that garden scene I had in mind. This was quickly sorted by die-cutting some green card stock with a grassy edge die cut and then layering these two together. I added this to the bottom of the card and then used that as the guide as to where the images were going to go. To keep everything in place, I used some PostIt Tape and then turned the whole shebang over to add foam tape to the back of it.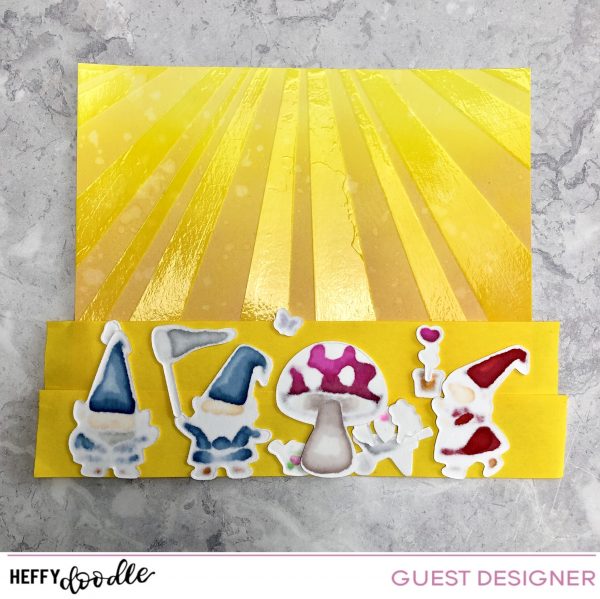 On two long slim banners I stamped up 'Con-Grass-Ulation', from the Big Bug Hugs set, and 'I Was Going To Buy You A Gift', from the Gnome Matter What set, in blue ink. These banners I layered up with the cloud die cuts and on the back, I added foam tape again. Goodness knows what I would do with myself if for some horrid reason foam tape went out of production…!
With the sentiment banners and clouds, as well as the gnome scene, added to the card, it was finished! I hope you like the card and thank you so much to Heffy Doodle for having me, I really had a blast coloring this fun little scene!