July 31, 2017
The last day of Kickstarter!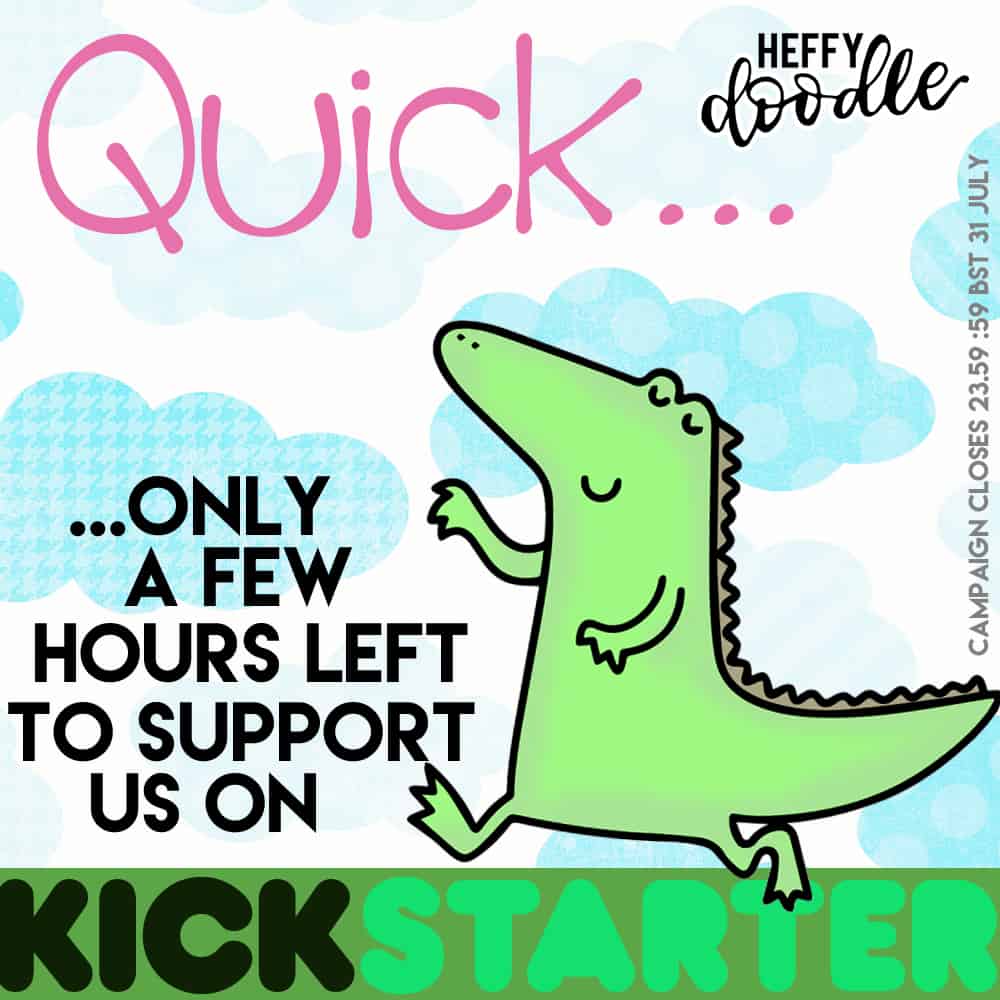 Hello my inky-fingered friends!
It's here! The last day of our Kickstarter campaign! WOOHOO! That means that we are a step closer to you guys getting your Heffy Doodle stamps and dies!
If you haven't already placed a preorder through the Kickstarter Campaign – then you need to get your skates on girls and boys! The Kickstarter campaign will finish at midnight tonight -British Summer Time – which is about 7pm EST.  If you want to be one of the first to get your crafty paws on Heffy Doodle stamps and dies then you better get your order placed before then! Click here to take a closer look!
What happens next?
When the campaign finishes, Kickstarter will look at all the pledges made, and collect the payments from our supporters. We will also be compiling a questionnaire to send to the Kickstarter backers so we can gather the information that we need in order to fulfil your preorders. We will need to know your full name, address, the exact sets that you wish to receive and if there are any other special shipping instructions. We ask that all backers keep an eye on their inbox. The quicker we have this information, the sooner we can place our manufacturing order and get these products on their way to you. At the moment we are still expecting these to arrive in early September – but it may be slightly earlier if the stars align! We will keep you all informed!
What if I want to change my pledge?
If you have already placed a pledge but have raided the couch cushions and now want to change your pledge level – you can still do this until the Kickstarter ends (midnight tonight BST). Log into Kickstarter and amend your pledge – there are instructions on how to do this here.
What about after Kickstarter?
Right now we are focusing on getting the products made and shipped to our wonderful Kickstarter backers – however, this is not the end for Heffy Doodle – it is only the beginning! We are in conversations with some retailers about carrying the Heffy Doodle range, and we also have plans to have an online shop here at HeffyDoodle.com. More exciting news about this in the next week or so – so watch this space!
In the mean time, we want to know where YOU want to see Heffy Doodle. Please leave us a comment or send us a mail to let us know your most loved craft stores – either bricks and mortar or online. We would love to reach out to them to see if they would consider carrying Heffy Doodle amongst their catalogue of products!
Masking fun!
Before you go, we wanted to share this super fun video that Dennice made for her blog Watts-She-Making! It was inspired by her son's year end nursery school photo! We love the way that she has coloured the noses in a rainbow effect! So sweet! Thanks for sharing this Dennice!