August 4, 2020
Take the Scenic Route – August Challenge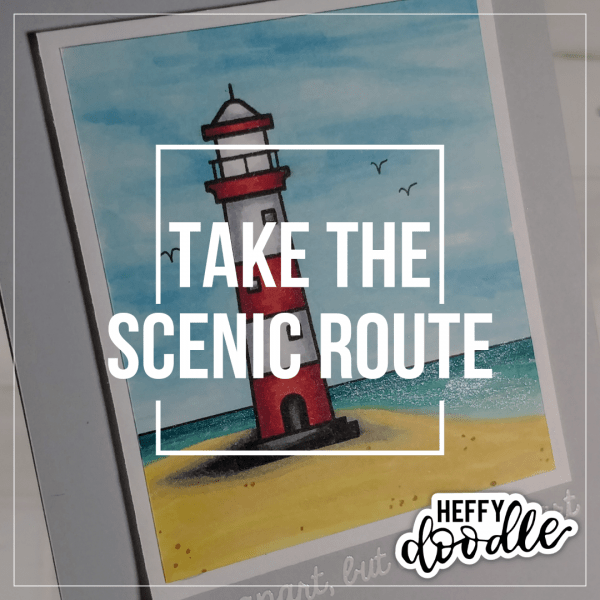 Hey crafty friends, It's Amanda from Pear Blossom Press again, here to announce the winner of the July challenge and issue a new one for August! I'd like to thank everyone who entered the Heffy Doodlers Bright and Happy Challenge last month. There were so many cheerful entries this time! Make sure you've joined the Heffy Doodlers group on Facebook. You can share your projects and meet new crafty friends. I try to share Lesley's weekly videos there too as soon as she goes live.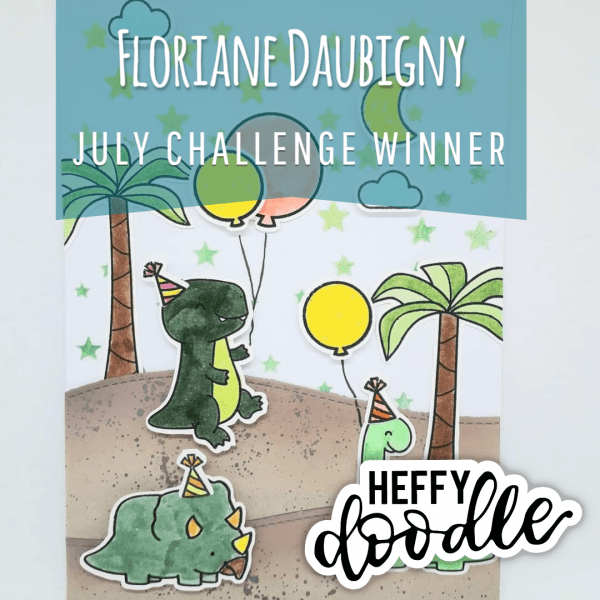 I know you're excited to see who won, so without further ado, please help me congratulate Floriane Daubigny on her winning entry! Isn't her birthday card cute? I love her Dino Time party! You can see Floriane's card, along with all of the other entries in the Facebook album. All entries (except those by Lesley and the current design team) were assigned a number, in order of posting. We used random.org to choose the winning number.
Are you ready for the next challenge? This August, let's Take the Scenic Route! Create a card with a scene, big or small, using Heffy Doodle products (mostly) and enter to win a £35 shop credit! (Woot! Woot! That'll get you some fun new goodies!) The challenge starts now in the Heffy Doodlers Facebook Group, and runs through August 30th, 2020.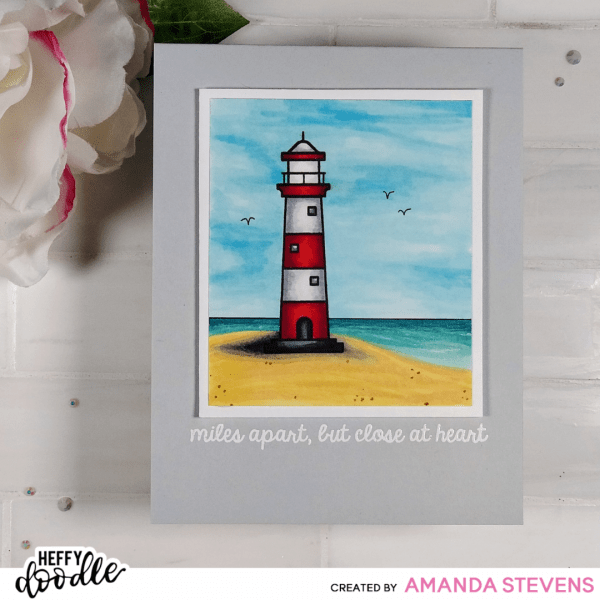 To help kick off the challenge, I created a simple scene with the Lil Lighthouse. I promise, this is very easy to replicate. I just stamped the lighthouse and drew in the horizon with a black pen. Next, I used Copic markers to color the lighthouse. For
the background, I drew a curved line to form the edge of the sand. Then I colored both the sand and sea. For the sky, I drew in blue streaks. The streakier, the better. A few M shapes in the sky look like seagulls. To help the water sparkle, I drew in a few white gel pen lines, then added a coat of shimmer pen on top. The shimmer pen softens the gel pen lines (if you want to keep your gel pen lines crisp, add them on top of your shimmer pen instead). To finish the card, I mounted the scene on a white panel, then popped it up on an Oyster Shell card base with foam tape, above a white embossed sentiment from the Close at Heart Sentiment set. That's it, easy peasy!
Alright, are you feeling inspired? Pull out your Heffy Doodle stamps and create a scene! To enter, go to the Heffy Doodlers Facebook Group and post a picture of your project in the August Challenge album (it will be pinned to the top). Enter as many cards as you like. The winner will be randomly chosen from all entries posted prior to Midnight (UT) on August 30th, 2020. You are not limited to cards, feel free to post tags, scrapbook pages, home decor projects, etc. Just be sure the bulk of the stamps and dies used are from Heffy Doodle, and that your project has a scene. Good luck my friend!
Questions, just ask. Need some more inspiration to get you started? Follow Heffy Doodle on Pinterest! You can find boards with themes and specific stamp sets. Got an idea, but need some new Heffy Doodle goodies? Head on over to the shop and treat yourself. Remember, you enter the challenge in the Facebook group, not here. Oh, and let's keep it PG please 😉
I'll be back on August 1st to announce the winner and the next challenge. Until then, I'll see you on Facebook…
The Heffy Doodlers Challenge is not sponsored by, nor affiliated with Facebook. To be eligible to win, you must be at least 18 years old, and agree to allow Heffy Doodle permission to use your submitted photos for promotional purposes.