January 18, 2018
Taco Time!
Happy Thursday, Everybody!
You guys, I love tacos!! In fact, I made them last night for supper. I eat some form of chicken and rice at least three days a week, and I'm still not sick of them–so there's the real miracle, am I right?!
I'm still in love with the Jet Alphabetters set (HFD|SSS) so you'll probably be seeing a lot of these kinds of cards from me over the next few weeks, until I have something better to share. (yes, that was a hint of cool things to come….).
Anyway, this card was relatively easy to pull together, as I didn't have too many elements. I used a ruler and some faint pencil lines to draw some guidelines so that I could get my letters as straight as possible. I then used a black ink to stamp all the letters of the sentiment on to a 4.25 x 5.5 inch white cardstock panel.
After I was finished stamping all the letters, I trimmed down the panel using the stitched scallop border die from Simon Says Stamp. I then mounted it on to a piece of fun foam and adhered it to a 4.25 x 5.5 inch card base that I covered with a panel of patterned paper.
When I looked at the card, I thought that it still needed an additional border between the lettered sentiment and the striped background, so I hunted around in my scrap drawer and used two strips of red cardstock and glued them underneath the sentiment panel on the sides.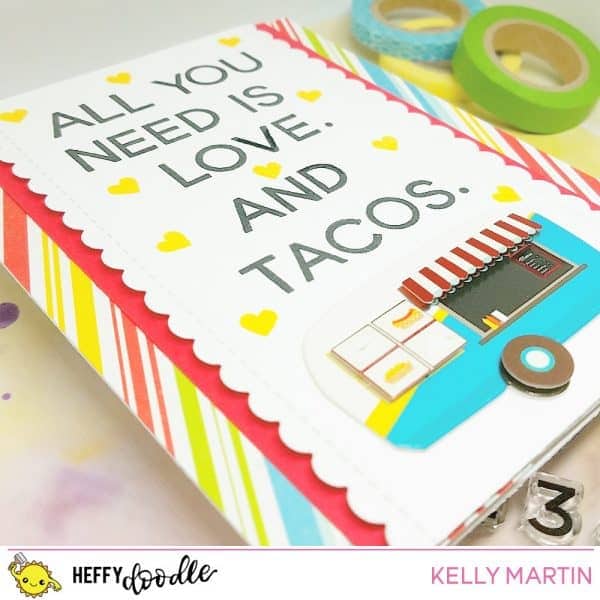 I wanted to fill in some of the white space on the sentiment panel, so I used some yellow dye ink and a tiny heart stamp from the Geology Rocks stamp set (HFD|SSS) to completely finish off the card.
Thanks for stopping by today! Do yourself a favor and grab a taco!!
Kelly