September 11, 2023
SURPRISE! A New Release is Coming! Sneak Peek Day 1!

Hey Heffy Doodlers! We have some exciting news to share! We have a New Release coming and it is BURSTING with amazing products!! We have some craftroom essentials and some brand new critters! We have some new Sparkle Mixes, some really cool new Dies, and so much more! We cannot contain our excitement!! Are you ready to get a little sneak peek?!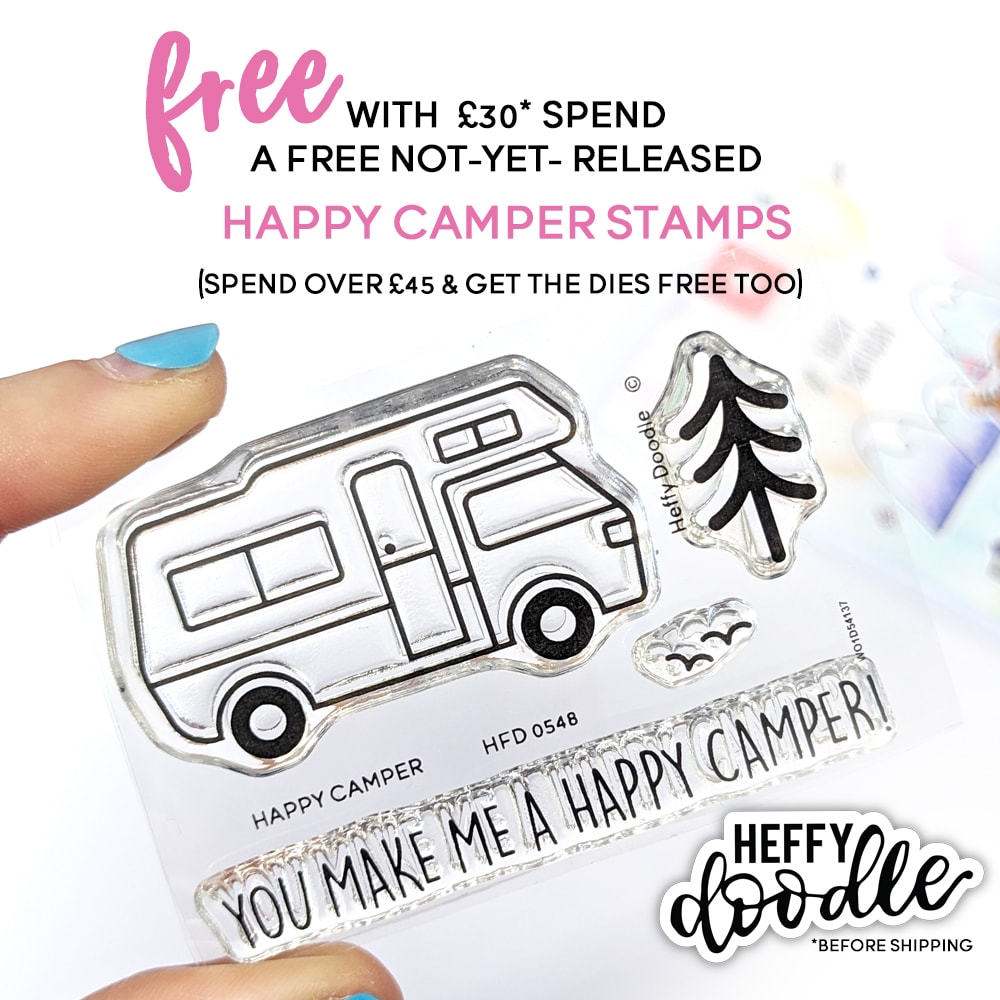 First, let me tell you that pre-orders open on Monday, 18th September 2023, and as always we have a super cute freebie for every pre-order placed! For our 15th release, we have the very versatile and very cute Happy Camper 2 x 3 stamp set. And, if you spend over £45GBP (not including shipping), you'll get the coordinating dies for free too!
---
New Release Schedule:
We will have 4 days of Sneak Peeks with DIFFERENT products every day!
Then, we will have 4 days of Full Product Reveals where we show you the product image and some inspiration using those products!
Sept 11: Sneak Peek Day 1
Sept 12: Sneak Peek Day 2
Sept 13: Sneak Peek Day 3
Sept 14: Sneak Peek Day 4
Sept 15: Full Reveal Day 1
Sept 16: Full Reveal Day 2
Sept 17: Full Reveal Day 3
Sep 18: Full Reveal Day 4 – PRE-ORDERS OPEN only in the Heffy Doodle Shop!
Sep 25: Release Day & Celebration BLOG HOP
---
Now that we've shared that little bit of info .. let's get to the Sneak Peeks! First, let's sneak a peek at the freebie Happy Camper stamp set!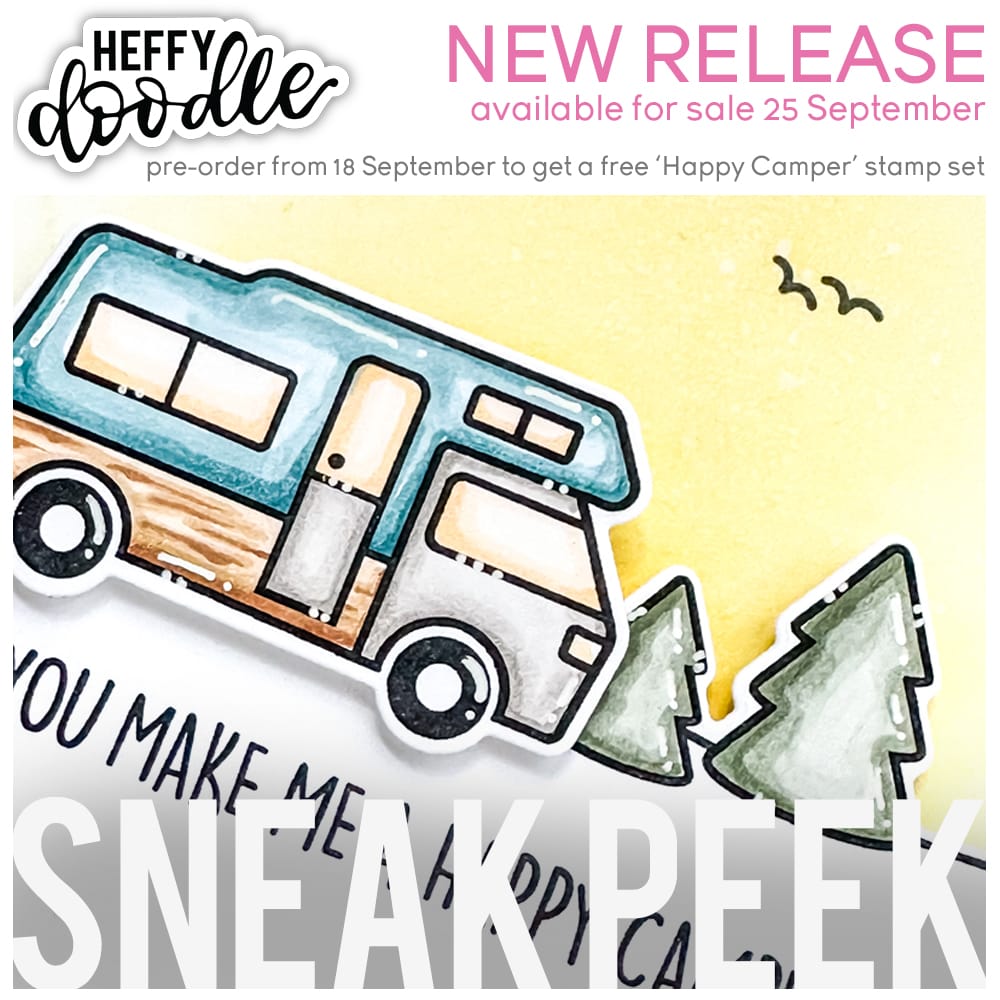 Well, since we've got this amazing camper van, we need some critters to camp with, don't we?! We've got it! Here's a little sneak peek of the Camping Critters stamp set! This set includes two cute raccoons and two skunks that are getting cozy by the campfire! This set is going to be amazing for creating light up cards, and also for pairing up with the other Heffy Doodle critters in your stash!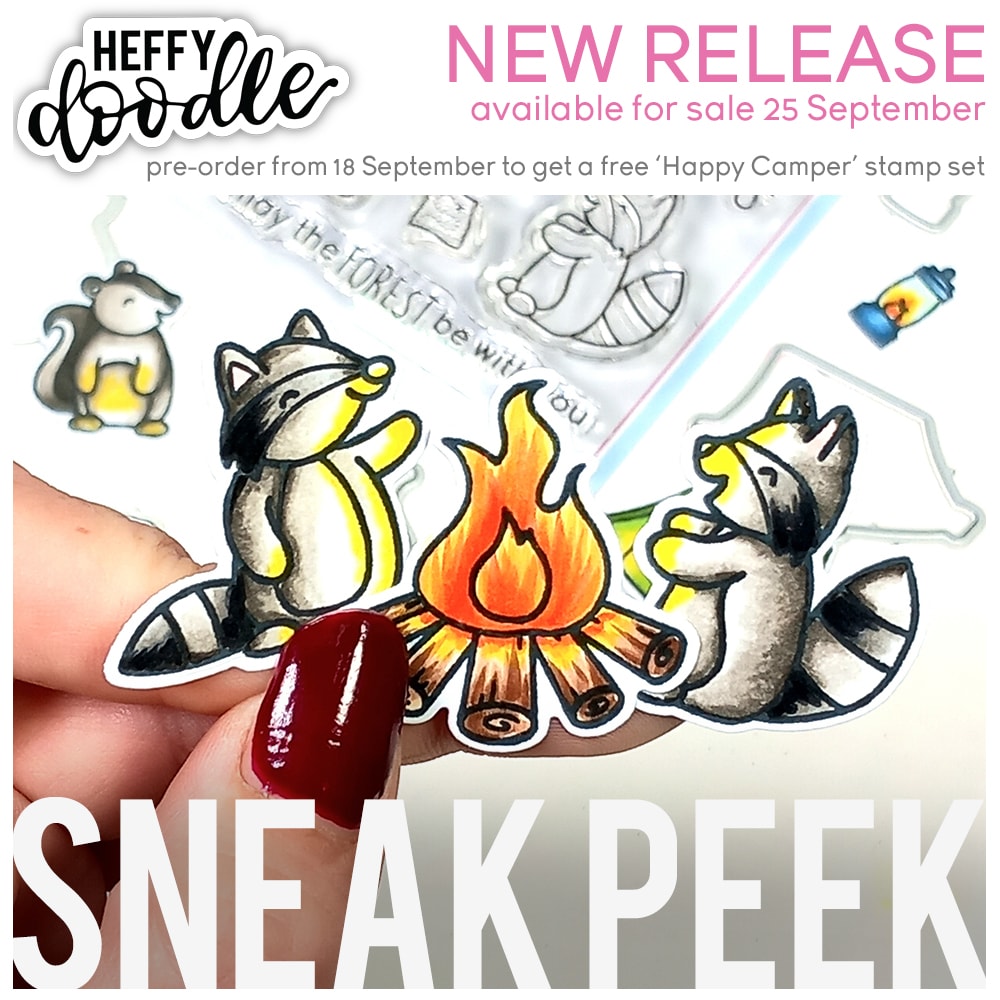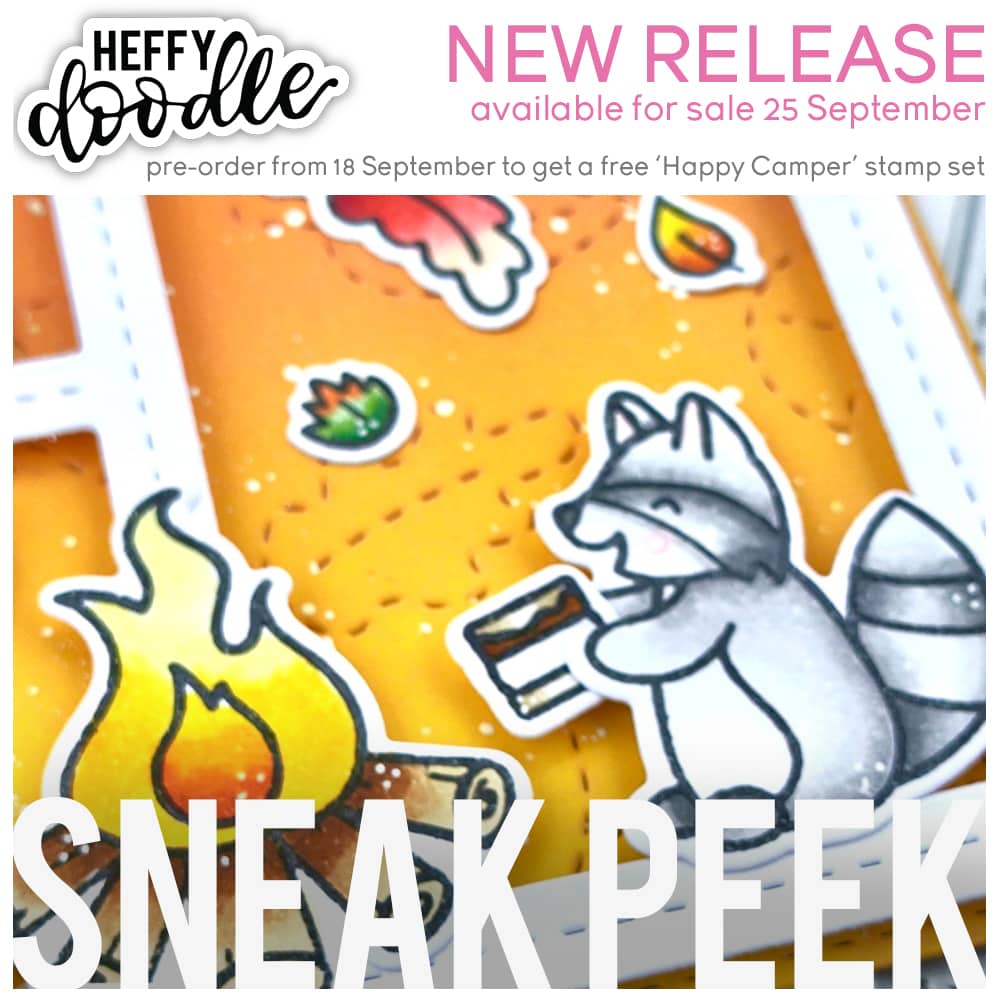 If you think those critters are cute, wait til you get a sneaky peek of these adorable foxes from the new Mischief Makers stamp set! These little guys are up to no good, but they certainly make us smile!! With five adorable foxes, some leaves and some fabulous sentiments – this one is a no-brainer!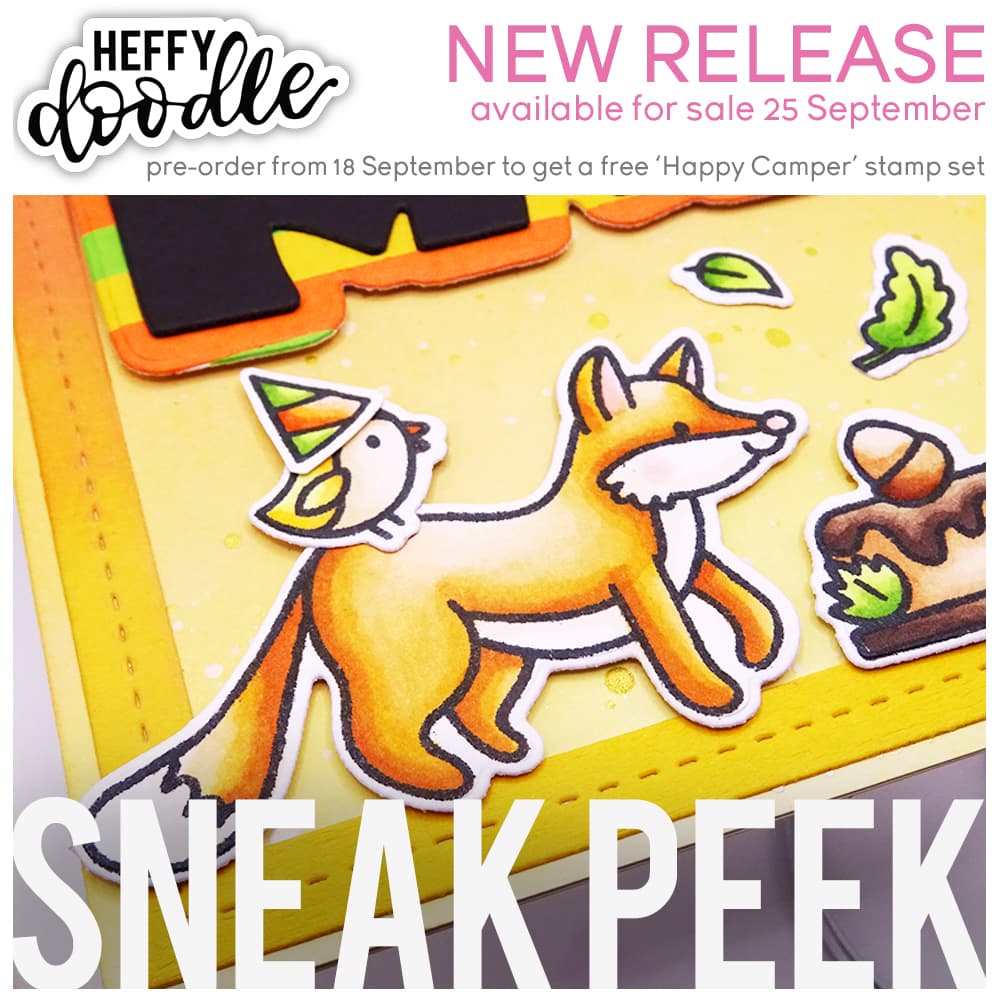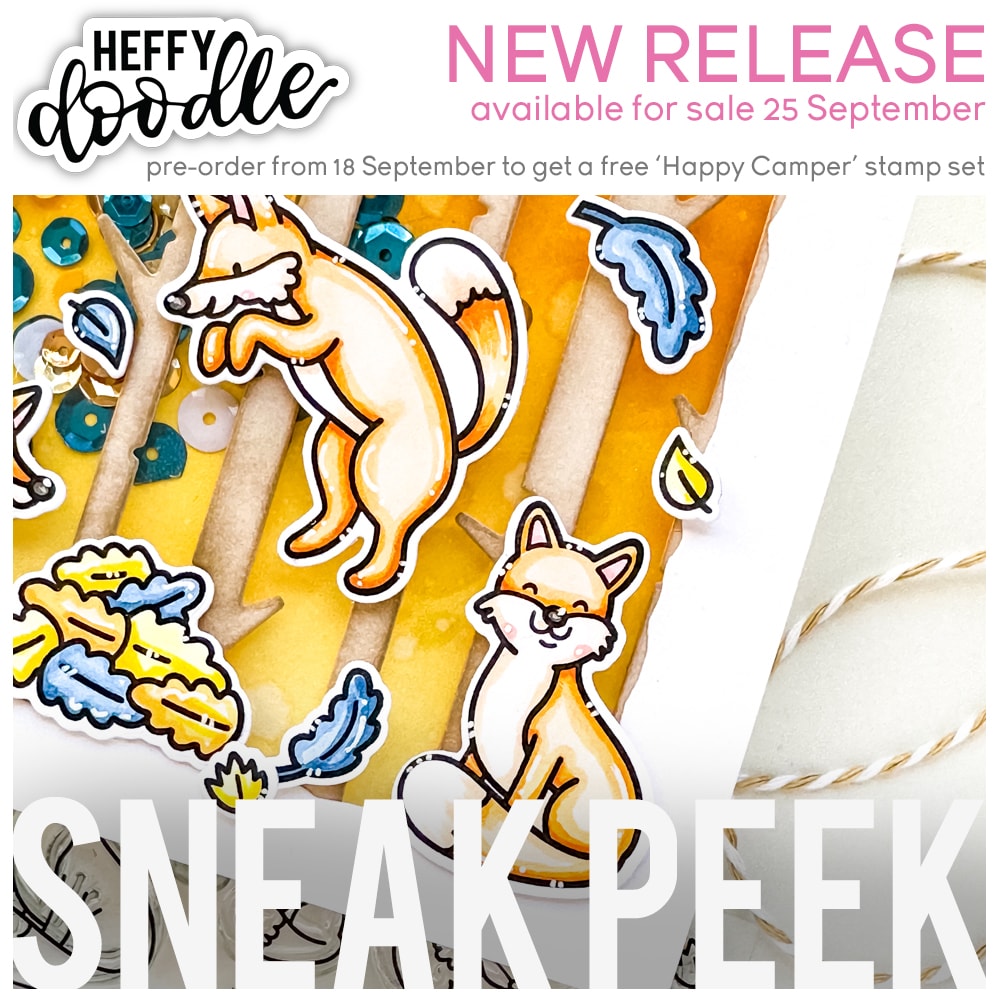 Do you love to use cover plates on your projects to create texture and excitement in your backgrounds? Then, you will love this brand new Stitched Leaves Backdrop Cover Plate! What a gorgeous texture! Great for fall projects but also could be used all year round.
We've also got the exciting new Bonnie Birch Dies! These dies create an entire background, plus there's 2 extra branch dies for you to play with! Use in white for snowy holiday cards, or ink in brown for tree trunks, or black for a spooky feel! The branches can be paired with other birds or critters – so useful!
Next up, we've got a must-have craft room essential! The On The Edge Dies will become your go-to for creating interesting edges to your projects. These guys can be used to create cool edges for your fancy fold cards, landscape backdrops, and so much more! This set includes 7 unique and fun border edges.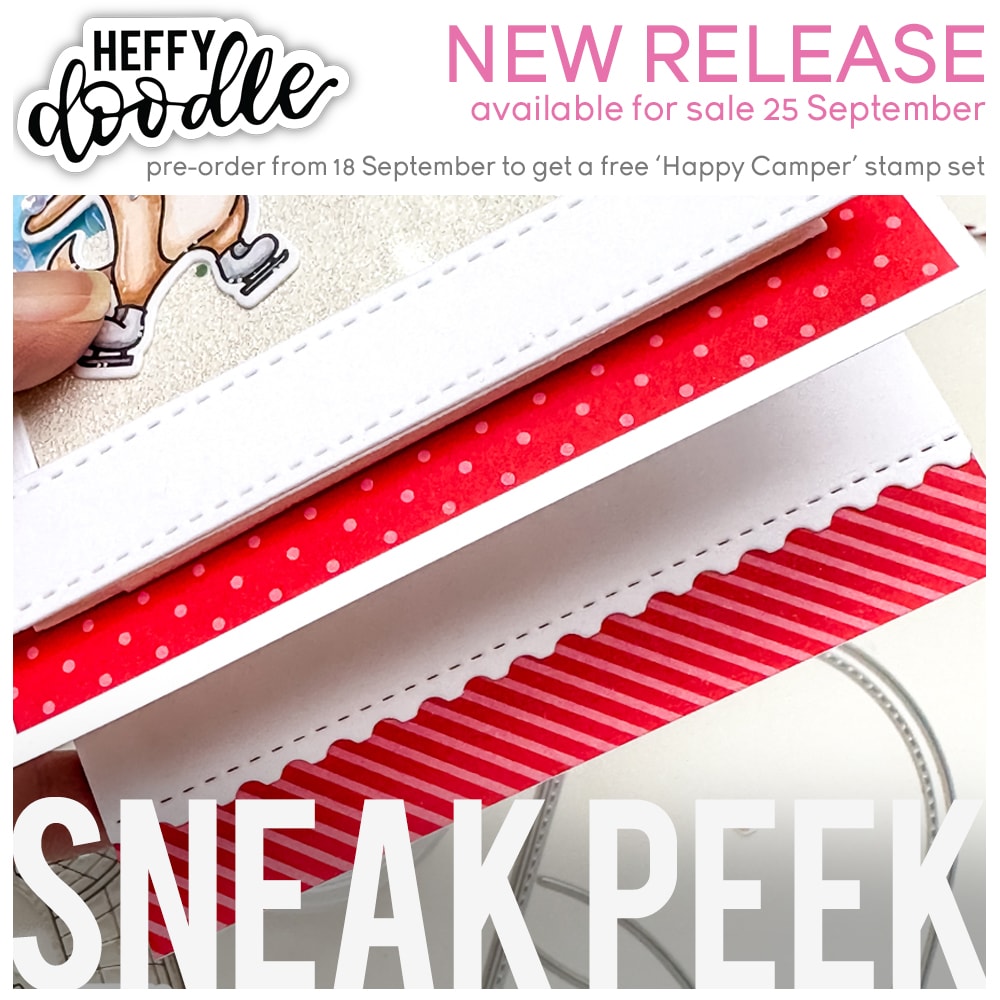 Speaking of amazingly cool dies, you're going to want to get your hands on these brand new Look Who's Talking Dies! Create word and thought bubbles for your critters! There's a perfectly sized bubble for any sentiment!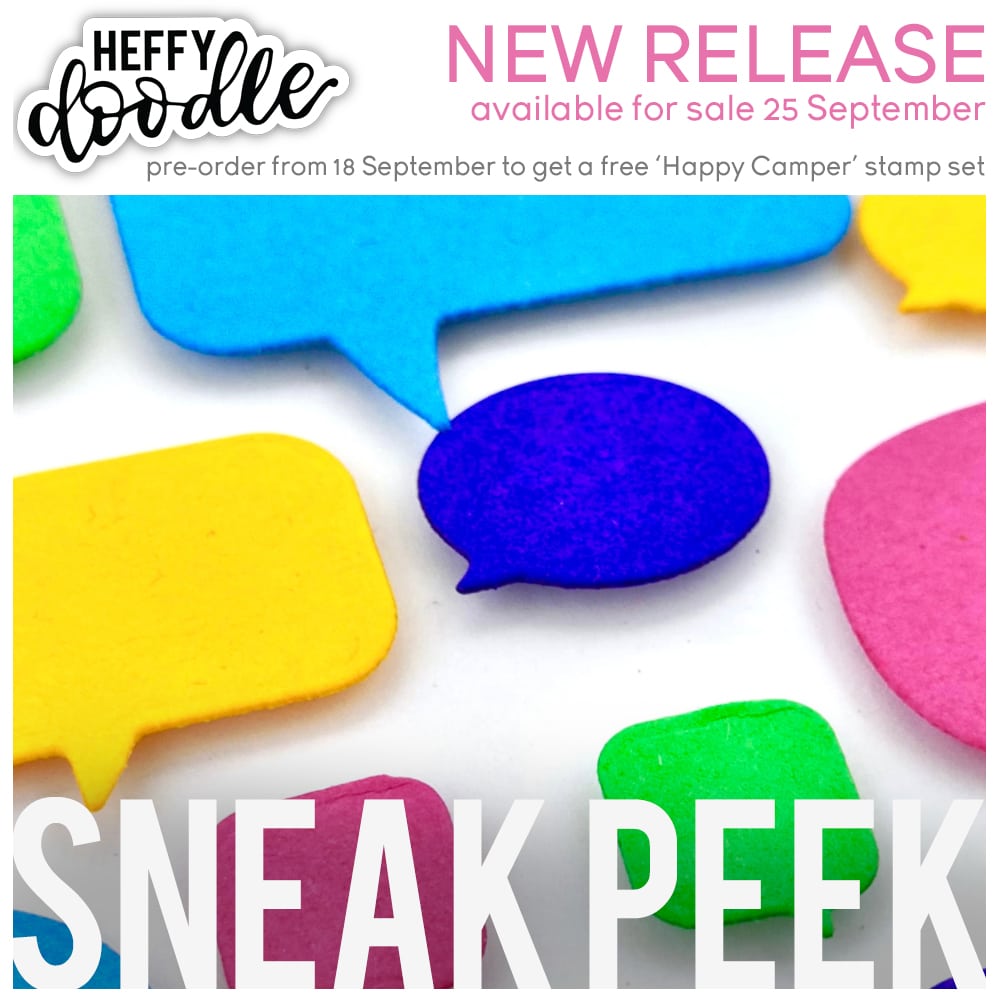 Let's talk stencils! Who doesn't love to add some excitement to their projects with stencils?! You'll be grabbing for these two stencils time and time again. First, we've got the Trio Masquerade Stencil. This stencil is so fun to play with! Use 1 rectangle, 2 or all 3! Mask off the other rectangles with the mask pieces that comes with it!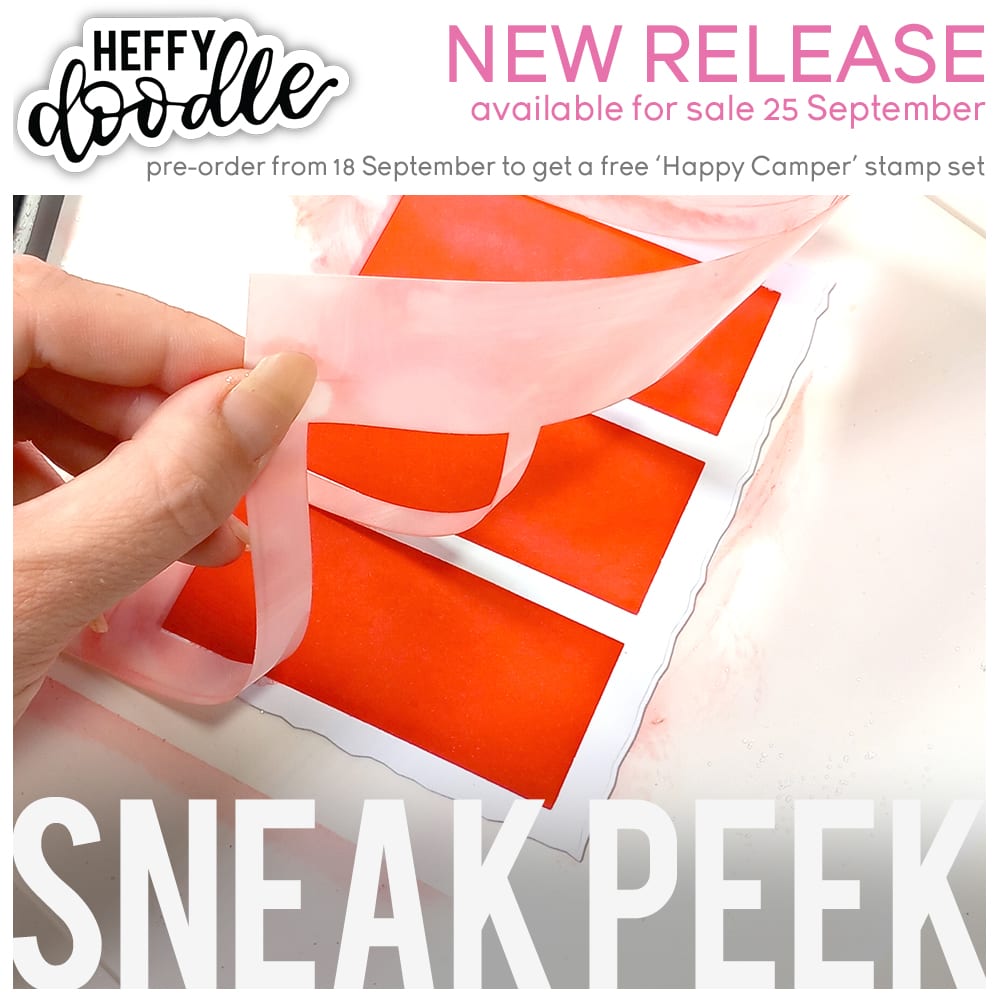 We've also got the Bits and Bytes Stencil! This cool stencil can be used to create a really cool background effect! Blend ink through all or part of it, or use texture paste to create a raised background! The possibilities are endless! I love how it can be used in different orientations to create a variety of different looks! Horizontal it looks a bit like a brick wall, and vertical it gives a cool rainfall effect!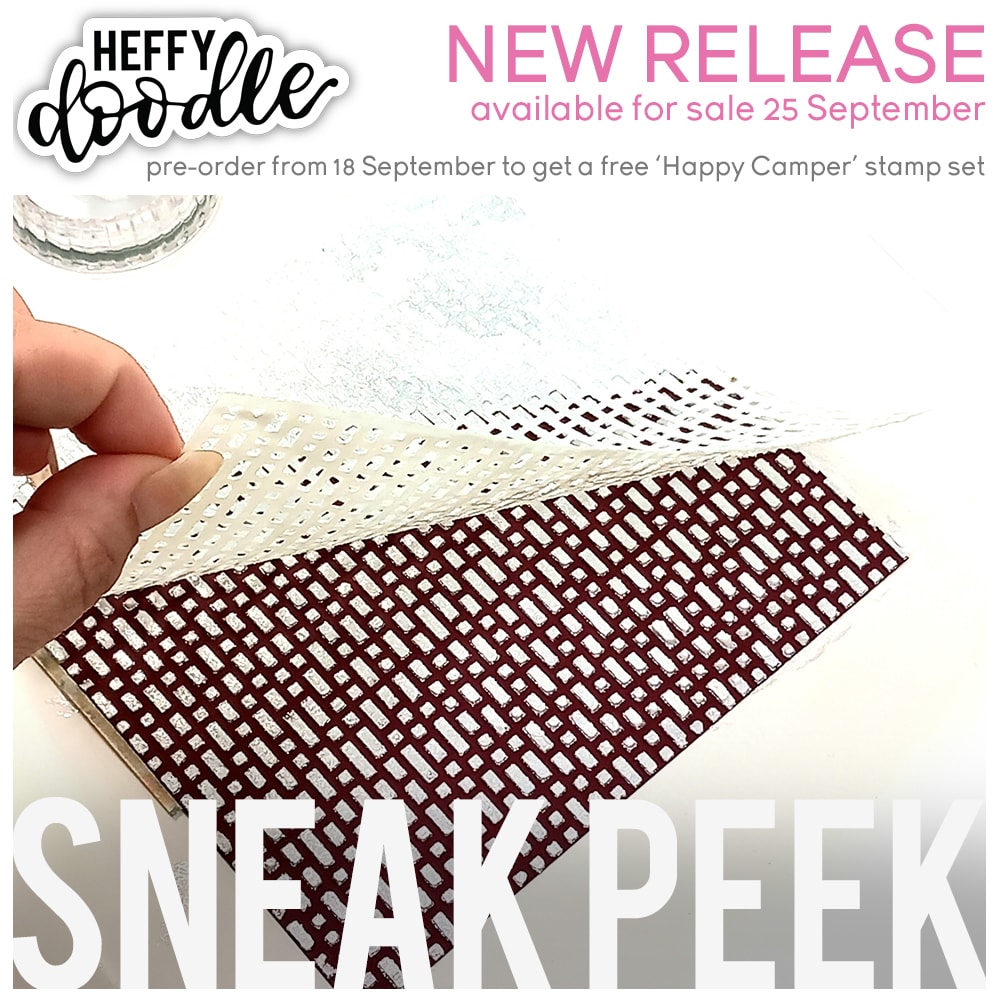 Have you been loving our new Jumbo Sentiment Dies? Well, we've got a few more to add to your collection! Introducing the I Heart You Jumbo Sentiment Dies and Hooray Jumbo Sentiment Dies!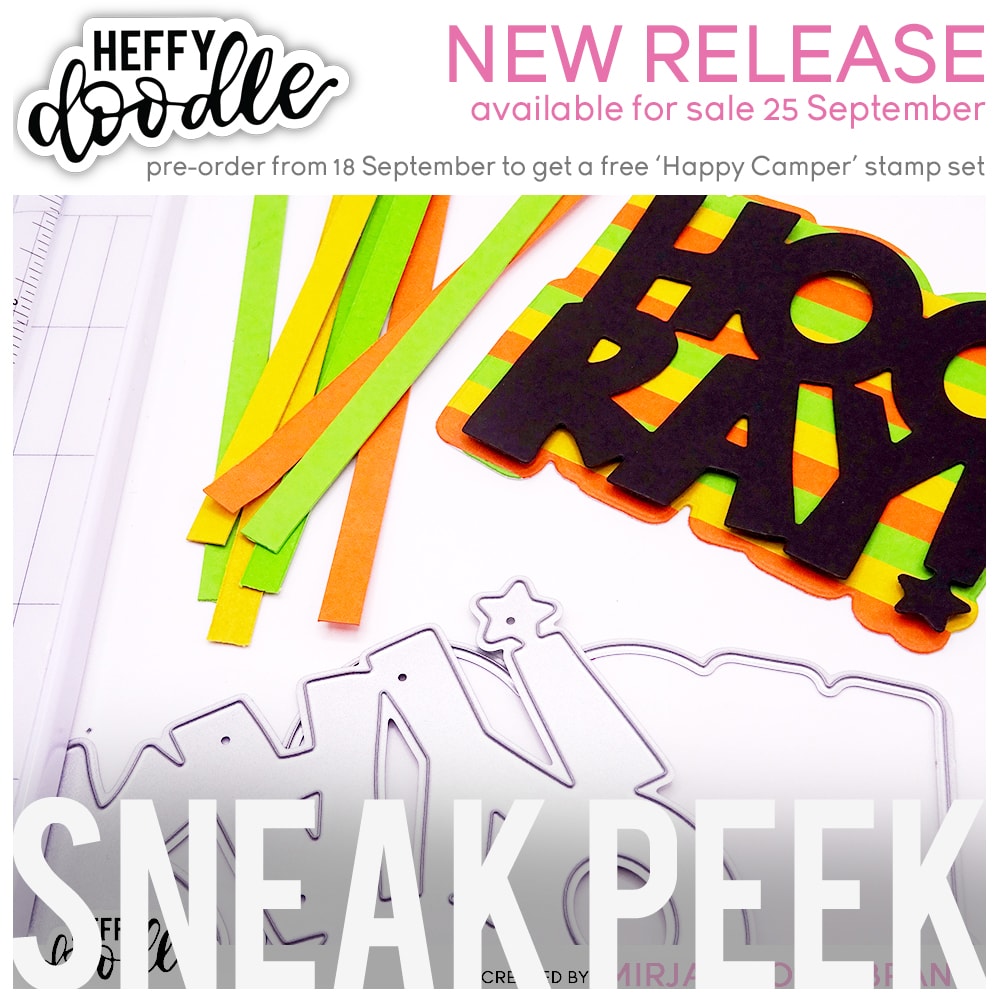 Last, but not least…. we have some new Sparkle Mixes to add to your collection! Meet the new Spearmint and Cherry Pie Sparkle Mixes!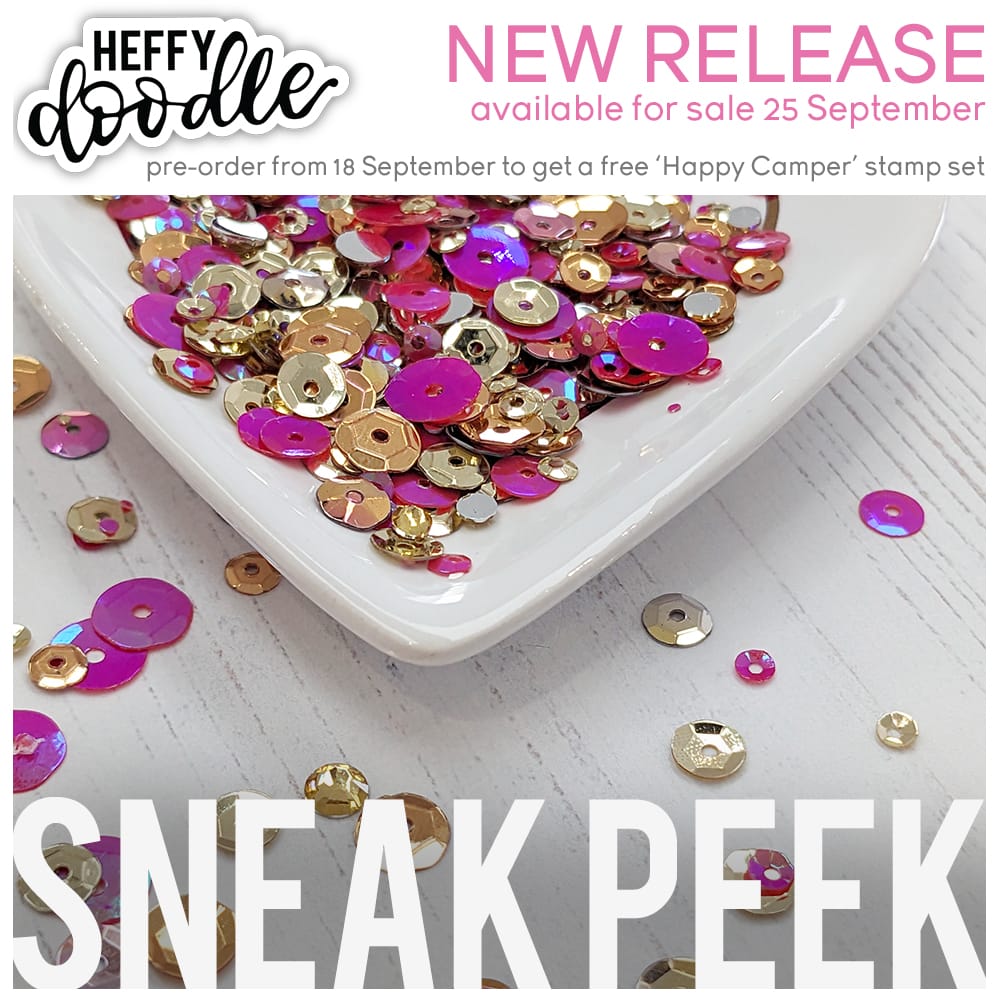 Well, friends, that's all I get to sneak peek to you today! But don't worry! We still have 3 more days of Sneak Peeks to share! Plus, then we'll have 4 days of Full Product Reveals! You do NOT want to miss out on the next 7 days!!! Make sure to come right back here tomorrow for more sneaks!