January 4, 2021
Scene Colouring: Jungle Animals

Now that Christmas is behind us, I wanted to make a start on this year's birthday card stash. I wanted bright, colourful and full of happy animals! The person I intend to send this card to is a Jungle Book lover, so I selected some of the characters to feature in the scene. I had to get a little creative for the snake, morphing the hose pipe into a snake!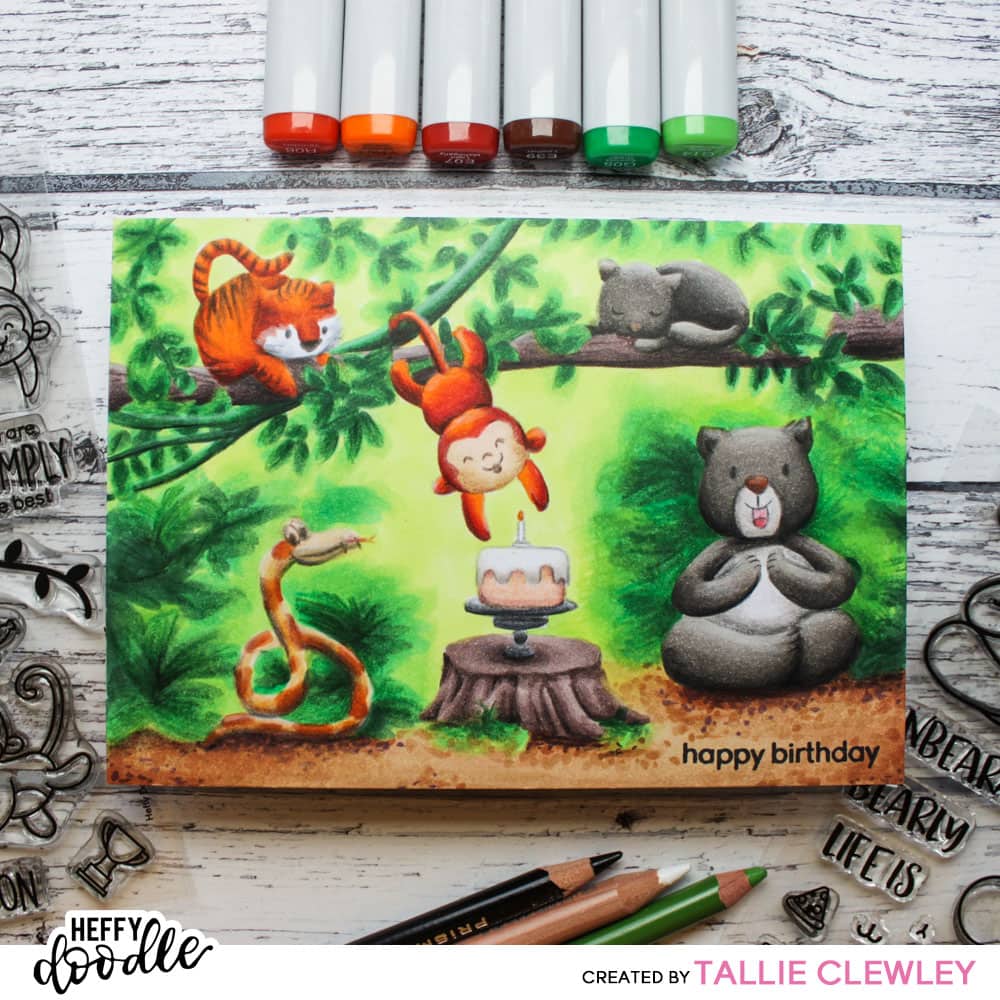 This card features a bunch of stamp sets, including:
Hootiful
,
Big Bug Hugs
,
Purrfect Day
,
Chimply the Best
,
Hot Diggity Dog
,
Elephant of Surprise
,
Unbearable Without You
,
Classic Sentiments
. It might just hold the record for the most stamp sets used! As usual, I started off by planning the layout of this scene. This is important, not only for spacing but to identify which elements to stamp out first when masking. The focal image of the scene was the cheeky monkey steeling the cake, with the other animals looking on.
I stamped out the images in some Lawn Fawn Jellyfish Ink as I wanted to use the no-line colouring style for this storybook style card. Also, I think it looks better in scenes when you're creating your own background images without the thick black lines. I masked out some of the lines, but otherwise just stamped over others as I knew I would colour over the top. A MISTI or other stamp positioning tool is really useful for this stage!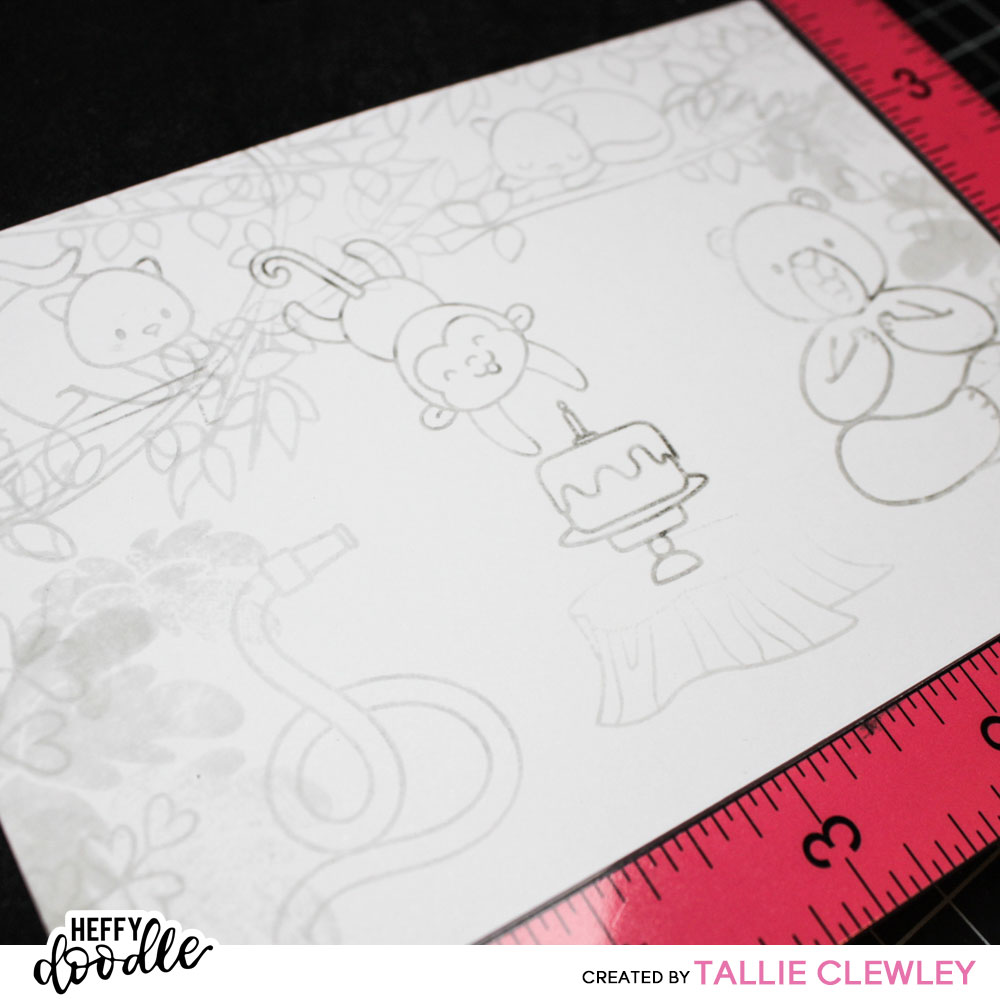 I started out with the animal characters, using bright, bold colours, but leaving the finer details for later to add in coloured pencil. The background will be green so the orange of dark, warm greys will bring these elements to the foreground.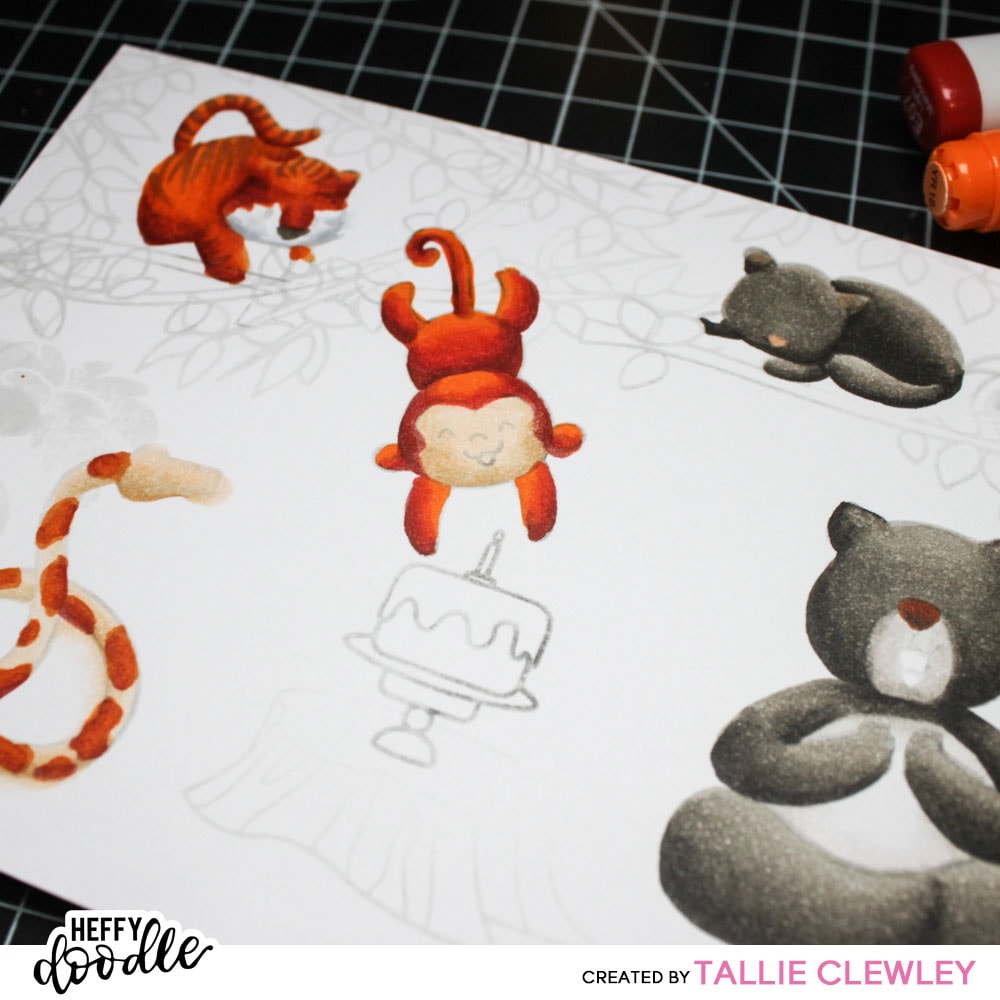 Lesley does not yet have a snake stamp so I used the garden hose from
Hot Diggity Dog
and just changed it slightly. Perhaps not perfect, but I think you can tell it's a snake!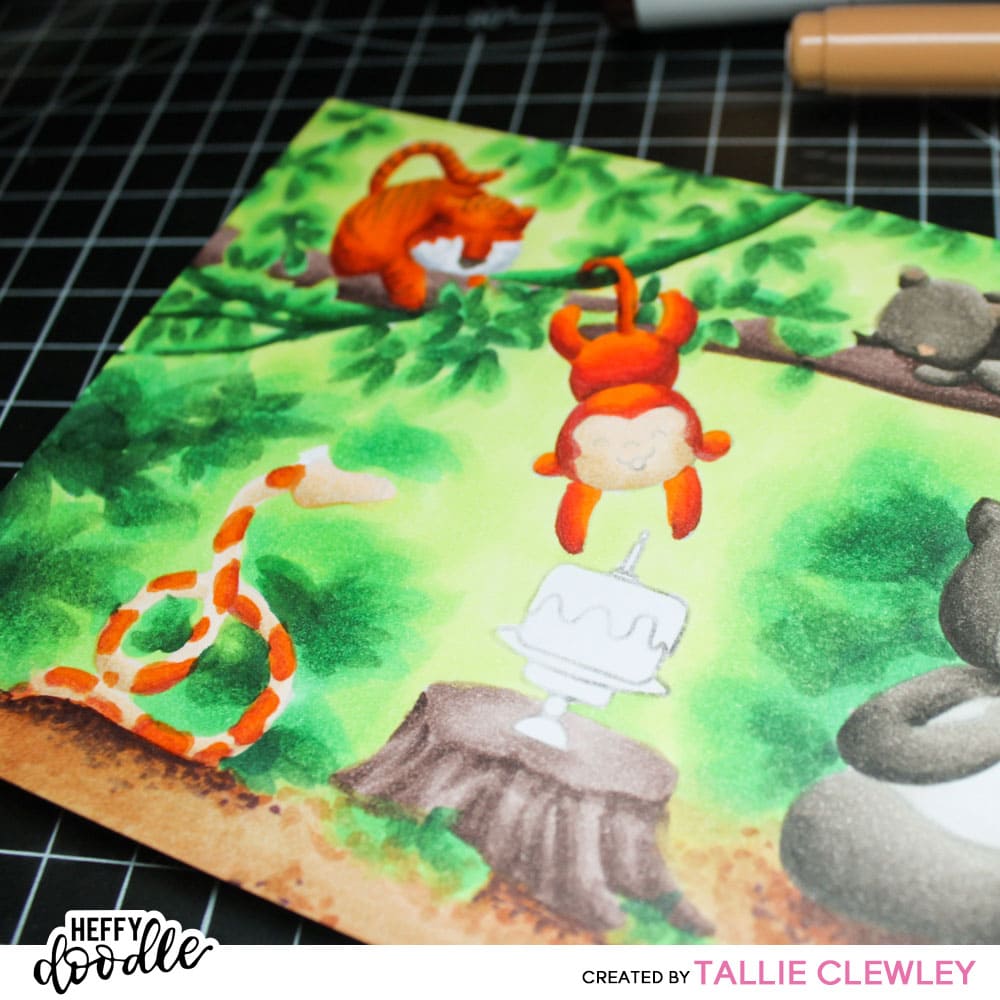 The background looks complicated, but really all it is are lots of dark green blobs blended out with lighter green markers. I mostly followed the stamped lines, adding other sections to build up the forest. The forest floor is made up of several browns, dotting the markers in the shadow areas to give some leafy ground texture.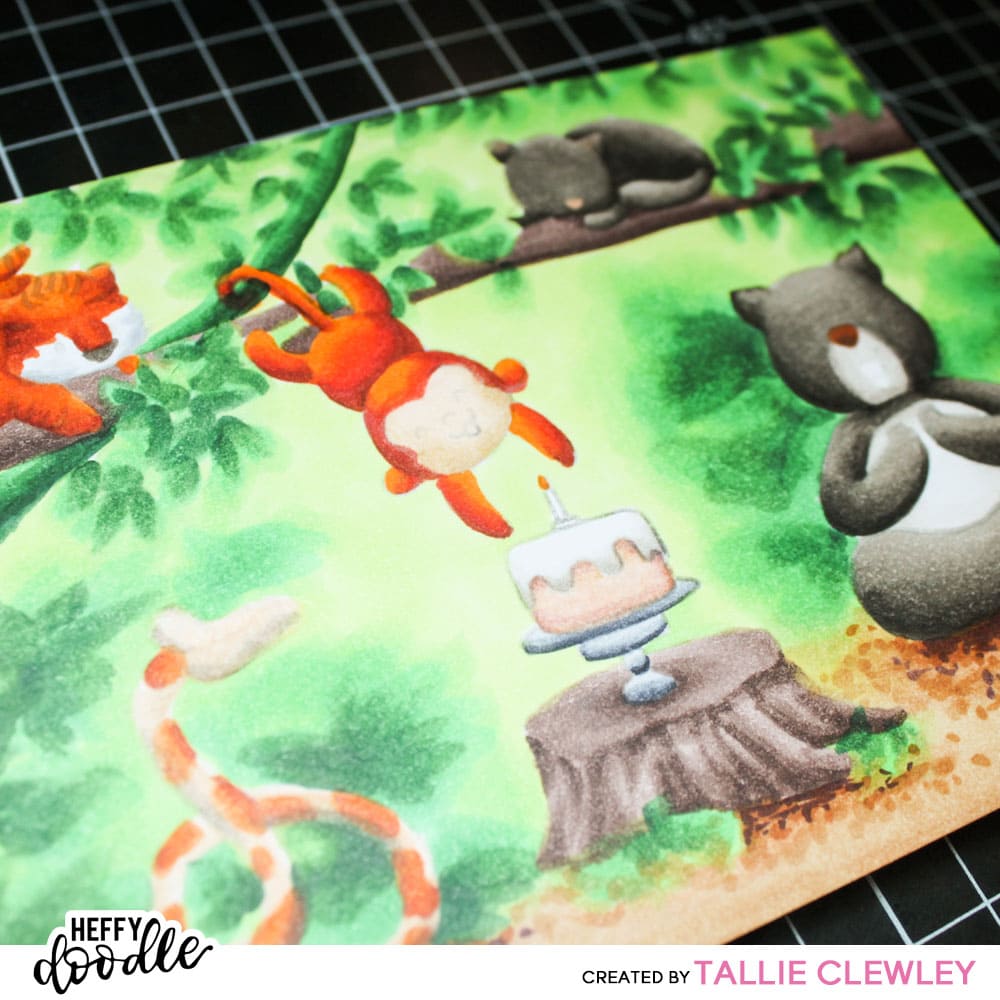 Once all the elements were coloured, I went in with my coloured pencils to add some of the deeper contrast. I find I have more control with a finer pencil point and there is the bonus of erasing it if you make a mistake!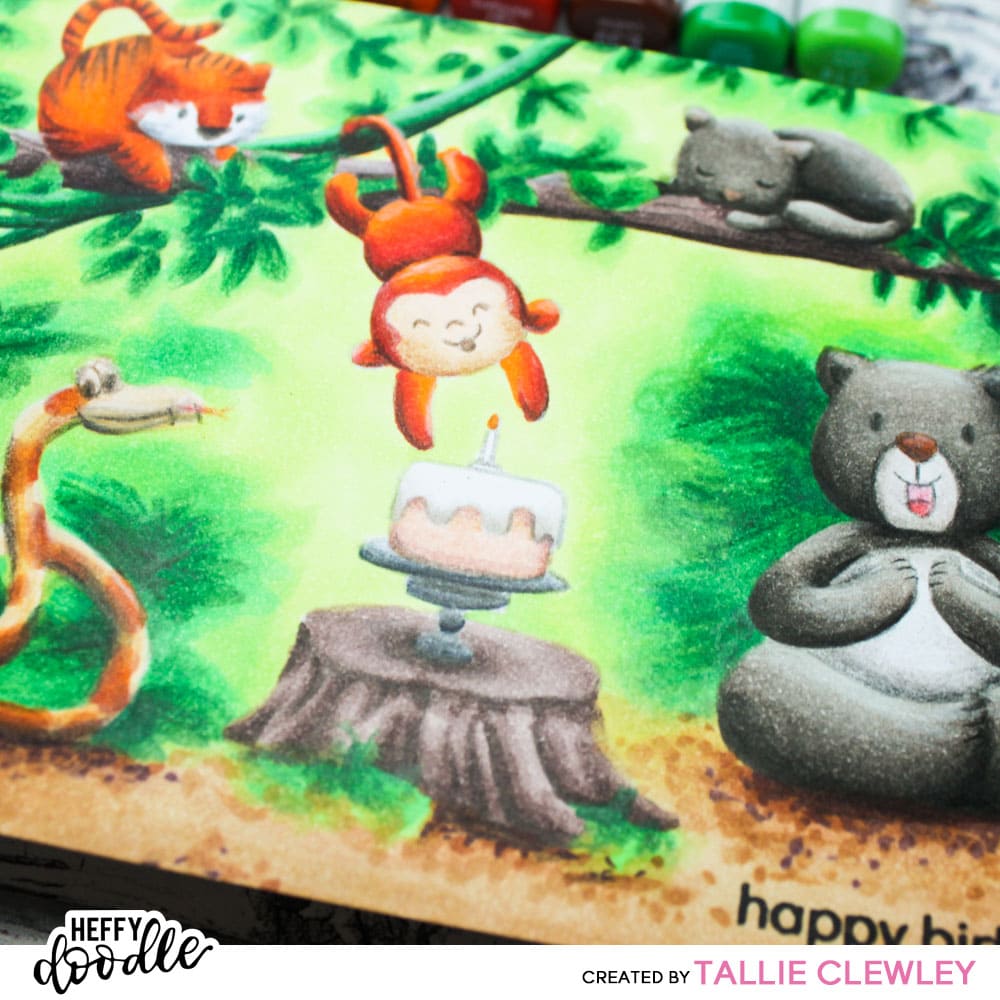 The final finishing touch was to add the simple 'happy birthday' sentiment from the Classic Sentiments set.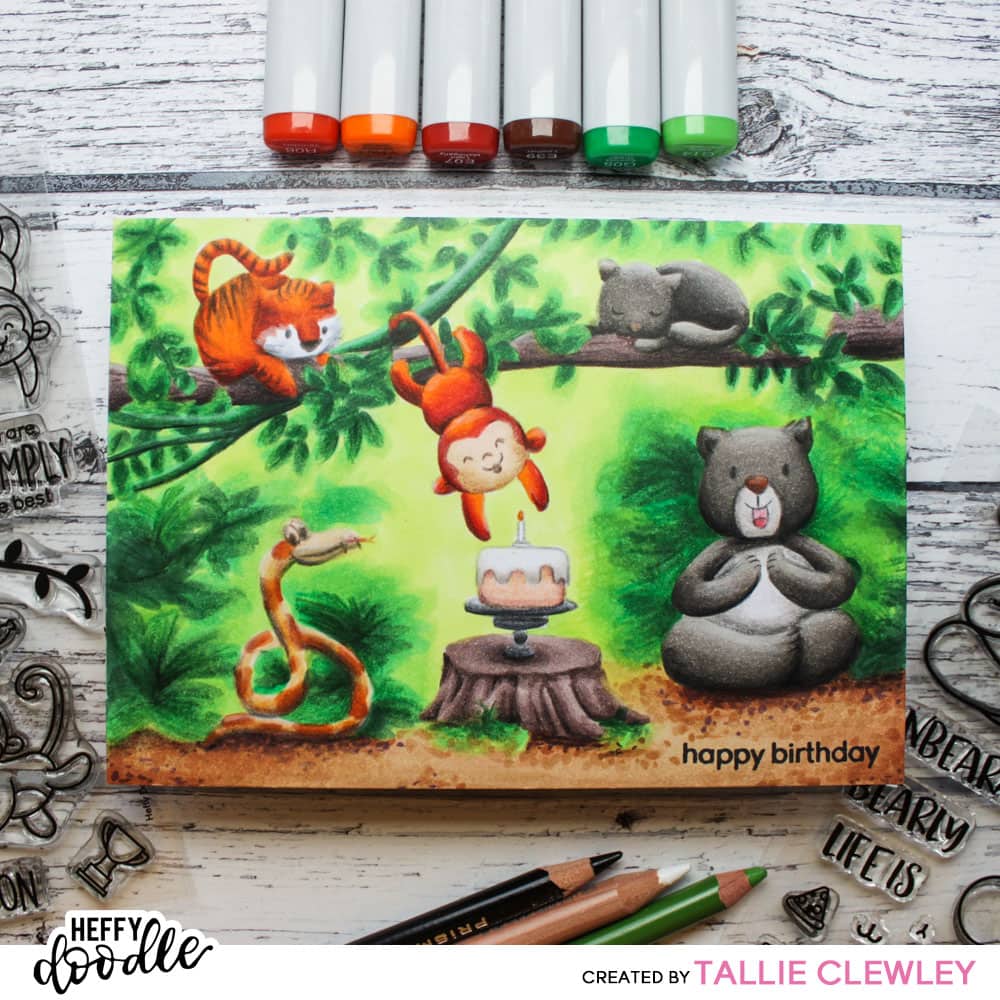 I hope this inspires you to create your own scenes, modifying some of the stamps to suit your own scenic needs!