July 1, 2017
Reveal Day FOUR – Unbearable Without You
Happy Saturday! And what a happy day we have today – because it is day FOUR of the Heffy Doodle reveals! With only 48 hours before the Kickstarter goes live, we can BEARLY contain our excitement! :-D!
Speaking of bears…. it's finally time to unveil the next stamp set with coordinating dies. Without further ado, say hello to …
UNBEARABLE WITHOUT YOU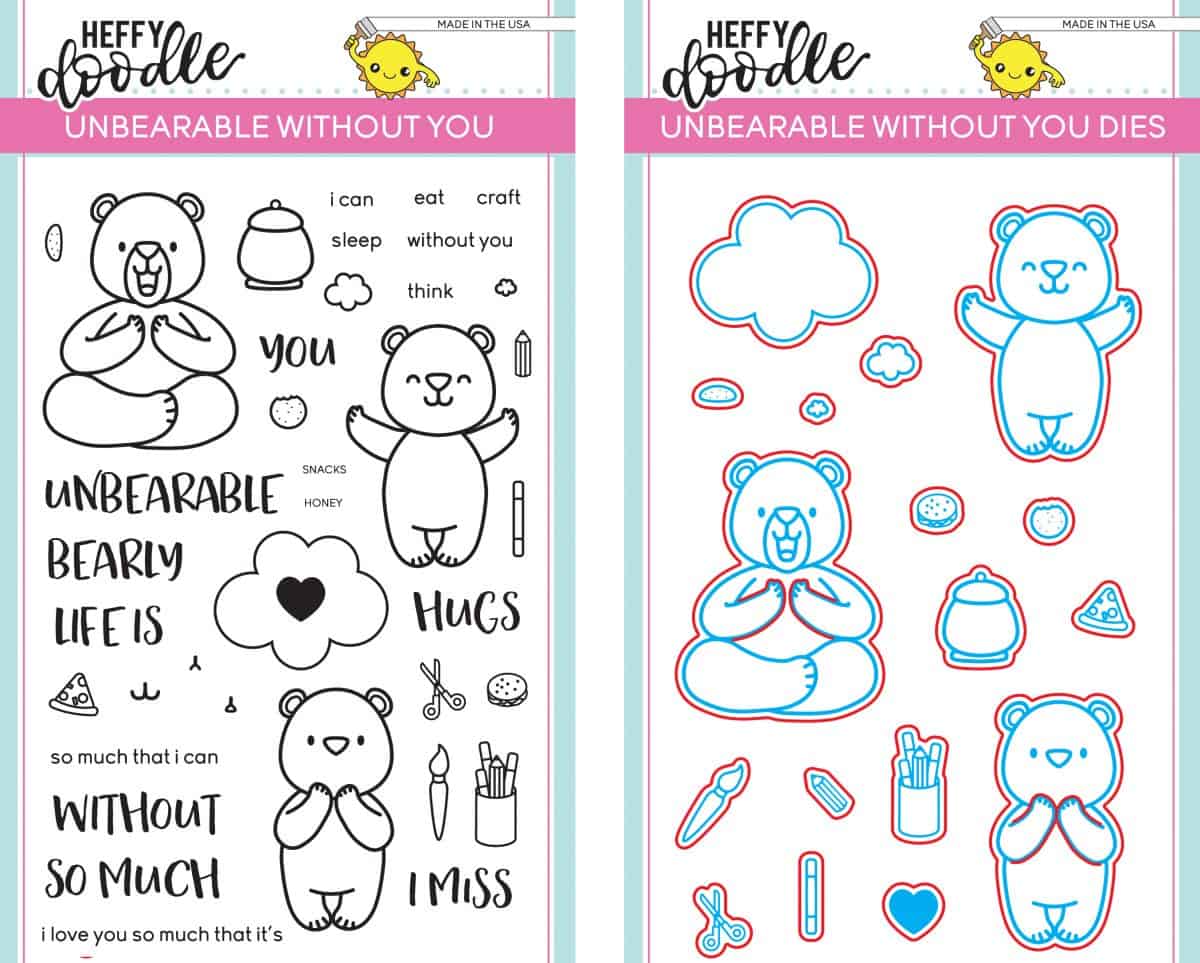 We know that many of you have been waiting patiently to see the full reveal of this one – after all it has the whole package – lots of sentiments, cute bears and CRAFT SUPPLIES!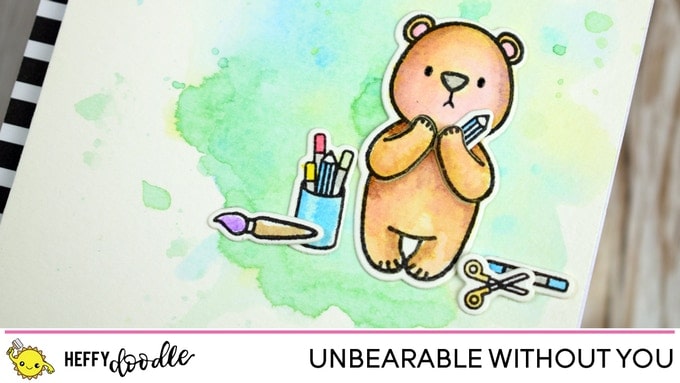 We all know that crafty friends are the best friends, 🙂 and who wouldn't love to get a card with this cute bear and his stash – we have scissors, a paintbrush, a pencil and even a double-ended marker pen (which could double up as a magic wand perhaps!). There's also a sweet little pot of stationary – because this bear loves keeping his supplies close to hand!
Of course we also have the coordinating metal cutting dies – and in this set we have TWO bears that have internal cut lines – so you can tuck lots of images into the paws of your favourite furry friend! Here's a closer look! I love the way it cuts along the stamped line, so if you don't want to tuck anything into his paws, then it isn't obvious that there is a cut line there at all!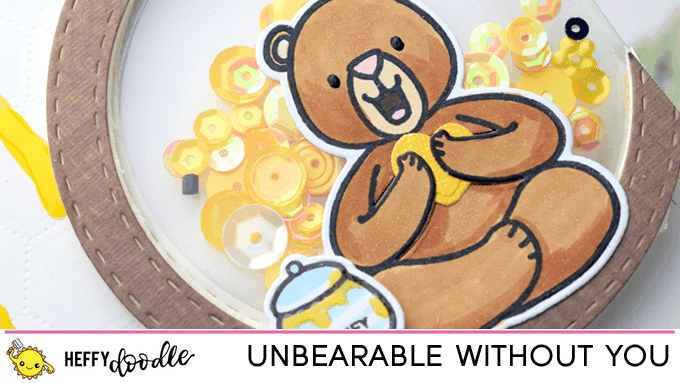 Of course we had to add some food to the stamp set – Heffy Doodle critters always enjoy their food!! There's a pizza slice and a burger for all those bears that enjoy their fast food, and also some sweet treats such as the cookies and a jar of honey. We have made two separate labels for the jar so you can label it up as a honey pot, or use it as a jar of snacks! We love giving you guys versatility!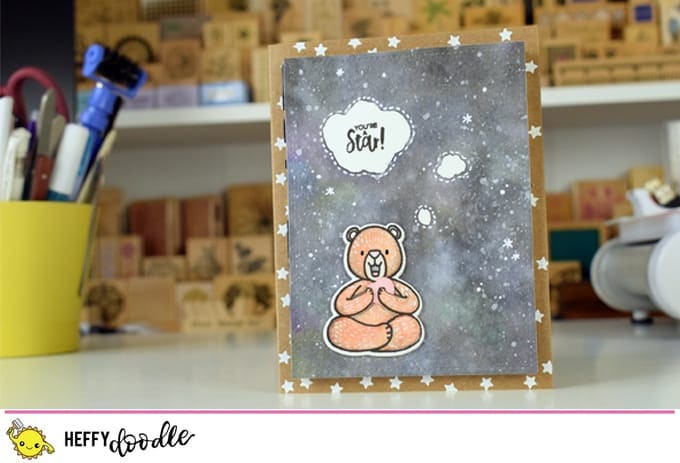 Also in the set are some thought bubbles images which are so super fun – you could put a sentiment in there or even create a critter that is dreaming of all those yummy treats! In this card above we used the dies to cut out masks before using watercolour paints to create this galaxy effect background! Neat, huh?
And look, there's something even extra special about this stamp set….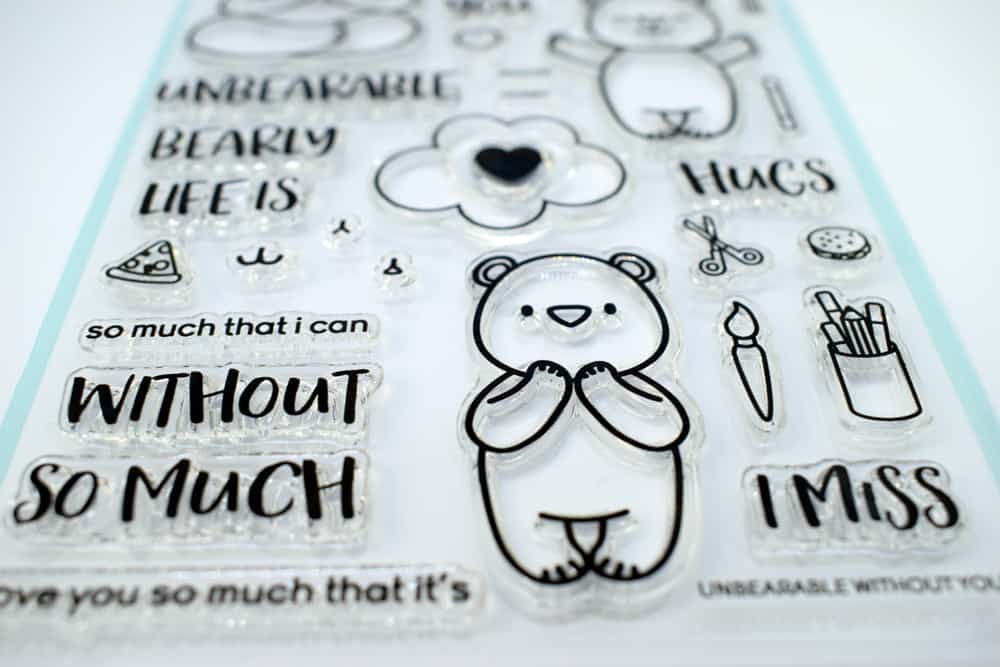 Just to the right of the pizza there are three small image which are all alternative mouths for this cute little dude. You can create three different looks quickly and easily – now that's what I call getting value for money! 😀
Tomorrow is our last big reveal before the BIG DAY on Monday when the Kickstarter campaign goes live (3rd July). We will be launching at 12 noon BST that day, but you can always sign up here to be notified when it is alive-and-kicking!
We are so thankful for all the wonderful messages and the love that we have received so far. We even have had people ask when our NEXT release is going to be out! Isn't that simply amazing! To answer the question- we don't quite know yet, as it all depends on the success of the Kickstarter campaign. Thats why we love it when you follow us and share our posts to your crafty friends. You can find us here!
Instagram – @heffydoodlestamps
Facebook – @heffydoodle
Twitter – @heffydoodle
Pinterest- @heffydoodle
And if you haven't already nabbed the Heffy Doodle badge for your blog sidebar – be sure to grab it below. Don't forget to let us know that you have added it so we can go and leave a comment.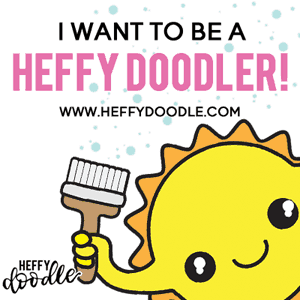 See you tomorrow
Happy crafting!
Lesley
xx