October 4, 2022
Pumpkin Pizazz – October 2022 Heffy Doodlers Challenge
Hello crafty friends, Amanda Stevens here again, to announce the winner of the September challenge and issue a new one for October! We'd like to thank everyone who entered the Pattern Play challenge last month. There were so many awesome cards; many of them were interactive too! You can see all of the entries over in the Heffy Doodlers group on Facebook. While you're there, you can share your projects and meet new crafty friends. I try to share Lesley's weekly videos there too as soon as she goes live.
I know you're excited to see who won last month's challenge, so please help me congratulate Irene Rhodes! She used the Purrfect Day Stamps and Coordinating Dies and created lots of patterns on her adorable little kitties. Isn't it fantastic? Notice how she even cut slots in the top basket to allow more of the calico kittie's pattern to show? I just love it!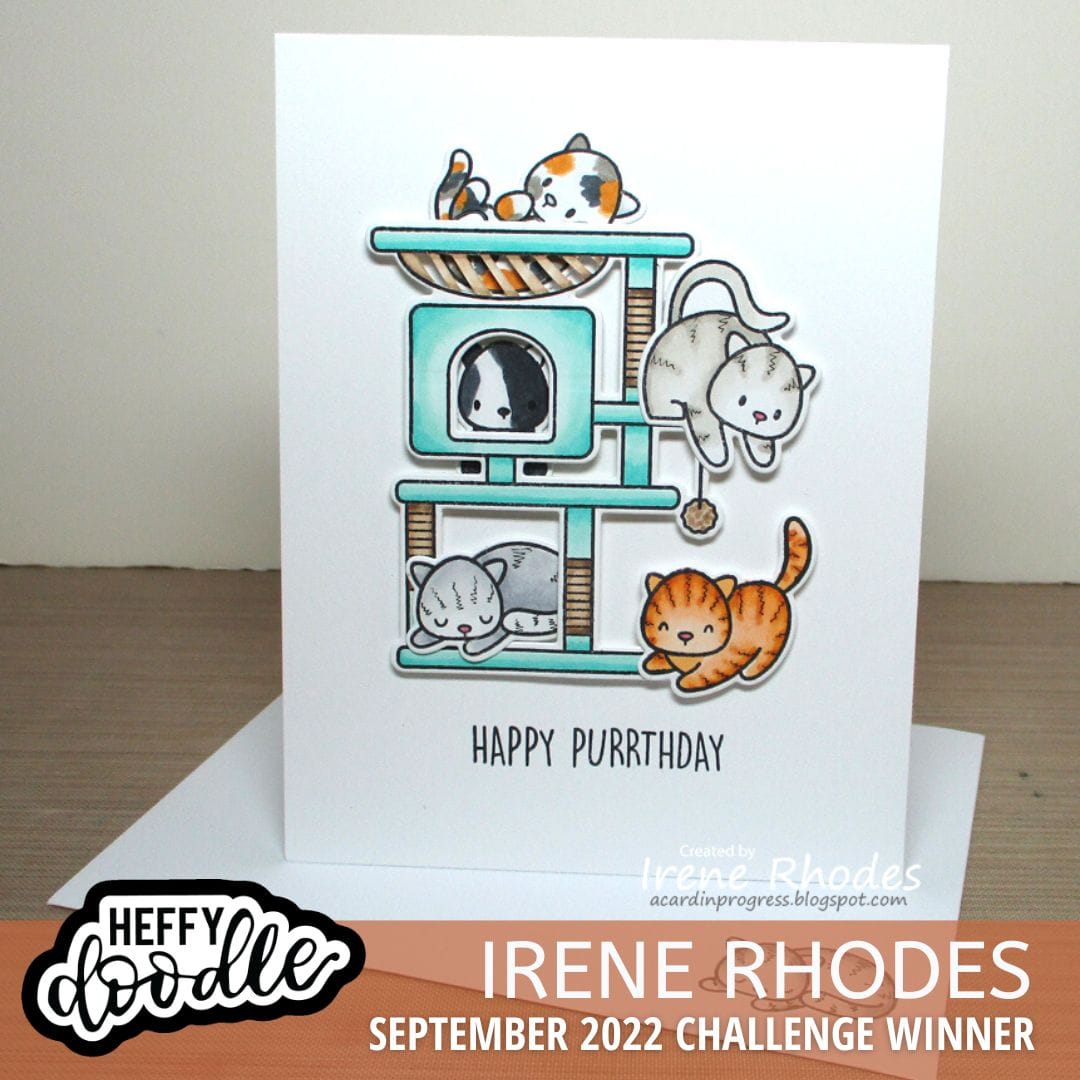 To choose the winner, all entries (except those by Lesley and the current design team) were assigned a number, in order of posting. We used random.org to choose the winning number.
As autumn arrives, so do the pumpkins! Their iconic shapes and colors inspire not just fall decor, but the flavors of the season too. This month, let's celebrate the season by making cards with PUMPKIN PIZAZZ! Use pumpkins, jack-'o-lanterns, pumpkin spice lattes, pumpkin pie, or even pumpkin colored backgrounds for your cards and enter to win a £35 gift voucher! Take a look at my inspirational card…
I couldn't resist using goodies from the new release for my card. I stenciled the background, then stamped a sentiment and added the die cut pumpkin spice latte and slice of pumpkin pie above it. A few gems and sequins finish the card. It's a quick and easy way to let someone know you are thinking of them.
Inspired to play along? Pull out your Heffy Doodle stamps, dies, stencils, and/or patterned paper and create a card of your own! To enter, go to the Heffy Doodlers Facebook Group and post a picture of your project in the October 2022 Challenge album (it will be pinned to the top). Enter as many cards as you like. The winner will be randomly chosen from all entries posted prior to Midnight (UT) on October 30, 2022. You are not limited to cards, feel free to post tags, scrapbook pages, home decor projects, etc. Just be sure the bulk of the stamps and dies used are from Heffy Doodle, and you incorporate the PUMPKIN PIZAZZ theme. Good luck my friend!
Remember, when you enter this month's challenge, you'll have a chance to win a £35 gift voucher!
Questions, just ask. Need some new stamps to play with? Visit the Heffy Doodle shop and check out the NEW RELEASE! There are so many wonderful new sets, perfect for autumn cards.
Remember, you enter the challenge in the Facebook group, not here. Oh, and let's keep it PG please 😉
I'll be back on November 1st to announce the winner and the next challenge. Until then, I'll see you on Facebook…
The Heffy Doodlers Challenge is not sponsored by, nor affiliated with Facebook. To be eligible to win, you must be at least 18 years old, and agree to allow Heffy Doodle permission to use your submitted photos for promotional purposes.