February 14, 2021
Prehistoric Pals – Easy Scene Building
Hello there!  I am Carrie Rhoades, and this is my first post as a new member of the Heffy Doodle design team. I will be sharing a new video and blog post each month with you using some of my favorites from Heffy Doodle.
For my first creation I am using the Prehistoric Pals stamp set. I fell in love with this set when I first saw it, as it reminds me of a favorite tv show from my childhood. I thought it was also a great set to use for masculine or feminine cards. I love scene building on my cards and making a prehistoric scene would be fun and different from the scenes I have been making lately.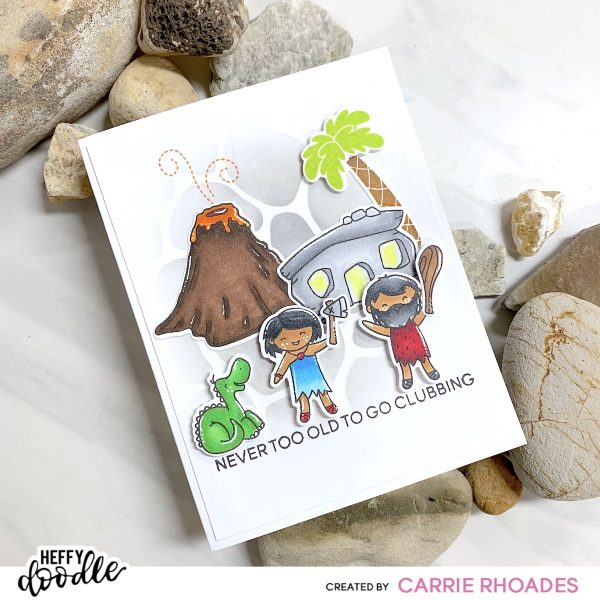 You can watch the making of this card in the video below. I'd love for you to let me know what you think of my first video!
If you can not see the video on this screen, you can see the video over on the Heffy Doodle channel. 
To begin I used the Stoney Maloney stencil and Hickory Smoke Distress Oxide ink on a piece of white card stock that measures 5-1/4″ x 4″.  I concentrated the ink in the middle of the panel and used a lighter hand around the edge of the panel.
Next I stamped, colored and die cut my images. From the Prehistoric Pals set I used the two cave people, the Dino pet, the house, the club and the ax. These are small images and it did not take much time to color them up with my Copic Markers. I gave all my images some highlights with a white gel pen. Then I die cut them out with the coordinating die and my Mini Heffy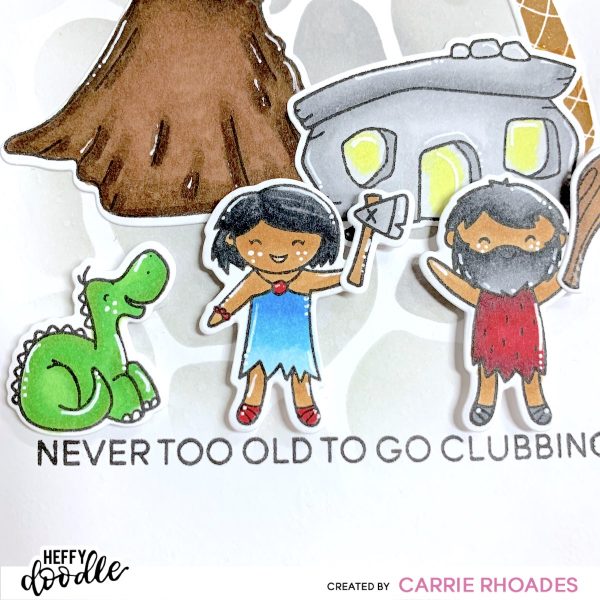 To add to the scene I used the Volcano from the Geology Rocks stamp set and the tree from Dinotime.  For the tree I used the largest tree trunk from the Dinotime set and the smallest tree top from the set as well.  Once all the images were ready I use my Gluebert to attach the volcano, tree and house. I love that the Gluebert liquid glue stays wet long enough that I was able to situate the house just where I wanted it, with a bit of the tree showing on the right hand side. The tree top was added with foam squares for added depth and interest.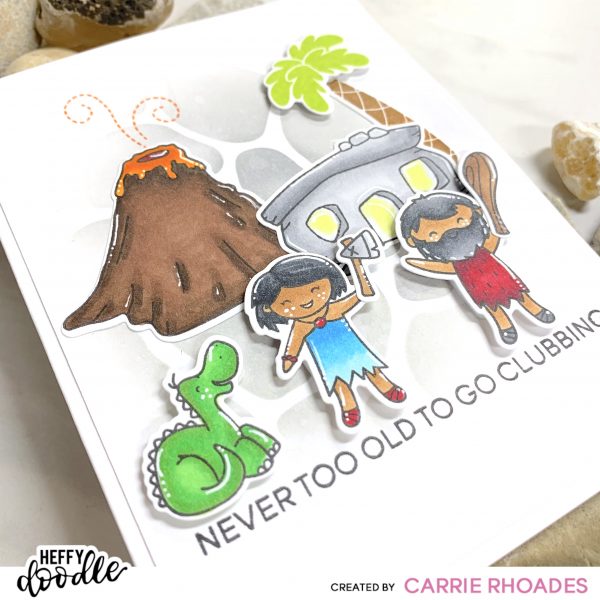 Before attaching my remaining images I just laid them on my card so I could figure out placement for my sentiment. Then I stamped "never too old to go clubbing" in black ink directly onto the card front. I love this sentiment so much, it is sure to bring a smile to whoever gets this card.  Then I used foam squares to attach my cave people with their club and ax in hand, as well as their Dino pet.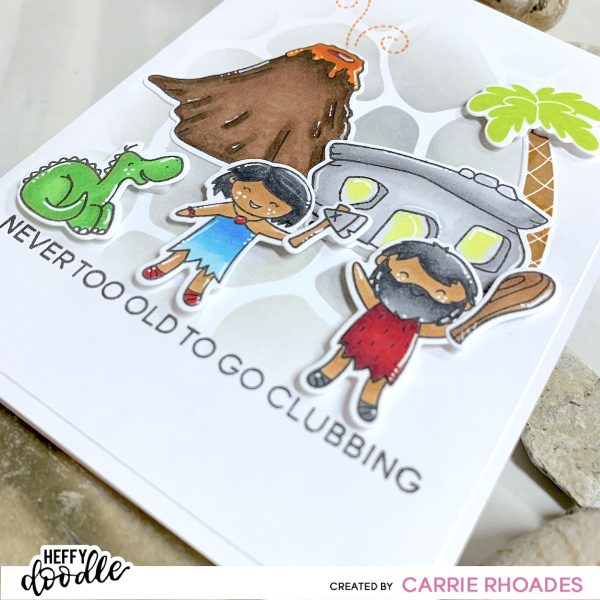 The finishing touch on this card was the steam a top the volcano stamped in orange ink. With that done I glued the card front to a white card base that measures 5-1/2″ x 8-1/2″, scored at 4-1/4″.  I did stamp a few of the images from the Prehistoric Pals set on the inside of the card for added interest  there.
I just LOVE this set and had so much fun playing with it and saying Yabba Dabba Doo, mostly to make my daughter shake her head at me!  Be sure to click over and watch the video on the Heffy Doodle YouTube channel. 
Thank you so much for stopping by and letting me share my first Heffy Doodle creation with you!
Happy Stamping,
Carrie
You can find me on my other social media platforms here.
All the supplies I used to make today's card are listed and linked for you below.
*Affiliate links are used whenever possible at no additional cost to you.  Thanks for supporting our artists!