September 1, 2021
Pre-Orders are Open! It's Reveal Day 4!
Welcome to Reveal Day 4 evyerone and we are so excited to say that
Pre-orders are now open!
Finally a chance to place your pre-order and get your hands on a FREE exclusive, not-yet-released stamp set!

That's right, all orders placed on the Heffy Doodle store between today and 8th Sept will automatically receive a FREE 'Mole Lotta Love' stamp set,  if you spend £45 you'll get the Coordinating Dies for free, too!
There is no code necessary, it is automatically added to qualifying orders and all pre-orders will ship by release day, 8th Sept.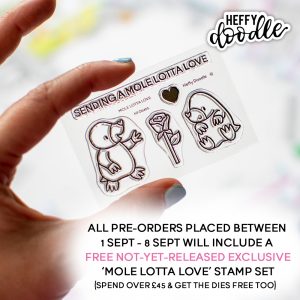 Alright, its our final reveal day, but just in case you missed them, here are some links back to Reveal Day 1, Reveal Day 2 and Reveal Day 3.
Okay, let's do this! Firstly, we are NUTS about this new stamp set.
Meet the Nuts About You stamp set and dies.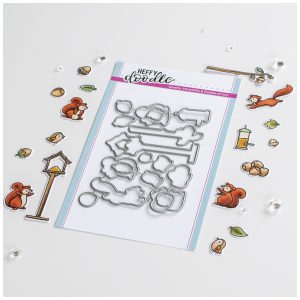 These cute little squirrels are full of mischief! This set has a selection of four cute critters, a wooden bird feeder as well as a hanging feeder, and a selection of other accessories such as leaves, nuts, acorns and a tree branch. There's also two sweet bird images in this set for more versatility. What we love most about this set is that the sentiments are not exclusively fall themed – you can use them all year round! Hurray!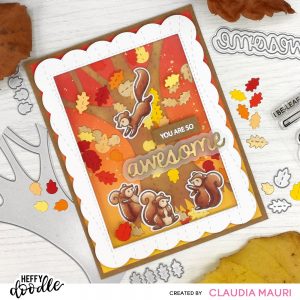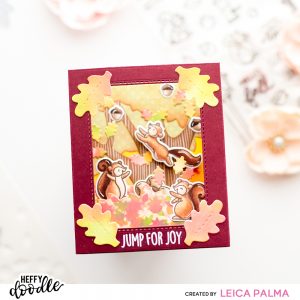 And, don't they just look adorable climbing the tree?
This is our brand new Tree-mendous Peekaboo Tree Dies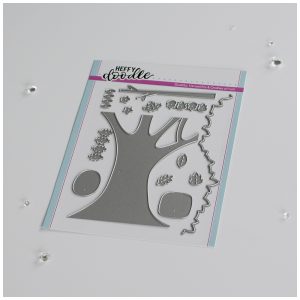 The wonderful set of dies has everything you need to create a wonderful tree scene. Firstly, let's talk about the trunk of a tree –  fits perfectly onto an A2 card but there are no cut lines at the edge, so you can use your scissors to extend the base or branches, so it can be used for slimline cards too! There is also a long die so you can create a leafy canopy -this looks great in green for a springtime look, but also is great for fall cards. Also in this set there are two peekaboo, lift-the-flap dies. Why not create little holes in the tree, and have a critter pop out! We have also included a tree branch and a selection of leaves and blossoms so you can create more versatile projects!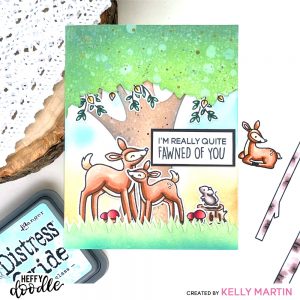 Want to add some texture to your tree?
Then you should use the beautiful Woodgrain Texture Background Die!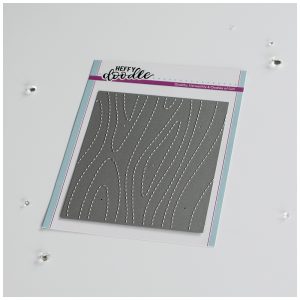 This die is a little different because it does not have a cut line around the outside edge, it merely has a collection of stitching lines to create a woodgrain effect. Use it to create woodgrain panels, or use it with die cuts to add a bit of texture. We love using it with the Tree-mendous Peekaboo Tree dies! The other fabulous thing about this die is that it has been designed to have a repeated pattern. This means you can actually add texture onto larger pieces of card by running the die through your machine multiple times – this is great for those slimline card makers out there!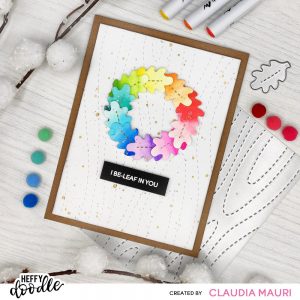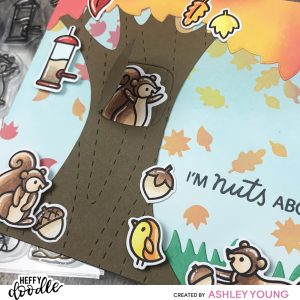 These sneak peeks are definitely getting us in the mood for Fall, what about you?!
If not, maybe the Falling Leaves Stencil will get you excited!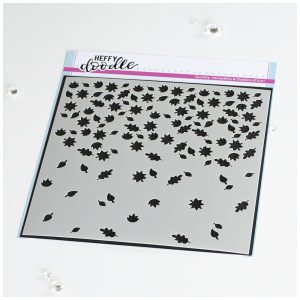 This is such a fun stencil that will help bring life to your scenes. Use green inks for a summer look, or bring on the reds, golds, browns and yellows for a fall-themed fiesta! This stencil looks extra incredible when used with foils and glimmer pastes!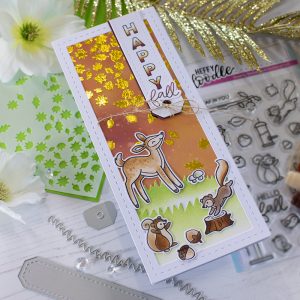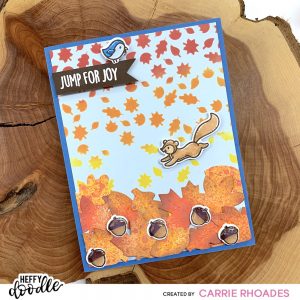 And because we love Autumn so much, we simply had to add these guys to our collection –
say hello to the Forest Leaves Dies to go along with the Fall theme!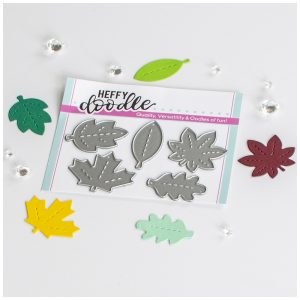 This set of five dies are the perfect accompaniment to our Amazonian Leaves dies, which we know you guys LOVE! This set focuses on more traditional leaf styles, and have a beautiful stitching detail. With a sycamore leaf, oak leaf, maple style leaf and more – you won't be-leaf how much you will use these time and time again.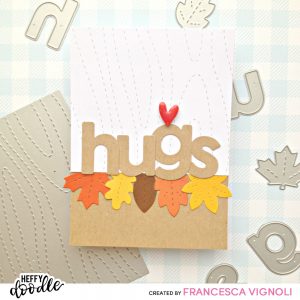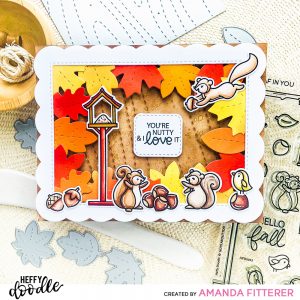 Alright my deer – Are you in the mood for some more cute stamps!?
Here is the Deer to Me stamp set and coordinating dies.
How adorable are these little guys?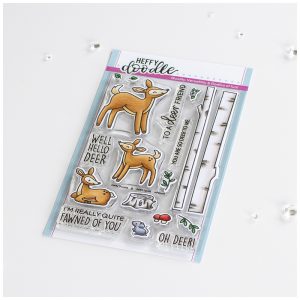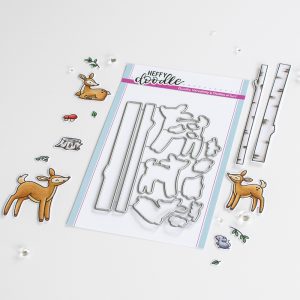 This adorable stamp set includes three cute deer images, and two larger birch tree image – and I know you will use these time and time again. Once again there is a selection of sentiments which can be used all year round – not just for fall themed projects. Also in this set is a few coordinating images for scene building such as the tree trunk, a little collection of mushrooms, some branches and a cute little mouse! Adorable!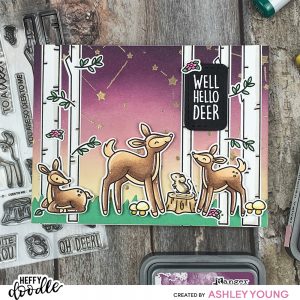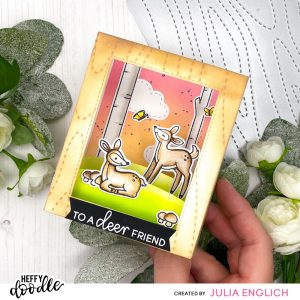 And last but not least, here is our final reveal for this release
– the Awesome Shadow Heffy Cuts dies.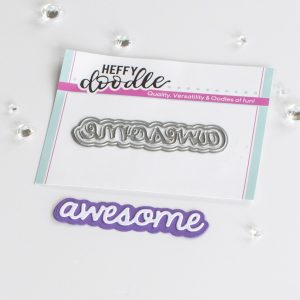 Before you leave, let me take a second to tell you why this die set is even more AWESOME than meets the eye. Not only can you use this word on its own or with the coordinating shadow die, but you can also get more mileage from this die set by doing a little creative surgery. Trim the die and use the words 'awe', 'we', 'so', 'some' and 'me'. Isn't that cool!
Alright, that is it! What do you think?
We are all extremely excited about this release and hope you are too!
I can now say that the new release is now
available to pre-order over on the Heffy Doodle store,
so come on over, place and order, and get your free stamp set!