March 31, 2018
Piper´s pairs and saying goodbye to the most amazing Designteam ever!!!
Hello everyone and thank you for stopping by!! Maria here and NO it´s not monday already, don´t worry.
Today is my last day as a member of the Design Team of Heffy Doodle. I would lie if I would say that I wasn´t a little sad about it. But at the same time I´m also proud and blessed to have been part of this amazingly talented first team of Heffy Doodle. Everyone in the team is kind and  so freaking talented and I will miss to work on them all the time. Thank you Lesley for giving me the chance to be part of this awesome experience. I will never forget it as I learned so much.
Ok, enough of my emotional outburst. If you are still with me I would like to show you my very last Design Team Project that I made for the lovely daughter of Lesley, Princess Piper.  As I didn´t knew at first what to get her for her birthday additional to her birthdaycard, that you can see here. I decided to make her a handmade game of Pairs as I know that she loves Heffy Doodle just as much as her mom and every Heffy Doodler on this Planet.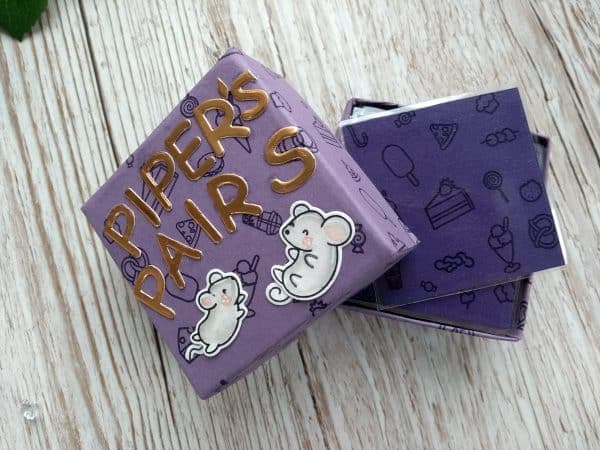 For the box of the game I used some elegant Eggplant cardstock and stamped all over it using the fun food stamps that you can find in sets like Happy Snappy Crocs, Elephant of Surprise, Unbearable without you and many more.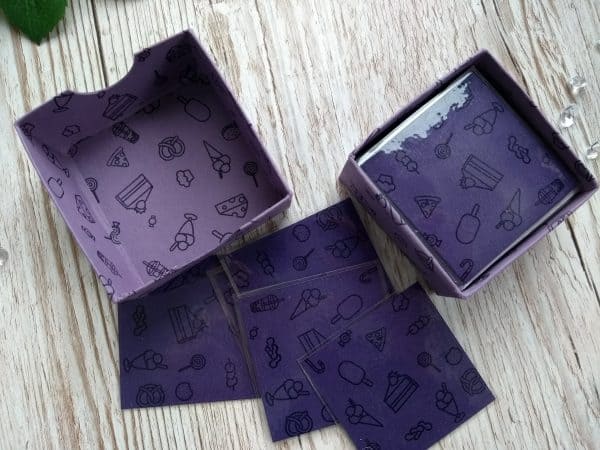 I also stamped the back side of the game cards, that are made using the same cardstock using the food stamps and my Misti. Why the Misti you may ask? Well as I wanted all cards to look the same from the back i mounted the stamps in a random order into my misty and then placed all the cards in the exact same spot so they would look all the same , so no cheating would  be possible for the players . Clever, huh?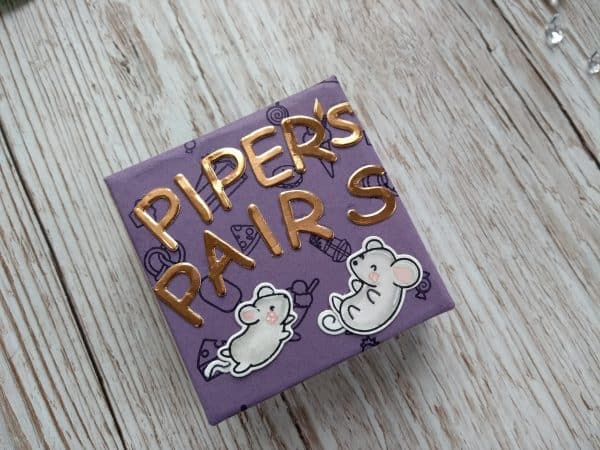 On the top piece I diecut the letter´s for "Piper´s Pairs" out of copper foil and adhered it on the top together with some cute mice from the Hello Squeakheart stamp and Dies. I chose those as they are Piper´s favorite Heffy Doodle Set.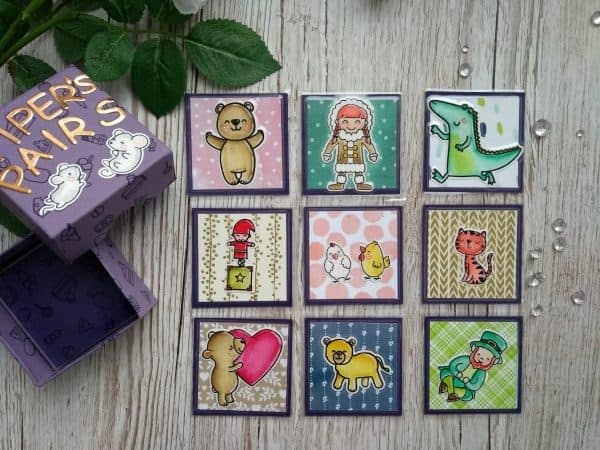 For the front of the cards I cut several sqaures from all kind of pattern papers I had in my stash ( which is huge). Then I stamped a lot of characters from almost all stampsets that Heffy Doodle has released yet. I stamped each of them twice on shimmery white cardstock and colored them using my watercolors and a white gel pen. Then I used all the amazing coordinating dies that are available to diecut them, before glueing them on top of the pattern paper panels.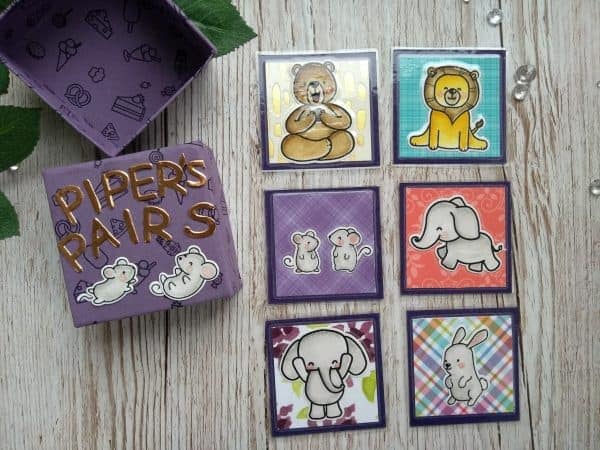 All in all I made 15 different pairs for little Ms. Piper.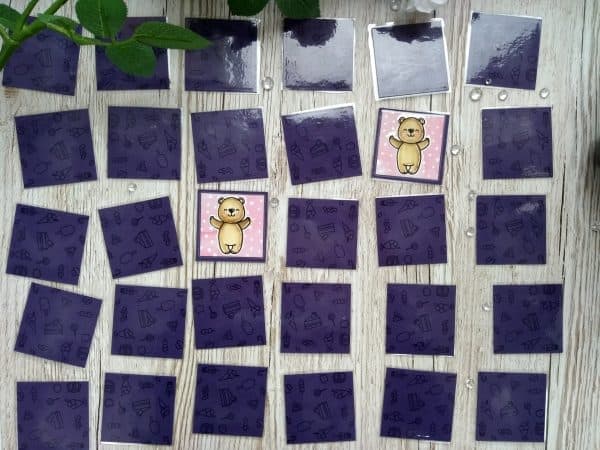 To make the game  last a long time and to save the images from sticky or inky fingers I laminated all the cards and I think they all turned out so cute. I just love it so much and I know that Piper loves it too.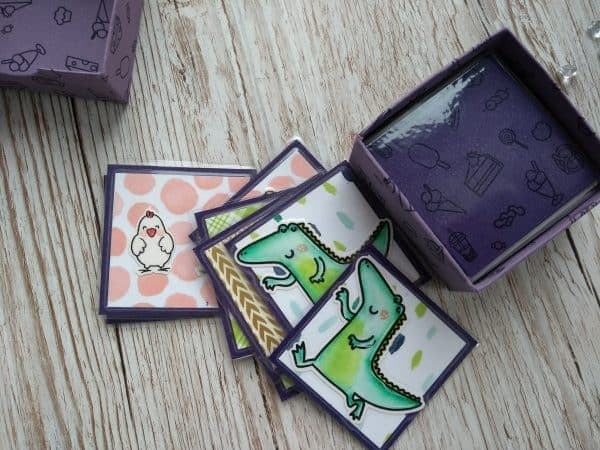 What do you think of my gift idea? Have you ever made a game yourself? Let me know in the comments down below, please.
Now I want to thank you dear readers for following my journey with Heffy Doodle during the past half year. It´s been an amazing adventure and I thank each of you for all your kind comments and for looking at my projects.
I might be back for a guest designer Post sometime
Until then
Happy Crafting!!!
Maria 🙂