August 24, 2022
Perfect Combos – Flower bouquet
Hello Everyone,
It is Zsofi here, welcome to another edition of my Perfect Combos series. This time I created a bouquet of flowers with an old-but-new-to-me stamp set called Blooming marvellous and some colourful inks. So much fun and so many possibilities! I used enamel dots and the Summer Holiday paper pad from the latest release. Let me guide you through the process!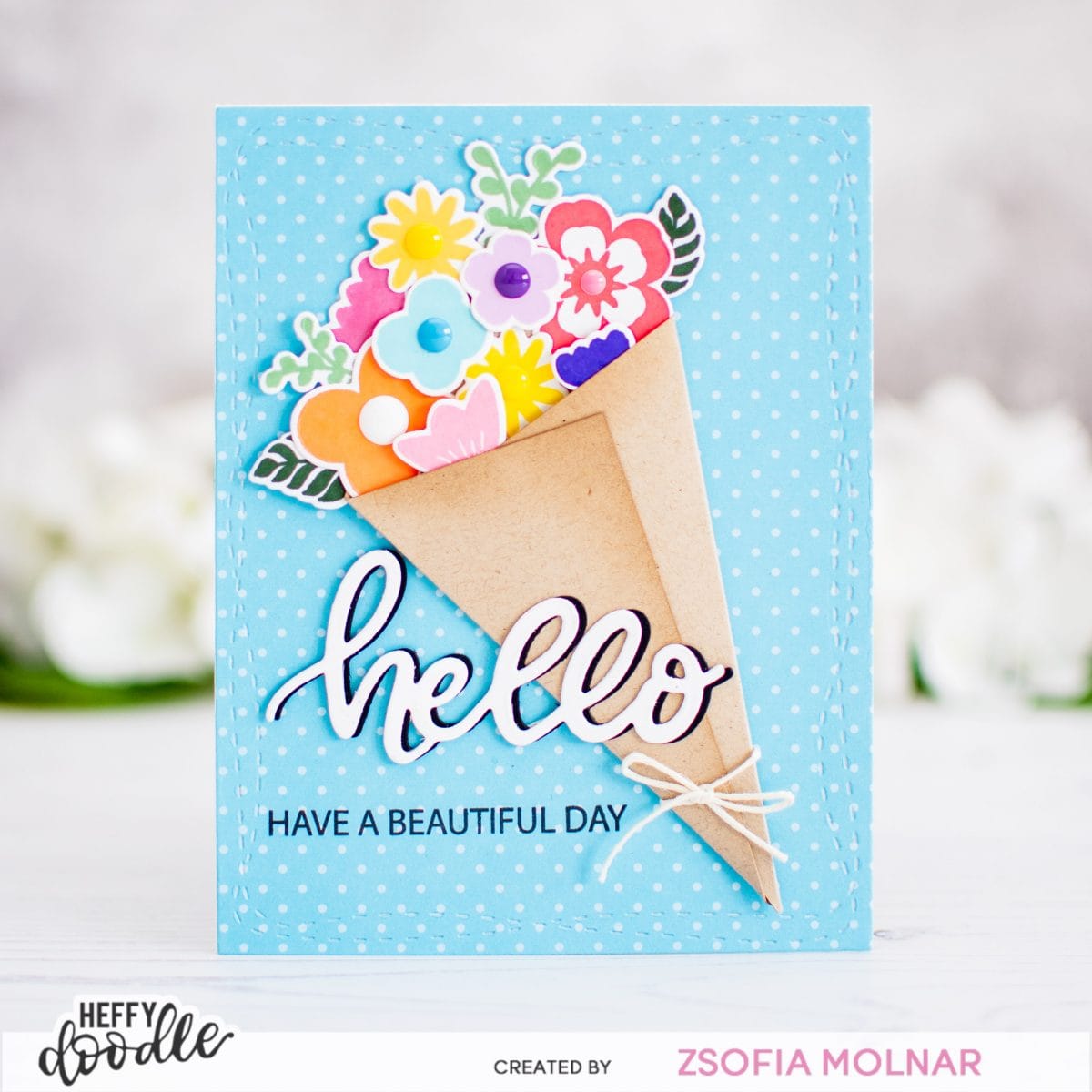 First I stamped a bunch of flowers with Catherine Pooler inks to Neenah Solar white cardstock. I love these inks as they come in beautiful colours and the result is gorgeous every time. The ink smooths out on the cardstock like it was printed. I used the coordinating dies to cut every piece out. For small die cuts I love my Heffy Doodle mini die cut machine, so much easier and faster than with my regular sized one.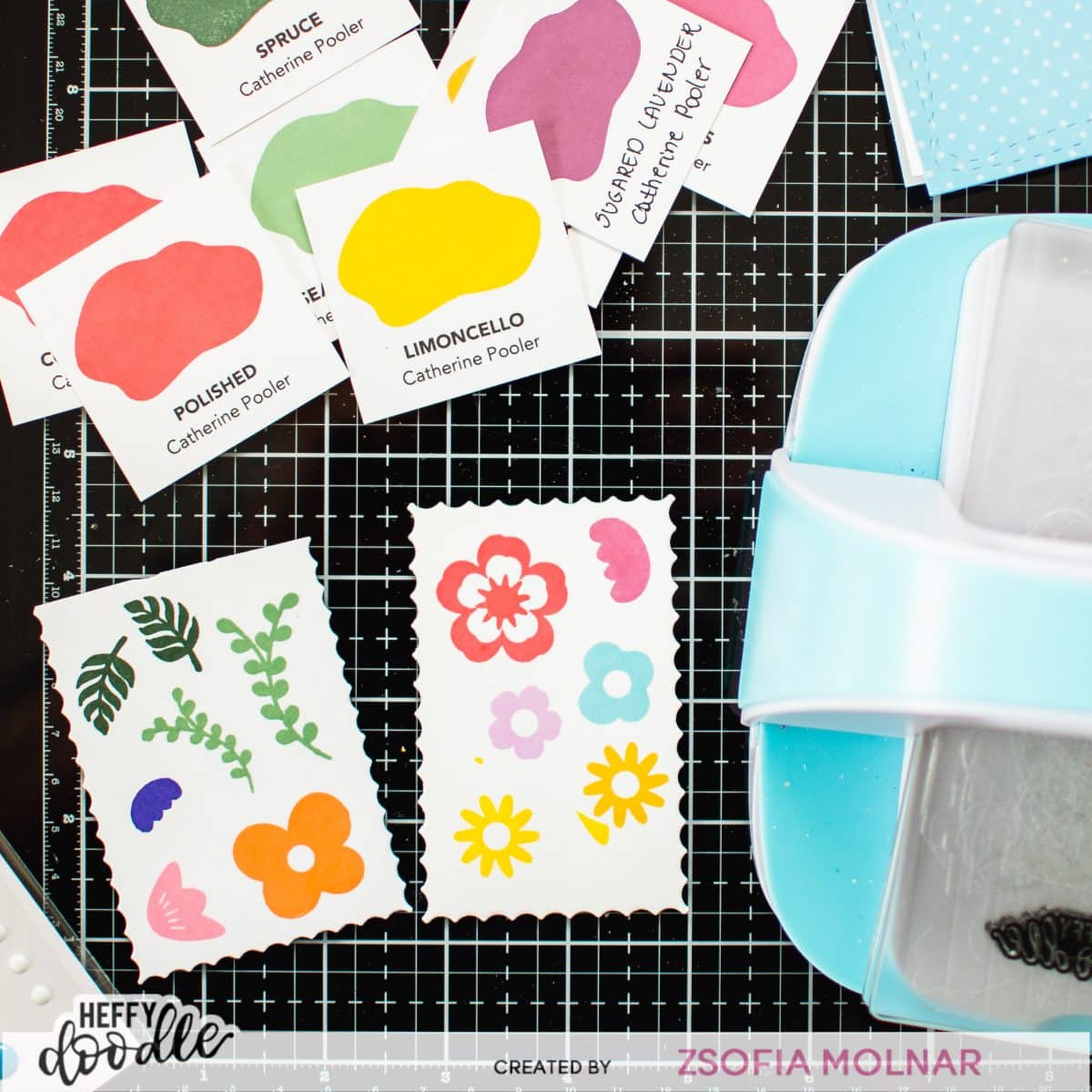 Then I created the wrapping from a 3,5 inches square piece of kraft cardstock by folding in the edges at half on 2 sides. I used the scoring blade of my Mini Heffy Doodle Trimmer to add the score line.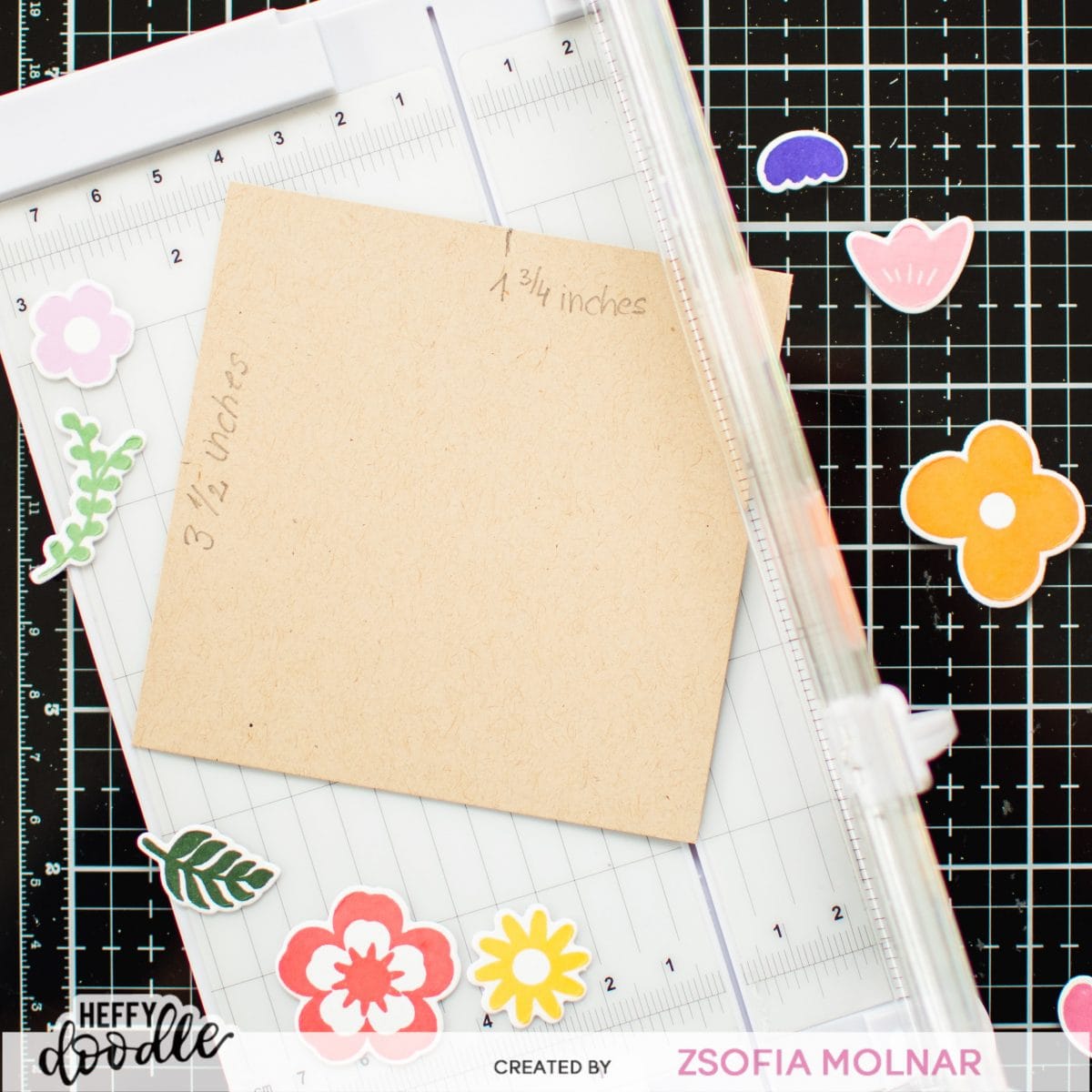 I added a bit of shading with some brown ink and a blending brush on the folded edges, this little trick gives a lot of depth to any plain shape. Then I glued it together and arranged my die cut flowers in it, until I got a nice bouquet. Some I adhered to the back of the kraft cardstock, some to the inside of the front to get a really dimensional bouquet. I embellished each with a matching enamel dot and added a tiny little twine to the bottom of it. I love how it turned out!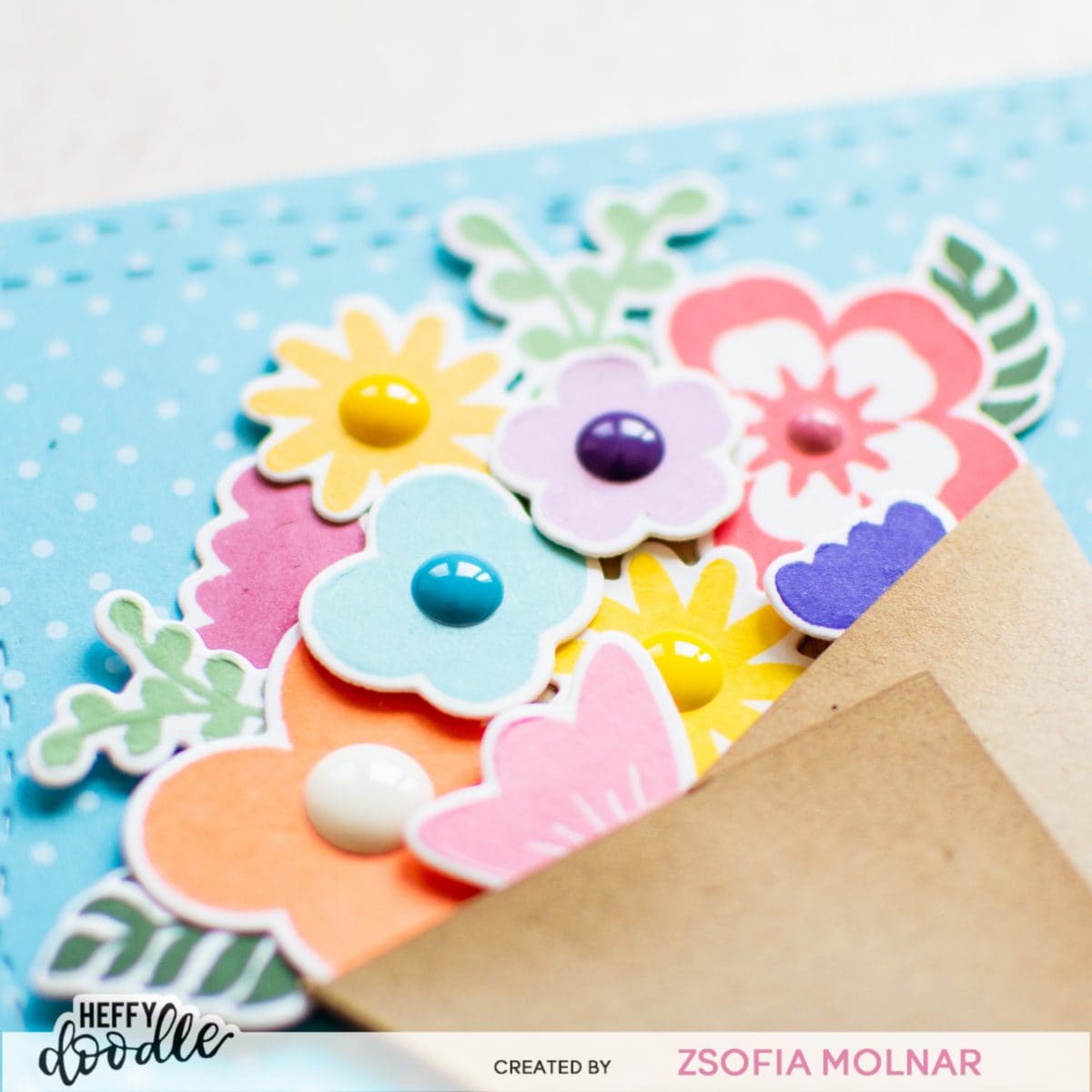 The rest of the card I kept simple: I used a polka dot patterned paper from the Summer Holiday paper pad with a Whimsically Wonky Imperial Rectangle for the background and stamped a sentiment on the bottom left corner from the Farmyard fun stamp set.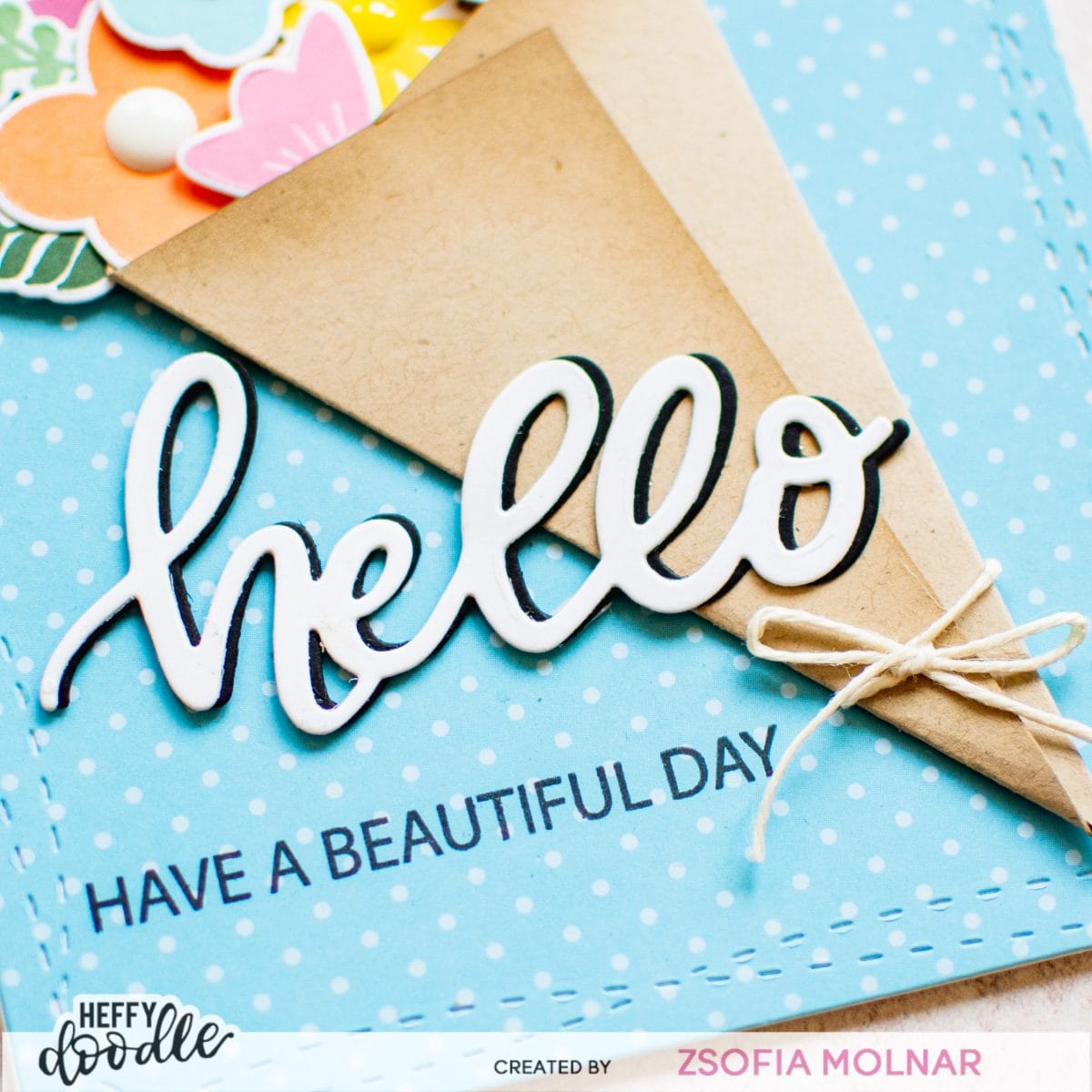 I adhered the bouquet at an angle and finished the card with a white die cut Hello, which I layered up on top of a black one slightly offset, so it looks like it has a shadow. Isn't it perfect for any occasions?
I hope you enjoyed my card today and will pop in again soon for more inspiration!
See you,
Zsofi