May 18, 2019
Out of this World Super Dudes
Circle shaped cards
Hey there, everyone! This is Ashlea here and I'm thrilled to be joining Heffy Doodle today as a guest. I've got a fun tutorial today showing how to take the Super Dude's from the Super Dude stamp set and make them – – wait for it – – out of this world! If you haven't figured it out already, we're making an ink blended galaxy today. I love this oldie-but-goodie technique, especially for kids birthdays which fits the Super Dudes esthetic perfectly! Check out my video tutorial below for a step by step of how I created this card.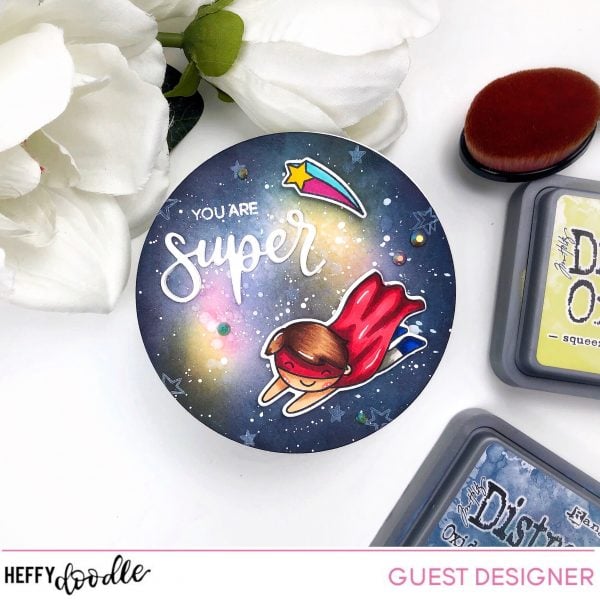 I always start ink blended galaxies the same, with the brightest color of my palette. In this case that was Distress Oxide (DO) in Squeezed Lemonade. I blended two small bits with that yellow, and then went into those edges with DO Picked Raspberry. Though these two colors blend so well together, but the point of this is not to blend but to add more color before I start adding my blues and black to create the actual sky (or space). Finally, after adding a bit of DO Salty Ocean and Faded Jeans throughout the piece, I went in on the very edges with a black dye ink to drive home the feeling of space.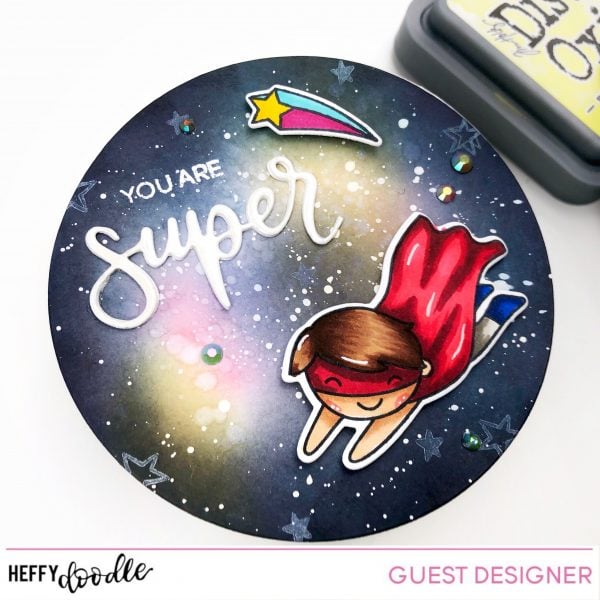 For the stars, I spritzed a bit of water onto the piece and then add some white gouache splatters which really stands out against the dark galaxy. To create my sentiment, I used just the words "You Are" from the much larger sentiment "I Hope Your Day Is As Super As You Are" included in the set. To finish it off, I added the word die "Super" to make the complete sentiment "You Are Super". Finally, I chose the in flight Super Dude and colored him in using Copic Markers. I made sure to add lots of dimension to his cape with darker shades to create movement and interest.
Finally, I adhered everything to the card front, and then to the circular card base that I created. Check out the video for a step by step for that process! Thank you so much for stopping by today! I hope that you've learned a few tips that you can use for your future ink blended galaxies. Have a SUPER day!
Ashlea
Supplies Used: