June 27, 2020
Otterly Fabulous Slimline – Guest Designer Jeannie
Hi everyone! It's Jeannie (InsideoutJeans) back with another guest design post for Heffy Doodle. One of the newer sets, Otter Side, really pulled at my heart strings when I saw it and knew right away that I'd have to use them for a card.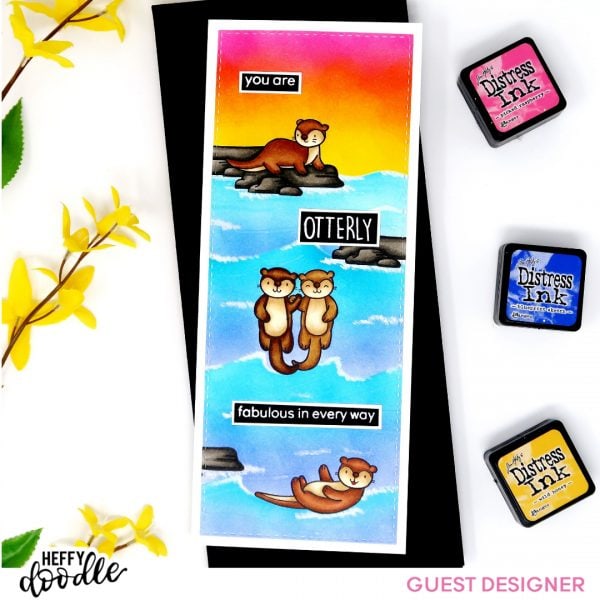 I went with creating a slimline card because I wanted to use all the otters in this set. I almost did except for one because I wanted to incorporate the sky with this water scene. I mapped all my images out on a piece of Neenah Solar White 80lb cardstock and realized I would have to do some masking  I stamped everything on the card along with masks for every image using Blackout Ink.
I decided to color up a quick background and my go to for this is using distress inks. For the sky, I wanted something fun so I went with Mustard Seed, Spiced Marmalade, and Picked Raspberries.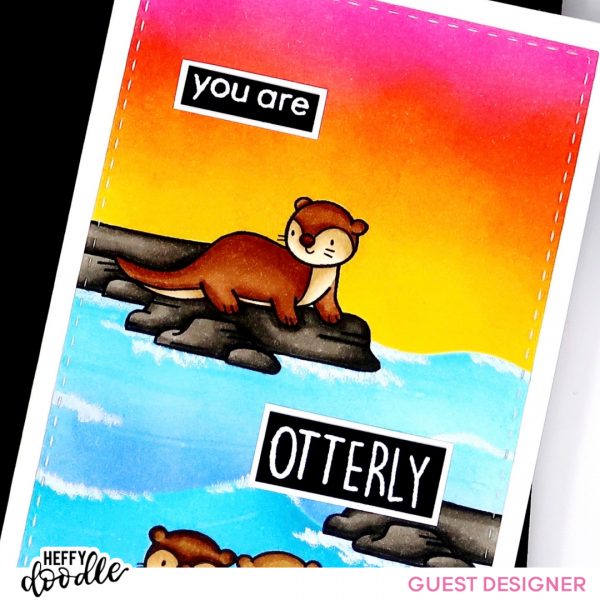 To create the waterline, I used the very top portion Stormy Seas stencil. I am super impressed with how thought out this stencil is. I love how you have so many options and you can slip in the card to use the negative and positive of the stencil. I rotated the different waves for the water using Mermaid Lagoon and Blueprint Sketch.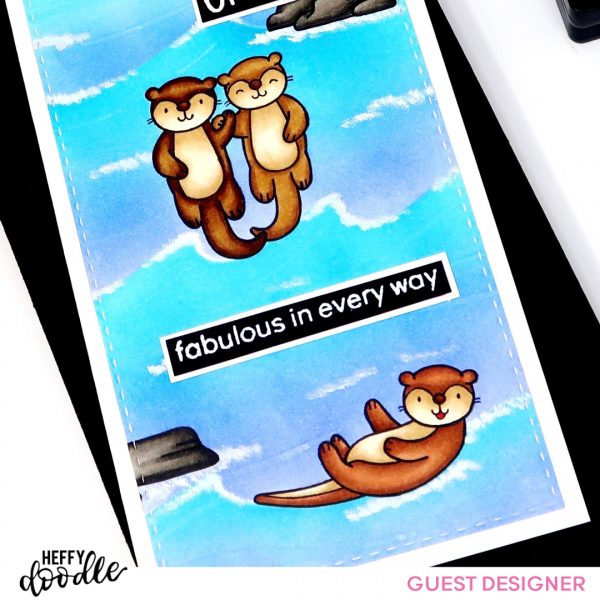 Because these inks are water reactive, I used a waterbrush to draw lines to add some texture. I also used a stiff brush along with white gouache to add some sea foam on top of the waves. I like adding the bit of texture, otherwise, it'll be a bit plain. Once the background was complete, it was time for my favorite part of masking… removing the masks! It's so fun! I colored up the otters and rocks using copic markers (colors listed below). Once everything was done, I die cut my card panel using a stitched slimline die and matted it on a white slimline card base (3.5in x 8.5in) .
To finish off the card, I stamped the sentiment I wanted to use on black cardstock with Versamark ink and heat embossed it using white detail embossing powder. I trimmed down the sentiment and matted it on white cardstock.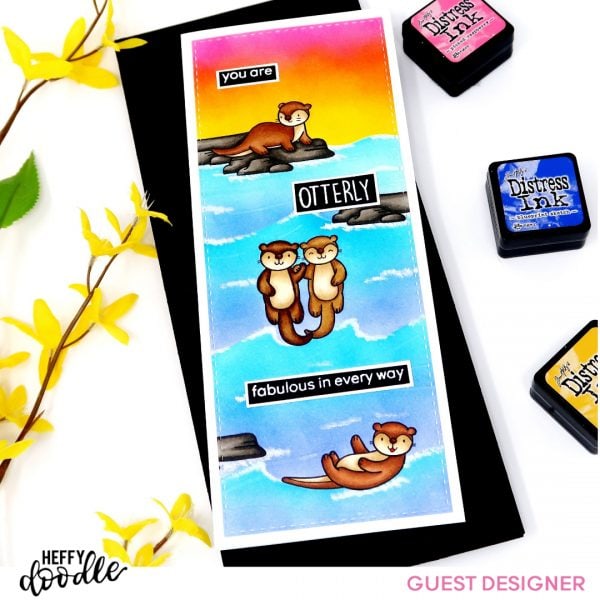 I adore how this card turned out and it just makes me so happy. I hope you enjoyed it too! 
Thanks for stopping by today and I hope you get inspired to create. Happy Crafting! 
→ SUPPLIES USED ←
Items marked with an asterisk (*) were provided by a store or the manufacturer for review and use. All other items were personally purchased. Affiliate links may be used at no cost to you.
STAMP SET:
*Heffy Doodle – Otter Side: HF  | EH
STENCIL: 
*Heffy Doodle – Stormy Seas: HF | EH
INK:
*Ink on 3 – Blackout Ink: https://bit.ly/2ZCXw0P
Versamark Ink: https://bit.ly/36sdpsI
Mini Distress Ink – Mustard Seed: http://bit.ly/2T3LI49
Mini Distress Ink – Spiced Marmalade: https://bit.ly/3aukzxE
Mini Distress Ink – Picked Raspberries: http://bit.ly/2wVqHQD
Mini Distress Ink – Mermaid Lagoon: https://bit.ly/2UDzIpy
Mini Distress Ink – Blueprint Sketch: https://bit.ly/3cGUOKW
COLORING:
Copic Sketch – E50: http://shrsl.com/1fbxs
Copic Sketch – E53: http://shrsl.com/1ah34
Copic Sketch – E55: http://shrsl.com/1ah36
Copic Sketch – E57: http://shrsl.com/1ah37
Copic Sketch – E59: http://shrsl.com/1ah38
Copic Sketch – E23: http://shrsl.com/1wqi6
Copic Sketch – E25: http://shrsl.com/172a2
Copic Sketch – E27: http://shrsl.com/1erwo
Copic Sketch – E34: http://shrsl.com/1erws
Copic Sketch – W04: http://shrsl.com/17yds
Copic Sketch – W06: http://shrsl.com/1ex4i
Copic Sketch – W08: http://shrsl.com/1fd7c
EMBOSSING:
Wagner Heat Gun: http://bit.ly/2vlnvwI
Inkadinkado Anti-Static Embossing Pouch: https://bit.ly/2X0MYXD
Hero Arts – White Detail Embossing Powder: https://bit.ly/2y1puYC
PAPER:
Neenah Solar White 80lb cardstock: https://bit.ly/2yxGKVT
MISCELLEANOUS: 
Eclipse Masking Paper: http://bit.ly/330beuv
Winsor & Newton Designers Gouache – Permanent White: http://shrsl.com/1wqg3