February 2, 2021
Oh What Pun! – February Heffy Doodlers Challenge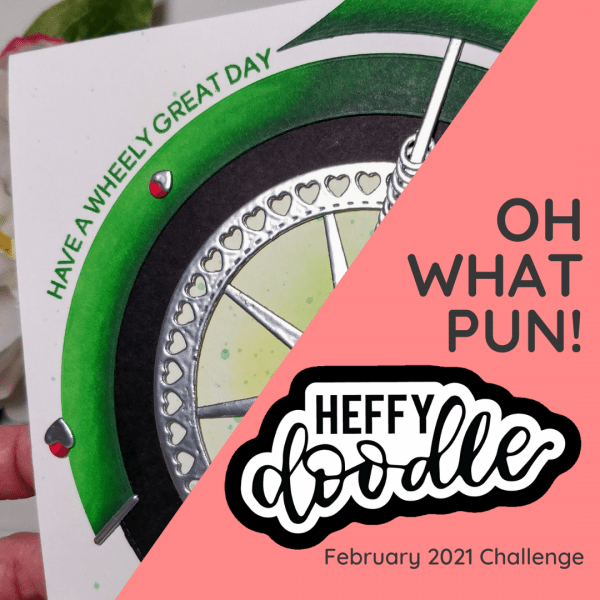 Hey crafty friends, it's Amanda Stevens again, here to announce the winner of the January challenge and issue a new one for February! I'd like to thank everyone who entered the Heffy Doodlers Slim Down with Slimlines Challenge last month. There were some really adorable cards! Get the skinny over in the Heffy Doodlers group on Facebook. You can share your projects and meet new crafty friends. I try to share Lesley's weekly videos there too as soon as she goes live.
I know you can't wait to see who won, so please help me congratulate Paula Smith on her winning entry!  Her sweet card features the Quack Me Up Stamp Set and new Slimline Dies. Who wouldn't be cheered up by this adorable scene?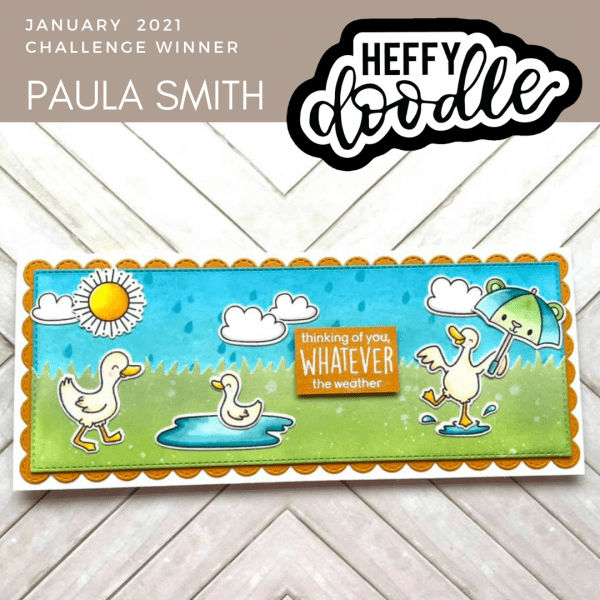 To choose the winner, all entries (except those by Lesley and the current design team) were assigned a number, in order of posting. We used random.org to choose the winning number.
Ready for the next challenge? Let's get punny! I know I'm not the only one who loves a good play on words; dad jokes are my jam! Luckily, Lesley speaks my love language, and most of her stamps feature sentiments with puns. This month, create a punny card using Heffy Doodle products (mostly) and enter to win a £35 gift card! The challenge starts now in the Heffy Doodlers Facebook Group, and runs through February 28th, 2021. Want to see my inspirational card?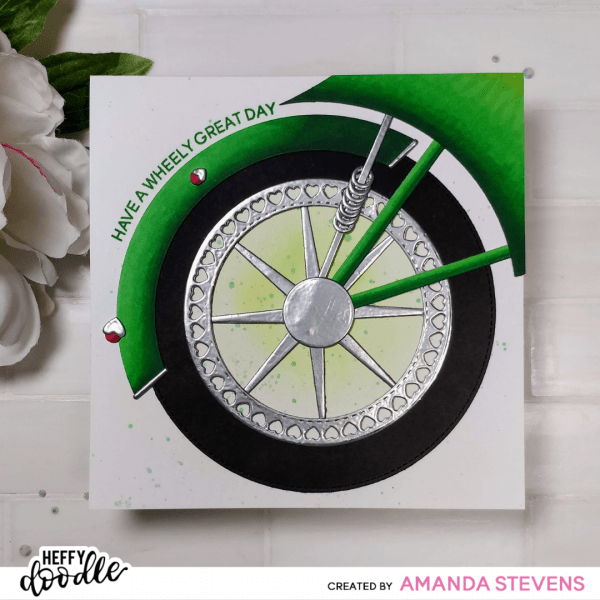 I was inspired by the "wheely" sentiment in the Hello Squeakheart Stamp Set, but I wanted to make a masculine card. My mind immediately jumped to motorcycles and wheelies, so I decided to paper piece my own motorcycle. If you've never paper pieced your own images, don't be intimidated. It's not hard. I just Google the image I want and look for clipart images (in this instance, I googled motorcycle clipart). Those images are usually less complicated, and easier to recreate in die cuts. Then, I search through my stash and look for dies that will mimic the shapes I need. You'll be amazed at what you can put together, if you don't limit yourself to what the die is originally meant to be. Can you pick out the dies I used from these sets to create the bike? (Head on over to my blog for all of the details and more pictures.)
Fancy Nancy Frames
Forest Builder
Stitched Circles
Tag Along
More Strips of Ease
Are you feeling punny? Inspired to play along? Pull out your Heffy Doodle stamps and create a punny card of your own! To enter, go to the Heffy Doodlers Facebook Group and post a picture of your project in the February 2021 Challenge album (it will be pinned to the top). Enter as many cards as you like. The winner will be randomly chosen from all entries posted prior to Midnight (UT) on February 28, 2021. You are not limited to cards, feel free to post tags, scrapbook pages, home decor projects, etc. Just be sure the bulk of the stamps and dies used are from Heffy Doodle, and that your project features a pun. Good luck my friend!
Questions, just ask. Need some more inspiration to get you started? Follow Heffy Doodle on Pinterest! You can find boards with themes and specific stamp sets. Got an idea, but need some new Heffy Doodle goodies? Head on over to the shop and treat yourself. Remember, you enter the challenge in the Facebook group, not here. Oh, and let's keep it PG please 😉
I'll be back on March 2nd to announce the winner and the next challenge. Until then, I'll see you on Facebook…
The Heffy Doodlers Challenge is not sponsored by, nor affiliated with Facebook. To be eligible to win, you must be at least 18 years old, and agree to allow Heffy Doodle permission to use your submitted photos for promotional purposes.