October 20, 2017
New Retailer – White Rose Crafts LLC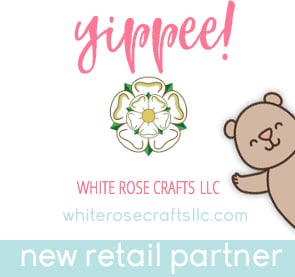 Hello crafty friends!
We are super excited to introduce you to our newest retail partner, White Rose Crafts LLC!
Kay contacted me a little while ago, and introduced me to her awesome online store, which carries a fab range of Lawn Fawn, Kaisercraft, Brutus Monroe and lots more. We thought Heffy Doodle would be a fantastic addition to her range. She will shortly be adding the Heffy Doodle products to the store.
Whats' more – we have a new release coming soon, and White Rose Crafts LLC will have these available from day 1, along with some of our other retailers. Don't forget to check out our list of retail partners over on our Where To Buy page!
WOOHOO! We love having retail partners as this makes Heffy Doodle goodies more easily available for our customers. And happy customers equal a happy Heffy!
HAPPY CRAFTING!