October 1, 2023
Mixed Media Backgrounds 2-Ways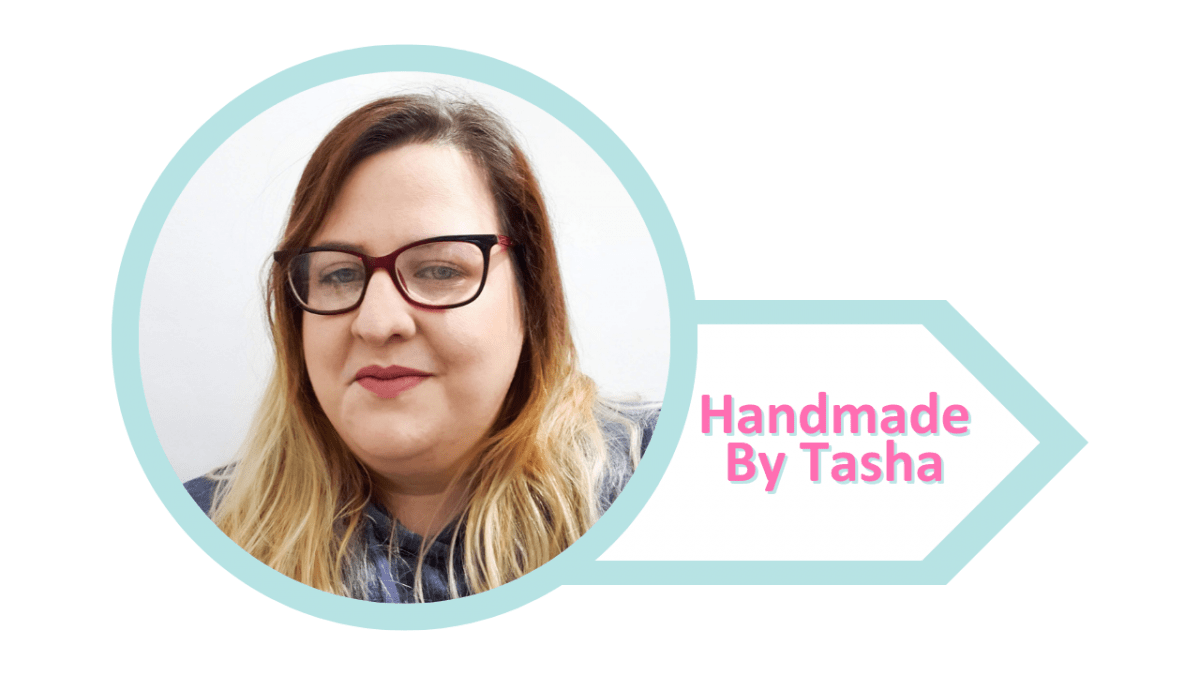 Hey crafty people!
It's Tasha, back with another video tutorial and this month I'm sharing easy mixed media backgrounds, 2-ways!
---
Trim The Tree Scene Setting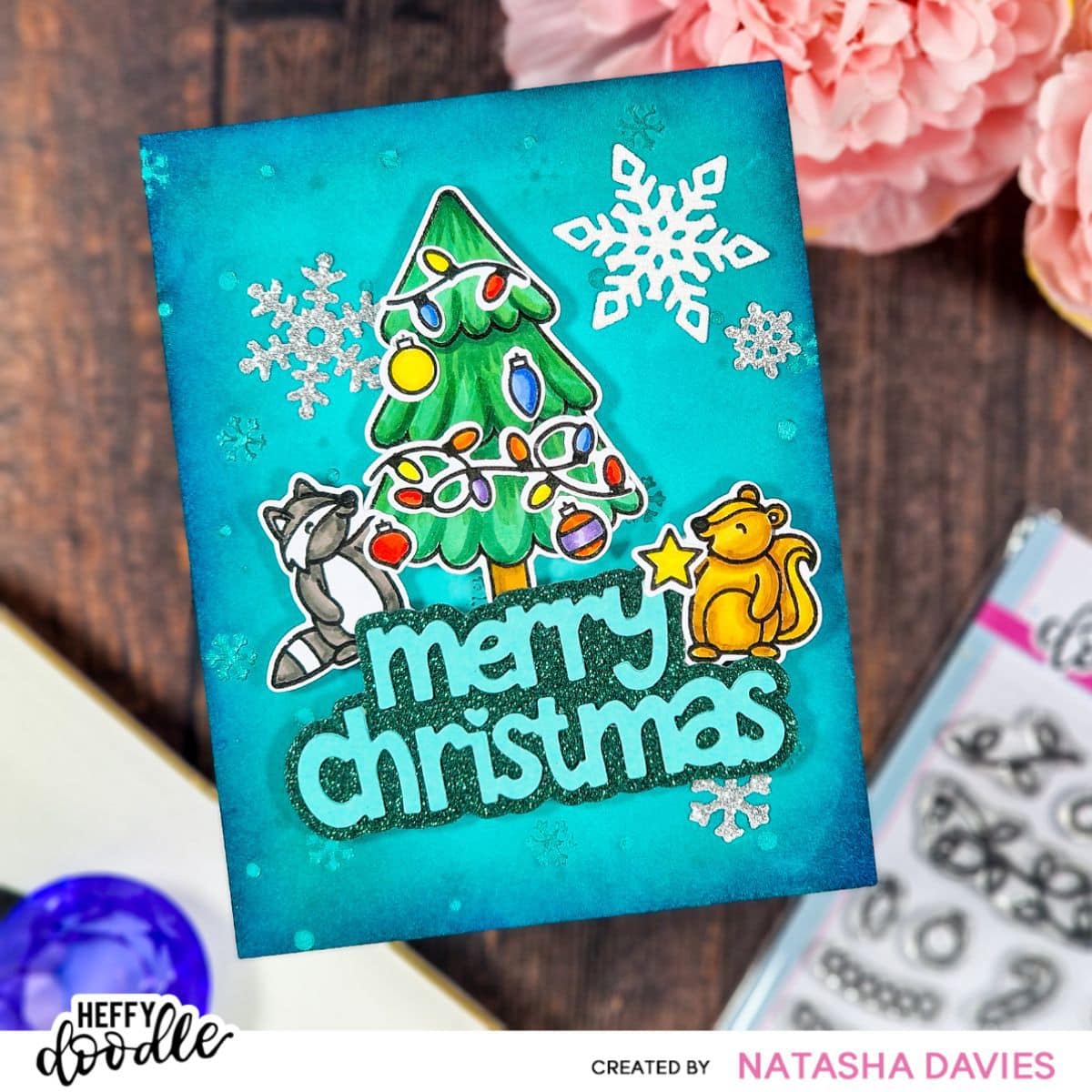 Mixing & matching images from across your Heffy Doodle collection is such a fun way to create the scene that's in your mind! Here, I used Trim The Tree but I grabbed these adorable little guys from Camping Critters to decorate…it looks like they're having so much fun!
Using a mini foam blending tool, apply Paper Glaze through the Feeling Frosty stencil onto an a2 panel of Teal-icious cardstock. Set aside to dry.
Once dry, apply Uptown around the outside of the panel, leaving a highlight in the centre. Turn the Feeling Frosty stencil 90° from the way you used it before and ink blend more Uptown over it. To deepen the edges, apply Dress Blues then soften the blend by going back to Uptown. Give your Paper Glaze Snowflakes a good wipe to remove ink that might be sitting on them.
Stamp images from Trim the Tree & Camping Critters in Versafine Onyx Black ink onto Heffy Alcohol Marker Friendly Cardstock and emboss with WOW Clear Gloss Super Fine.
Colour your images with Altenew Alcohol Markers, and die cut using the coordinating dies & Mini Die Cutting Machine.
Die cut the Jumbo Merry Christmas words from Teal-icious cardstock and stack 3x for extra dimension. Add to the shadow, die cut from glitter cardstock.
Create your scene using foam adhesive for dimension. Start with the sentiment, and build your scene on top of it.
After filming, I went back to add the glittery die cut snowflakes that I had leftover from card 2.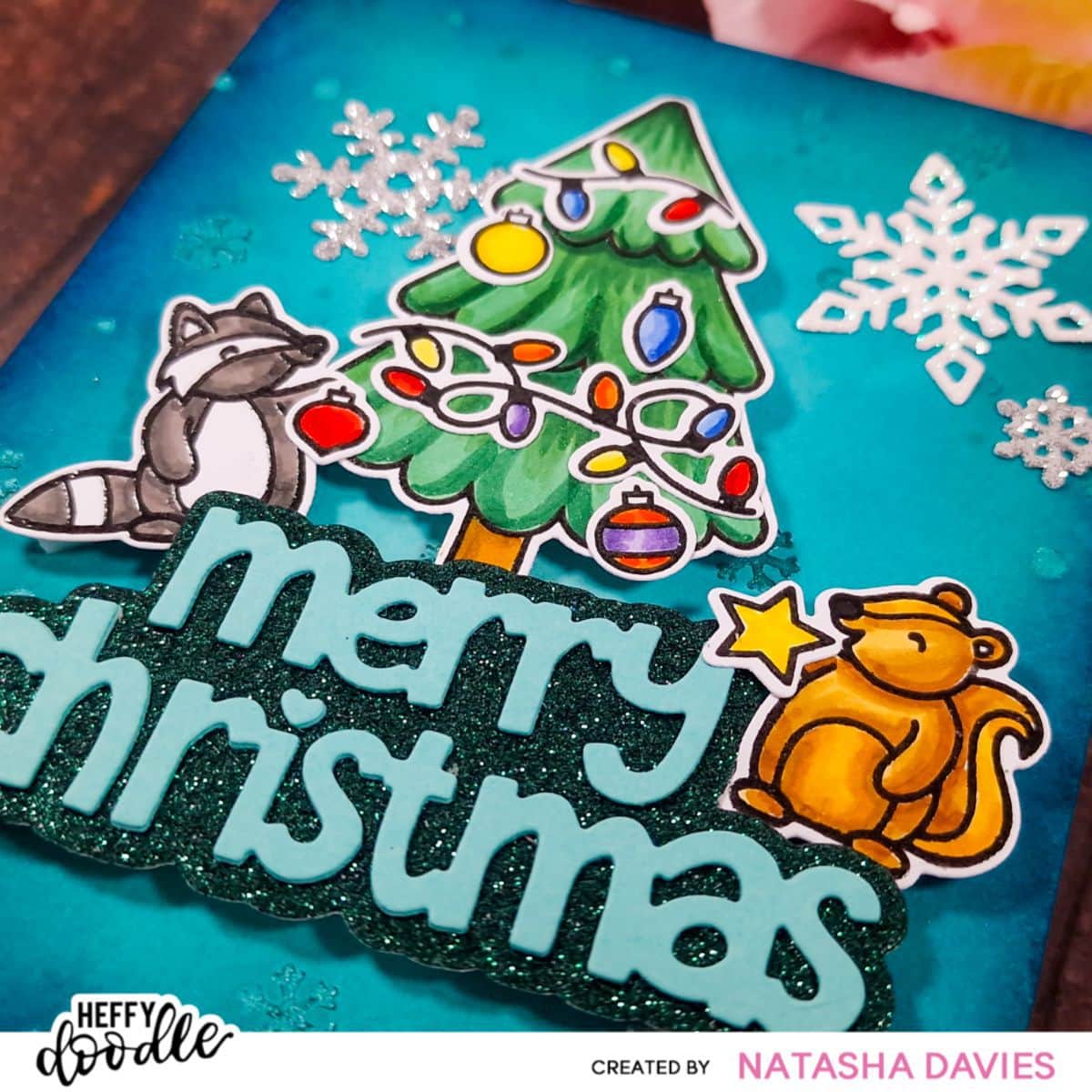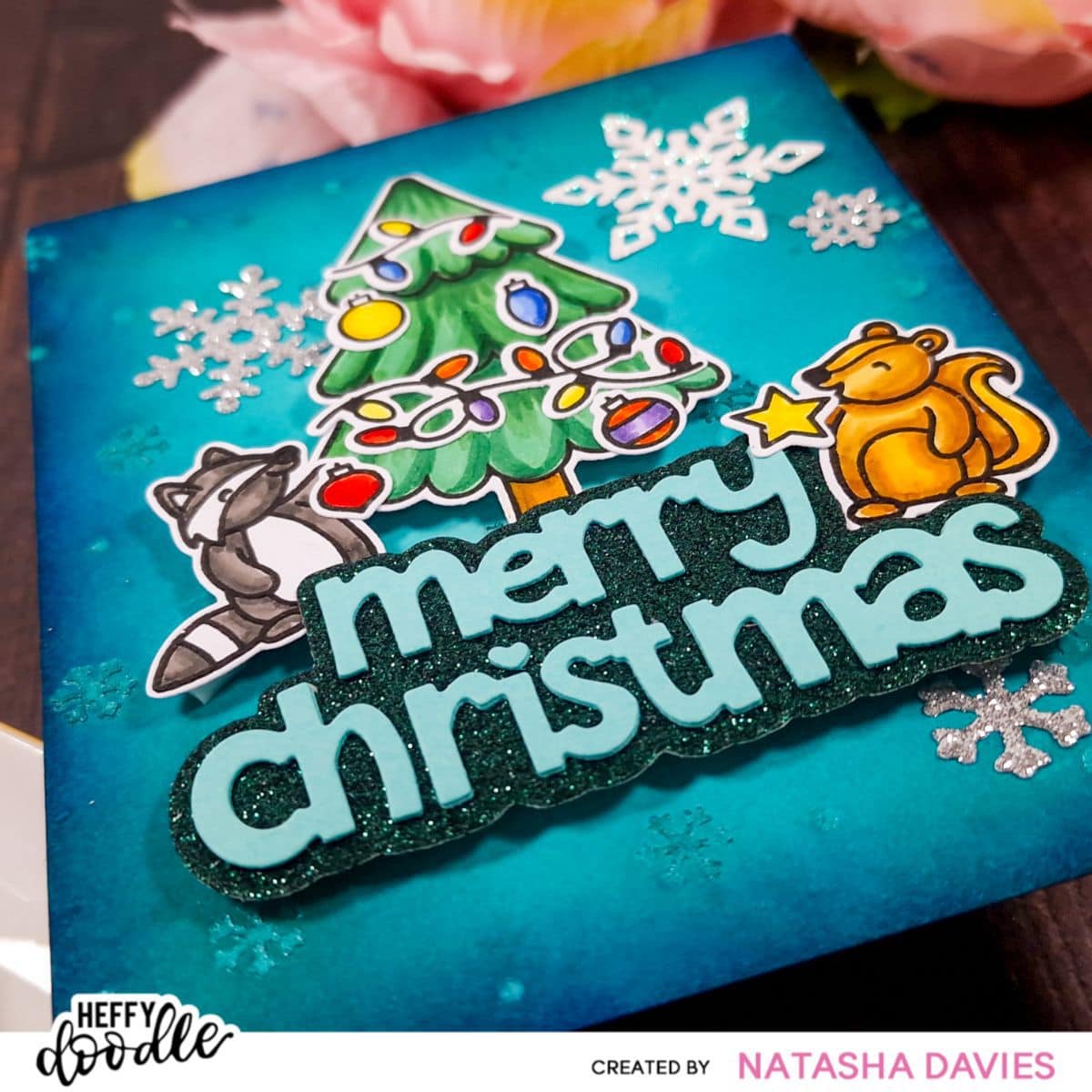 ---
Frosted Snowstorm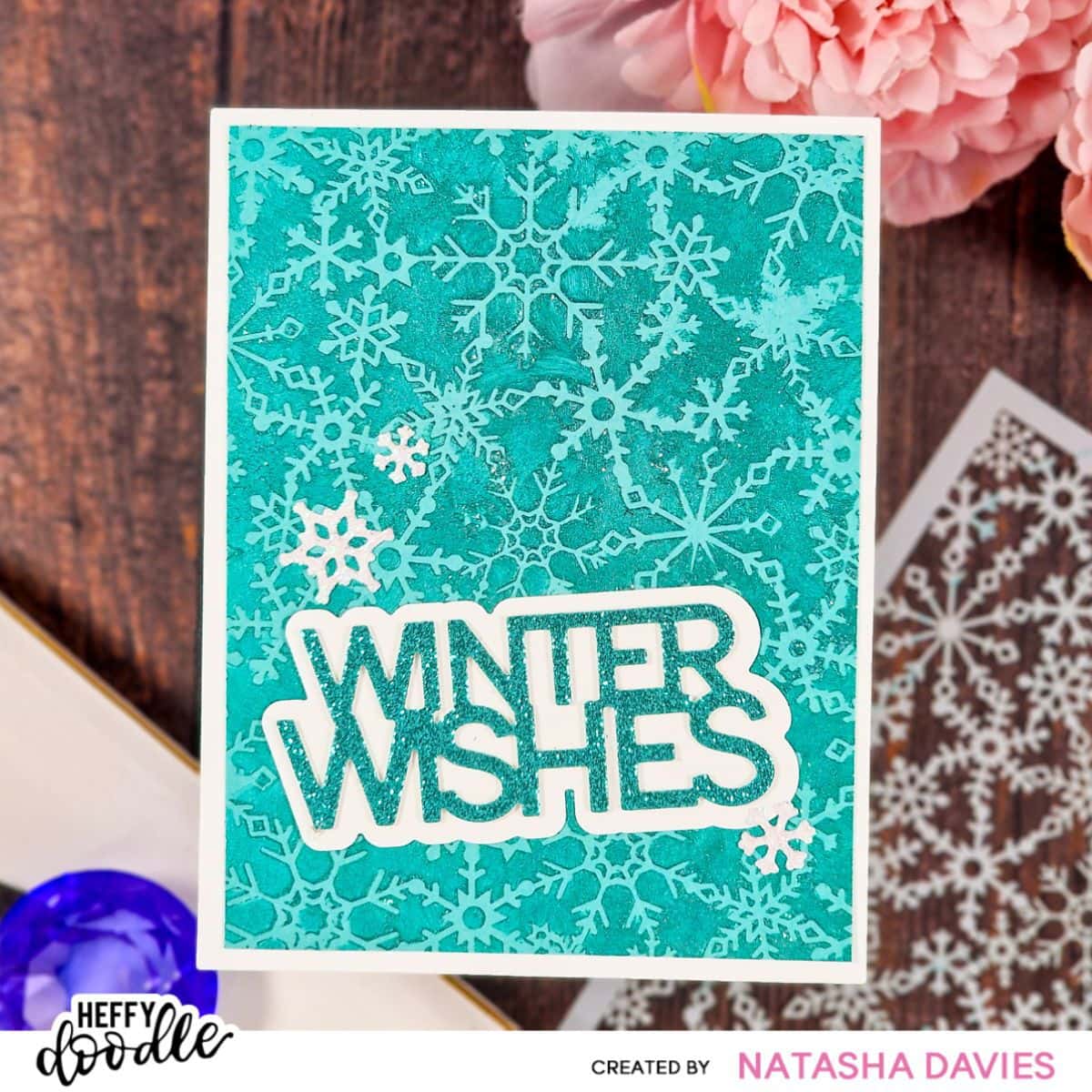 Stepping up the mixed media, but it's just as easy to do and the results are STUNNING!
Apply Paper Glaze in the same way, through the Snow Storm stencil onto another a2 panel of Teal-icious cardstock. Before seeing aside to dry, add Crystal Essential Sparkles over the whole panel, tapping off the excess onto scrap paper so you can funnel it back into the jar. Set aside to dry fully.
Once dry, take a soft paintbrush and brush across the entire panel to get off all the excess that isn't adhered. Brush in different directions and give a few firm taps to make sure any remaining glitter is firmly adhered.
Die cut some Snazzy Snowflakes from cardstock with double sided adhesive sheet on top. (Use your Assistant Sheet to increase the pressure in your Mini Die Cutting Machine to get a beautifully crisp cut for these intricate dies.)
Peel off the release paper and cover with more Crystal Essential Sparkles, to get white sparkly flakes. Create some different ones too, with Bright Silver Essential Sparkles too. Burnish the glitter into the adhesive by rubbing over them, to remove excess.
Trim 1/8th inch off each side of the background panel and adhere to an a2 white cardbase.
Die cut the Winter Wishes Shadow Cut words from 1x layer of glitter cardstock and 2x layers of white, then stack up for dimension. Adhere onto a white die cut shadow layer.
Adhere your sentiment and some of the white snowflakes onto your card, with plenty of Gluebert. Leave something heavy on top whilst it dries, to make sure they stick well onto that textured surface.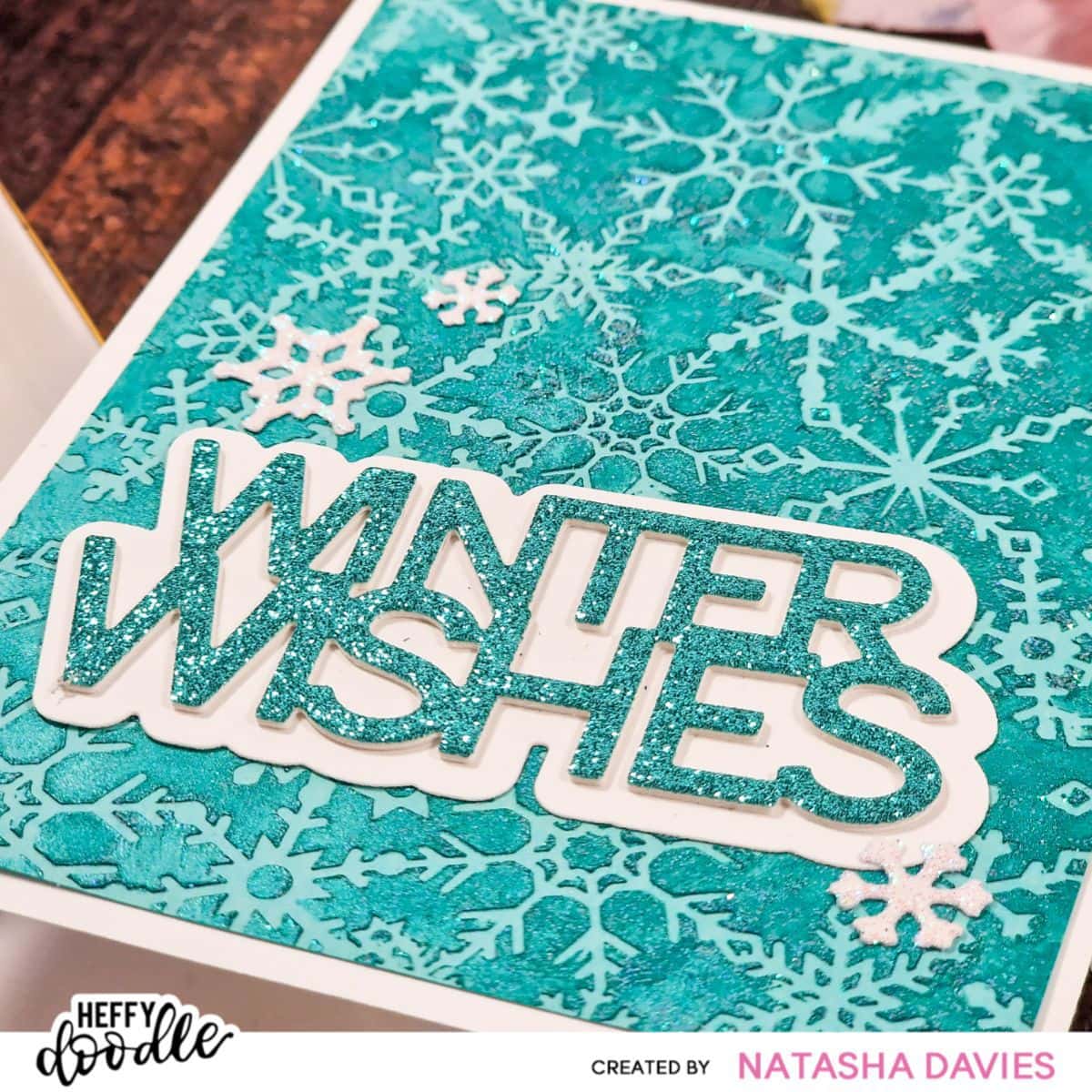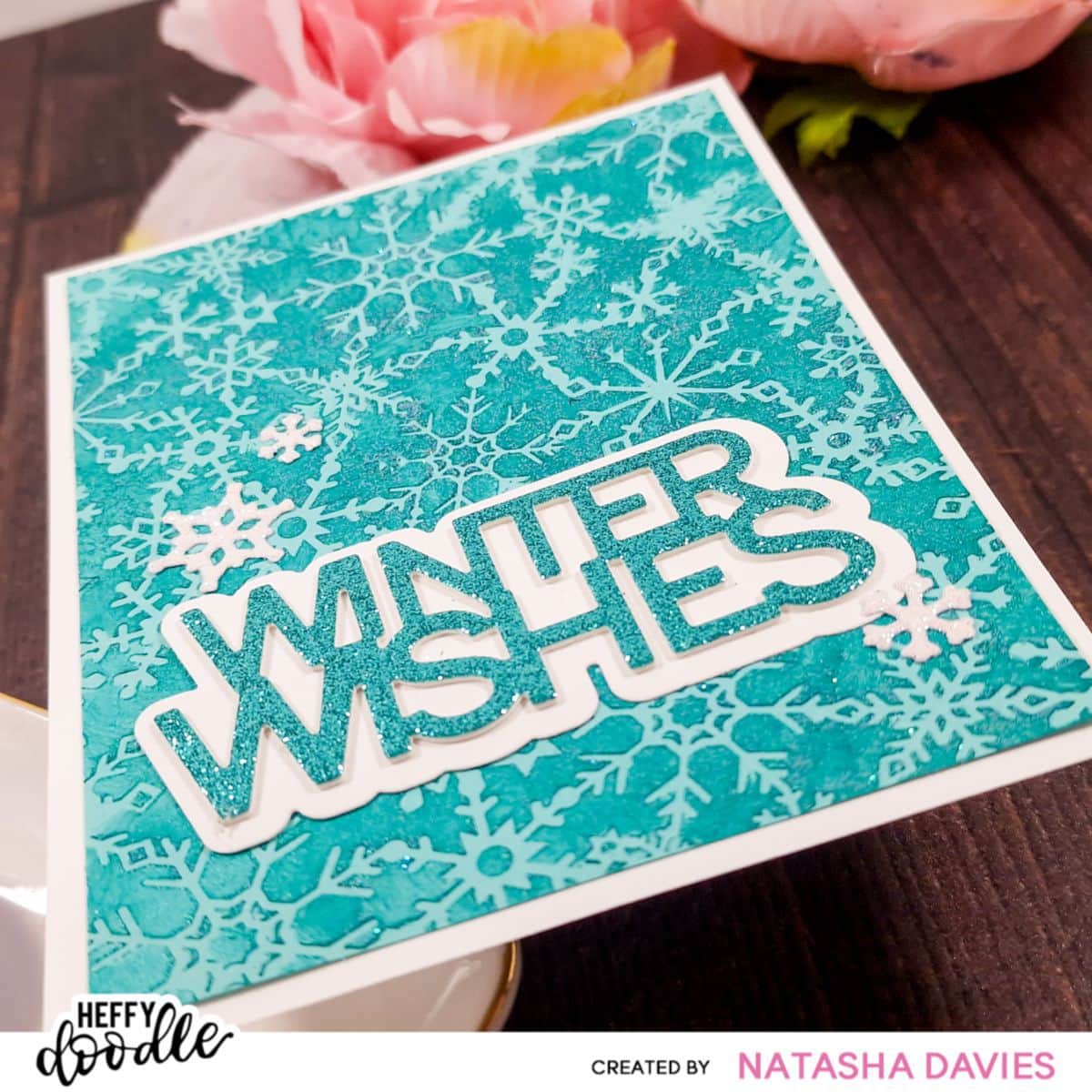 ---
Blog | Instagram | YouTube | TikTok
Thank you so much for spending this time with me, and I'd love to know what your favourite is from the recent new release, so drop me a comment below!
Have a lovely, happy, safe & wonderful week!
Stay Crafty!
Bye!!!
---
Affiliate links are used where available; this is at no cost to yourself and I truly appreciate everyone who chooses to use my links to shop. Thank you

Alcohol Marker Friendly Cardstock (20 A5 sheets)
Shop at:
HD | SBC

Glubert – Heffy Doodle Precision Craft Glue
Shop at:
HD

Heffy Doodle Mini Die Cutting Machine
Shop at:
HD | SBC

8.5″ x 11″ White Cardstock (20 Sheets)
Shop at:
HD

Heffy Memo Tape Dispenser
Shop at:
HD | SBC

Mini Ink Blending Tool
Shop at:
HD

Simply Teal-icious Cardstock (5 pieces)
Shop at:
HD

3mm Deep Foam Adhesive
Shop at:
HD | SBC

Trim The Tree Stamps
Shop at:
HD

Trim The Tree Dies
Shop at:
HD

Camping Critters Stamps
Shop at:
HD

Camping Critters Dies
Shop at:
HD

Merry Christmas Jumbo Sentiment Dies
Shop at:
HD

Winter Wishes Shadow Cuts
Shop at:
HD

Feeling Frosty Stencil
Shop at:
HD

Snow Storm Stencil
Shop at:
HD

Essential Sparkles Brilliant Silver
Shop at:
WOW USA | WOW UK

Essential Sparkles Crystal
Shop at:
WOW USA | WOW UK

Clear Gloss – Super Fine
Shop at:
WOW USA | WOW UK

Dress Blues
Shop at:
SBCOM | CPD

Uptown
Shop at:
SBCOM | CPD

Jade Vine Paper Glaze
Shop at:
SBCOM