October 28, 2022
Let's Make Things MEGA – Mega Day 2022
Hey there crafty friends! We had so much fun bringing you our Mega Day sale last year that we've decided to throw a whole new Mega Day experience for you again this year! Kicking off from the 7th of November with our live show, you'll be able to check out incredible savings and live product demos.
If you missed out on all the fuss over our previous Mega Day, don't worry, we'll walk you through all the fun stuff just waiting for you again this time around!
First of all, what is Mega Day?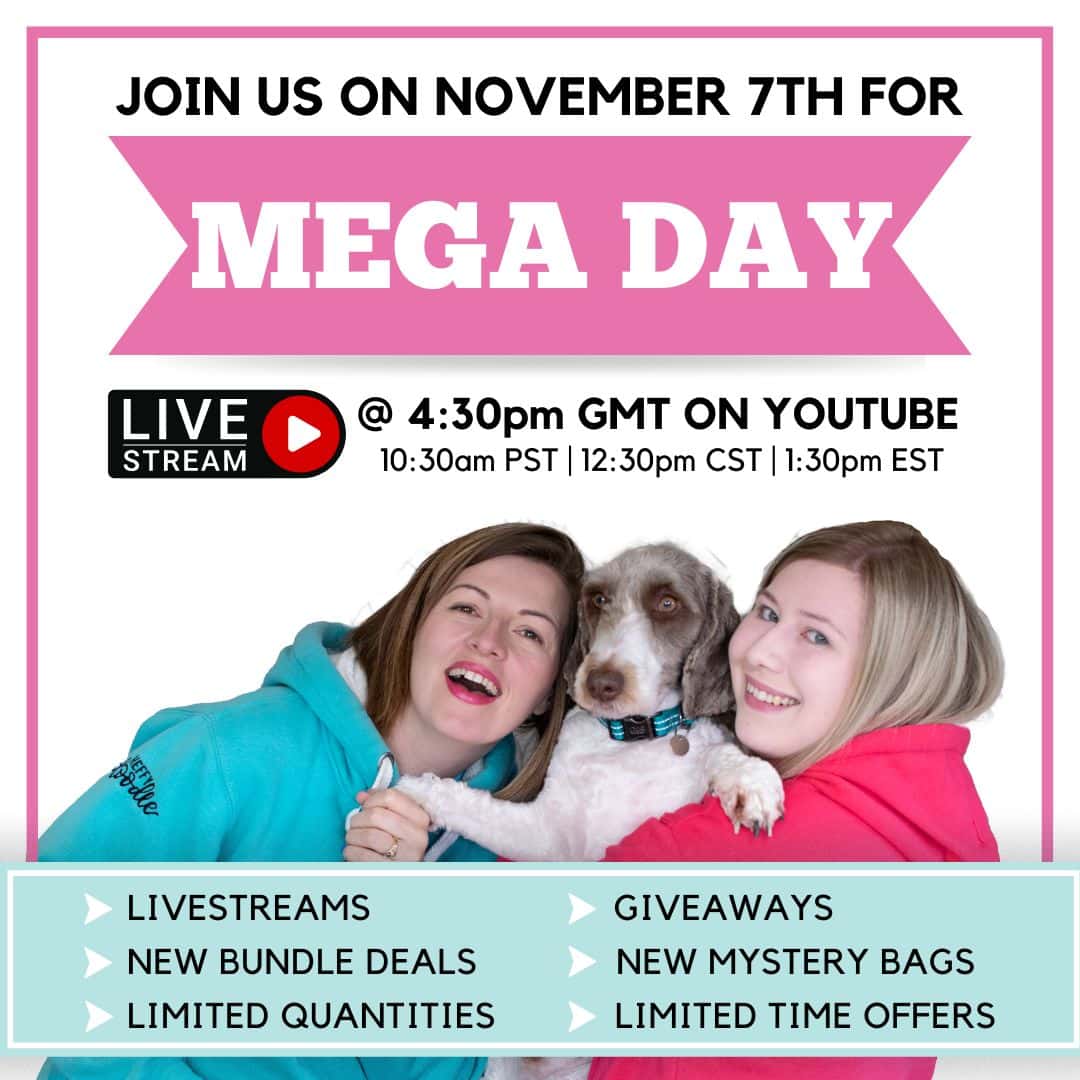 This time Mega Day is all about bringing you 1-week full-to-the-brim of savings on Heffy Doodle products. Starting from the 7th of November at 4.30 pm GMT there will be a whole range of new heavily discounted bundle deals and crafty mystery bags hitting a wide range of price points – absolutely perfect for treating yourself with or for getting a start on gift shopping for any future birthdays, the festive season, and other such fabulous occasions.
What's the deal with these deals?
The BUNDLE DEALS have been handpicked by us to give you a great selection of products to make amazing projects. They contain products that suit cardmakers, scrapbookers, and everyone in between! These bundles cover patterned paper, cardstock, sparkle mixes, stamp sets, coordinating dies, standalone dies, and stencils too. There is something for everyone on offer. All the products have been discounted so if there's a particular stamp set or some stencils you've been thinking about getting but haven't yet, Mega Day is a great chance to pick them up and some matching items at a great price.

There's even an EXCLUSIVE bundle this year featuring BRAND NEW, NOT-YET-RELEASED products! You won't find these amazing newbies anywhere else!

The catch is all these awesome discounts and bundles are only around for a limited time, and in limited quantities! You'll have to get in quick to pick up a bargain before the offers are removed from the store on the 14th of November 2022 or while stocks last.
Are you ready for the live show?
You won't want to miss out on this first look at all the bundles and mystery bags on offer! Join Lesley and Morgan for live product demos showing you a range of different craft projects you can create for yourself, tailor-made to fit the offerings in each bundle. Got any questions? They'll be live on air to answer anything you find yourself pondering whether it be on a technique you can achieve with a certain product or on some of their favourite ways to use the bundle items together.

Don't forget! There are also 2 giveaways: the first running alongside the live show, and the second to accommodate our different time-zoned Heffy Doodlers watching the replay of the live show. But you'll have to hurry – that second giveaway has an entry deadline of November 8th at 11:59 pm GMT!
Tell me more about the crafty mystery bags!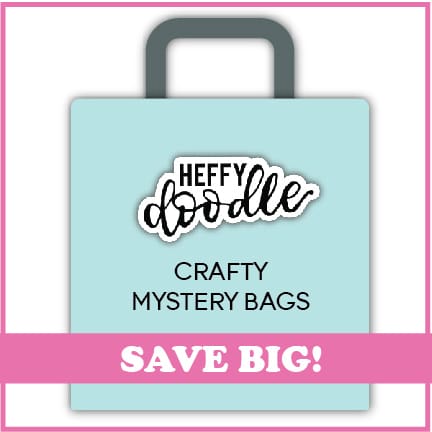 Who doesn't love a surprise? These heavily discounted mystery bags are perfect to top up your Heffy Doodle stash at an amazing price, or as a gift for your crafty friend. Here is all the essential information you need to know about these bags:
Each type of Mystery Bag will contain the same items. Items cannot be swapped.
Mystery Grab Bags are in limited supply, and available for a limited time only, whilst stocks last.
Mystery Grab Bags are purchased via the Heffy Doodle store. You may add other items to your order. Normal shipping rates apply. Free shipping for orders over £100.
Items in the Crafty Mystery Bags are non-exchangeable and non-returnable.
Some items in the Bags may not be in the usual packaging, however, they are still the top Heffy Doodle quality.
There are no duplicates across the bags (and the bundles in our Mega Day deals). So you CAN buy multiple bags/bundles and you will NOT receive any duplicates. The Mystery Bags this year are all-new so if you purchased any last year (or any bundle deals) you still won't find any duplicates or overlaps this year.
So let's take a look at what we can reveal about the offerings of each bag: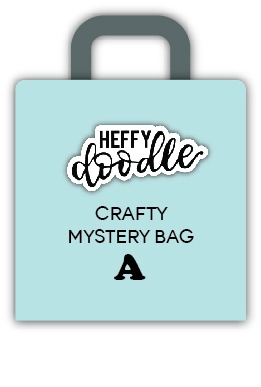 Crafty Mystery Bag A – Worth Approx. £51 only £29.99!
This Mystery Bag contains:
1 x 4×6 Stamp Set
1 x 4×6 Coordinating Die
1 x 4×6 Standalone Dies
1 x Stencil
Value of approx. £51, save up to £21!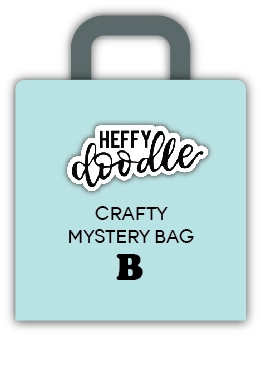 Crafty Mystery Bag B – Worth £60.42, only £39.99!
This Mystery Bag contains:
1 x 4×6 Stamp Set
1 x 4×6 Coordinating Die
1 x 2×3 Stamp Set
1 x 2×3 Coordinating Die
2 x Stencils
2 x Heffy Cuts Word Dies
Value of £60.42, save up to £20.43!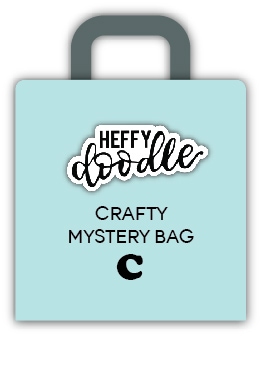 Crafty Mystery Bag C – Worth £89.92, only £49.99!
This Mystery Bag contains:
2 x 4×6 Stamp Set
2 x 4×6 Coordinating Die
1 x 4×6 Standalone Interactive Die Set
1 x Shadow Heffy Cuts Word Die
1 x Stencil
1 x 2×3 Standalone Die
Value of £89.92, save up to £39.93!
Our Crafty Mystery Bags will go live in the Heffy Doodle store during our MEGA DAY event on 7th November 2022, and will be available for a limited time, whilst stocks last! Be sure to join us for our live stream on 7th Nov, when we launch our MEGA DAY exclusives!
As for what is included in the BUNDLES – well, you will have to join our live show to find the answer to that question! Click the link here to go to YouTube and click the bell to make sure you are notified when we go LIVE!