December 26, 2017
Lava-ly Birthday Greetings!
Hey There, Heffy Doodlers!
Hope you all had a merry Christmas and are still enjoying the afterglow of the holiday yesterday.
Today is my birthday, so I thought I would drag you all along with me in celebration!
I had a very rare moment of cohesion as I was creating this one layer card. Everything just kinda came together really well, and it took me maybe 15 minutes from start to finish.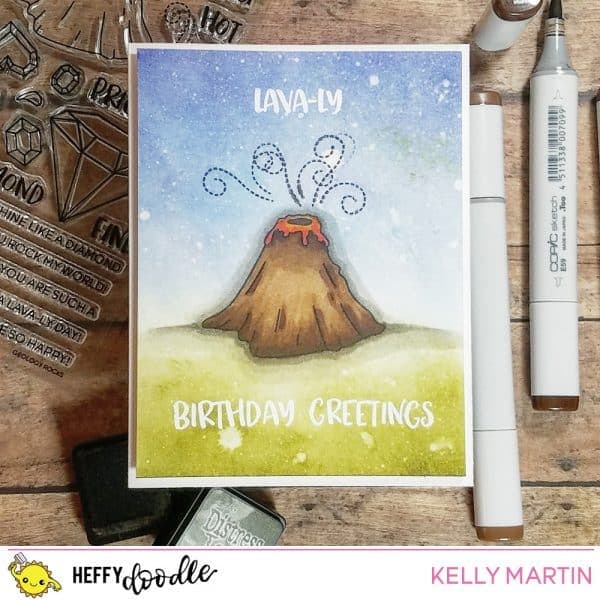 I began by creating the sky and ground for my panel. I used a piece of painter's tape to mask off the ground while creating the sky, and then moved it up to cover the sky when I created the ground. I used Chipped Sapphire, Salty Ocean, and Blueprint Sketch Distress Inks to create my sky, and I also used Forest Moss Distress Ink for the ground. I then splattered some clean water on the panel to create the look of texture. Using an ink blending tool will really help achieve a nice blend between all the ink colors.
I then stamped the volcano image from the Geology Rocks stamp set (HFD|SSS) with copic-safe ink on to my cardstock. I then used some of my brown copics to color in the volcano image and then finished it off with some red and oranges for the top to give the appearance of some lava still sitting on top of the volcano.
I then stamped some whispy steam images from the same set above the volcano to make it look like it had just erupted!
In order to bring some dimension and life to the scene, I used my Warm Gray copic markers to create some shadows and shading both around my volcano and also under my volcano. I find that taking the few extra minutes for this step really takes things to the next level!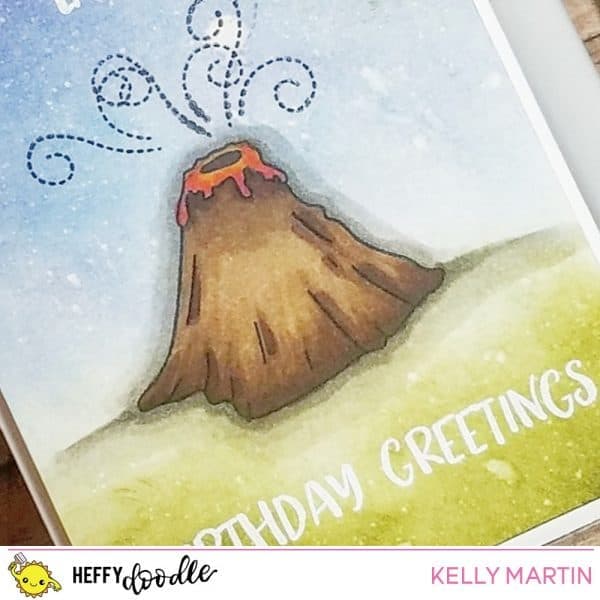 I trimmed down my card panel a bit and then finished off the project by adhering it to a 4.25 x 5.5 inch card base.
Thanks for stopping by today!
Kelly