December 27, 2017
Just Breathe little bear!!
Hello everyone,
I´m Maria from  My Craftway to Happiness.
Christmas is over and for some of you it might have been quite stressful with all the cooking, cleaning, shopping, wrapping, baking, preparing and so on. But I´m sure the time spent with your loved family and friends was all worth the stress.
Our heffy doodle critters had a big christmas party of themselves, I´m sure, but once in a while a little critter wants to relax as well.
For this occassion I made the little bear from the Unbearable Without You stamp set a relaxed  setting on my card.
For the card I started with a watercolor diecut panel and used some blue inks to watercolor it to look like the water of a nice little lake.  On the bottom of the panel I heat embossed the words Just breathe to underline the relaxing character of the card. I glued the panel onto a white card base.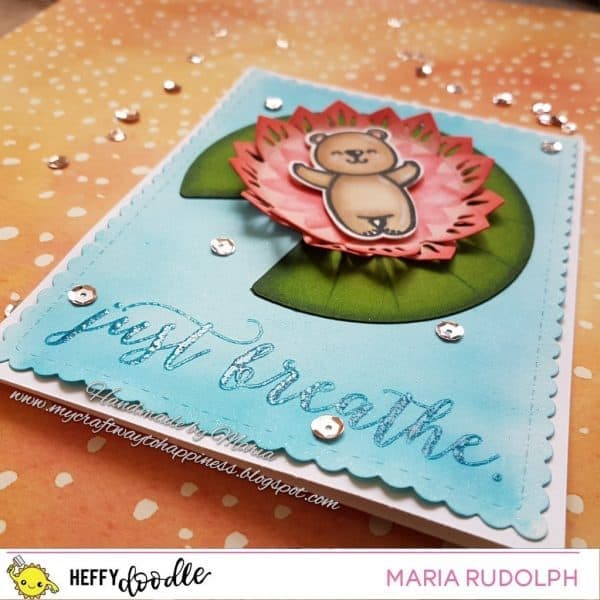 For the lily pad I diecut a big circle out of green cardstock and then cut out a  big wedge out of it. Then I took some green markers and drew strokes from the middle towards the outside of the circle to create the cringe lines that a lily pad usually has.  After that was done I sponged all the edges of the lily pad with darker green ink to give the pad more depth.
For the waterlily itself I diecut two flowers using a Stampin´Up! die out of flamingo cardstock and sponged the edges using flamingo ink to give it more depth. I layered the flowers offset to create the waterlily and I bent the flower petals to make it look like a real flower. Finally I painted a little lily of my own into the middle of the diecut flower as water lilys have many layers of petals towards the centre. For some simmer I added aditional wink of stella on top of the handdrawn flower part.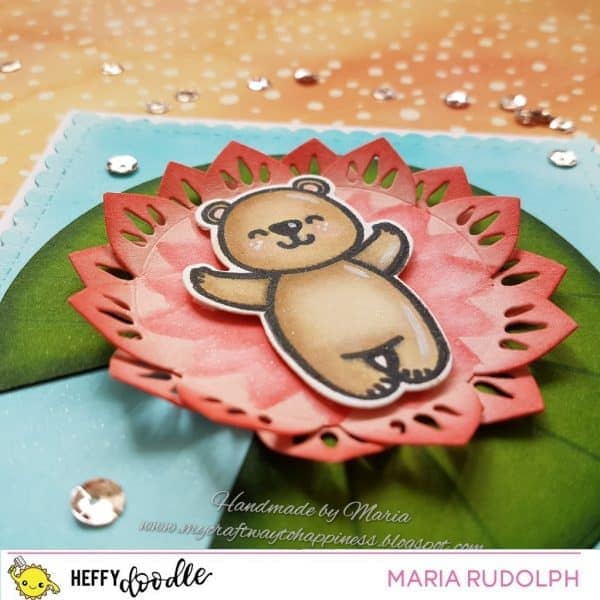 On top of the flower I placed our adorable little bear from the Unbearable Witout you stampset. I stamped him on Shimmery White cardstock with Memento Tuxedo black ink and colored him with watercolors and added a few white highlights using a chalk marker. He looks so happy and relaxed…like it´s meant to be. I diecut him using the coordinating dies before I attached him to the water lily.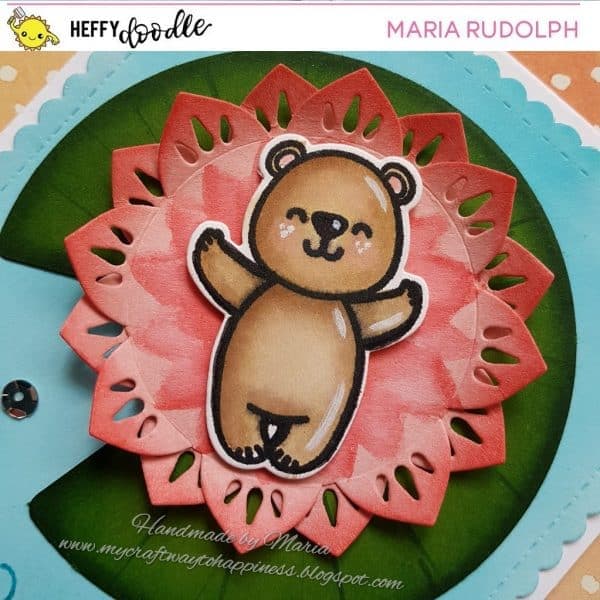 I hope you all will get to be so relaxed as our little bear here. Don´t forget to just breathe 😉
As this is my last post for this year I want to wish you all some amazing few days left of 2017 and I´m happy to see you here in 2018…already planning on some really nice creative projects for the new year.
Happy Crafting !!!
Maria 🙂